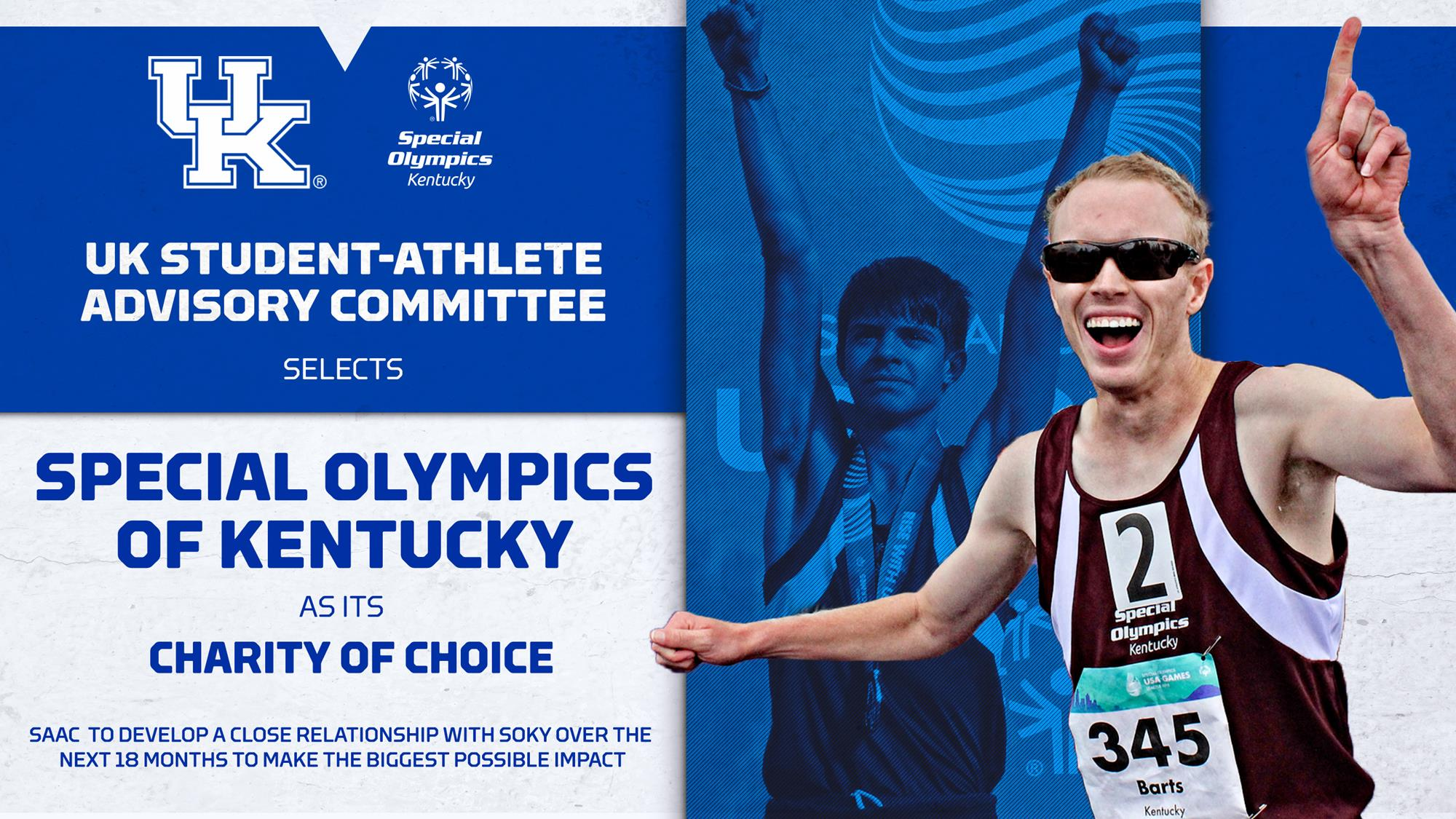 LEXINGTON, Ky. – The University of Kentucky's Student-Athlete Advisory Committee has selected Special Olympics Kentucky as its Charity of Choice through April 2020. Over the next year-and-a-half, SAAC will work to make maximum impact with an organization that creates year-round sports training and athletic competition for children and adults with intellectual disabilities.
 
"This year SAAC decided to select a Charity of Choice as part of our community outreach efforts," SAAC President and softball senior Katie Reed said. "By partnering with one organization, we can be more impactful as a group, build stronger bonds and raise more awareness for the organization's purpose. Special Olympics Kentucky was nominated by our women's soccer representative, Payton Atkins."
 
While the work UK student-athletes do serving with countless other charitable organizations will continue, designating a Charity of Choice will allow SAAC to foster a deep relationship with Special Olympics Kentucky. That is leading to events like Saturday, when 60 Wildcat student-athletes will participate in bowling with 60 Special Olympics Kentucky athletes.
 
"We decided to partner with Special Olympics because we share a mutual passion for sports with the athletes," Reed said. "We thought this would be a great way to get to know the athletes, build relationships with them, and hopefully provide them with memorable experiences with UK student-athletes. Special Olympics came to one of our meetings and spoke to us about what they do, and a couple of their athletes spoke as well. I think the main takeaways from that meeting were that these athletes play because they want to compete, they want to get better, they want to be challenged, and most importantly, they love the game."
 
Special Olympics Kentucky was among a handful of charitable organizations nominated by SAAC members. SAAC members then voted to designate Special Olympics Kentucky their Charity of Choice.
 
"Our plan is to continue our partnership through the spring of 2020," Reed said. "Our events will include some department-wide events, like our bowling event and a field day, as well as sport specific clinics and game day experiences for Special Olympics athletes. We are thrilled to be partnering with Special Olympics for the next few years, and I am excited to see how both Special Olympics athletes and UK student-athletes grow through these experiences."
 
SAAC is the student-athlete organization that represents the student-athletes at the University of Kentucky. SAAC seeks to ensure that UK Athletics provides each sport and every student-athlete with a quality environment and the essentials to be competitive as a student-athlete and a team. Each UK team is represented by at least one SAAC member. SAAC is supported by UK Athletics' new Student-Athlete Experience division.
 
The mission of Special Olympics is to provide year-round sports training and athletic competition in a variety of Olympic-type sports for children and adults with intellectual disabilities, giving them continuing opportunities to develop physical fitness, demonstrate courage, experience joy and participate in a sharing of gifts, skills and friendship with their families, other Special Olympics athletes and the community.