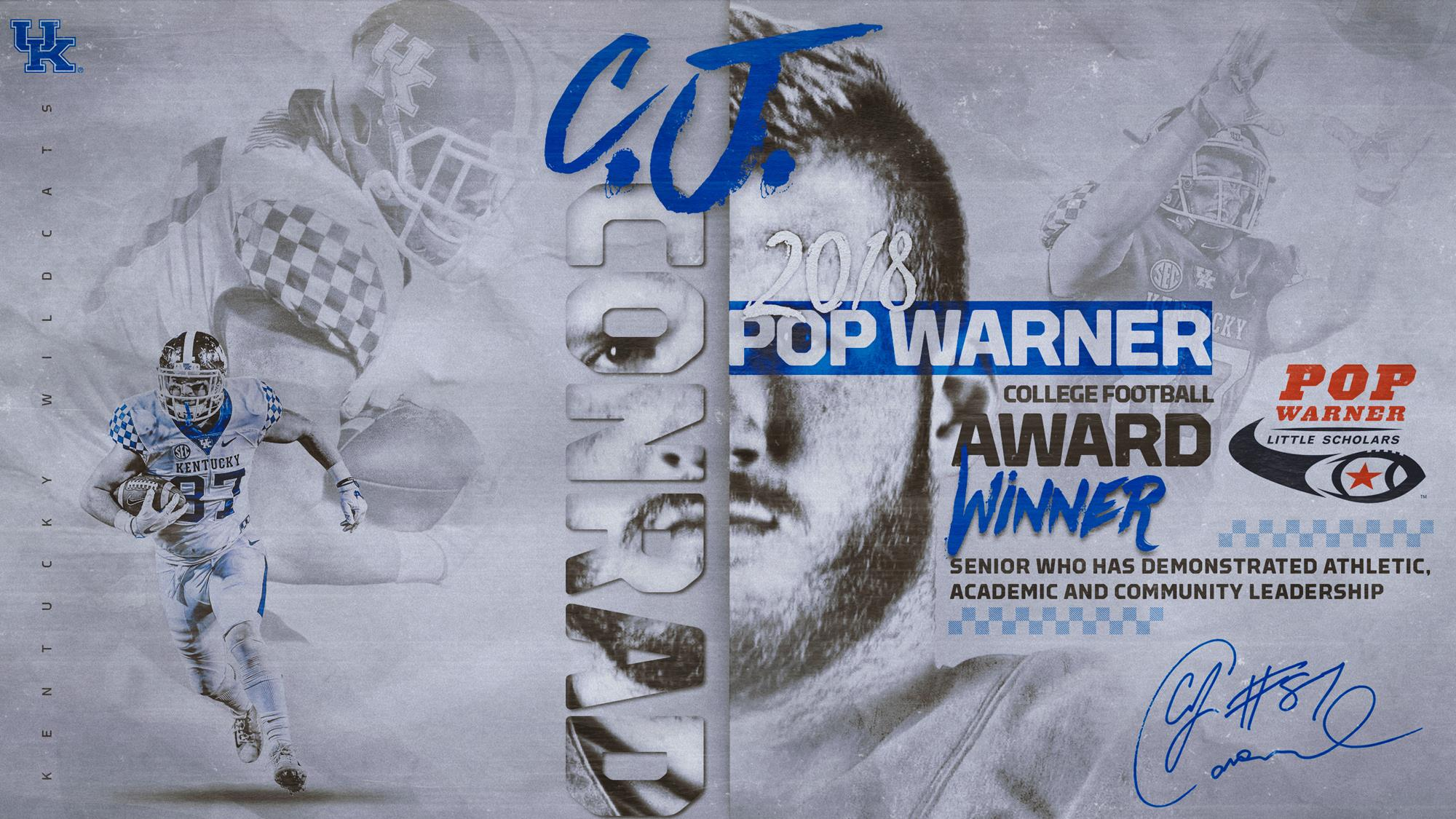 LEXINGTON, Ky. – University of Kentucky senior tight end C.J. Conrad has been named the winner of the 2018 Pop Warner National College Football Award, presented during the 62nd Annual Pop Warner Super Bowl at Disney's ESPN Wide World of Sports complex on Friday.
 
The Pop Warner National College Football Award recognizes a college graduating senior who has made a difference on the field, in the classroom and in his community, and serves as a role model to Pop Warner's young student-athletes. 
Pop Warner created the award in 2010 to honor a college player who has continued to demonstrate Pop Warner's fundamental values of sportsmanship, academics and community service at the next level. 
Conrad, a native of LaGrange, Ohio, is the epitome of this award.
 
Prior to the 2018 season, he created a program called "Tuesdays with C.J." where he visits the Kentucky Children's Hospital each Tuesday to hang out with the patients and brighten their day. Sometimes he just spends the morning just talking to the kids and their families and sometimes he's asked to make slime which has become one of his favorite things to do.
 
"We are honored to have C.J. come to the hospital and take his time just to see patients," KY Children's Hospital Child Life Coordinator Jennifer Guilliams said. "I had a mom tell me her daughter didn't want to get out of bed for two days until she heard C.J. was coming and she walked down the hall to meet him. Not only does his visit brighten their day but it provides them with motivation to continue to get better and we couldn't do that ourselves. As doctors, nurses and staff, we can only do so much. C.J. coming in is an inspiration to our children, an inspiration to our staff and we all get excited for his visits. What makes it even more special is that he does this out of the kindness of his heart."
 
In the spring of 2017, Conrad befriended nine-year old cancer patient Ryan Cremeens of Richmond, Kentucky. Ryan was diagnosed with rhabdomyosarcoma in the summer of 2016, a soft-tissue muscle tumor that had grown in his sinus cavity. Conrad heard about Ryan's illness and along with several teammates, began visiting him in the hospital. Cremeens had most of the tumor removed and underwent 42 weeks of chemo and seven weeks of radiation. Conrad and his teammates were present at the hospital to help Ryan celebrate his last day of chemotherapy and ring the bell, which celebrates the end of chemo treatments. Conrad invited Cremeens to be his special guest at the 2017 Blue/White Spring Game and run out of the tunnel with the team.
 
Later that year, Conrad was chosen to participate in a one-week service trip to the Dominican Republic in 2017 where he interacted with residents of impoverished communities, visited an orphanage, constructed park benches in a sugar cane village, distributed food to the hungry, visited a nursing home and spent time with special needs children at a local daycare.
 
Conrad has also been a guest speaker at several local schools and organizations and in his hometown of LaGrange, Ohio, talking about leadership. Conrad's mission is to educate and help provide opportunities to young children from small towns like himself, the chance to succeed on and off the field by using the game of football.
 
He's also volunteered with Amachi Central Kentucky along with 2017 Allstate AFCA Good Works Team member Courtney Love. Amachi is a mentoring program that seeks to pair caring, positive adults with children and youth in the Bluegrass who have one of both parents in state or federal prison or are affected by incarceration in some way.
 
In the classroom, Conrad, a member of the 2017 SEC Academic Honor Roll and Dean's List, is on track to graduate Dec. 14 with a degree in communications.
 
On the field, Conrad is UK's second-leading receiver this year with 29 catches for 297 yards and three touchdowns, highlighted by his game-winning TD grab on the final play of UK's 15-14 win at Missouri. For his career, he has 79 catches for 994 yards and 12 touchdowns.  He needs only six yards in the upcoming VRBO Citrus Bowl to reach 1,000 yards in his career and needs only one TD to tie James Whalen's UK career record for most TDs by a tight end. He's also been an important blocker in helping Benny Snell Jr. rush for 1,000 yards in each of the last three seasons.
 
Conrad has helped the Wildcats win nine regular-season games for the first time in 41 years, including six over bowl-eligible teams and four over squads that won eight or more. UK's 5-3 mark in SEC play also was the team's first winning league record since 1977.  The Cats won at Florida, ending a three-decade-old dry spell against the Gators, and the recorded the most-lopsided win in the history of the Governor's Cup series against Louisville.
In Conrad's four-year career, the Wildcats have 27 total wins, the fourth-most since freshmen became eligible to play in 1972-73.