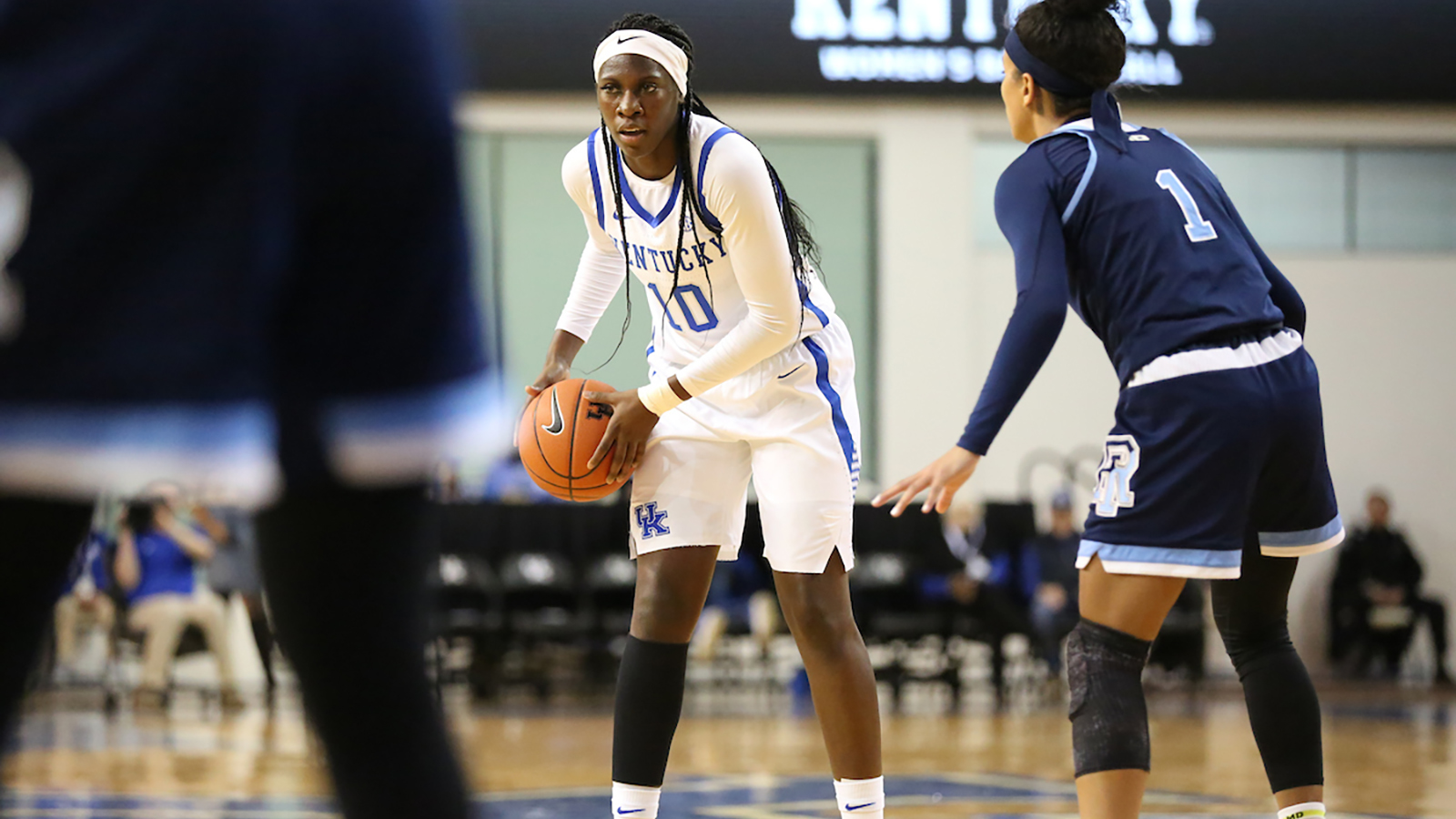 December 6, 2018 - 11:23 PM
High-Scoring Trio Continues to Carry Unbeaten Cats
Prior to Thursday night action, among SEC women's basketball teams, only Kentucky had three players among the top 11 scorers in the league so far this season.
Kentucky's Rhyne Howard entered Thursday's action averaging 18.1 points per game, which ranked fifth in the conference. Maci Morris was seventh in the league, pouring in 16.0 points per contest, while Taylor Murray came into Thursday action posting 15.3 points per outing.
Kentucky was averaging 80.5 points per contest prior to Thursday, good for second in the league. And while UK did not reach the 80-point mark, the Wildcats used a big second half to top Rhode Island 75-52 inside Memorial Coliseum. As they have done all season, the trio of Howard, Morris and Murray continued to carry the load for the undefeated Cats.
Morris, the senior from Bell County (Ky.) High School led the Cats with 29 points on Thursday. In the process, she jumped two spots to 16th on the UK career scoring list, passing both Belitta Croley and Kristi Cushenberry in the process. Morris now has 1,366 career points and needs 68 to move into 15th place.
Morris registered her second straight big game, as her 29 points on Thursday came after she scored 31 in Kentucky's last game, a win over Morehead State last Wednesday. Thursday's game marked the 16th time in her career that Morris has scored at least 20 points, and the fifth time she has scored at least 25 points in a game. The 29 points are the third-most Morris has scored in her UK career.
Howard, the freshman from Cleveland, Tennessee, continued to be a force for the Cats, scoring 19 points and grabbing seven rebounds in the win. It was Howard's ninth consecutive double-figure scoring effort to start her UK career.
Murray, the senior from Odenton, Maryland was the only other Wildcat to reach double figures in Thursday's win, scoring 11 points, while hitting five of her 10 shots and one of her two free throws.
Combined, the trio scored 78.7 percent of Kentucky's points on Thursday.
Kentucky head coach Matthew Mitchell likes that his team has scoring options.
"(Opponents are) really giving Maci a lot of attention," Mitchell said. "Rhyne broke out and had some big games and Taylor has been playing fantastic."
Morris knows that, with Howard and Murray carrying part of the load, she does not always have to be a volume scorer.
"It just takes off a tremendous amount of pressure," Morris said. "If one of us isn't scoring then the other two usually picks us up."
Morris also thinks that the best is yet to come for the trio.
"When all three of us are on, it's going to be scary," she said. "I'm excited for when that happens, and we just got to continue to feed off of each other. We just feed off of each other's energy and Taylor is a great passer and she knows how to get us open and we know where we like to get the ball so we try to get each other our shots."
The unbeaten Cats now face their biggest challenge of the season so far when they travel to Louisville to face the archrival Cardinals on Sunday. If the Cats are going to have a chance to upset the fifth-ranked Cardinals, the three-headed attack of Howard, Morris and Murray will have to come through again.