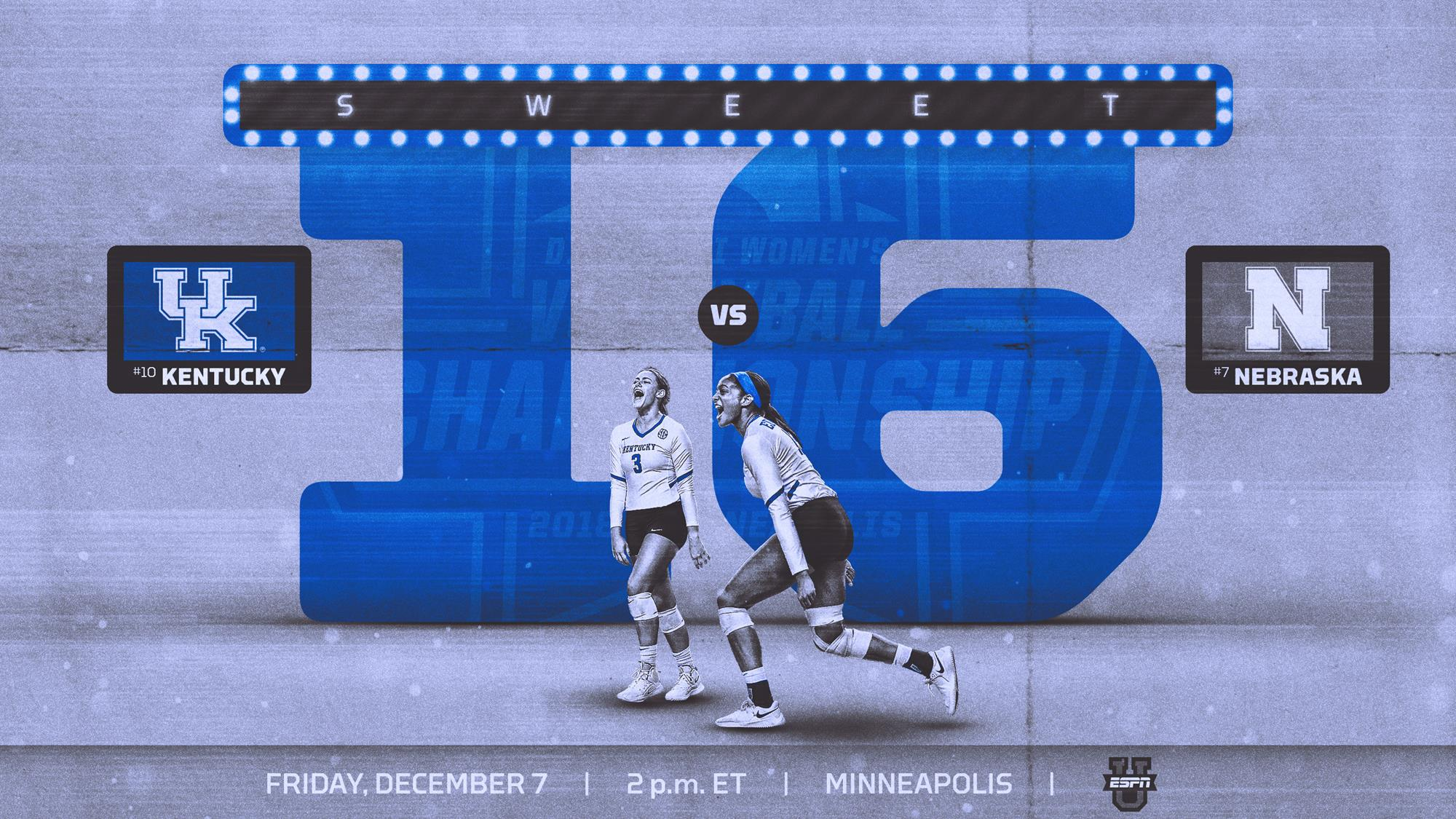 December 6, 2018 - 12:02 PM
No. 10 Cats Ready to Battle with No. 7 Cornhuskers in NCAA Regional Semifinal
MINNEAPOLIS, Minn. – Ready to make its second consecutive Sweet 16 appearance, the No. 10 seed Kentucky volleyball team will face the Nebraska Cornhuskers inside Maturi Pavilion on the campus of the University of Minnesota at 2 p.m. ET on Friday.
 
UK is coming off back-to-back sweeps in the first and second rounds at home in Memorial Coliseum against Murray State and No. 12 Purdue.
 
Kentucky and Nebraska met in the NCAA Regional Finals a season ago before the Cornhuskers went on to win the National Championship. With a win, UK will match its longest win streak in program history of 24 (1987).
 
UK ranks in the top 10 in the country in hitting percentage at fourth with a .305 mark for the season and eighth in kills per set at 14.50. The Wildcats also come in at 20th in assists with 13.22 per set. Senior Brooke Morgan ranks sixth in the nation in hitting percentage with a stout .409 clip while junior outside hitter Leah Edmond ranks 13th in kills (4.63 per set) and sophomore setter Madison Lilley is 14th in assists with 11.33 per set.
 
SCOUTING NEBRASKA
The Cornhuskers finished tied for third in the Big Ten and swept both opening rounds against Hofstra and No. 24 Missouri. Mikaela Foecke leads the offense with 3.74 kills per set and a .317 hitting clip while Kenzie Maloney heads up the defense with 4.07 digs per set. Setter Nicklin Hames posts 10.32 assists per set.
 
AVCA HONORS
Kentucky continued to rack in awards, this time in the form of AVCA All-Southeast Region. Sophomore setter Madison Lilley was named the Player of the Year, while head coach Craig Skinner was tabbed the Coach of the Year. Lilley was joined on the region team by Leah Edmond, Brooke Morgan and Gabby Curry. Alli Stumler was an honorable mention recognition. This marks the second straight season the Wildcats hauled in coach of the year honros and player of the year accolades. Edmond was the player of the year a season ago, while Lilley was the freshman of the year.
 
NCAA TOURNAMENT HISTORY
Kentucky is making its second straight and fifth appearance under Craig Skinner in the NCAA Regional Semifinals. UK also advanced to this round in 2009, 2011, 2012 and 2017. This is the ninth time in program history the team will play in the round of 16. The matchup in Minneapolis is the second time in program history the team will play in Minnesota during the NCAA Tournament. Then unseeded UK last made an appearance in the NCAA Regional Semifinals against No. 3 seed Florida State and lost in a heartbreaking five-set match.
 
UNDEFEATED IN THE SEC
Kentucky captured its fifth undefeated season, first since 1987 & 1988 (7-0), along with it's most conference wins in program history (18).
 
BACK-TO-BACK CHAMPS
Kentucky captured a share of its seventh SEC Championship after sweeping Missouri, the first time its won the title in back-to-back seasons since 1987-88. The Wildcats then won the SEC outright in the win over South Carolina.
 
FASTEST TO 1,000, CHASING RECORDS
Leah Edmond passed Whitney Billings for first all-time in the 25-point rally-scoring era and and moved into the top four all-time in the win over Missouri. Molly Dresibach leads all-time with 1,737. Leah Edmond became the quickest Wildcat in team history to reach 1,000 kills. She did so in the first match of the season – the loss to No. 13 Creighton.
 
CATS IN THE NCAA TOURNAMENT
UK is one of 10 teams that have made the tournament in each of the last 14 seasons alongside Penn State, Hawaii, Washington, Nebraska, Stanford, Colorado State, Texas, Southern California and Florida.
 
Under Skinner, the Wildcats have made a school-record 14-straight trips to the tournament. Kentucky has made 19 total trips to the tournament. The Wildcats are 15-6 in the first and second round matchups in the 13 times UK has hosted.
 
SEC AWARD DOMINATION
Leah Edmond – Player of the Year
UK's first player of the year since 2008 (Sarah Rumely)
Only player alongside Rumely in UK history to be honored as freshman of the year and player of the year
Three-time SEC Player of the Week this season
Gabby Curry – Libero of the Year
Fifth different player in program history to claim libero of the year — the award has been given to a Wildcat every year but one since 2011 with Ashley Dusek winning three years in a row (2015-17), Jackie Napper (2014) ad Stephanie Klefot (2011-12).
One-time player of the week and defensive player of the week
Alli Stumler – Freshman of the Year
UK's third consecutive freshman of the year honor with Edmond and Lilley winning in back-to-back seasons
Two-time freshman of the week
Craig Skinner – Coach of the Year
His third coach of the year nod and second-consecutive honor after winning co-coach of the year last season
Only one other coach has won in back-to-back seasons in conference history
Has directed his teams to 44 All-SEC honors, four SEC Freshman of the Year awards, nine Libero or Defensive Player of the Year accolades and 15 All-SEC Freshman Team selections
 
All-SEC Team: Leah Edmond, Gabby Curry, Madison Lilley, Brooke Morgan
All-Freshman Team: Alli Stumler
Community Service Team: McKenzie Watson
 
Undefeated!: Champs Conclude Regular Season with Win Over Auburn
For the first time since 1988, the Kentucky volleyball team concluded regular-season action within Southeastern Conference play unblemished. The Cats capped off a program-record 18-match undefeated season against league foes with a 3-0 (25-12, 25-22, 25-19) win over Auburn in front of a season-best crowd of 3,078 fans.
 
"Again, I've said it before, it's a special group to be a part of," head coach Craig Skinner said. "Just the effort, passion, energy, selflessness of a group to try and go undefeated in the league is almost impossible. I'm just proud of the relentlessness that this group has shown. Today our strengths came out: offensively we were good and our serving pressure put a lot of stress on Auburn so it was good to see."
 
The win moved UK's record to 24-4 overall and 18-0 in SEC play. It marked the 21st-consecutive victory for the Wildcats who began their winning streak on Sept. 8 against Texas State.
 
Just as it has been all season, it was a total team effort led by the 2018 Senior Class who was honored prior to the match. Merideth Jewell, Brooke Morgan, Anna Nyberg and McKenzie Watson started today's match and each played a role in the win. Jewell had two kills and was in on the match-clinching block. Morgan amassed eight kills on a .462 hitting clip to couple with a career-high-tying four digs and a block. Nyberg had a kill, while Watson earned a pair of digs.
 
Junior Leah Edmond led the way offensively once again with a match-high 16 kills on a .467 attacking percentage. She also had six digs and a solo rejection. Sophomore setter Madison Lilley directed the offense to the tune of 46 kills on a sizzling .398 percentage. She accounted for 37 assists, two kills, a career-high four aces and four digs. Freshman Alli Stumler added six kills, six digs and two aces. Junior Caitlyn Cooper contributed six kills, two blocks, two digs and an ace. Sophomore Avery Skinner added a trio of kills to the winning cause. Sophomore Kendyl Paris had two kills and teamed up with Jewell for the winning block. Sophomore libero Gabby Curry had 13 digs and freshman Lauren Tharp totaled four.
 
SEC CHAMPIONS! Kentucky Sweeps Mizzou to Claim 2018 SEC Title
The No. 11 Kentucky volleyball team clinched the 2018 Southeastern Conference Championship with a 3-0 sweep (25-17, 25-22, 25-18) of No. 23 Missouri at Mizzou Arena behind its second-best offensive effort of 2018, hitting a staunch .460 for the match.
 
Junior Leah Edmond, who passed Whitney Billings to become UK's all-time kills leader in the 25-point rally-scoring era during the match, led the way with 22 kills on 41 swings for her second-best hitting percentage of the season at .439 and her seventh match in 2018 with at least 20 terminations. Edmond set her career-best total earlier this season against Missouri with 26 kills at home on Sept. 30. She posted a combined average of 6.9 terminations per set against the Tigers in the two meetings.
 
Freshman outside hitter Alli Stumler matched her career best with 15 kills for the second time in three matches. It's the third time she's posted the number this season. Stumler compiled a red-hot .438 clip, which is also her second-best effort of 2018, with just one error, guiding her to three straight matches with at least 10 kills.
 
Sophomore setter Madison Lilley notched her ninth double-double of the season and 20th of her career after posting 40 assists, 10 digs, two blocks, two kills and an ace. It's her second double-double in the last three matches and 13th time she's posted 40 assists this year. Sophomore libero Gabby Curry led UK with 12 digs and matched her career high seven assists.
 
Senior middle blocker Brooke Morgan added six kills on nine swings and five blocks, giving her 11 matches in a row with at least three rejections. Sophomore middle blocker Kendyl Paris and junior opposite Caitlyn Cooper both came up with four kills.
 
WILDCATS CRUISE TO SWEEP OF NO. 11 FLORIDA
UK took complete control of the SEC, jumping into a two-match lead after a dominating 3-0 (25-15, 25-18, 25-20) sweep of No. 11 Florida. The Wildcats matched their longest win streak under Craig Skinner of 14.
 
Junior Leah Edmond came alive with eight kills in the second set alone on a .471 attacking clip. She concluded the night with a match-high 16 kills and a team-high 10 digs for her 19th career double-double and the second of the season. She also contributed two blocks and an ace in the win. Sophomore setter Madison Lilley directed the UK offense to the tune of 33 assists and a .274 hitting percentage. She added a pair of kills, nine digs and an ace to the winning cause.
 
For the 13th-consecutive match, Kentucky's defense was stout. The league-leader in opponent hitting percentage, the Cats limited Florida to a mere .104 attacking percentage marking the 13th straight foe to be limited to a .199 attacking clip or lower. Senior Brooke Morgan led the Wildcats in blocking with four rejections on the night. She also added five kills on a .455 attacking percentage and a match-high two aces.
 
Freshman Alli Stumler performed on the biggest stage with eight kills, seven digs and a block. Sophomore Kendyl Paris was a force to help set the tone in the opening set. Paris had four kills in the frame and finished the night with five on a team-high .556 clip. She also added a pair of blocks. Junior Caitlyn Cooper chipped in with four kills, two blocks and two digs. Sophomore libero Gabby Curry and freshman defensive specialist Lauren Tharp each had nine digs to aid the defensive cause.
 
WILDCATS SWEEP GEORGIA, SOUTH CAROLINA
The Wildcats remained perfect in conference play and at home after sweeping Georgia and South Carolina in week nine. The UK defense was strong as the Wildcats held both opponents to a combined .095 hitting clip and just 9.33 kills per set. Brooke Morgan picked up a match-high six blocks in each contest for a 2.00 average per set for the week while Caitlyn Cooper compiled a .346 hitting clip for the week with 12 kills on 26 attempts and just three errors on the offensive side of the net. Gabby Curry led both matches in digs, averaging 4.83 for the week with 17 against Georgia and 12 against South Carolina. Leah Edmond got involved on defense in addition to her nine kills against the Bulldogs. The junior pieced together four blocks, her most in a conference match this season. Setter Madison Lilley guided UK to a .323 hitting clip for the week, posting 30 or more assists in both matches and a 10.67 average per set for the week. Kendyl Paris and Alli Stumler also contributed to the defensive effort with Paris picking up eight in total during the week and Stumler grabbing six rejections – five of which came against South Carolina in a career-matching effort.
 
UK DEFEATS LSU, TEXAS A&M TO CLAIM FIRST IN SEC STANDINGS
The Wildcats won both matches during their week-eight road swing, sweeping LSU and coming back in five sets against Texas A&M. Madison Lilley posted back-to-back double-doubles, including matching her career-high dig total at LSU then setting a new personal best of 19 against Texas A&M.
 
Against LSU, the Wildcats had 44 kills on an efficient .327 hitting percentage with four players having more than 19 attempts on the night. Junior Leah Edmond and senior Brooke Morgan both had 10 kills to lead the way. Lilley dished out 30 assists and had a career-high-tying 16 digs as her play defensively was equally as important to UK's winning cause.
 
Sophomore libero Gabby Curry topped the 20-dig plateau for the second-consecutive three-set match with 21 digs in the win to lead the defensive charge. She contributed five assists. Kentucky's defense smothered LSU into just 10.33 kills per frame and a .090 hitting clip.
 
Freshman Alli Stumler chipped in with seven kills and five digs. Junior Caitlyn Cooper added six hammers, two blocks and a dig. Sophomore Kendyl Paris had four kills on a .429 hitting percentage, while classmate Avery Skinner chipped in with an additional four kills.
 
Freshman Lauren Tharp added four digs and senior McKenzie Watson totaled a trio of scoops to add to the defensive effort.
The sprinkling of effort displayed by a variety of players in the fifth set against Texas A&M mirrored the production throughout the entire match as it was a total team effort.
 
Edmond led the way offensively with a match-high 23 kills. She also contributed seven digs and a block. Cooper and Morgan both struck for 10 kills apiece. Cooper added five blocks, while Morgan picked up four digs and a trio of blocks. Lilley had another all-around effort with 51 assists to go along with a career-high and match-high 19 digs. She's boasted consecutive matches with career-high digs.
 
Paris had six kills and a match-best seven blocks. Stumler totaled four kills and nine digs. Skinner posted five hammers with a dig and a block apiece. Tharp had a career-high 13 digs and Curry corralled 19 scoops.
 
UK GETS 900TH PROGRAM VICTORY
The Wildcats picked up their 900th win in program history after defeating the Tennessee Volunteers in Memorial Coliseum, 3-1. Four Wildcats recorded double-digit kills in the win: Leah Edmond (17), Caitlyn Cooper (13), Alli Stumler (13) and Brooke Morgan (10). Cooper's career-high .684 hitting clip was the new team-best percentage. Madison Lilley posted a career-high, team-best four aces in the win and was just one dig shy of a double-double. Gabby Curry led the defensive effort with a match-high 17 digs.
 
WILDCATS SWEEP MISSISSIPPI STATE
UK improved to 4-0 in the conference and got its seventh win in a row after sweeping Mississippi State on the road in its only test of the week. UK posted its best hitting clip of the season (.537), which ranks first in the SEC, and held the Bulldogs to the lowest percentage of any opponent this season (.068). Brooke Morgan led the UK attack by going a perfect 9 for 9, swinging 1.000 for the match. She also added three blocks, two digs and an ace. Sophomore setter Madison Lilley posted a season-best three aces for the second time in UK's second-best performance from behind the service line to date. Freshman Alli Stumler added eight kills – six in the first set – on 12 total swings to go along with five digs, two assists and a block. 
 
CATS DOWN ARKANSAS, MISSOURI
The Wildcats picked up wins over Arkansas and Missouri during their SEC home-opening weekend. Brooke Morgan led the Wildcats to a sweep over Arkansas, matching her career-high in kills with 15 and setting a new personal best in hitting percentage (.583) against Arkansas to go along with four digs and two blocks. Leah Edmond added 10 kills, while Caitlyn Cooper added nine on a .500 attacking clip. Madison Lilley dished out 38 assists and added four digs and two blocks while Gabby Curry led the defensive effort from the back row with 13 digs.
 
UK's serving and defense led it to a four-set win over Missouri. The Wildcats racked up 11 aces, the most ever for a four-set match in the 25-point rally-scoring era, and had a season-high 15 blocks to prove the difference in a well-played match by both teams. Kendyl Paris, Lauren Tharp and Cooper broke out for career performances defensively. Paris had a career-best 10 blocks, while Tharp had a career-high nine digs. Cooper picked up a career-best six blocks and added eight kills to the offensive effort. Paris is the eighth different Wildcat to register 10 or more blocks in program history during the rally-scoring era.
 
Sophomore setter Madison Lilley and classmate libero Gabby Curry also contributed to the stellar defensive effort. Lilley had her fifth double-double of the season – third in the last four matches – with 45 assists and a career-high 16 digs. Curry contributed 13 digs, five assists and a pair of aces.
 
Every Wildcat who plays in the front row boasted at least three blocks in the match.
 
Junior outside hitter Leah Edmond once again led the way offensively with a career-high tying 26 kills. It matched her own four-set 25-point rally scoring era record for kills in a match. She's posted 20 or more kills 19 times in her career, more than any other player in the rally-scoring era in UK annals. Alli Stumler added 12 kills and 10 digs for her third double-double of the year and second in three matches. Senior Brooke Morgan contributed seven kills, a career-high and team-best three aces to go along with a trio of blocks. Classmate McKenzie Watson added three digs, one assist and an ace to aid the winning effort.
 
UK OPENS SEC SLATE WITH WIN AT TENNESSEE
The Wildcats are coming off their first conference win of the season at Tennessee. UK held its third-consecutive opponent to a hitting percentage below .185. Sophomore Setter Madison Lilley (41 digs, 10 assists) and freshman outside hitter Alli Stumler (10 kills, 14 digs) both picked up double-doubles, their fourth and second of the season, respectively. Stumler also picked up a career-high three aces and added three blocks. Brooke Morgan totaled a career-high eight blocks and Leah Edmond notched her third 20+ kill match of the season with 23 terminations against the Vols. UK came back from as many as an 18-12 deficit in the fourth set, ending the frame on a 13-5 run to claim the match.
 
UK SWEEPS LOUISVILLE, CHATTANOOGA
The Wildcats swept both of their opponents in week three. UK picked up its sixth straight win over rival Louisville in a commanding three-set win on the road. Leah Edmond posted the highest hitting percentage of her career in the win, swinging .600 with 14 kills – her second most in a three-set match this season – on 20 total attacks. Sophomore libero Gabby Curry also totaled a career-high seven assists in the win, while Brooke Morgan and Madison Lilley both registered three aces each, which is the top mark on the team for 2018. Lilley grabbed her third double-double of the season after putting up 28 assists and 10 digs in the home win against Chattanooga and led UK to back-to-back hitting percentages above .400. The Wildcats held both teams to hitting percentages less than .110.
 
TEXAS TRIP RECAP
UK split road matches in a loss at No. 6 Texas and a win at Texas State – both in four sets. The Wildcats posted their then-second-best hitting clip (.333) and kill total (66) of the season in the win. Leah Edmond picked up 39 kills (4.88/set) on the trip with her second-highest single-match total (24) coming in the win at Texas State, and Caitlyn Cooper came off the bench, making an immediate impact to ultimately finish second on the team with 14 kills on 24 attempts for a .500 hitting percentage with three blocks and three digs in an all-around career effort.
 
BLUEGRASS BATTLE
The Wildcats rebounded nicely from the first week of the season and by going undefeated during the second weekend when they took down College of Charleston, Dayton, and Kansas for the Bluegrass Battle title. UK posted its highest kill total of the season (70) in a swift four-set win over Charleston and its best hitting clip of the season (.451) just hours later in a commanding sweep of Dayton. Saturday's match with Kansas was another comeback in Memorial Coliseum after the Wildcats looked like a completely different team in the final three sets.
 
PICKED TO WIN THE LEAGUE
Kentucky received eight of the league's 13 first-place votes and finished atop the SEC Preseason Coaches' Poll with 140 points. Florida garnered the remaining five first-place votes and finished in second with 137. Missouri trails both schools with 116 points, while Georgia and LSU round out the top five.
 
PRESEASON ALL-SEC
Leah Edmond, Madison Lilley and Avery Skinner were named Preseason All-SEC. No school other than Kentucky placed multiple athletes on the preseason All-SEC team. Edmond makes her second appearance on the preseason list after garnering All-SEC honors in each of her first two seasons. Lilley, a first-team selection a season ago, and Skinner, an All-SEC Freshman Team pick last year, were selected for the first time in their careers. All 13 of the league's head coaches vote in each poll.
 
BEST PRESEASON RANKING EVER
For a program-record seventh-consecutive year, the Kentucky volleyball team began the season ranked in the American Volleyball Coaches Association's preseason top 25. With the ranking of No. 5, UK tied its highest mark in program history and its highest preseason ranking ever. UK had never appeared in the preseason top 10 before.
 
Kentucky's spot at No. 5 marks the highest ever under head coach Craig Skinner. UK reached No. 6 in the country last season and finished the 2017 final poll at that mark. The Wildcats have now appeared in the top-25 preseason poll for the ninth time in 10 seasons.
 
ACADEMIC AWARDS
For the fourth-consecutive season, the Kentucky volleyball program earned the American Volleyball Coaches Association (AVCA) Team Academic Award honoring its work in the classroom for the 2017-18 season. UK reached the 3.30 cumulative team grade-point average in each semester during the school year. During the latest semester, the team posted a GPA of 3.418. In the fall, UK had an impressive in-season GPA of 3.654.
 
REPRESENTING THE USA
Five Wildcats – Gabby Curry, Leah Edmond, Madison Lilley, Brooke Morgan and Avery Skinner – represented the United States of America for various U.S. Women's Collegiate National Teams last summer. Lilley made the CNT – China Tour, Edmond and Skinner played on the CNT – Europe team while Morgan and Curry made one of the CNT – Detroit teams. All of the athletes were placed on teams through the U.S. Women's National Team Open Tryouts at the U.S. Olympic Training Center.
 
ALL-AMERICANS RETURNING
Kentucky returns two AVCA All-Americans in Leah Edmond and Madison Lilley. Edmond was First Team All-America and the program's third appearance on the first team and first under head coach Craig Skinner. Lilley was Second Team All-America.
 
UK had two other All-Americans in Kaz Brown and Ashley Dusek. UK has placed four All-Americans just one other time in program history.
 
ANOTHER STRONG RECRUITING CLASS 
For the last eight seasons, Kentucky's recruiting class has been ranked in the top 30. UK welcomes four freshman newcomers – Gabby Goddard, Cameron Scheitzach, Alli Stumler and Lauren Tharp – and also added JUCO transfer Caitlyn Cooper.
 
SEC CHAMPIONS AND ELITE EIGHT APPEARANCE
Kentucky finished the year 29-4 and won a share of the SEC Championship for the first time in Craig Skinner's tenure and also advanced to the Elite Eight for the first time in the modern era a season ago. The Wildcats earned their then-highest ranking under Skinner, No. 6, and beat the No. 1 team in the nation for the first time in school history.
 
300 WINS
In Kentucky's first round win over East Tennessee State in last year's NCAA Tournament, UK head coach Craig Skinner earned his 300th win. Skinner is already Kentucky's winningest coach in program history.