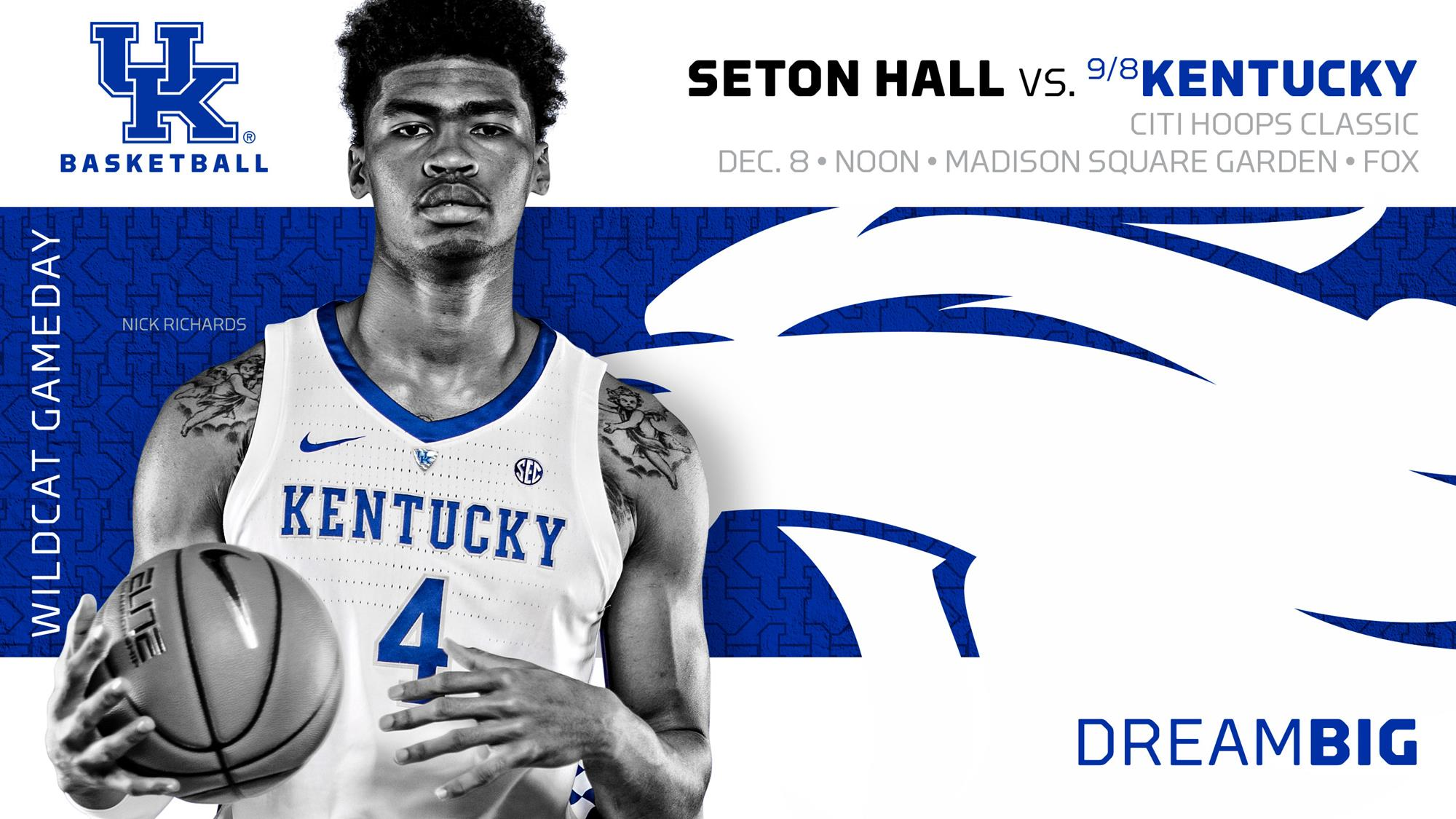 December 6, 2018 - 07:21 PM
NYC-Bound Cats Still Focused on Basics
It's been more than three years since Reid Travis set foot in Madison Square Garden, but he remembers it well nonetheless.
 
Travis' Stanford team played two games there en route to winning the NIT in 2015. He will return to New York City wearing Kentucky blue this weekend.
 
"When you're walking through the halls and you see all the pictures of people that have done concerts there, the big games that are there, you can just feel it," Travis said. "When you get in the building, there's a different feeling about it. I'm excited to get back there and just feel that feeling and just try to put on a good game on Saturday."
 
A good game is expected, as No. 9/8 Kentucky (7-1) will face off against Seton Hall (5-3) Saturday at noon in the Citi Hoops Classic. The Pirates have reached the NCAA Tournament in three consecutive seasons, meaning the neutral-site showcase airing on Fox will be a résumé-building opportunity for both teams.
 
"Now, we have another game on the road against an opponent that's going to bring it and have a swagger and an attitude about themselves," John Calipari said. "Which, we need to be playing teams like that. They have good size. They have a guy like No. 10 (UNCG's Francis Alonso). They have that kid who runs the baseline and comes off staggered screens and shoots it and shoots most of the balls for them. He's good. The Myles (Powell) kid is good."
 
Kentucky vs. Seton Hall

Sat., Dec. 8 – 12 p.m. ET
Madison Square Garden
New York, N.Y.
Game Notes: UK | SHU
UK Athletics App
Digital Guide

Coverage

TV: FOX
Radio: UK Sports Network
Watch
Listen
Live Stats

UK
2018-19 Stats
SHU
84.4
PPG
72.6
69.8
Opp PPG
66.5
.496
FG%
.453
.422
Opp FG%
.427
41.6
RPG
33.1
.354
3PT FG%
.297
.397
Opp 3PT FG%
.349
.752
FT%
.691
14.1
APG
11.9
6.1
SPG
6.3
5.3
BPG
3.6

Powell is averaging 22.4 points for the Pirates, even more than the 19.3 points UNCG's Alonso is scoring per game. That might be a scarier thought were it not for the play of Ashton Hagans, who held Alonso to just three second-half points after he exploded for 19 in the first half last weekend.
 
"When he can disrupt the other team's point guard like that, make them go into different sets and disrupt like that, it's going to be big for us because it brings energy to everybody," Travis said. "When you have someone on the ball that's doing what he's doing, everyone kind of picks it up, starts to talk more, starts to get more active. So the more he does that, the better our team defense is going to be."
 
Defensive improvement continues to be Coach Cal's primary focus, and Kentucky has added time in practice to pursue it with the way December is laid out. Seton Hall is the first of five consecutive games for which the Cats will have a full week to prepare.
 
"It's different," Travis said. "We got a lot of time to work on ourselves. Practice can be longer. We can start working on different things and really just fine-tune details and things like that, which is nice when you don't have a game right in the middle of the week that you have to prepare for. I think we'll make jumps in the next couple weeks just because we'll have a full week of prep for all these games."
 
Coach Cal won't be doing anything too innovative in that extra time. Instead, it's all about defensive effort. If a player falls short, it's to the treadmill constantly whirring in the corner of the gym.
 
"At the end of the day, if we're a defensive-driven team we're going to be pretty good," Calipari said. "If we're not, we're not going to be very good. When will you start working on turnovers, Coach? After we get the defense right we'll start thinking about turning it over too much. Right now we just can't throw too much at these guys. We're doing drills that are really basic, fundamental. Should have been learned a long time ago, but that's fine. That's where we are."
 
Where the Cats are is not where they will be. It's just going to take time for them to get there.
 
"I just want people to respect that we have really good players who are not playing to the level they're capable of playing," Calipari said. "But we've got really good players. Don't think we don't. But if you don't compete and if you don't fight to win – if you don't fight for your space – you look like you're just OK. 'I thought it was supposed to be better.' Well, compete, go do it. We have those kind of guys who can do it. Every day is that process we're working on."
Second-Half Rally Leads Wildcats Past Stout UNCG Spartans
Reid Travis scored 22 points, Keldon Johnson added 13 points and UK turned to defensive stopper Ashton Hagans to help lead a 78-61 comeback over UNCG 78-61 on Saturday. UK (7-1) trailed by three points at halftime, snapping a streak of six straight losses dating back to last season the Cats had lost when not owning the halftime lead.
Johnson scored six of his 13 points during a 14-2 second-half run that helped8 the Wildcats pull away for their seventh consecutive victory. The win revealed more about Kentucky's mettle than other wins it has scraped for this season. Facing a team coming off an NCAA Tournament appearance and unawed by the Wildcats' size or reputation, they took much of the game adjusting to UNCG's style and pace.
The Spartans even seemed poised to take control, holding a 55-50 edge with 13:08 remaining, before Kentucky had consecutive three-point plays by Travis and Hagans for a 56-55 lead.
Demetrius Troy's jumper with 10:06 left put UNCG (7-2) back ahead but that was the last lead. The Wildcats made defensive stops during an 8-0 run led by Johnson, who followed two free throws with consecutive dunks for a 64-57 lead with 6:02 left.
Tyler Herro (18 points) added consecutive baskets to make it 68-59 before capping the comeback with a 3-pointer with 40 seconds left. Kentucky shot 50 percent after halftime while holding the Spartans to 27.8 percent in the second half and 35.8 percent overall. Johnson also had 11 rebounds for his second career double-double.
Francis Alonso had 22 points but just three after halftime when Hagans guarded him full-time as UNCG had its six-game winning streak end. Hagans' second-half defense on Alonso had a lot to do with that as he held him to just one 3-pointer after the senior guard made all four longrange attempts in the first half.
Hagans finished with five points, three assists, two rebounds and three steals in 28 minutes.
• Averaging 87.6 points per game entering the game, UNCG was limited to a season-low 61
• UK outscored UNCG 28-6 over the final 13 minutes of the game
• Under Coach John Calipari, UK is 157-7 (.957) when limiting the opponent to 63 or fewer points
• Kentucky won the rebounding 46-30, the seventh straight game winning the glass. The Wildcats are plus-135 on the boards over the last seven games, the most dominant rebounding stretch in the Calipari era
• UK shot 70.8 percent at the free-throw line (17 of 24) and has made at least 70 percent in all but one game this season
• Two Wildcats, Reid Travis and Keldon Johnson, notched double-doubles today. The last time two Cats doubled was Nov. 23, 2016, when De'Aaron Fox and Wenyen Gabriel did so vs. Cleveland State
• The win marked the 50th consecutive home victory over an unranked AP poll nonconference opponent
• UK improved to 240-5 (.980) under Calipari when leading by at least 10 points at any point in the game.
• Kentucky has won 10 in a row at Rupp Arena, dating back to last season
Calipari Passes Smith to Become Third-longest Tenured Coach in Program History
With a win over UNC Greensboro on Dec. 1, 10th-year head coach John Calipari passed Tubby Smith for third in UK's lineage of coaching tenures in program history. Smith's 10-year career with the Wildcats ended with his 346th game. Calipari and UK's win over UNCG marked the 347th career game he's been at the helm.
Hall of Famer Adolph Rupp is obviously first with a 42-year tenure spanning 1,066 career games and 876 wins. Joe B. Hall ranks second with 397 career games and 297 wins. Calipari now sits 15 wins shy of becoming the program's second all-time winningest coach and 50 games of becoming the second-longest tenured head coach.
Cats Making Improvements Defending the 3 after Tough Start
John Calipari-coached teams are typically among the best in the country at defending the 3-point shot.
Dating back to 2008-09 (the first season the NCAA has 3-point field-goal percentage defense statistics readily available), Calipari's last 10 teams (including his 2008-09 Memphis squad) have ranked in the top 100 in all but one season in 3-point field-goal percentage defense. Three of those have ranked in the top 10 and not a single team allowed opponents to shoot better than 32.6 percent from behind the arc.
As a matter of fact, if one factors in all of Calipari's teams at UK, Memphis and UMass, only two teams have ever allowed the opposition to shoot better than 35.0 percent for a season and 14 of his prior 26 teams limited the opposition to 32.0 percent or less.
It's been a different story this season.
Punctuated by VMI's historic 3-point display last week, a performance that included 19 3-pointers — the most ever by a Kentucky opponent — and 10 by Bubba Parham, opponents are making 42.2 percent of their shots against UK and making 8.9 3-point field goals per game. Kentucky's .397 3-point field-goal percentage defense ranks 334th in the country.
Winthrop followed the historic VMI performance with 13-pointers of its own, the third time in five games the opponent had made 12 or more from behind the arc. In other words, it didn't just seem like Kentucky's foes were making more perimeter shots than they normally do; they were.
But, there has been significant improvements over the last three games. Tennessee State was limited to just six treys, Monmouth made only two and UNC Greensboro hit seven. Over the last three games, opponents have made just 15 of 52 from behind the arc, a 28.8 percent-clip.
There was no question Kentucky needed to make some improvements on the perimeter, but perhaps there were other factors involved as well.
First, it's still early in the season. Eight games isn't a large sample size, and if history tells us anything, the numbers will return to the median. If no other Calipari team has allowed opponents to shoot better than 32.6 percent from behind the arc, chances are Kentucky's current 3-point field-goal percentage defense will continue to get better.
The other could be the opponents. Up until Monmouth, Kentucky's opponents were all 3-point-shooting-happy teams.
At the time, five of the first six opponents UK faced ranked in the top 80 in 3-point field goal percentage and three ranked in the top 20 in 3-point field goals made per game. Sometimes a good offense just beats a good defense, and though Calipari would be the first to tell you the defense needs to get significantly better, part of the early-season perimeter struggles on defense could have just been buzzard's luck in scheduling good 3-point shooting teams.
Trends are pointing towards an improved area of emphasis for Kentucky, but this week's opponent in Seton Hall should continue to help the woes. The Pirates rank 320th in the nation in 3-point field-goal percentage (.283) and 334th in 3-pointers made per game (5.1).