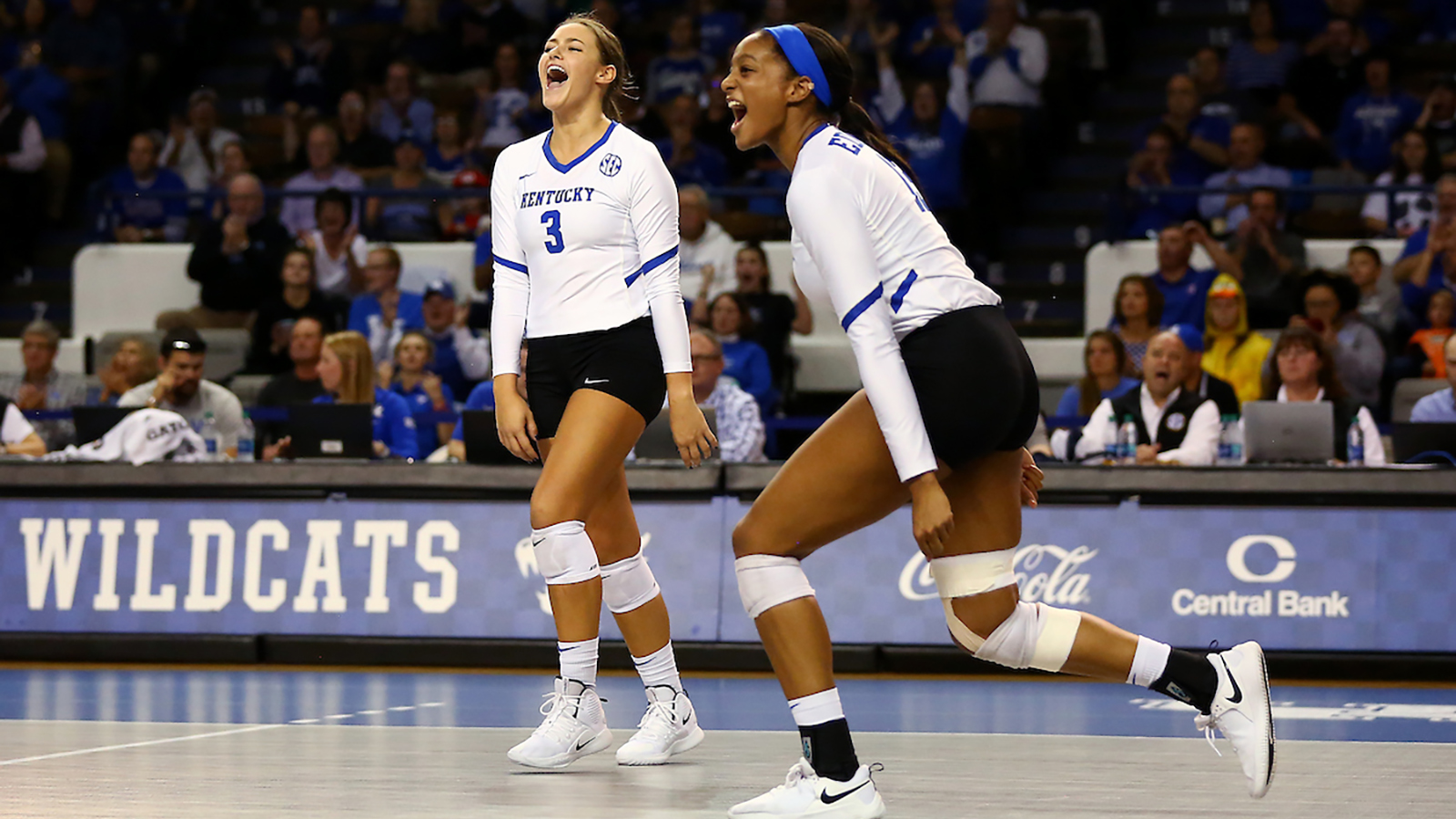 December 6, 2018 - 11:07 AM
2018 Volleyball Cats Prepared for Different Result Against Nebraska
Last year's Kentucky volleyball team had its magical NCAA Tournament run ended by Nebraska in the Elite Eight. The 3-1 loss inside Memorial Coliseum ended the Wildcats' hopes of making the school's first-ever Final Four trip.
As luck, and the 2018 NCAA Tournament draw would have it, the Wildcats and Huskers meet again, this time in a Sweet 16 matchup in Minneapolis on Friday (2 p.m. ET, ESPNU).
It goes without saying that the Wildcats are hoping the result of this year's match will be different. But that's not the only thing that will be different in the 2018 meeting between the schools.
"It's completely different teams," said UK head coach Craig Skinner. "We have four new people on the floor and a bunch of new freshmen. Last year, we were hosting and the favorite, this year, they are the higher seed and we're playing."
Another thing that is different from last season is that the Wildcats have had a week to prepare for Nebraska. Last year, the Wildcats were coming off an emotional, five-set win over a tough BYU team. Kentucky had to bounce back and play Nebraska the next day, which was very tough, according to UK setter Madison Lilley.
"Yeah, it was difficult coming off of a five-set, obviously a win was really cool against BYU last year, but it was a quick turnaround," Lilley said. "Obviously, we were tired physically and mentally, so I think that played a big role. Having this whole week to prepare is definitely going to make a difference."
Skinner also likes the idea of having more time to prepare for the defending national champions, who have won five NCAA volleyball titles.
"Yeah, it evens it out a little bit," Skinner said of having additional prep time. "Both schools have the same amount of video, same amount of days to prepare, same opportunity to get to know the opponent and that can be used to our advantage."
Skinner also hopes that playing on Friday, as the Wildcats have done all season, will be an advantage.
 
"(We're) kind of familiar with Friday night-type matches even though it's a 1 p.m. start," Skinner said. "We'll go through our normal routine, but it matches like this I think there's a lot of tendency for people to over analyze or over prepare what your opponent is about, and how to do things. We just have to do what we do and do it well."
Lilley knows that this Kentucky team is not the same as last year's squad.
"I think that we're a lot different," Lilley said. "Mentally, I think that we are in a really good spot right now, and I think that we can face anything that comes our way. Whatever they bring to the table I feel confident that we are going to be able to match it."
Lilley also knows that she and her team will be ready.
"I know that the fire is there," Lilley said. "There's no doubt in my mind that we're going to come out and play as hard as we can, with a lot of fire and compete really hard. We're excited to play and we're excited about the matchup."
Lilley, Skinner and the Wildcats hope that fire will help this year's Wildcats get a different result against the Huskers.