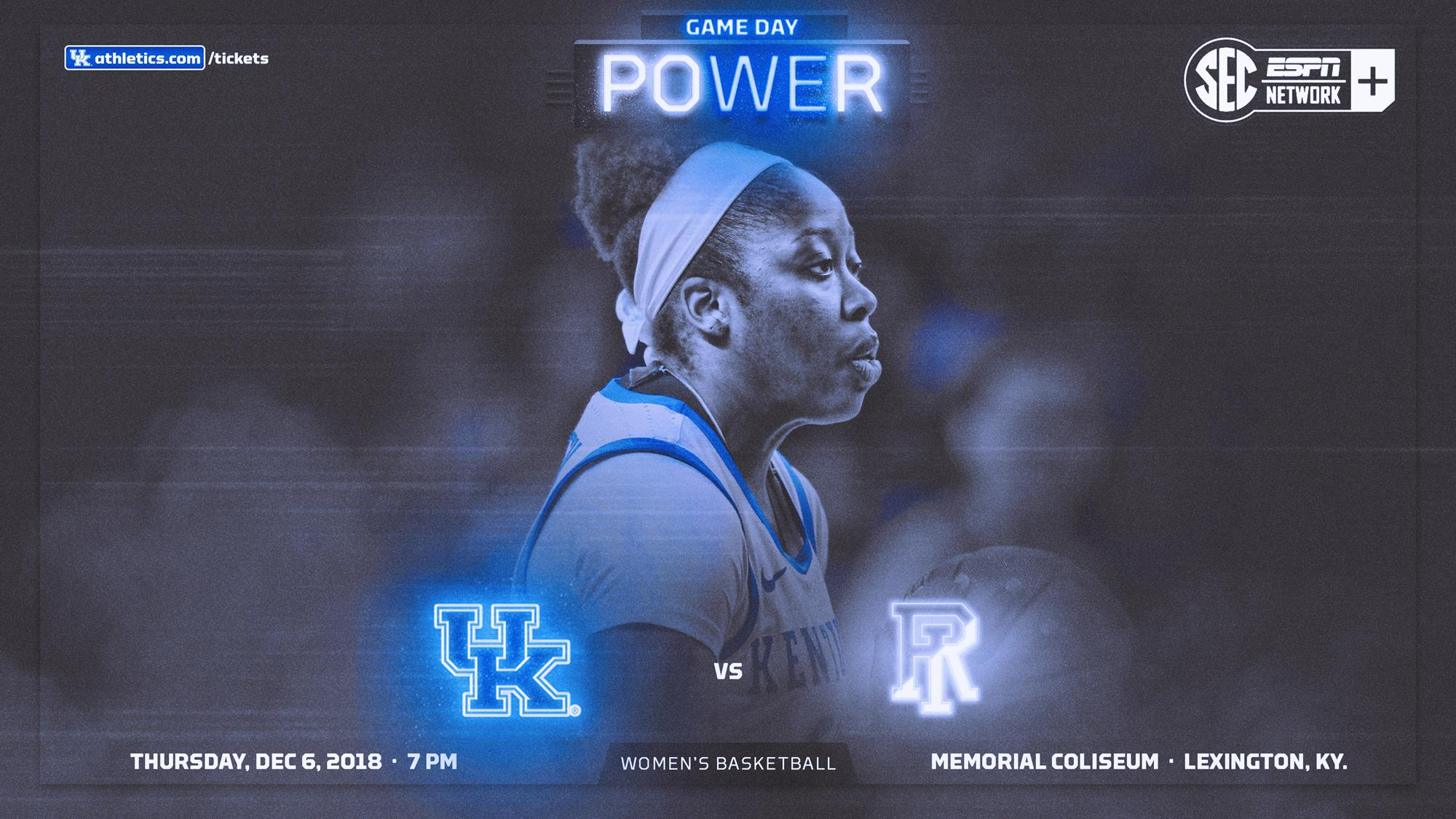 December 5, 2018 - 04:06 PM
No. 19 Kentucky Ends Home Stretch vs. Rhode Island Thursday
LEXINGTON, Ky. – After over a week between games, the No. 19 University of Kentucky women's basketball team returns to the hardwood Thursday at 7 p.m. ET as it plays host to Rhode Island inside Memorial Coliseum.  
 
The game will be streamed on SEC Network+ with Madison Blevins and Jeff Piecoro on the call. The action can also be seen through WatchESPN on computers, smartphones or tablets. Darren Headrick will have the call on the UK Sports Network on 630 AM in Lexington. Live stats and free live audio will be available online at UKathletics.com.   
 
Single-game tickets are $10 (all ages) in reserved seating areas, while general admission tickets are $8 for adults and $5 for children (ages 6-18) and seniors (age 65+). Sophomore guard Kameron Roach is scheduled to sign autographs following the game on the main concourse near the Lexington Avenue entrance. Other game day experiences include the massive new LED video board and LED ribbon board featuring a 5.2 mm display with a 4800-hertz refresh rate and additional snack options from Kroger's popular Simple Truth brand, including peanut butter filled pretzels, chocolate covered almonds and gummy worms will be available at concession stands. Young fans are encouraged to take advantage of the Kid Zone pregame with games, poster making stations, coloring stations and more.
 
Spectator parking is located in all E-lots surrounding Memorial Coliseum and are off control 3 hours prior to tip. Additionally, the South Limestone Garage (PS#5) and the Rose Street Garage (PS#2) are available 2 hours prior to tip. With the Gatton Student Center lot and expansion of North Craft lot there are 238 additional parking spots for spectators this season around Memorial Coliseum. The Bill Gatton Student Center is available as a pay-to-park option. Availability is based on the Gatton Student Center Event Schedule.
 
The Lexington Parking Authority Transit Center Parking Garage, located between High Street and Vine Street is available for parking after 5 p.m. during the week and all day on the weekends. Additionally, a free shuttle service will pick up in the High Street lot beginning 2 hours prior to tip. UK Athletics Event Staff will be at the Transit Center Garage Entrance to assist with directing patrons to the correct shuttle pick-up location.
 
Parking is prohibited in any R (Residential) lots. Vehicles parking in R lots without a proper permit, along yellow curbs, grass spaces, or other non-specified and unapproved areas may be subject to ticket and/or tow. Disabled spectator parking is available with a valid, state issues disabled hangtag in the E lot North of the Craft Center. These spaces are available on a first-come, first-served basis until full.
 
Shuttles are available beginning 2 hours prior to tip off and pick up and drop off near the South Limestone Garage (PS#5) and near the Transit Center Parking Garage and High Street Lot. Shuttles will start back up after halftime to return guests to their parking areas, the shuttle will discontinue service 1-hour post-game.
 
Doors to Memorial Coliseum open 1.5 hours before tip and UK Athletics encourages women's basketball fans to arrive early to ease traffic and parking congestion around the Coliseum. For more information on parking around Memorial Coliseum and other game-day questions visit UKathletics.com.
 
Kentucky (8-0) is off to its best start since the 2015-16 season when the Wildcats began 10-0. The Wildcats' strong start has moved them up to No. 19 in The Associated Press Top 25 and USA Today/Coaches Top 25. UK is coming off a win against Morehead State last Wednesday in Memorial Coliseum, taking down the in-state foe 87-57. The Wildcats were led by senior guard Maci Morris in the win, scoring 31 points including 25 in the first half. Her first-half performance was potentially the best ever by a Wildcats but records are incomplete prior to the 1982-83 season. Fellow freshman Rhyne Howard posted her second straight double-double in the game, posting 17 points and 10 rebounds.
 
Howard leads Kentucky in scoring this season, averaging 18.1 points and 6.9 rebounds per game which are both team bests. Morris is averaging 16.0 points per game and has hit 22 3-pointers, while fellow senior guard Taylor Murray is averaging 15.3 points per game and has a team-best 37 assists and 29 steals.
 
Rhode Island enters Thursday's game with a 5-2 record and winners of its last three games after claiming the Ocean State Tip-Off Tournament title last weekend. After starting the season with a loss vs. Boston College, 88-64, Rhode Island has won five of its last six with wins over Robert Morris, Vermont, North Dakota, Providence and Brown. The lone loss during that stretch was a 73-65 decision at Holy Cross.
 
RIU is averaging 65.3 points per game this season, hitting 38.1 percent from the field and 32.2 percent from long range. The Rams are averaging 19.1 turnovers per game. Junior guard Elemy Colome is the leading scorer at 15.0 points per game hitting 44.7 percent from the field and 32.3 percent from 3 with 5.6 rebounds per game. Junior guard Davida Dale has a team-best 26 assists and is averaging 13.9 points per game while junior center Nicole Jorgensen leads the team with 8.0 rebounds per game and is averaging 12.0 points per game.
 
This is the first ever meeting between Kentucky and Rhode Island in women's basketball.
 
For more information on the Kentucky women's basketball team, visit UKathletics.com or follow @KentuckyWBB on Twitter, Instagram and Snapchat, or Kentucky Women's Basketball on Facebook.
 
UK Head Coach Matthew Mitchell
Opening statement…
"Well, a big game for us tomorrow with Rhode Island. They have won three straight and they're playing with a lot of confidence. It's another game where their front court will have more size than our front court, and that will be something that we will see a lot this season. They've done a great job in their last five games on the offensive glass, averaging over 16 offensive boards a game. That's been a real point of contention for our team so far, we just have not protected the offensive glass. So, tomorrow will be a big challenge from that standpoint. They really like to push the ball in transition, so they'll put some pressure on our defensive transition game. That's something that we've got to really work hard at, so we've got to play with discipline. They're a good free-throw shooting team, so we've got to play without fouling for 40 minutes and just put a complete game together to see if we can earn a victory. But, we're working hard in practice, trying to get better."
 
On where you hope to see the team grow the most before the conference season…
"I think some places where we'd really like to take a step forward… you know, we've done a good job of creating turnovers and we've done a very good job with our turnover margin. I still think that we could take better care of the ball. So, offensively we've got a little too much standing after a play, we're only kind of playing when the ball is in our hand. So, I'd like to see us play a little bit better without the ball, set some better screens, make some better decisions. When a team takes away a passing lane, we tend to drift out, which is what the defense wants you to do instead of hard back-door cuts and keeping the offense moving. So, playing without the ball would help us tremendously and sharpen us up. And, the defensive glass, we've got to start slowing some people down. We were really fortunate to get out of the UCLA game, they just killed us on the boards. North Carolina got a bunch of offensive boards. I didn't think we rebounded to the level we were capable of against Morehead State. So, we've got hard-working players, high-character people. We've done a lot of things well. But, I would say that defensive rebounding… if you're turning people over a bunch, I'm not so much concerned about the overall rebounding total, you know, if you have a really high turnover margin, I don't know that you're going to have 10+ turnovers, or a 10+ rebounds, I mean you're killing somebody if you do that. But, We've got to get that number… we can't give up 15 and 16 offensive  boards against really good teams and think that we're going to be the team that we want to be."
 
On your approach with the team in the eight-day gap…
"Well, we were hoping we could practice a little bit harder, but we've just been so banged up – just really been banged up. Coming out of the Virgin Islands was such a positive result for us, but it came at a physical cost where we've had to try to get some people back healthy. Nothing that's preventing people from playing except for Ogechi (Anyagaligbo), and she's actually really prevented from the time off. She's progressing nicely, so hopefully we can get her back to game action, sooner rather than later. Just some areas, wear and tear, that we're trying to help people get a little bit more healthy as we go into it. But, we've worked hard on those things I just mentioned. You know, I'm really excited to see practice today to see if we can take another step forward. We're slowly but surely starting to move a little bit better without the basketball. That's going to be a problem for us if we don't get that worked out. We've got to play with a better flow offensively, a little too much dribbling right now. But, they're making some progress. I think it's a progress trying to ramp up for January to see if they can really take advantage of these practices before these games in December, because you know it's going to be a difficult, difficult road for us in the conference, a lot of good teams there. So, just trying to get better there and addressing the rebounding concerns that we have, and the players are working on that. And, a lot of that is on me, as far as what you're emphasizing. We've got to have a solid focus each practice, as coaches too, we've got to address that – where it's even just looking for somebody to try and put a body on somebody. We hustle, and we get after the ball, so if there are long rebounds, we can get those. Where they just push you under and we can't get it and lay it back up, we've got to eliminate those or get those down to just a couple times a game. it's going to hurt us if we don't get that done. It'll hurt us tomorrow. Rhode Island is a really good offensive rebounding team and it's a concern for us. So, we need to focus in on practice and get that done today."
 
On what the early stretch of the season revealed about this team…
"Well, we've scored a lot of points and that has been good. You don't know exactly how that's going to turn out. Rhyne (Howard) has scored a lot of points, and you're just not sure what your freshmen are going to do, and Rhyne and Blair (Green) have both been big contributors to us and have added a lot in games that are somewhat like an SEC game. So, those are things you just don't know coming in. You don't know how they're going to  react. We've shown the ability to display some toughness, grit, intensity and defense – those are thing we were wanting to happen before the season, but I'm telling you, you just don't know. Anybody that thinks these things just happen automatically or because you say they're going to happen, you don't know what it's like to try and put a team together. So, Italy helped us somewhat to figure out maybe what we'll be able to do, but I don't think you'll really know until you can get into the fire. That is what has been so good about our early-season stretch, while you certainly have flaws and some weaknesses as a team, overall we've been able to make our sum a bit greater than our parts, and I think that speaks to their character and their desire to to win for each other and play hard for each other, and as a coach that's very pleasing."
 
On how well this team shoots the 3…
"Every once in a while, Maci (Morris) may take one of those step backs, she makes it at a higher rate than most people do. So, those are really the only ones that I'm like, maybe we could've got a better one. But, for the most part, the offense is doing what it needs to do. It's breaking the defense down and people are helping in. For the most part, it is really good looks, it's not a lot of forced ones. And, we've worked hard on shooting. We've gotten together as a staff before the season, and you're trying to build the team and we've made a commitment to try and make sure that we spend a lot of time in practice shooting. We thought it was going to be important. I don't think we're ever going to be able to just pound the ball into the low block 25 times a game and make 60 percent of those, I think we're going to have to shoot the ball. We're going to have to shoot the ball well from the perimeter at times. It doesn't mean that we aren't going to score in the paint, it's just not going to be your traditional way, it's going to be more layups, driving, attacking or someone helping over and dumping down. But, a lot of our offense is drive and kick and you're going to have to make some 3s to be a good team. So, it has been very exciting and pleasing to see some 3-point shots and us shooting that well, and the people that are taking them are good shooters right now. So, we'll just keep working at it and inevitably there's probably some times where that will take a dip, but I think you just have to stay committed to it and take good ones. You can't force it and take bad ones. I don't think we're doing that a whole lot right now."