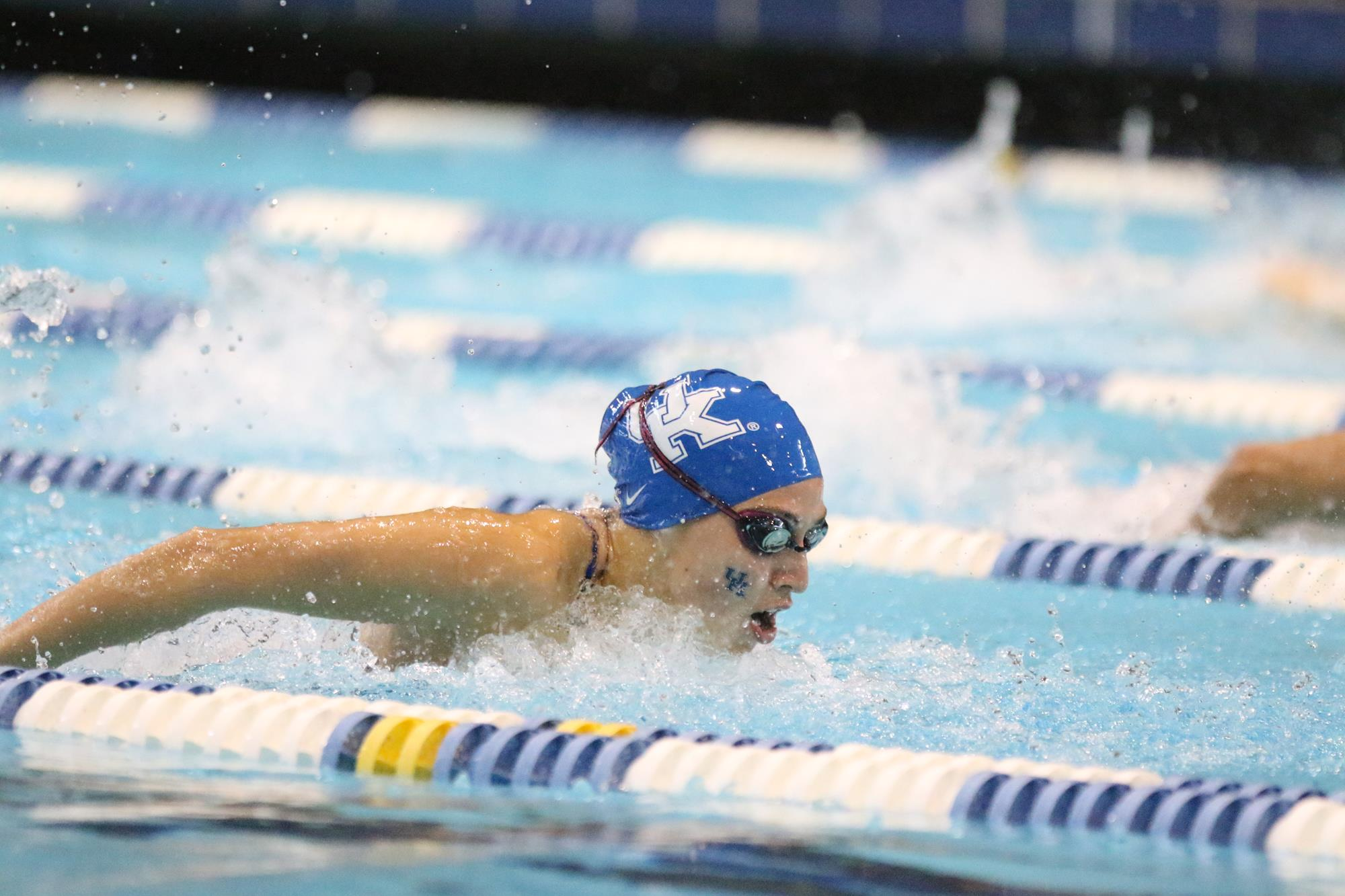 December 5, 2018 - 09:42 AM
Kentucky Swimmer Seidt Hopes to Reach Olympic Dreams
LEXINGTON, Ky. – The Kentucky swimming and diving program have long embraced its identifier, "Backstroke U". Accessories like that don't come along without validation, and nearly three years ago Kentucky acquired all the corroboration they will need when they landed highly-touted recruit and Kentucky native, Asia Seidt.
 
Now a backstroke fixture in college swimming, Seidt, the former Sacred Heart High School standout, committed to Kentucky's 2016-17 swimming and diving class as a No. 7 nationally-ranked recruit by CollegeSwimming, topping the list of incoming Wildcats.
 
Fast forward two years and Seidt, now a junior, has helped elevate the UK women's program with her fierce swimming and humble nature.
 
"I think she, first and foremost, has grown as a person," said head coach Lars Jorgensen. "She came into the Kentucky program as a terrific prospect to begin with. Sometimes a higher level prospect doesn't always improve through their collegiate career, but she has improved with each year."
 
Seidt has crafted two highly-successful years in her time with Kentucky, drafting a list chalk-full of record-setting times and awards.
 
In her first year, the backstroke specialist became the first freshman in program history to win a Southeastern Conference title, earning a gold-worthy finish in the 200-yard backstroke with a 1:50.22. At season's end, Seidt became a five-time All-American, was selected to the All-SEC First Team and SEC All-Freshman Team, while also earning the 2017 SEC Female Freshman Swimmer of the Year.
 
Her sophomore record is even more jarring, winning two more SEC titles in the 200- and 100-yard backstroke, becoming the first swimmer in program history to win back-to-back titles in a single event (200-yard backstroke). She became a two-time First Team All-SEC and a 10-time All-American – five-time First Team All-American – after an NCAA silver medal in the 200-yard backstroke.
 
"She started out as a great high school swimmer and now she's an international swimmer," Jorgensen said. "She has three SEC titles and a chance to win more before she graduates."
 
To date, Seidt holds five individual program records in the 100- and 200-yard backstroke, 200-yard individual medley, 200-meter backstroke and 200-meter individual medley. She also helped set four additional records in the 400- and 800-yard free relay and the 200- and 400-yard medley relay.
 
"Asia would really like to make the Olympic team," Jorgensen said. "We have 18 months of training to prepare her for that, and while that seems like a long time, it really is not. She is taking advantage of every day, and she's been training extremely well lately. I'm excited to see her take that next step in her swimming career to become a national champion, be on the Olympic team, while she's already accomplished so much."
 
For the second-straight year, Seidt was recently selected to the USA Swimming National Team and the 2019 World University Games, respectively, opportunities that allow Seidt to represent both the United States and Kentucky. All the while, Seidt pursues a major in Kinesiology and maintains a 4.0 GPA.
 
For the latest on the Kentucky swimming and diving program, follow @UKSwimDive on Twitter and on Instagram, on Facebook and on the web at UKathletics.com.