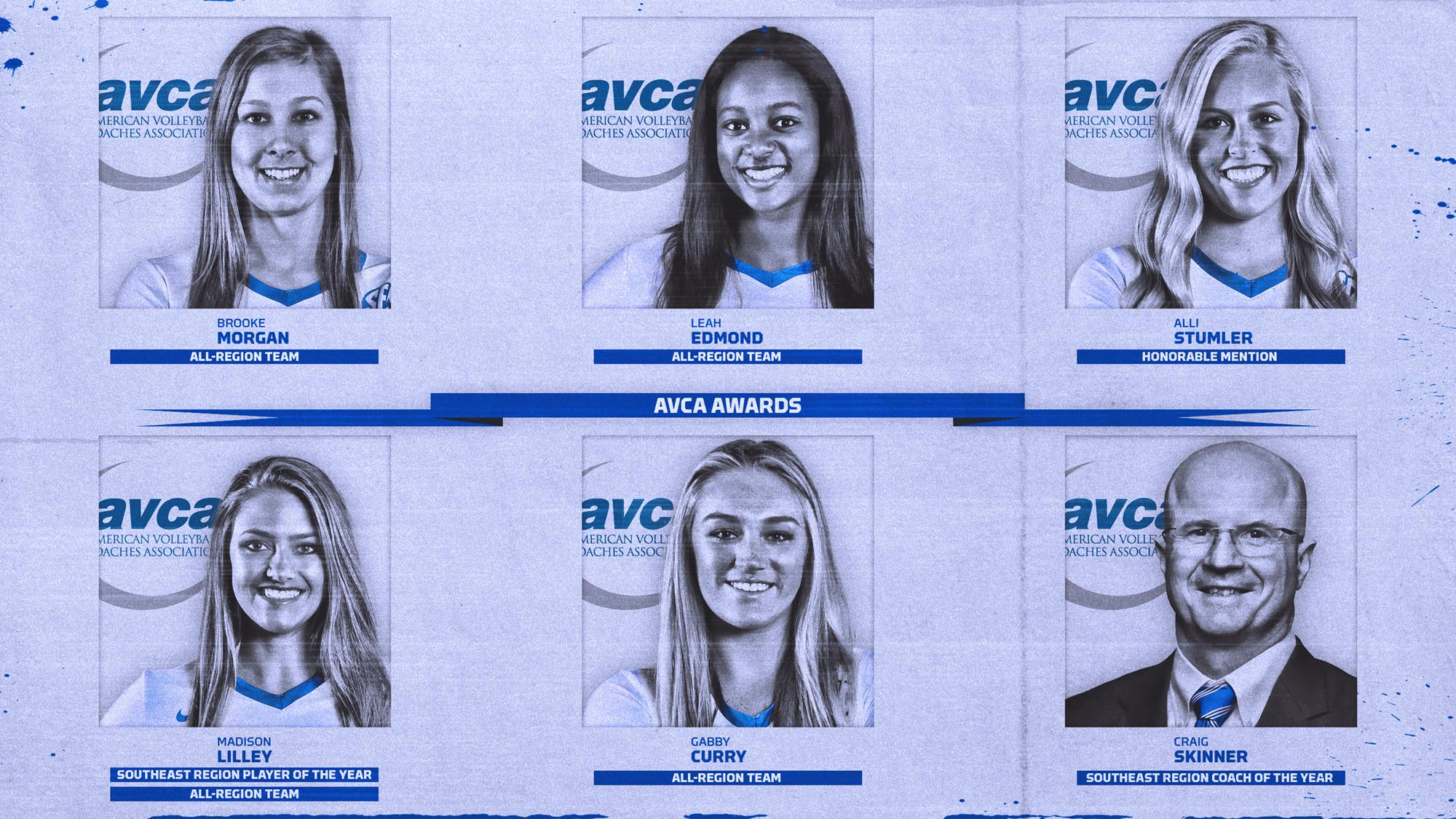 December 4, 2018 - 11:28 AM
Four Named All-Region: Lilley Player of the Year, Skinner Coach of the Year
LEXINGTON, Ky. – The American Volleyball Coaches Association announced on Tuesday that four Kentucky volleyball players earned All-Southeast Region honors, with senior Brooke Morgan, junior Leah Edmond and sophomores Gabby Curry and Madison Lilley each on the 14-player list. Lilley was named the region's Player of the Year – Edmond claimed the honor last season – while Craig Skinner was named Coach of the Year. Alli Stumler was named honorable mention.
 
Under Skinner, UK has earned 40 All-Region awards. Edmond has now won the honor three times while Lilley appears on the list for the second-straight season. Morgan and Curry pick up their first-career All-Region honors.
 
Lilley received her first player of the year award after being named All-SEC and averaging a conference-leading 11.33 assists per set, which ranks 14th in the nation. The setter has guided the team to a league-best .305 hitting clip, good enough for fourth in the country, and a 13.22 assist average while also ranking eighth in the country in kills per set at 14.5. She's also averaged 2.41 digs per set while leading the team in aces with 0.33 per set.
 
Edmond adds to her Southeastern Conference Player of the Year award that she was honored with just a few weeks ago by being named All-Region. The junior is averaging 4.63 kills per set, which ranks 13th in the country, and has posted at least 20 kills in eight matches this season and double-digits in all but two. Edmond is a three-time SEC Player of the Week this season and leads the UK offense. This season she became UK's all-time kills leader in the 25-point rally-scoring era with 22 terminations against Missouri, tied for the most in a three-set match in the SEC this season. The outside hitter has hit for .294 in total and has posted three double-doubles.
 
Brooke Morgan, named All-SEC earlier this season, leads the league in hitting percentage and ranks sixth in the nation at a strong .409 clip. The senior has posted 2.36 kills per set and has accumulated nine matches with five or more blocks during her senior campaign. Morgan has also swung above .400 on 10+ attempts in 18 matches this season.
 
Curry, who won SEC Libero of the Year, currently averages 4.42 digs per set for the season. Heading up the UK defense, the sophomore has eclipsed the 20-dig mark eight times this season and has yielded just 19 serve-receive errors on 548 attempts for a .965 reception percentage.
 
Stumler has been on fire in the NCAA tournament with a double-double against Murray State and almost grabbing another in the win over No. 12 Purdue. The SEC Freshman of the Year has 13 matches this season in double figures in kills with four double-doubles. She's averaging 2.42 kills per set along with 2.35 digs per set to date while only yielding just 15 serve-receive errors on 465 attempts for a .968 percentage and has posted her career-best 15 kills on three different occasions.
 
Skinner claimed his second regional coach of the year award. Named SEC Coach of the Year, Skinner has led UK to back-to-back SEC titles, as well as an undefeated conference season for the first time since 1987-88. UK went 13-4 against the AVCA top 50 this season and holds an RPI of nine. The Wildcats have won at least 20 matches in eight straight seasons under the direction of Skinner.