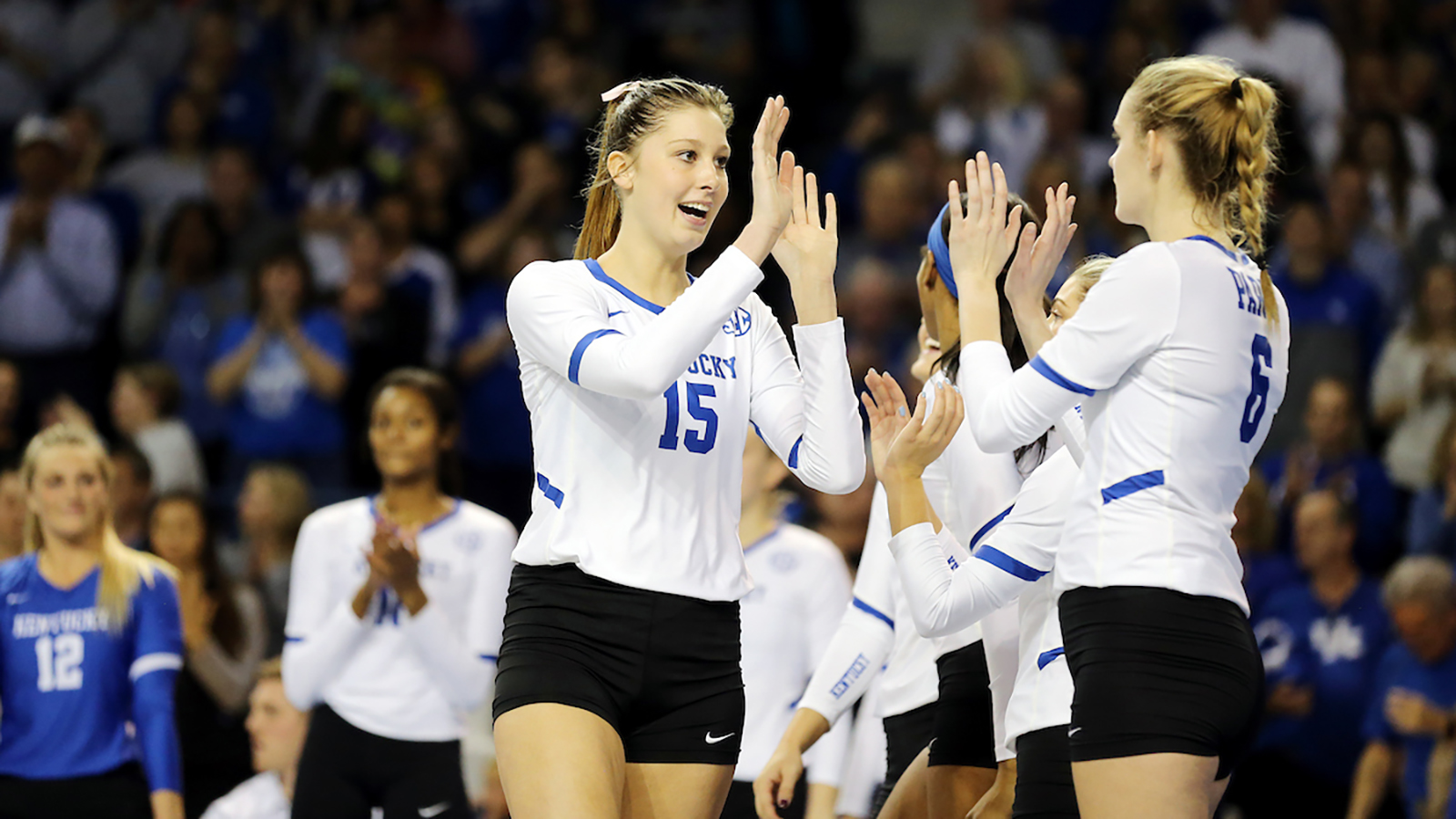 December 1, 2018 - 12:18 AM
Morgan Shines on Offense, Defense in Friday Win
In Friday's NCAA Volleyball Tournament first-round match, Murray State continually attacked Kentucky's Brooke Morgan in the first set. And the more they attacked, the more the senior from Dike, Iowa proved that she was ready.
Morgan crushed her previous career high in digs, which was four, with a new career-best of seven, all in the first set, as the Wildcats topped Murray State 25-18, 25-17, 25-19 on Friday night at Memorial Coliseum. In fact, Morgan tied her career high in digs on a single play in the first set, continually keeping the Murray State attack at bay.
For her part, Morgan took her defensive performance in stride.
"It was pretty cool, I think," Morgan said. "Taking over Gabby (Curry's) place (laughter). I do defense every day in practice."
Kentucky head coach Craig Skinner did not think Murray State was targeting Morgan, but he was pleased with how his senior responded.
"I don't know if it was particularly game plan to hit the ball at Brooke, it happened particularly in a non-rally so to speak," Skinner said. "But it's sometimes you'll play against teams that notice when the middle is playing in the back and will try and get some balls over to her, but that many times in one rally I think it had to be a coincidence. You know, she's in every digging drill we have in practice and I'm proud of her for making those plays."
Morgan is known for her hitting, and she did not disappoint in that area. Morgan entered Friday's match second in the SEC and 13th in the nation in hitting percentage (.399), and she only improved on those numbers. She had 10 kills and no errors in 15 attempts (.667) in the match. Morgan joined teammates Leah Edmond (17 kills) and Alli Stumler (12), all of whom had double figure kill numbers.
The efficient hitting by Morgan helped the Cats hit a scorching .398 as a team in the match. Morgan gave credit to sophomore setter Madison Lilley for the high hitting percentage.
"She's just a really good setter," Morgan said. "She knows when to find you and even if the pass is off or tight, you know you're going to get a great set. It's her mindset that she wants to be the best setter in the country. It's awesome getting sets from her."
The Wildcats will need to be efficient on Saturday, when they face Purdue in the second round of the NCAA Tournament.
"Our program has a lot of respect for Purdue," Skinner said. "They've had a long tradition of success. (Coaches) Dave Shondell and John Shondell have been there for years and done an extremely good job, and we've played them a lot. We've played them in the spring the last two years, we played them in the regular season at their place a couple of years ago. So, our players understand the level of play that Purdue can play at, and vice versa. There's definitely a mutual respect for the traditions of the program. It's going to be a fun match. It's second-round and high level and our fans are going to get their money's worth."
The Wildcats hope that Morgan and her teammates can continue their offensive onslaught on Saturday. And if she happens to continue to register digs in the match, it will be a bonus for Kentucky.