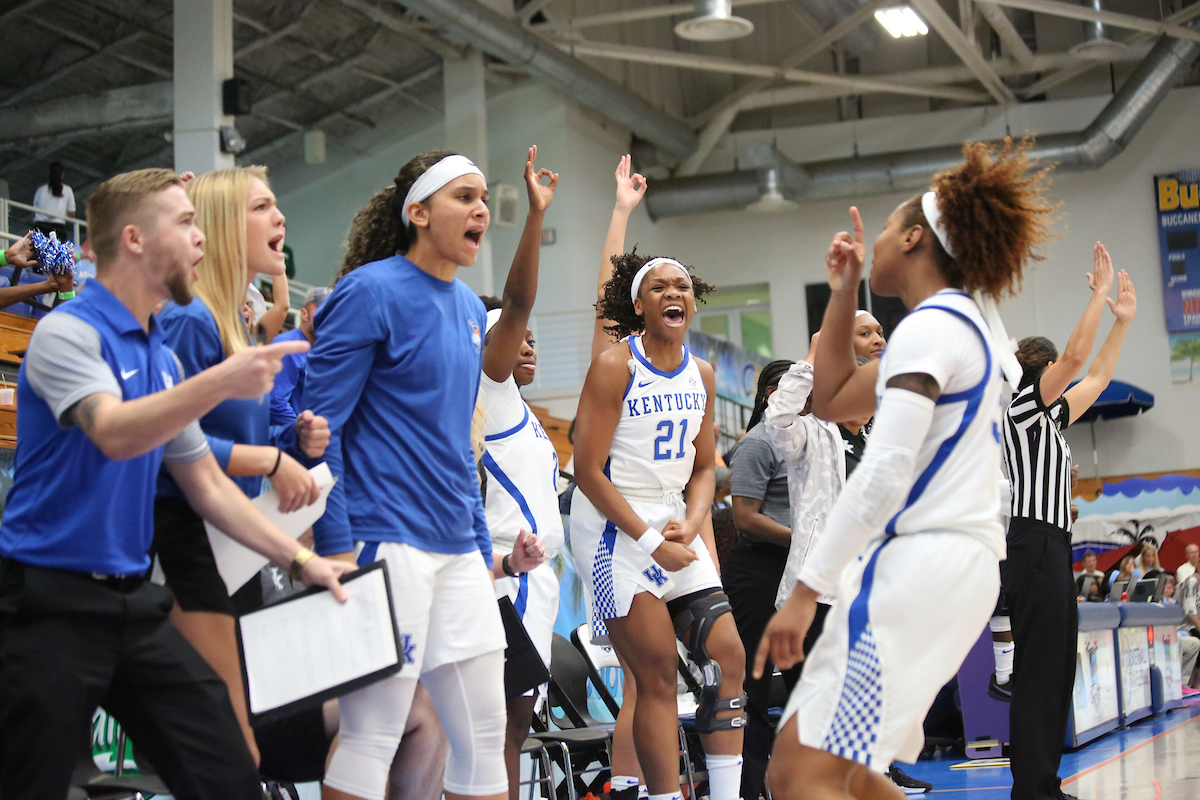 November 26, 2018 - 01:00 PM
Women's Basketball Enters Associated Press Top 25
LEXINGTON, Ky. – Following its impressive run through the 2018 Paradise Jam Island Division with wins over three teams that have been ranked or receiving votes this season, the University of Kentucky women's basketball team enters The Associated Press Top 25 this week at No. 25, it was announced Monday afternoon.
 
Kentucky (7-0), which has been receiving votes in the USA Today/Coaches Top 25, enters the AP rankings for the first time since a No. 20 showing on Dec. 4, 2017. The Wildcats have spent a majority of their time under 12th-year head coach Matthew Mitchell ranked, including a recent stretch of 132 consecutive appearances, which was the eighth longest in poll history at the time.
 
The ranking comes after a 7-0 start to the season for the Wildcats, which is their best since starting the 2015-16 season 10-0. Last week, UK put together a 3-0 run through the Paradise Jam Island Division where it defeated then-No. 17 South Florida and UCLA and UNC, who were both receiving votes in the national rankings earlier this season. UK also has a win over Virginia, who advanced to the second round of the NCAA Tournament last season and brought back four starters from that squad.
 
Freshman guard Rhyne Howard has led Kentucky this season by averaging 18.3 points per game with a team-best 6.4 rebounds per game. The native of Cleveland, Tenn., has 13 assists and 13 steals this season and has scored 20 or more three times while leading UK in scoring four times. Howard was named the MVP of the Paradise Jam Island Division while senior guard Taylor Murray was named to the all-tournament team. Murray has been impressive this season averaging 15.6 points and 3.7 rebounds per game while leading UK with 31 assists and 24 steals.
 
Senior guard Maci Morris is also averaging double digits this season at 13.9 points per game. The native of Bell County, Ky., has hit 18 3-pointers and is averaging 3.0 rebounds per game. Junior guard Jaida Roper is averaging 8.3 points per game and is 11-for-19 from long range with 16 assists.
 
As a team, UK is averaging 79.6 points per game while limiting opponents to just 55.4 points per game. The Wildcats are hitting 40.9 percent from the field, 41.9 percent from long range and have +14.1 turnover margin.
 
UK is scheduled to play 11 games against teams currently ranked or receiving votes in the AP Top 25. Those games will be against No. 5 Louisville, No. 6 Mississippi State, No. 11 Tennessee, No. 17 Texas A&M (twice), No. 18 South Carolina (twice), and Georgia, Missouri and LSU (twice) who are all receiving votes.
 
Kentucky returns to action on Wednesday, facing intrastate rival Morehead State at Memorial Coliseum. Tipoff is set for noon ET and the game can be seen on SEC Network+.
 
For more information on the Kentucky women's basketball team, visit UKathletics.com or follow @KentuckyWBB on Twitter, Instagram and Snapchat, or Kentucky Women's Basketball on Facebook.