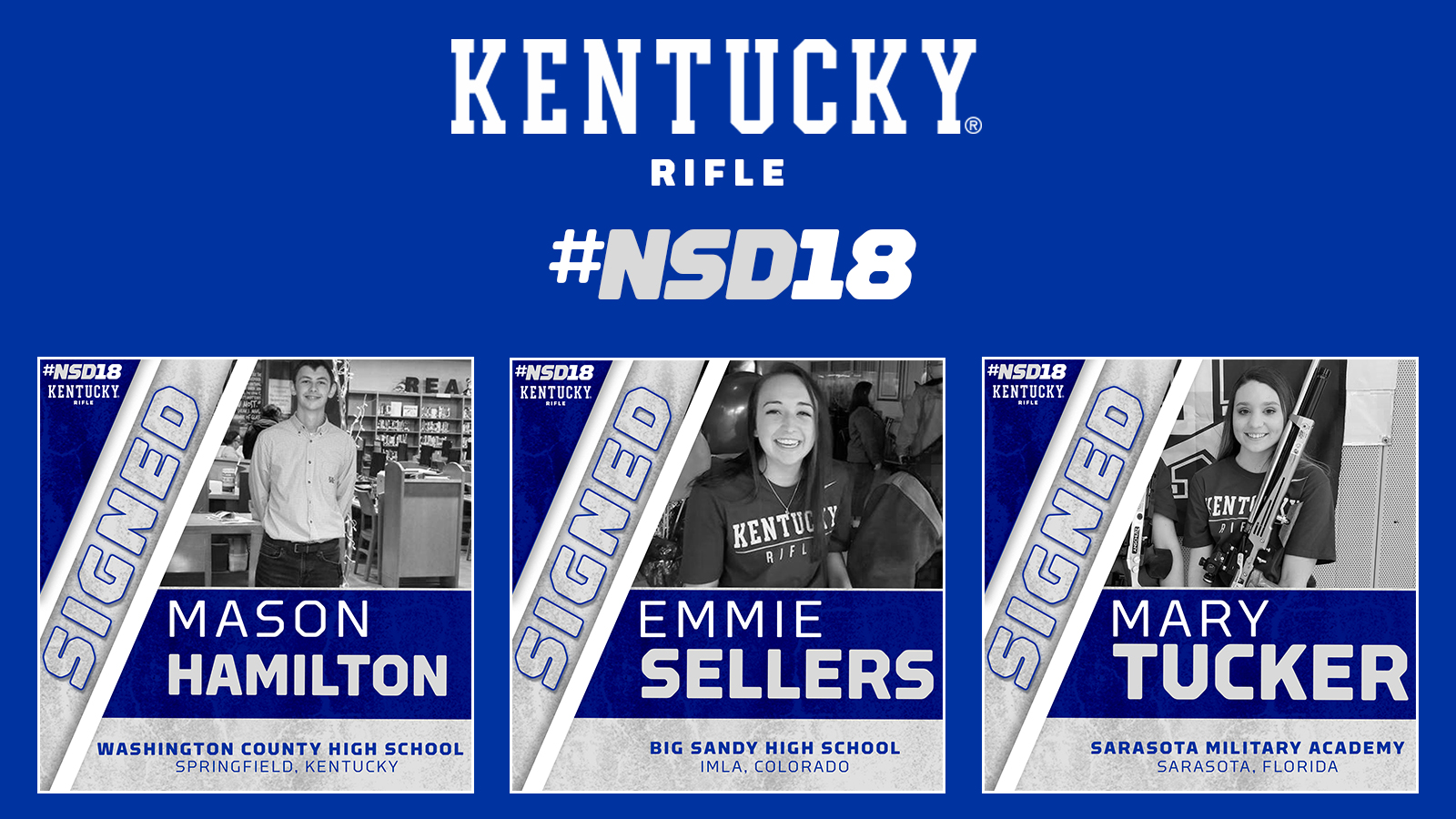 LEXINGTON, Ky. – The Kentucky rifle program announced its initial three newcomers who during the fall 2018 signing period inked National Letters of Intent to attend the University and compete as Wildcats.
Mason Hamilton, Mary Tucker and Emmie Sellers will be sporting Kentucky colors starting next season.
"I feel this is a solid class of passionate and driven Individuals," Kentucky Head Coach Harry Mullins said. "They all have great passion for the game and are looking to compete at the highest level. I feel they understand what we are trying to do here at Kentucky and are really striving to become the best they can be. It will be exciting to have them here on campus with the energy they bring and the skills they already possess. We cannot wait for them to be wearing the Blue and White."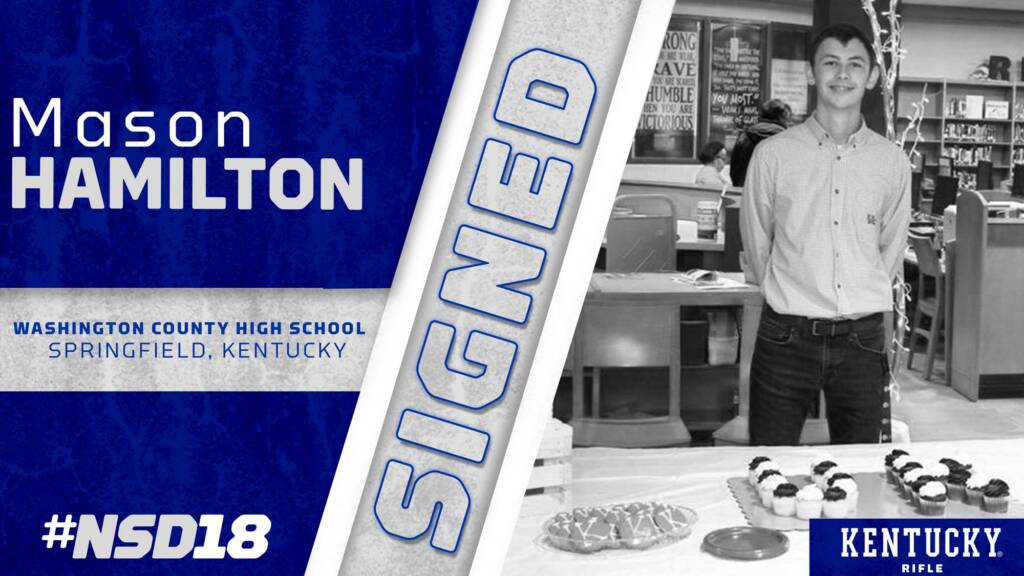 Mason Hamilton — Springfield, Kentucky — Washington County High School
Accomplishments: Three-time gold medalist at the USA Shooting National Championships in three-position smallbore … J2 Bronze medalist in 2017 at NJORC in small bore and air rifle … 2015 NJORC J3 gold medalist in smallbore and silver in air rifle … Seven-time State Champion in 4-H shooting sports … 3x ELEY High School All-American.
 
Personal: Parents are Todd and Allena Hamilton … Has one younger sibling: Mallory … President of his High School's Future Farmers of America chapter and bass fishing team … winner of Kentucky Farm Bureau Outstanding Youth award in 2018 … plans to major in agriculture economics.
 
Mullins on Hamilton …
"Mason's strength right now is smallbore, yet he is also a very solid two-gun shooter. I feel that his passion for Kentucky and the sport will really show next season when he gets to wear the Blue and White. He has tremendous ability and and high upside in both events. I have seen Mason on the score sheets for the past six years and it is exciting that he will be a Wildcat now."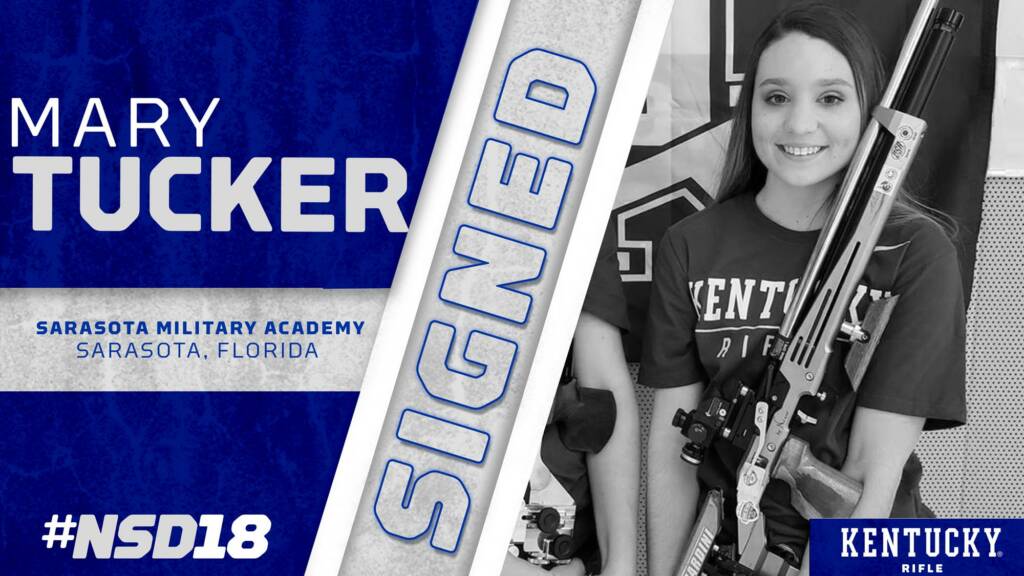 Mary Tucker – Sarasota, Florida – Sarasota Military Academy
Accomplishments: Florida State Junior Olympics Champion in 2017 … Competed in the World Cup Fort Benning and CAT Games in 2018 … Fifth place in the open air rifle and sixth place in the open smallbore at the Robert Mitchell Championships in 2018 … Sixth place in the air rifle at Spring Selections  2018.
 
Personal: Parents are Robert Tucker and Jennifer Tucker Mogensen … has one younger sibling: Reece Tucker and two older siblings: Jackie and Toni Mogensen … Second Lieutenant in Junior ROTC … Plans to major in equine science and to minor in business management.
 
Mullins on Tucker …
"I think she will come in with a solid start in both guns. She is known more for her air rifle then smallbore, but I feel that she is a very solid two-gun shooter. We are looking forward to having her on the team. She has a strong work ethic and loves to compete. It has been fun watching her compete up to date, and now that she is a Wildcat it will be even more fun. Mary has great skills and a high upside in both guns."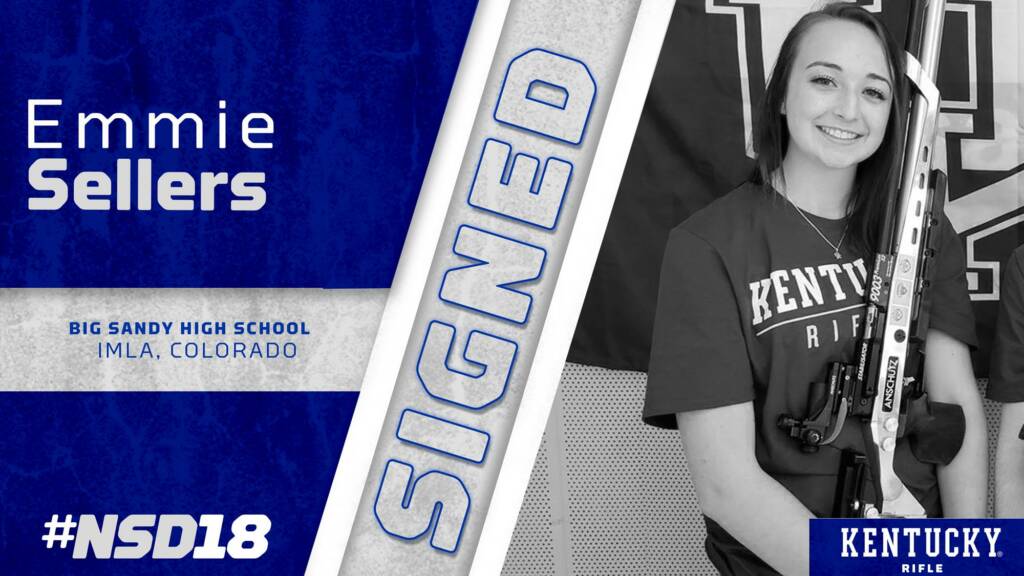 Emmie Sellers – Imla, Colorado – Big Sandy High School
Accomplishments: A National Training Center Shooting Club member since 2015 … qualifier for the National Junior Olympics … 2018 State runner-up in the Junior Olympic Championships Air Rifle … U.S. Army Marksmanship Unit National Junior Championships runner-up in 2018 … State Grand Champion Team .22 Rifle … 2017- Grand Champion Senior Air Rifle, State Champion Team Air Rifle and .22 Rifle, National Air Rifle Standing Individual sixth place, National Air Rifle Silhouette Team fifth place, National Air Rifle Overall Team fourth place, National Air Rifle Standing Team third place  …. 2016 – Grand Champion Senior Air, State Champion Team Air Rifle and .22 Rifle … 2015 – Grand Champion Junior Air Rifle, Grand Champion Junior .22 Rifle, All Around Reserve Grand Champion Shooting Sports.
 
Personal: Parents are Heidi and Ricky Sellers … Has two siblings Antone and Ashtin … Three-year varsity letter winner in basketball … Morgan Dwyer Perseverance Award winner on the basketball team twice … Class President for a year, VP for a year and secretary for four years … National Honor Society member and VP … Skills USA chapter VP … Big Sandy school district accountability committee president … volunteers at local bull riding school … serves in a hunter's safety class.
 
Mullins on Sellers …
"Emmie like the others has played multiple team sports and knows the meaning of team. I feel that she has great passion for the game and loves to compete. Watching her the past two years at Junior Olympic shooting with a torn ACL and the effort she gave just to compete stuck with me. I feel she will help round out the team."
 
 —
For the latest on the Kentucky rifle team, follow @UKrifle on Twitter, Instagram and Facebook, as well as on the web at UKathletics.com.