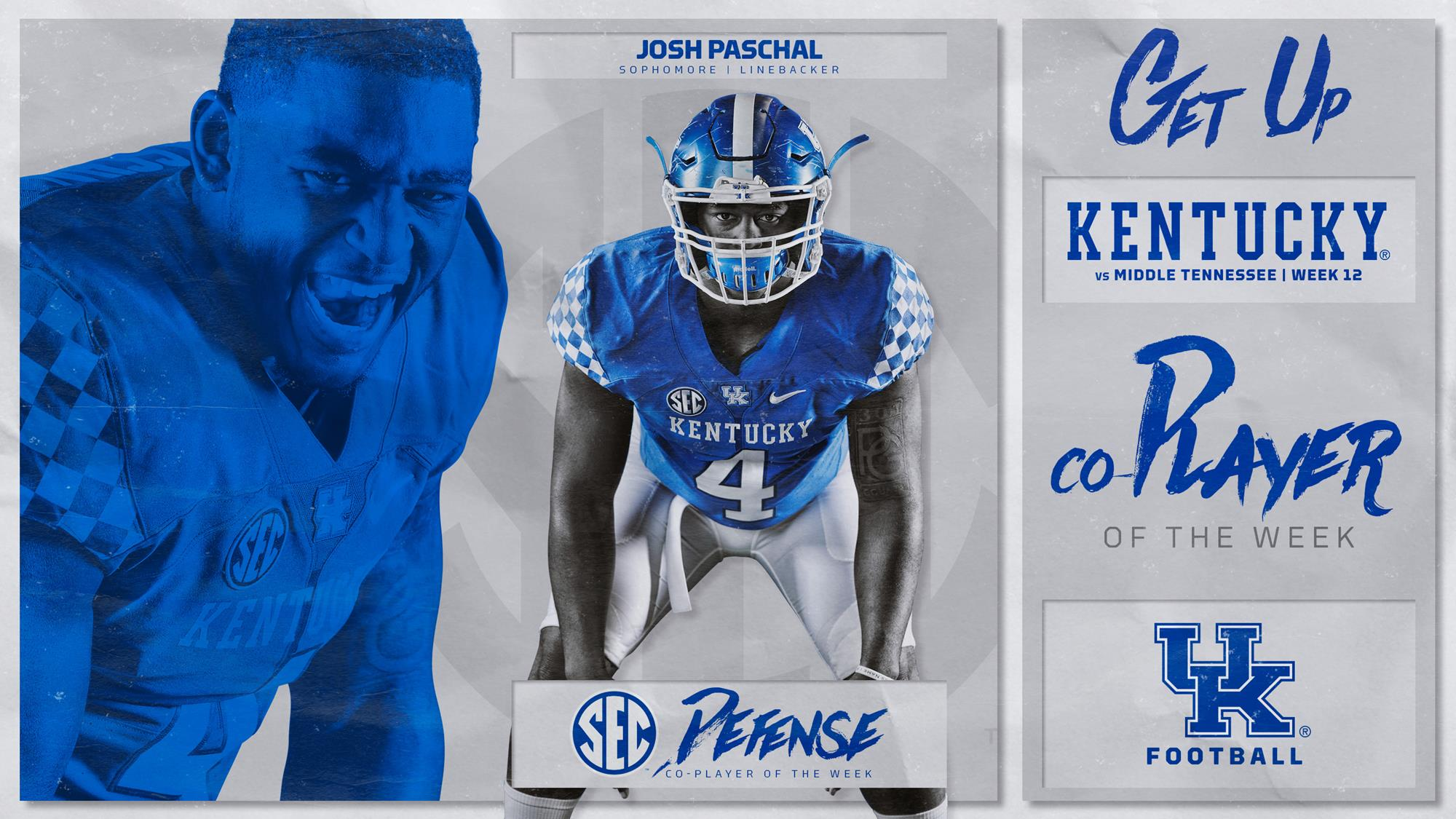 LEXINGTON, Ky. – Kentucky linebacker Josh Paschal has been named Southeastern Conference co-Defensive Player of the Week, it was announced on Monday by the league office. Paschal returned to the field for the first time this season after being diagnosed with a malignant melanoma in July.
 
Paschal (Olney, Md.) started at outside linebacker and saw occasional action throughout the Wildcats' 34-23 win over Middle Tennessee in the final home game of the season. Already an emotional day, Paschal chased a ball carrier from behind and recorded a tackle on a third down play to force a Blue Raiders' punt, drawing an extended ovation from teammates and fans.
 
The sophomore was diagnosed with the malignant melanoma on the bottom of his right foot just before fall camp opened and endured three surgeries, followed by ongoing monthly immunotherapy treatments. After strenuous workouts in the weight room and with the team's medical and strength staffs, Paschal returned to the practice field several weeks ago before suiting up on Saturday.
 
"That was the highlight of my year, seeing JP out there doing his thing. That's unbelievable," junior linebacker Kash Daniel said after the win. "He's been through so much. You guys know the big picture but you don't know the little things, the mental part he had to deal with. He's always so positive about coming back, there was never a negative day he had. He always had a great attitude. Josh is an unbelievable guy, I'm honored to be his teammate."
 
The No. 17 Wildcats enter this weekend's season finale at Louisville with eight victories, the most in a regular season since the 1984 team finished 8-3. With a win on Saturday the team would complete its best regular season since 1977. Game time is set for 7 p.m. ET at Cardinal Stadium and will air on ESPN2.
 
Follow along with the Cats on Twitter, Facebook and Instagram, and on the web at UKathletics.com.