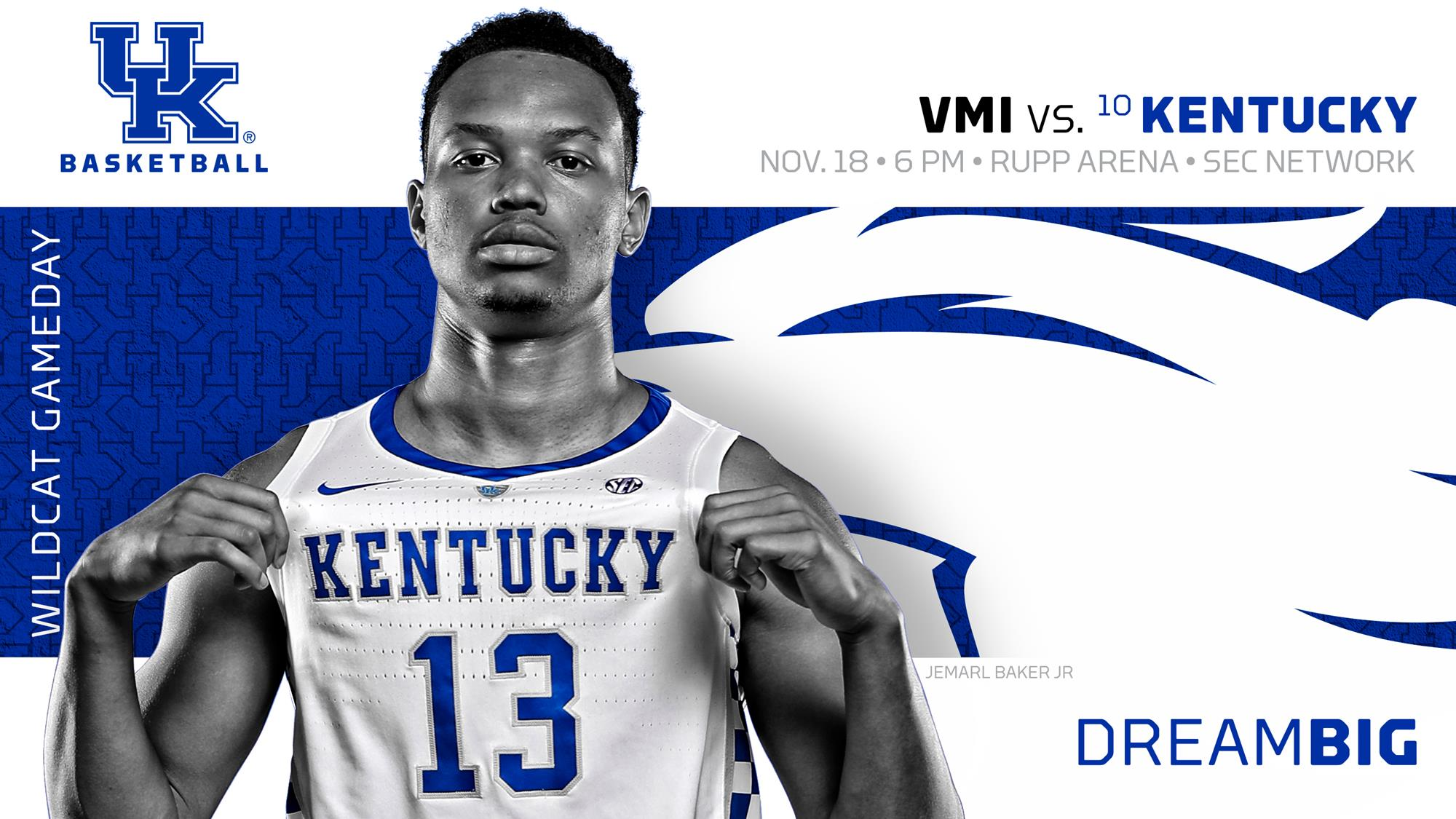 November 16, 2018 - 09:41 PM
Hard Work Yielding Results as UK Prepares for VMI
The whirring sound coming from the treadmill in the corner of the men's basketball gym at the Joe Craft Center tells you everything you need to know.
 
John Calipari has turned up the heat at Kentucky's practices over the last week-plus.
 
"Very hard," EJ Montgomery said. "We've been doing wall-sits, everything from the beginning of basketball, charge drills and stuff like that."
 
That might not sound like a whole lot of fun, but the Wildcats are good with it. They understand the purpose.
 
"These have definitely been some of the hardest practices I've ever had in my life," Immanuel Quickley said. "Coming in starting with wall-sits, defensive slides, I think the intensity has definitely picked up these last couple weeks and I think that'll start to translate to the games. I think we'll get a lot better."
 
Kentucky vs. VMI

Wed., Nov. 18 – 6 p.m. ET
Rupp Arena
Lexington, Ky.
Game Notes: UK | VMI
UK Athletics App
Digital Guide

Coverage

TV: SEC Network
Radio: UK Sports Network
Watch
Listen
Live Stats

UK
2018-19 Stats
VMI
83.7
PPG
80.0
78.3
Opp PPG
64.0
.474
FG%
.435
.464
Opp FG%
.399
43.3
RPG
40.2
.318
3PT FG%
.364
.393
Opp 3PT FG%
.337
.747
FT%
.783
14.3
APG
16.0
6.0
SPG
9.8
5.3
BPG
3.3

No. 10 UK (2-1) has already shown improvement. The Cats played their best game of the season last time out, holding North Dakota to 39.6-percent shooting and forcing 20 turnovers in a 95-58 victory on Wednesday night. UK also improved from playing "10 or 15 minutes" of quality defense against Southern Illinois, according to assistant coach Tony Barbee's evaluation, to around 25 against North Dakota.
 
"There's an old saying: 'Fatigue makes cowards of us all,' " Barbee said. "You know, when you get tired, it's just human nature to want to stop and stand up and look, and when you're playing at this level of basketball and you do that, offenses are too sophisticated, coaches are too good. When you study tape, you're going to pick on people on the other team who you see are the guys that stand up and stop and break down."
 
Now Kentucky will begin a stretch of three games in six days when VMI (3-1) comes to Rupp Arena for a 6 p.m. Sunday matchup.
 
"It all starts in practice," Quickley said. "Trying to go at each other, going hard each and every day, not taking any team for granted because any team can go out here and beat you. Really just coming out and playing hard each and every time you step on the court, that's going to be the most important thing for us."
 
VMI will provide a test on that front, as the Keydets play an offensive style that will require both energy and focus. Lapses, if they happen, will be punished.
 
"It's a pseudo Princeton-style offense with all of the back cuts and the curl cuts and the dribble handoffs and the constant motion," Barbee said. "And then anytime you play that style of basketball with a five man who can stretch the floor like they have, it makes it hard because one of your bigs is getting pulled away from the paint. So, it's a challenge."
 
VMI has nine players who have hit a 3 through four games this season, including aforementioned five man Jake Stephens. The 6-foot-8 freshman has hit 6-of-12 3s, while Bubba Parham – last year's Southern Conference Freshman of the Year – is averaging a team-best 18 points per game.
 
That will present a challenge, but what Coach Cal and the UK coaching staff are asking of their team isn't complicated. The time for complex schemes and concepts will come, but for now it's about laying a foundation.
 
"Basketball is always back to the basics," Quickley said. "Whether it's taking a charge out on the floor, the little stuff is how you win games. I think we kind of got away from it and now we're just trying to get back to that."
Washington Leads Kentucky Past North Dakota
As No. 10 Kentucky works through initial growing pains, it can feel good about its first lopsided win this season.
PJ Washington set a career high with 25 points and grabbed a season-best seven rebounds, Tyler Herro added 18 points, and the Wildcats rolled over North Dakota 96-58 on Wednesday night.
The Wildcats (2-1) finally got the dominant effort they sought after a rough first week in which Duke beat them by 34 points before they scraped by Southern Illinois. They had to shake off an initial back-and-forth with the Fighting Hawks (2-1), who led 13-12 before Washington's 3-pointer put Kentucky ahead to stay. The Wildcats outscored North Dakota 27-7 over 9:46 for a 39-20 cushion and led by 38 in the closing minutes.
That initial basket was big for Washington, Kentucky's top returning scorer who managed just 11 points through two games. He went on to post a season-high 10 points by halftime before scoring 15 more after the break. He finished 9 of 13 from the field, including a career-best 4 of 5 from behind the arc to surpass his previous best of 22 points against Mississippi State in January.
Herro was just as relieved to regroup from a scoreless performance against SIU. He went 7 of 12 with a 3-pointer to top his 14-point debut against Duke, and Kentucky shot 53.2 percent in the opening game of the Ohio Valley Hardwood Showcase. The Wildcats scored 31 points off 20 turnovers with 12 steals, including a career-high five by Herro.
Keldon Johnson had 12 points and 10 rebounds for Kentucky's first double-double this season. Immanuel Quickley also scored 10 for the Wildcats.
Conner Avants had 14 points and Filip Rebraca 13 for North Dakota (2-1), which shot 40 percent in its first meeting with the Wildcats.
• Kentucky took control of the game with a 15-0 run midway through the first half
• The win marked the 45th consecutive home win over an unranked Associated Press Top 25 nonconference opponent
• UK improved to 235-5 (.980) under Calipari when leading by at least 10 points at any point in the game
• The Wildcats are now 154-7 (.957) under Calipari's direction when limiting the opponent to 63 points or fewer
• Kentucky outrebounded North Dakota by 30 (45-15). It was tied for the second-largest rebound margin in the Calipari era and the biggest margin since UK outrebounded NJIT by 31 on Nov. 14, 2015
• The 15 rebounds Kentucky allowed are the fewest boards an opponent has grabbed vs. UK in the Calipari era
• UK dominated the specialty stats, dominating UND in paint (48-16), points off turnovers (31-6), second-chance points (16-0) and fastbreak points (23-2)
• The Wildcats eclipsed the 50-percent shooting mark for the first time this season
• Kentucky shot 80 percent from the line and is shooting 74.7 percent from the charity stripe over its first three games
• Five Wildcats scored in double figures, the first time that's happened since five players did it vs. Ole Miss on Feb. 28
• Washington scored his 25 points in just 17 minutes of action
• Herro's five steals were one short of the Calipari-era record
This Land is Your Land, This Land is My Land
It took 117 seasons of basketball to do, but Kentucky has finally pulled off the rare and impressive feat of having defeated a team from all 50 states in the country.
North Dakota was the lone state from which the Wildcats had never played an opponent (nor, obviously, beaten one). UK finally had the opportunity to Wednesday and took care of business.
North Dakota is now one of five states UK has played only once, the other four being Delaware, New Mexico, South Dakota and Vermont.
Tennessee — not Kentucky — is the state that UK has played more games, won more contests and dropped more matchups against than any other state because of Southeastern Conference rivals Tennesee and Vanderbilt.
Ohio Valley Hardwood Showcase
Kentucky's game vs. VMI is the second of four consecutive games the Wildcats will play as a part of the Ohio Valley Hardwood Showcase.
The Ohio Valley Hardwood Showcase is a multi-team event. UK has already played North Dakota (W, 96-58) and will face Winthrop (Nov. 21) and Tennessee State (Nov. 23), in addition to Sunday's matchup vs. VMI, as a part of the event.
UK will play all four its games at Rupp Arena.
VMI Has Done it Before
John Calipari and his team certainly won't take VMI lightly, but for those fans who are quick to dimiss the mid-major name, recent history would suggest the Wildcats should be cautious.
The Keydets pulled off a shocking upset the last time they played in Rupp Arena. With a high-powered, uptempo offense, VMI stunned UK 111-103 on Nov. 14, 2008, in the 2008-09 season opener.
That was the season before Calipari took over the reins.
Cats Cleaning the Glass
Although this Kentucky team isn't quite as long in the frontcourt as some of John Calipari's more recent teams, it has rebounded the ball in dominating fashion in each of its last two games.
Sophomore forward Nick Richards provided a historic boost for the Wildcats in their home opener against Southern Illinois. The 7-footer from Kingston, Jamaica, gobbled up a career-high 19 rebounds — exactly what SIU totaled as a team — to help lift Kentucky to a plus-29 margin on the boards. It proved to be a difference maker against a veteran and pesky Saluki squad that led by as many seven midway through the second half.
According to Big Blue History, a comprehensive fan website, it's the first time in school history a UK player has recorded as many rebounds as the opponent.
Richards had nine boards on the offensive end — tied for the most in the Calipari era — and 10 on the defensive end. The 19 total boards were the most by a Wildcat since Michael Kidd-Gilchrist had 19 in a win over Louisville on Dec. 31, 2011.
Although Richards couldn't sustain his individual glass work the following game vs. North Dakota, the Wildcats did as a team. UK followed its plus-29 rebounding effort with a plus-30 effort against UND for the second-biggest rebounding margin of the Calipari era.
Kentucky's combined plus-59 rebounding margin over its last two games is the best two-game stretch under Calipari.