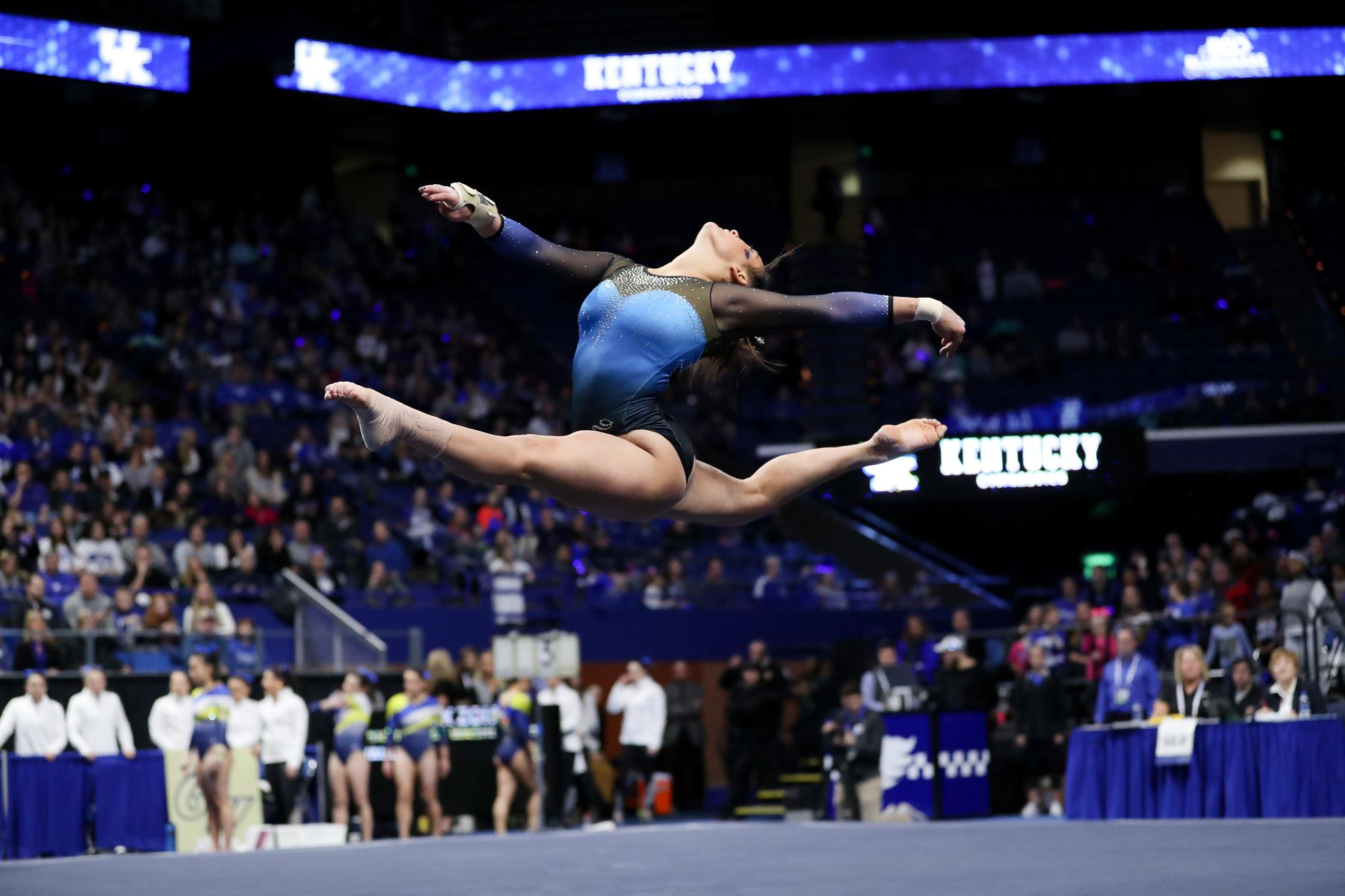 November 15, 2018 - 06:08 PM
Five Kentucky Meets to be Broadcast Live on SEC Network
LEXINGTON, Ky. – The Kentucky gymnastics team will have five meets broadcast live on SEC Network this season, the Southeastern Conference and ESPN announced on Thursday.
 
Kentucky will kick off its televised schedule on Excite Night when it welcomes Arkansas to Rupp Arena on Jan. 18 at 6 p.m. ET. The Wildcats will face Florida on the road in a duel on SEC Network on Jan. 25 at 6 p.m. as part of a rare Friday Nights Heights tripleheader. UK will host LSU on Feb. 8 and travel to Georgia on Feb. 15, fourth in its lineup on the network. The Wildcats' trek to Missouri will be the fifth and final of its live appearances on the network
 
UK's match with Auburn on Feb. 1 will be tape delayed on ESPNU on Feb. 3 at 6 p.m. while the meeting with Alabama on Feb. 22 will be taped delayed on ESPN2 on Feb. 24 at 6 p.m. Both matches with the Tigers and Crimson Tide can be streamed via SEC Network+.
 
All meets will be shown live and can also be seen online and the WatchESPN app.
 
SEC Network continues to provide premier access to Southeastern Conference gymnastics with nearly 50 hours of action airing across ESPN networks in 2019. SEC Network will televise 18 live meets in the 2019 season, and SEC Network's "Friday Night Heights" gymnastics series continues with eight consecutive weeks of elite matchups from around the conference.
 
UK will wrap up the televised portion of the schedule with the 2019 SEC Championships on March 23. For the fourth consecutive year, the 2019 SEC Gymnastics Championship will be telecast live, with coverage of the afternoon session on SEC Network at 4 p.m. and flipping to ESPN2 for the evening session at 8 p.m.
 
 
Date
Time (ET)
Meet
Network
Fri, Jan 18
6 p.m.
Arkansas at Kentucky
SEC Network
LIVE
Fri., Jan 25
6 p.m.
Kentucky at Florida
SEC Network
LIVE
Fri., Feb 1
7 p.m.
Auburn at Kentucky
SEC Network+
LIVE
Sun., Feb 3
6 p.m.
Auburn at Kentucky
ESPNU
Tape Delay from 2/1
Fri., Feb 8.
8:30 p.m.
LSU at Kentucky
SEC Network
LIVE
Fri., Feb. 15
7 p.m.
Kentucky at Georgia
SEC Network
LIVE
Fri., Feb. 22
7 p.m.
Alabama at Kentucky
SEC Network+
LIVE
Sun., Feb 24
6 p.m.
Alabama at Kentucky
ESPN2
Tape Delay from 2/22
Fri., March 1
6 p.m.
Kentucky at Missouri
SEC Network
LIVE
Sun, Mar 23
4 p.m.
SEC Championship
Afternoon Session
SEC Network
LIVE
8 p.m.
SEC Championship
Evening Session
ESPN2
LIVE