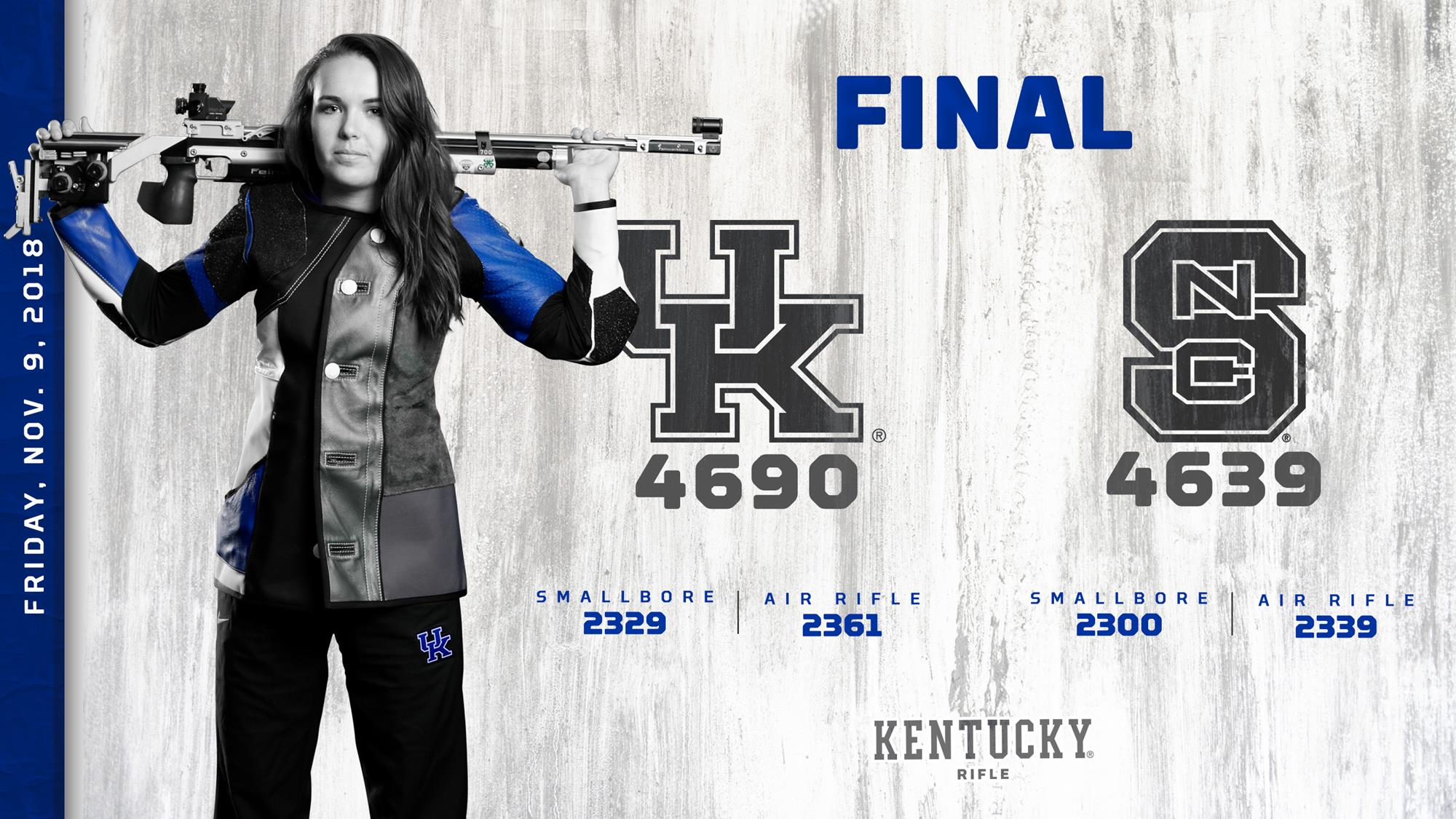 LEXINGTON, Ky. – The Kentucky rifle team defeated North Carolina State 4690-4639 to begin its last home weekend of the autumn portion of the season on Friday.
UK will serve as host for another home match against Army on Sunday at 8 a.m. ET inside Buell Armory at Barker Hall.
 
Fans can follow all UK home matches via this megalink.
 
The Wildcats have emerged victorious from each of their five matches this year, including the three-team Kentucky Long Rifle Match on Oct. 13.
UK fired a 2329 in smallbore and 2361 in air rifle.
Cathryn Papasodora and Hailee Sigmon had the top individual aggregate scores of the match, 1175 apiece.
Smallbore report
UK got out to 2329-2300 lead.
 
Papasodora and Sigmon each fired match-leading 586's. Hanna Carr turned in a 579. Will Shaner shot 578 and Jason Spaude produced a 577.
 
Air rifle report
UK extended its lead in air rifle, clinching the match with a 2361-2339 margin in the second discipline.
 
Will Shaner led the way for UK in air rifle with a 595, while Papasodora and Sigmon each earned scores of 589. Ruby Gomes scored 588 and Hanna Carr tallied 579.
 
Richard Clark wasn't in the scoring squad, but scored 590.
 
Kentucky is ranked No. 4, NC State is 17 and Army is 11 in this week's Collegiate Rifle Coaches Association rankings.
 
Kentucky will conclude the fall season next weekend at Navy.
 
 —
For the latest on the Kentucky rifle team, follow @UKrifle on Twitter, Instagram and Facebook, as well as on the web at UKathletics.com.