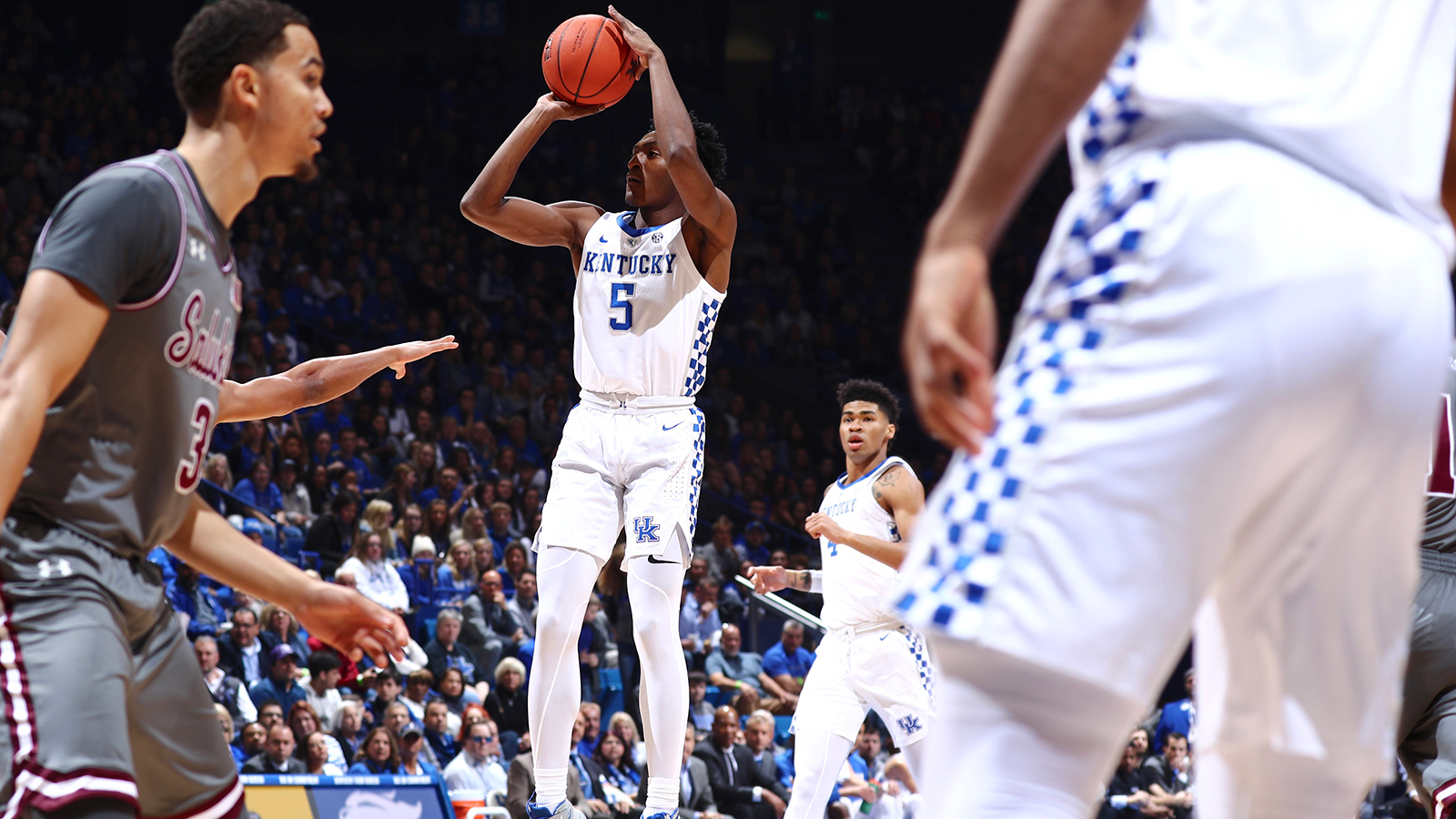 November 9, 2018 - 09:37 PM
Kentucky Gets Past Southern Illinois 71-59
LEXINGTON, Ky. – Those lopsided wins No. 2 Kentucky is normally used to this time of year might eventually happen. All that mattered to the Wildcats was proving they could regroup from a blowout loss and get their first victory.
It certainly took everything for them to scrape past Southern Illinois.
Keldon Johnson and Immanuel Quickley each scored 15 points, Nick Richards grabbed a career-high 19 rebounds and the Wildcats rallied in the second half to beat the Salukis 71-59 on Friday night.
Kentucky (1-1) managed to bounce back from Tuesday night's 118-84 shellacking by No. 4 Duke, its most lopsided loss under coach John Calipari. It left the Wildcats a lot of room for improvement, but the biggest question was whether they could shake the disappointment of being pounded by the Blue Devils on a national stage.
The Wildcats did, but they had to work hard in the second half to overcome sloppy play and the veteran Salukis, who led 44-37 before Quickley and Quade Green (14 points) made consecutive 3-pointers to spark a 10-2 run for a 47-46 lead with 12:19 left.
"Our energy and effort was off the charts," Quickley said. "This team's really good with that. We just have to keep getting better every day, individually and as a team."
SIU didn't quit, but the Wildcats slowly extended their lead to 61-52 on consecutive three-point plays by Johnson and Green. Kentucky went on to win, and Calipari saw the effort as progress no matter how it looked.
"I just said, be happy we won and figure it out," said the coach, who has won all 10 home openers with Kentucky. "I've got a pretty good idea of how I'm going to do this now, and I'm just glad that we really got smashed, so there's no question.
"If you demand a lot, you get a lot. If you accept mediocrity, you're going to get it every time. … I was very aggressive today."
So was Richards, whose rebounding provided the biggest lift as Kentucky dominated SIU 48-19 on the glass. The sophomore forward had as many boards as the Salukis combined, surpassing his previous best of 15 last season against Fort Wayne. His total matched the highest by a Kentucky player since Michael Kidd-Gilchrist grabbed 19 against Louisville in December 2011.
"My team just needed to get rebounds with Reid (Travis) out of the game," said Richards, who also had three blocks. "Just playing my game and guys were just playing better, just trying to play harder as team to get the `W."
The Wildcats also shot 47 percent after halftime and limited SIU to 1 of 7 shooting from long range.
Aaron Cook had 18 points and Kavion Pippen 16 for the Salukis (0-1), who opened against their first ranked team since No. 13 Illinois in 2010. They shot 41 percent in their first meeting with the Wildcats.
PATIENCE, PLEASE
SIU coach Barry Hinson credited the Rupp Arena crowd of 20,277 for motivating Kentucky to rally past his squad. He also urged Big Blue Nation to use restraint when judging the perennially-young Wildcats.
"You want to microwave the maturation process and you can't do that," he said. "It takes time. So, back off and let these guys go through the maturation process and let coach Calipari do what he does best. By March, you're going to have something on the floor you're going to be really proud of."
POLL IMPLICATIONS
Kentucky should remain in the Top 10 after a bounce-back win, even if it was a little shaky at times.
BIG PICTURE
Southern Illinois: The Salukis returned five starters from last year's 20-13 team and played as if they had been together for a while, pushing the offensive tempo and forcing the Wildcats into mistakes most of the night. But they let their seven-point edge slip away because they missed shots and couldn't keep Kentucky off the glass, especially Richards.
"There's a difference between losing and getting beat," Hinson said. "Tonight, we got beat. Losing is unacceptable."
Kentucky: Developing chemistry might take a while for the Wildcats, who seemed out of sync for many stretches and committed 19 turnovers. They were fortunate that Richards was fierce on the glass while Green and EJ Montgomery (10 points) contributed critical scoring as Kentucky dominated bench scoring 32-6.
UP NEXT
Southern Illinois hosts Buffalo on Monday in the first of a home-and-home series this season with the Bulls. The Salukis will visit Buffalo on Dec. 15.
Kentucky hosts North Dakota on Wednesday in the first meeting between the schools.