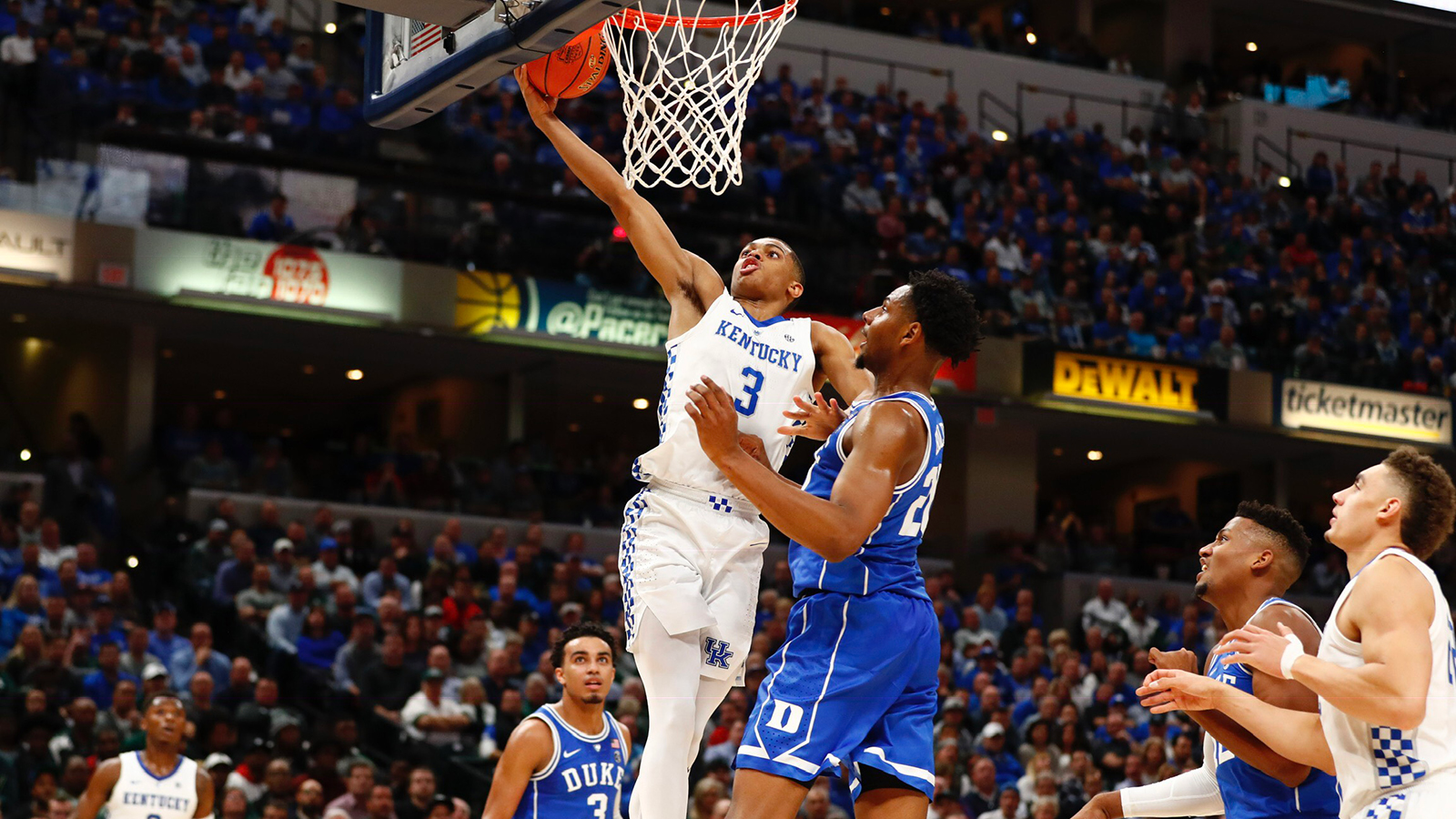 November 7, 2018 - 12:29 AM
Kentucky Drops Season Opener to Duke
INDIANAPOLIS – Keldon Johnson scored 23 points and Reid Travis had 22, but second-ranked Kentucky lost to No. 4 Duke 118-84 on Tuesday night in the Champions Classic at Bankers Life Fieldhouse.
Tyler Herro added 14 points and a team-high nine rebounds for the Wildcats.
R.J. Barrett led Duke with 33 points, while Zion Williamson had 28 and Cam Reddish had 22.
Duke (1-0) hit 43 of 79 (54.4 percent) from the floor, including 12 of 26 (46.2 percent) from three-point range, while winning the rebounding battle 38-37. The Blue Devils had just four turnovers, while Kentucky had 15. Duke turned those UK miscues into 27 points, while Kentucky scored eight points off Duke's four miscues.
Kentucky (0-1) hit 26 of 59 (44.1 percent) from the floor, making four of 17 (23.5 percent) from behind the arc. The Wildcats were able to convert 28 of their 38 free throws, for 73.7 percent shooting from the line.
Duke got on the board first via a Tre Jones three-pointer and the Blue Devils quickly built an 8-2 lead. Kentucky cut the lead to 11-8 on a jumper by Johnson, but Duke answered with a 9-0 run to lead 20-8.
The Blue Devils led by as many as 21 points before Kentucky began chipping away at the lead. A 13-4 run, capped by a Johnson jumper, cut the lead to 38-26 with 6:50 left in the first half. But the Cats would get no closer in the half, and Duke took a 59-42 lead into the break. The Blue Devils hit 22 of 40 (55 percent) from the floor in the first half, including six of 12 from behind the arc. Meanwhile, Kentucky hit 13 of 32 (40.6 percent), but just one of 10 from behind the arc.
Duke's Barrett had 20 points in the first half, while Williamson had 13. Johnson led UK with 14 points and Travis had eight.
The Blue Devils scored the first seven points of the second half to lead by 24. Kentucky would get no closer in the second half.
The Wildcats return to action on Friday night, hosting Southern Illinois at Rupp Arena. Tipoff is set for 7 p.m. and the game can be seen on the SEC Network.