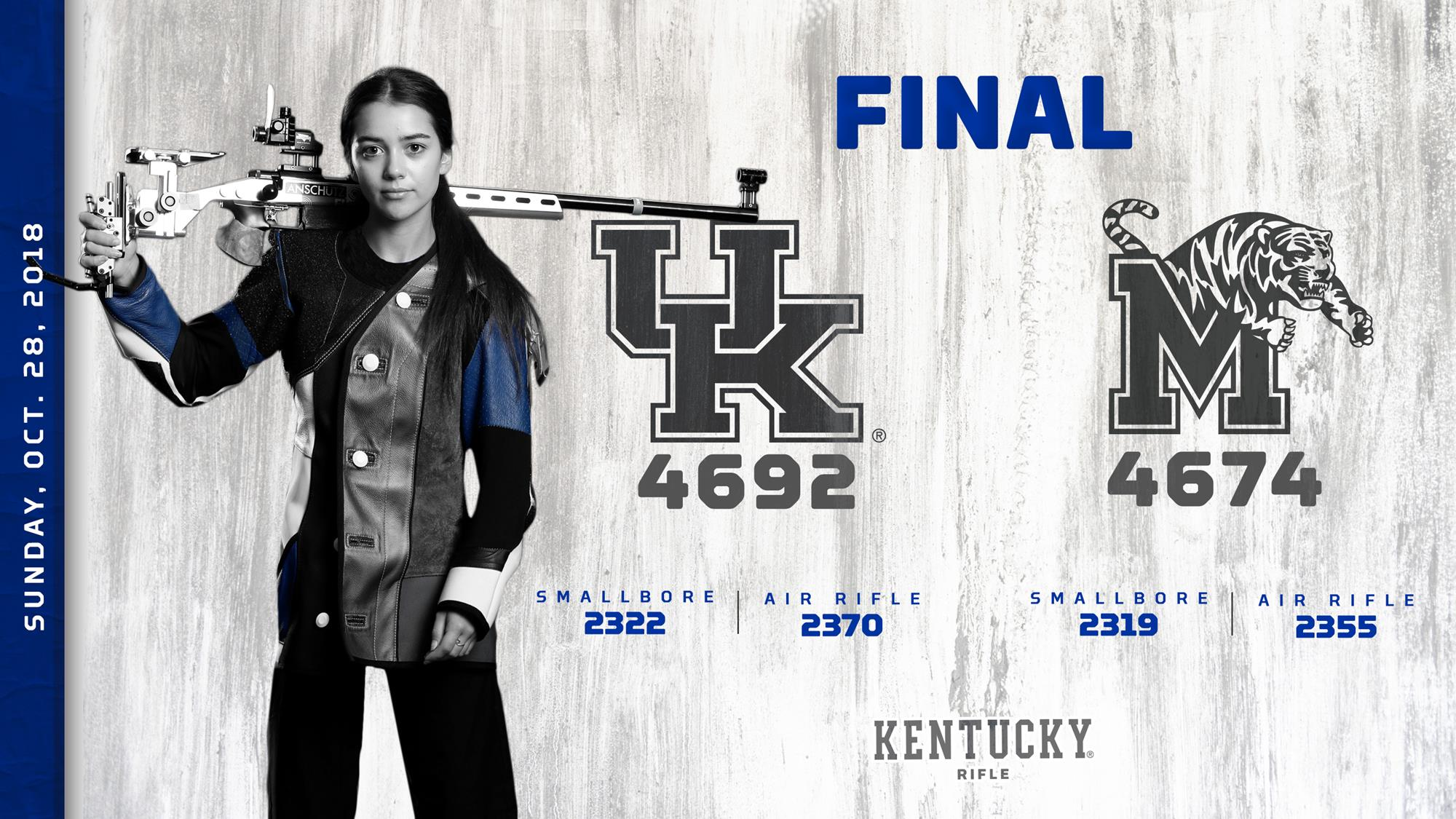 MEMPHIS, Tenn. – The Kentucky rifle team defeated Memphis 4692-4674 to conclude a two-match weekend on the road with as many victories.
 
Kentucky defeated No. 12 Ole Miss 4694-4647 on Saturday. The Wildcats have emerged victorious from each of its four matches this year, including the three-team Kentucky Long Rifle Match earlier this month.
UK shot 2322 in smallbore. The Wildcats shot seven points fewer than their score a year ago.
The Wildcats improved their air rifle score from a day ago by five points to 2370.
 
Ruby Gomes shot a smallbore personal best 580.
 
Smallbore report
The Wildcats won the opening discipline 2322-2319.
 
Cathryn Papasodora led the way for UK, second overall in the match, with a 583 – same as Memphis' Levi Clark who was top shooter in the match.
 
Gomes was fourth overall in smallbore with her non-squad 580, same as Hanna Carr and Jason Spaude – both of whom were on the scoring squad. Hailee Sigmon shot 579 and Will Shaner produced a 575.
Air rifle report
UK outscored Memphis in air rifle 2370-2355.
 
Will Shaner led all competitors with a 596. Gomes (593) and Papasodora (592) were the other Wildcats over 590.
 
Sigmon scored 589 and Carr rounded out UK's AR squad with a 583.
 
 —
For the latest on the Kentucky rifle team, follow @UKrifle on Twitter, Instagram and Facebook, as well as on the web at UKathletics.com.