October 4, 2018 - 01:27 AM
Williams Scores Twice as No. 4 UK Men's Soccer Defeats No. 2 IU
LEXINGTON, Ky. – JJ Williams scored two goals and assisted another as the No. 4 Kentucky Men's Soccer Team won a battle of top teams 3-0 over No. 2 Indiana on Wednesday at The Bell before a stadium-record 3,503 members of the Big Blue Nation.
 
Kentucky remained unbeaten through its first 10 games with a won-lost-drawn record of 9-0-1, which is the best start in program history. UK has won five games in a row.
 
The Wildcats snapped IU's nine-match winning streak as the Hoosiers dropped to 9-2-0 this season.
 
Kentucky broke the Hoosiers' 20-match unbeaten streak in the fixture. UK had last won against IU 1-0 in Bloomington on Sept. 10, 1995, which was UK's only other win in the series that now stands at 2-19-3 all-time.
UK had gone 0-17-3 during that 22-year span without a win against the eight-time National Champions. The Wildcats improved to 1-8-2 against IU in matches played in Lexington, although this Wednesday's match was the first meeting between the teams within the current configuration of The Bell (est. 2014).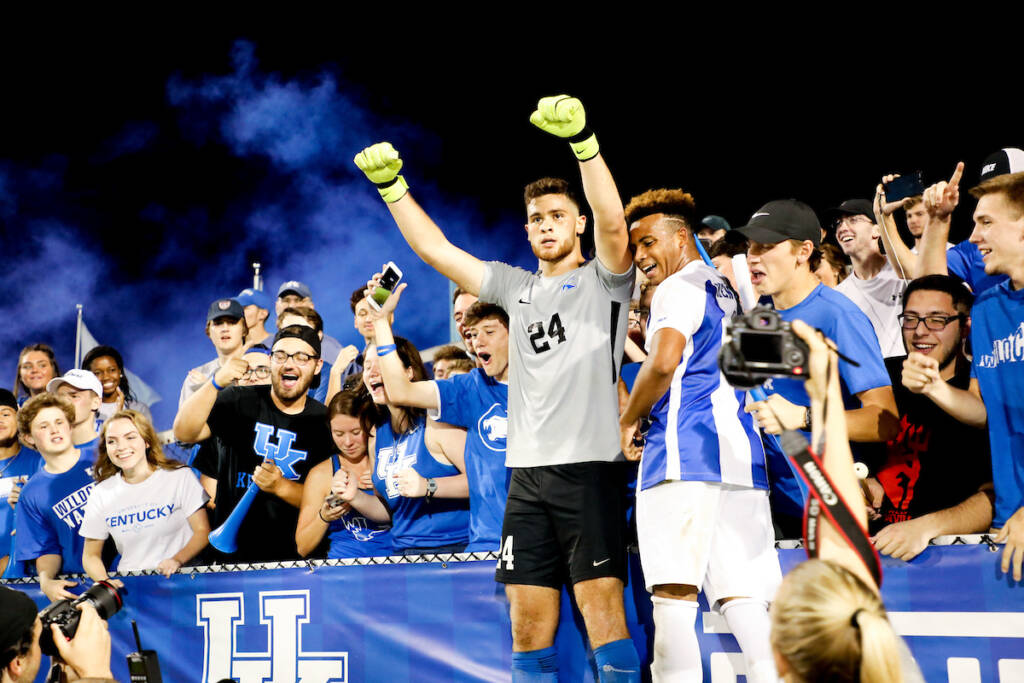 ENRIQUE FACUSSE, DANIEL EVANS, BLUE REBELLION
The goals
Williams, who entered Wednesday as UK's leading scorer would've been identified as The Wildcats' danger man coming in, but he proved near unmarkable yet again on an elevated occasion.
 
For the second time in the last 30 days Williams gave UK a 1-0 lead within the first four minutes against a top-10 rival. Whereas he scored in the fourth minute against then-No. 6 Louisville on Sept. 4, on this Wednesday, Oct. 3, he'd score a minute earlier into the match.
 
Jason Reyes laid the ball off for his striking partner at the top of the box, and the experienced Alabaman fired a rocket beyond IU goalkeeper Trey Muse.
The Wildcats would score the all-important second with five minutes to play as JJ Williams' 24-yard free kick went off the cross bar. The ball may very well have crossed the goal line, before coming out. No call was made however and Jason Reyes was first to pounce on the rebound, karate-kicking the ball into the back of the net to release a measure of the tension within the ground and make acceptable anticipation for the post-match celebrations.
 
Williams would not be denied another top-10 brace though. He grabbed his second finish by the scruff of the neck 120 seconds later, latching onto a Tanner Hummel ball over the top before finding space away from two Hoosiers' pursuing and finishing to make the lead three goals.
"It was great especially to start out the way I did," Williams said. "As I say every time, it's just my teammates who put me in great positions to be successful. It starts with the back line keeping another clean sheet tonight.
 
"Great jobs by midfielders winning battles in there. It was really about 50-50 balls, (wingers) Kalil (ElMedkhar) tucking in, Nicolai (Fremstad) tucking in, cutting off that wide midfielder. That's how the first goal happened. We took it off of them, went the other way and scored early."
Williams has nine goals and three assists this season. His two best performances have come on his biggest stages as he scored a brace at home against No. 7 Louisville and then Wednesday v No. 2 Indiana.
He was subbed off with a minute to play to a standing ovation from the record crowd on hand to see a victory as historic as regular-season non-conference midweek tilts come.
 
The quote
"To be able to break the attendance record on a Wednesday night against the No. 2 team in the country where you win 3-0 is just an amazing experience for the me, for the staff and also for the players," Kentucky Head Coach Johan Cedergren said. "We all came to Kentucky for nights like this."
 
The due defensive credit
Kentucky – anchored by a back line of Hummel, Leon Jones, Aimé Mabika and Cole Guindon – kept an eighth clean sheet from 10 games this season. That shutout total moved the Wildcats into a tie for most in the nation so far this season.
 
Facusse's goals-against average, ranked No. 4 in the nation entering the week, went down to 0.29. He saved all four of shots on goal he faced and bossed the box claiming even more crosses with authority.
 
The sophomore improved his save-percentage to 91 percent, which would rank third in the nation at the start of the week.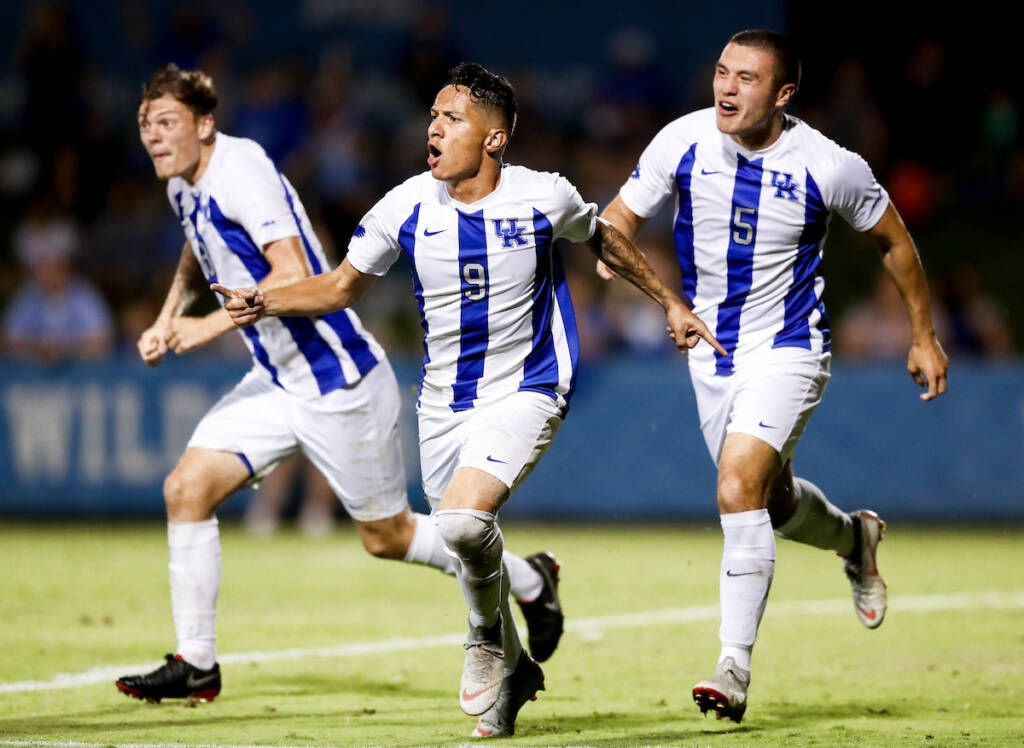 Jasono Reyes celebrates alongside Leon Jones and Marcel Meinzer
Match details
After the initial shock of going down, Indiana grew into the game a bit more. Each team fired four shots in the first half, but Muse had to make two saves, whereas UK goalkeeper Enrique Facusse did well in making one.
That said, Kalil ElMedkhar nearly doubled UK's lead moments after the first as Muse had to stretch to save a right-footed curling effort.
 
The second half played out with Indiana certainly getting its chances as it chased a winner, but UK looking plenty dangerous on counters and in possession-based buildup.
Muse's hand was in the perfect place to keep out a point-blank Mabika volley off a long-range ElMedkhar free kick in the 72nd minute.
Moments before Reyes scored UK's second, Tanner Hummel scrambled across goal with a brilliant last-ditch block of an IU attempt from close range at the near post.
 
The setup
Cedergren made one change from the starting 11 that began a 2-1 come from behind win a South Carolina last weekend. Marcel Meinzer returned to central midfield alongside Sam Stockton, who was facing an IU side that he played for in a redshirt 2015 before transferring to UK.
 
The Wildcats entered having won four in a row and unbeaten through their first nine matches of 2018. IU had won nine in row after losing the season opener to now-No. 1 Wake Forest in overtime.
Kentucky moved up to No. 4 in this week's United Soccer Coaches' poll, a program record in that rankings' history. UK was ranked No. 5 by CollegeSoccerNews.com and No. 8 in this week's NCAA Ratings Percentage Index at the start of the week.
IU was ranked No. 2 by United Soccer Coaches, CSN and in the RPI.
 
Both teams entered boasting top-10 national goals-against average defenses.
 
Kalil ElMedkhar was named Conference USA Offensive Player of the Week on Monday after he had a hand in all five of UK's goals in two wins last week.
 —
For the latest on the Kentucky men's soccer team, follow @UKMensSoccer on Twitter, Instagram and Facebook, as well as on the web at UKathletics.com.