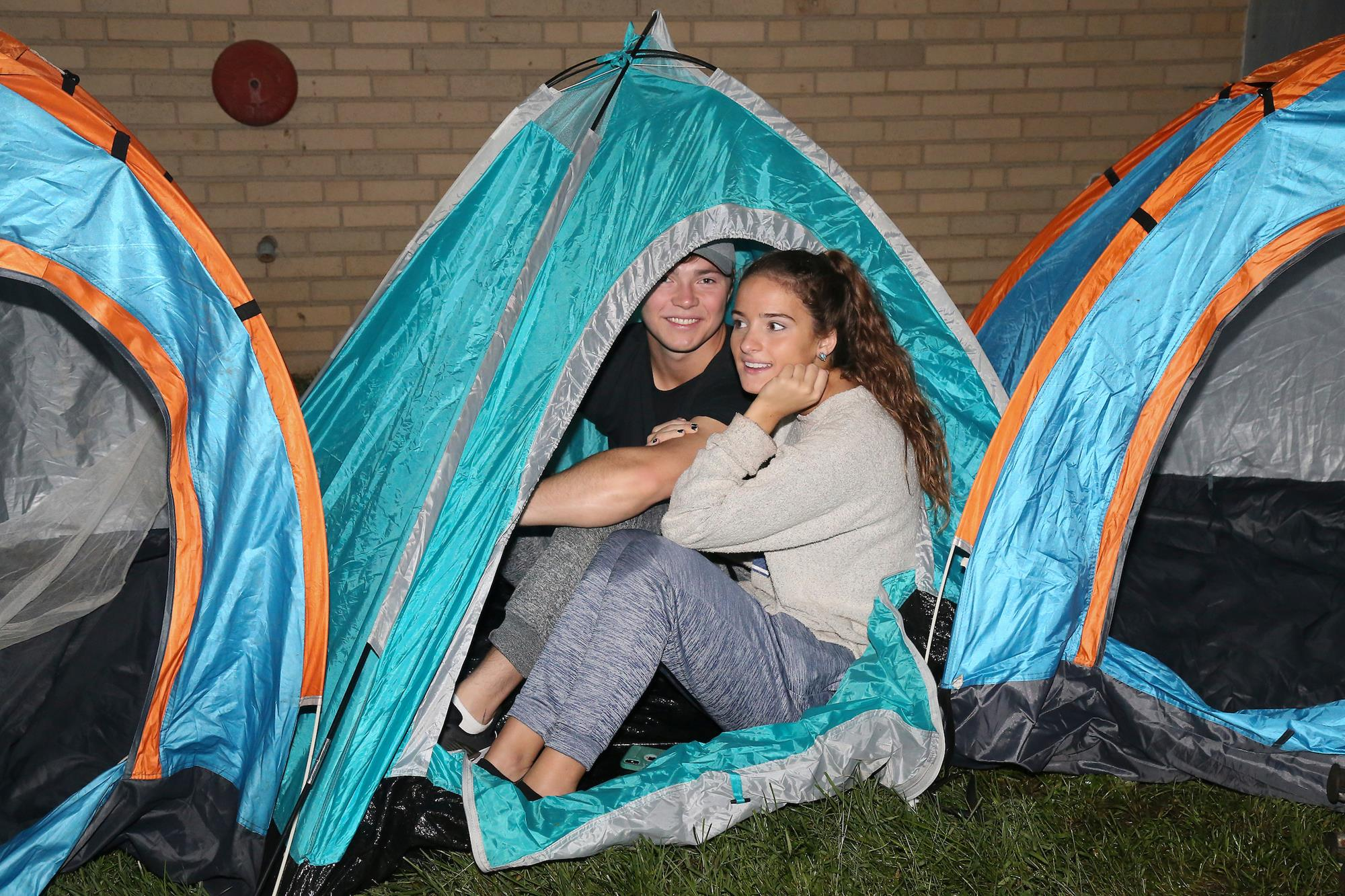 September 27, 2018 - 10:11 AM
BBM Campout Update: Capacity Reached, Control Cards Unavailable
LEXINGTON, Ky. – On the second day of the Big Blue Madness campout, camping space has reached capacity. As a result, no new campers will be able to set up and no control cards for free tickets to the annual event will be issued to those not already camped out. Fans are encouraged to use Ticketmaster.com to acquire tickets to the first open practice opportunity for UK's 2018-19 men's and women's basketball teams.
 
The annual campout officially began Wednesday at 5 a.m. After the arrival of new campers on Wednesday evening and early Thursday morning, the tent count moved to approximately 322 and capacity was reached.
 
Tickets are free again this year for the annual spectacle in Rupp Arena, which will feature introductions of both the men's and women's basketball teams, practice drills, videos, and more.
 
Tickets for the 2018 edition of Big Blue Madness will be available at 10 p.m. both at the Memorial Coliseum ticket windows on Avenue of Champions for fans with control cards and online at Ticketmaster.com. All patrons require a ticket to Big Blue Madness, regardless of age. There will be a limit of four tickets per person at the Memorial Coliseum ticket distribution. Online orders will have a minimal service fee attached, and there will be a limit of four tickets per household. All duplicate orders will automatically be canceled.
 
UK Athletics cannot guarantee fans will receive tickets by lining up or going online.
 
A limited number of control cards will be issued to those already camped out on Friday at 2 p.m. Fans will receive a maximum of four tickets per control card Friday night. No more than four control cards will be distributed to each tent. Fans with control cards are encouraged to start lining up for Friday night's ticket distribution by 8:30 p.m. All fans must be present to obtain their control cards and only one control card per person will be accepted at distribution.
 
Fans are still encouraged to attend the UK Sports Network's "Tent City Live" show. Broadcasting from the Coca-Cola Stage, located outside the Joe Craft Center and Wildcat Coal Lodge, the live stream will air Thursday from 7-8:30 p.m. ET on UKathletics.com/tentcitylive and live on the Kentucky men's basketball Facebook page. Fans can also tune in to 630 WLAP-AM to listen to the radio broadcast of the show.
 
The UK Sports Network's coverage team for Kentucky basketball will be on stage for a night of interviews and roundtable discussions previewing the upcoming season. Fans are encouraged to submit questions and comments for the hosts and guests to the UK Sports Network via Twitter at @UKSportsNetwork to be answered on the live stream broadcast.
 
Big Blue Madness is Oct. 12 at 7 p.m. It will also air live on the SEC Network.
 
For the latest on the Kentucky men's basketball team, follow @KentuckyMBB on Twitter, Facebook, and Instagram, and on the web at UKathletics.com.