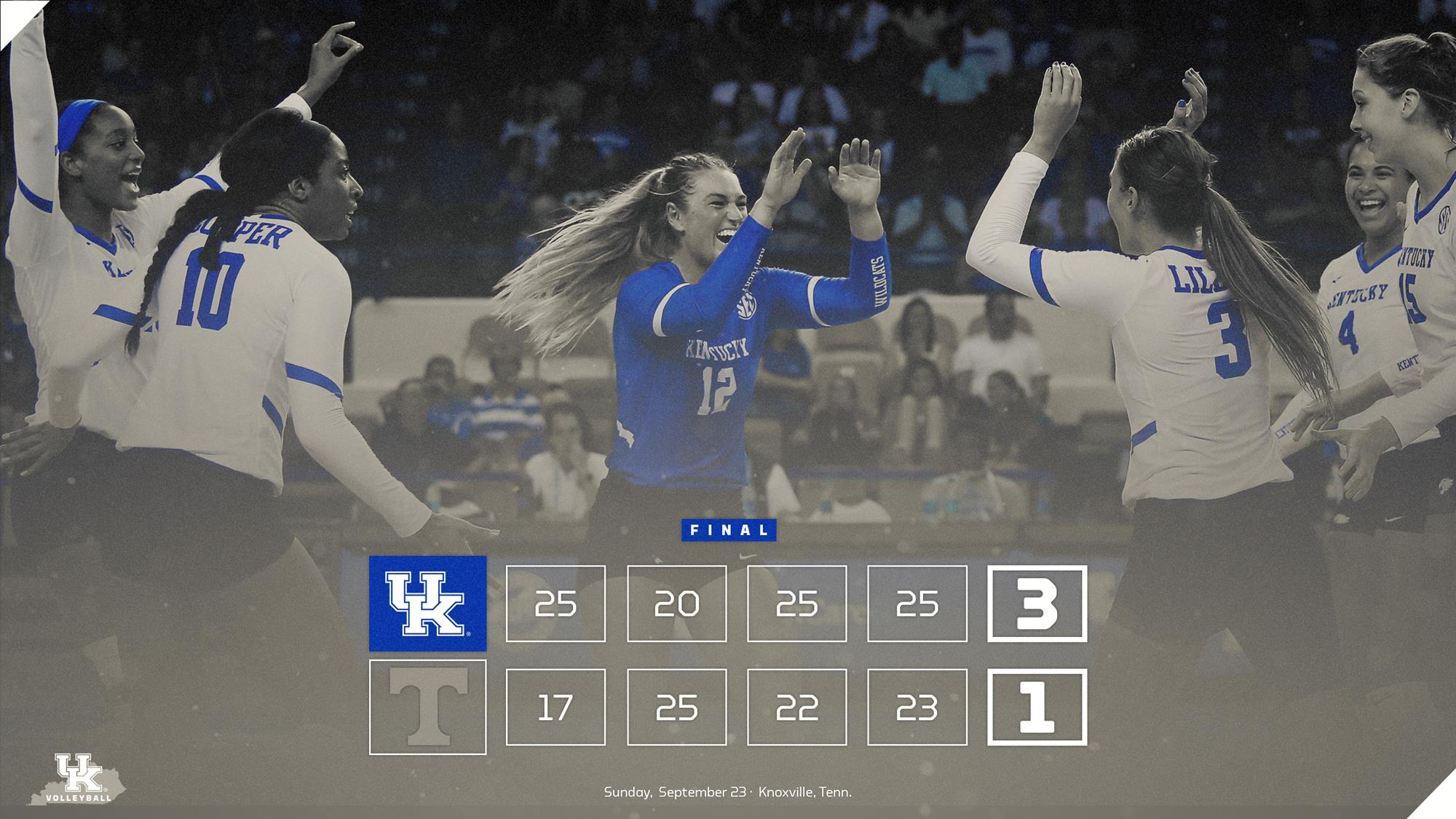 September 23, 2018 - 04:01 PM
Kentucky Opens SEC Slate With Win at Tennessee
KNOXVILLE, Tenn. – The 20th-ranked Kentucky volleyball team opened its Southeastern Conference slate with a 3-1 (25-17, 20-25, 25-22, 25-23) win at Tennessee on Sunday. Junior outside hitter Leah Edmond totaled 23 kills for her 19th career match topping the 20-kill plateau to lead the way.
 
The win moves Kentucky's record to 7-4 and 1-0 in SEC action. Tennessee drops to 10-4 on the year and 1-1 in league play. UK returns home for a pair of league tilts next week. The Cats welcome Arkansas to Memorial Coliseum on Friday at 7 p.m. ET and will take on Missouri on Sunday at 1:30 p.m.
 
"I'm happy with our resilience," head coach Craig Skinner said. "We struggled at times and didn't shy away or back down. The difference in the match was our serving. We really made an impact with our serve – six aces. We had them out of system quite a bit. Again, Merideth Jewell came in and made a huge impression and gave us a huge lift – not just with energy but scoring points with a block and attack."
 
Edmond paced the offensive attack with the 23 kills, but also added nine digs. Edmond has recorded 10 or more kills in every match this season. Freshman Alli Stumler registered her second-career double-double effort with 10 kills and a career-high 14 digs.  Sophomore setter Madison Lilley dished out 41 assists and added 10 digs of her own for her fourth double-double this season.
 
Senior Brooke Morgan contributed a career-best eight blocks to lead the way defensively for the visitors. She also chipped in offensive with five blocks. Sophomore libero Gabby Curry had 21 digs, just one shy of her career best to pace the floor defensive effort. Senior McKenzie Watson added nine digs to the winning cause.
 
Freshman middle blocker Kendyl Paris had six kills, three blocks and a pair of digs. Junior Caitlyn Cooper posted five kills and three digs. Sophomore Avery Skinner totaled a pair of kills, while senior Merideth Jewell had a kill and two digs late in the fourth set that fueled the Cats to storm back from being down 18-12 in the third set.
 
SET 1
Tennessee struck first with two kills, both coming off the left side. Edmond powered a ball off the middle blocker for UK's first point of the match. UK stayed patient during the next rally as the Volunteers tried to place a ball in the back right corner but went long. Edmond and Morgan teamed up for a block on the left side before Edmond destroyed a ball off a Volunteer to give the Wildcats a 4-2 advantage. An ace from Stumler, UT kill, and back-to-back service errors made the score 6-4. Edmond picked up her fourth kill after back-to-back terminations, which force UT into a timeout. The Vols responded with two points out of the timeout before giving one back on a service error to get to 9-6. Paris and Cooper followed with their first terminations of the match while Stumler and Paris teamed up for a block on the left side and Edmond followed with an ace, extending the UK lead to seven. UT added three consecutive kills before Stumler picked up her first and second of the match to get to 15-10. Another block from Stumler and Morgan came on the ensuing rally. The Wildcats called timeout at 16-13 after UT pieced together back-to-back kills and a block. UK answered out of the huddle when Lilley perfectly set Stumler on the left for her third kill of the match. Edmond placed a ball perfectly on the back line over the UT defense, which held the lead at three – 18-15. Not long after Edmond fired a rocket back to the middle for her sixth kill of the match before the two teams traded terminations again. UK went on a 5-0 run to close out the set 25-17 with a kill from Curry on what was supposed to be a dig that went back over the net, a UT error, and kills from Paris, Edmond and Cooper. 
 
SET 2
UT struck first, but Morgan answered immediately with a kill on the right side. The Vols claimed the next two points before Edmond's ninth kill found the back line to cut the deficit to one at 3-2. UT then went on a 4-0 run, forcing UK to call its first timeout of the set. The Vols came out of the huddle with a kill before Edmond broke into double-digit kills on the next rally. The teams exchanged terminations before another 3-0 UT run extended its lead to 12-4. UK came right back with a 3-0 run of its own off two UT errors and a block from Morgan and Skinner and the Vols called timeout. UK kept the run going as Skinner pushed a ball to the left line out of the timeout and Morgan added her second kill of the match to cut the deficit to three at 12-9. However, UT went on yet another 3-0 run and made the Wildcats burn their final timeout of the set. It was Skinner again that responded out of the timeout with a kill, which was followed by another Stumler ace. The Vols struck on the next two rallies, which stretched their lead to seven, before UK capitalized off the service error with a fake set from Lilley. UT took the next two points before Paris followed with back-to-back kills to get to 20-15. The Wildcats added two more points off Cooper's fourth kill and a UT error. Cooper struck again with a kill and Morgan and Skinner teamed up for another block on the left to cut the UT lead to 22-19 and force the Vols to ask for time. The teams traded kills to 24-20 before the Vols struck on the left side to claim the set.
 
SET 3
UK went on a 3-0 run to begin the set as Stumler notched a kill and Morgan picked up consecutive blocks for a new career-high total of six in a match. UT answered with a 3-0 run before UK claimed the next four points on terminations from Edmond, Lilley, and Paris. The Vols picked up a kill and a UK error, but gave both points back on a service and attack error. Edmond's 12th kill came down the left line out of the UT timeout. The teams traded points to 11-8 before a UT ball found the left line. Paris found the middle of the floor for her sixth kill while Curry followed with an ace. UT owned the next two rallies prior to Stumler's fifth kill of the match, which got the score to 14-11. The Vols got to within one after consecutive points, but the Wildcats immediately regained them with terminations from Edmond and Morgan on opposite sides of the floor. A UT error followed, pushing UK's lead back to four at 17-13. Edmond notched yet another kill down the left side before UT took the next two points and forced UK into a timeout. Edmond became the first to reach 15 kills when she picked up two on the next three rallies, extending UK's lead to 20-17. Points were traded to 22-20. The UK lead was cut down to one after a Vol termination on the right side, but Stumler's powerful seventh kill combatted it. The Wildcats got to set point on a UT error and ultimately won the set 25-22 on another UT error.
 
SET 4
UT claimed the first two points of the set, but UK went on a 3-0 run with consecutive kills from Edmond and one from Morgan. UK had an error but took back the point with a block form Paris, tying things at four. The Wildcats halted the ensuing 3-0 UT run with an Edmond shot down the left line and an ace from Lilley. The Volunteers took the next two points on a kill and an error before Edmond's 20th kill came with the Wildcats down two at 9-7. UK went on a 4-0 run out of the huddle with back-to-back kills from Stumler as well as teaming up with Morgan for a block to draw even in the set at 11. Consecutive aces and a kill capped a 5-0 UT run to push their lead back to four at 16-11. The Wildcats picked up a point on a service error prior to the Vols grabbing two kills. UK pieced together a 3-1 run with Stumler's third aced of the match and Edmond's 21st kill to get to 19-15. UT asked for time and the Wildcats went on a 5-1 run out of the break with two kills from Edmond and a block from Paris and Jewell. Jewell added a kill and another block to her credit when she knotted the set at 22 by teaming up with Morgan for a massive rejection. UT won an overturned challenge to jump ahead 23-22, but Stumler surged into double-digit kill numbers and UK ended the match on two UT attack errors.