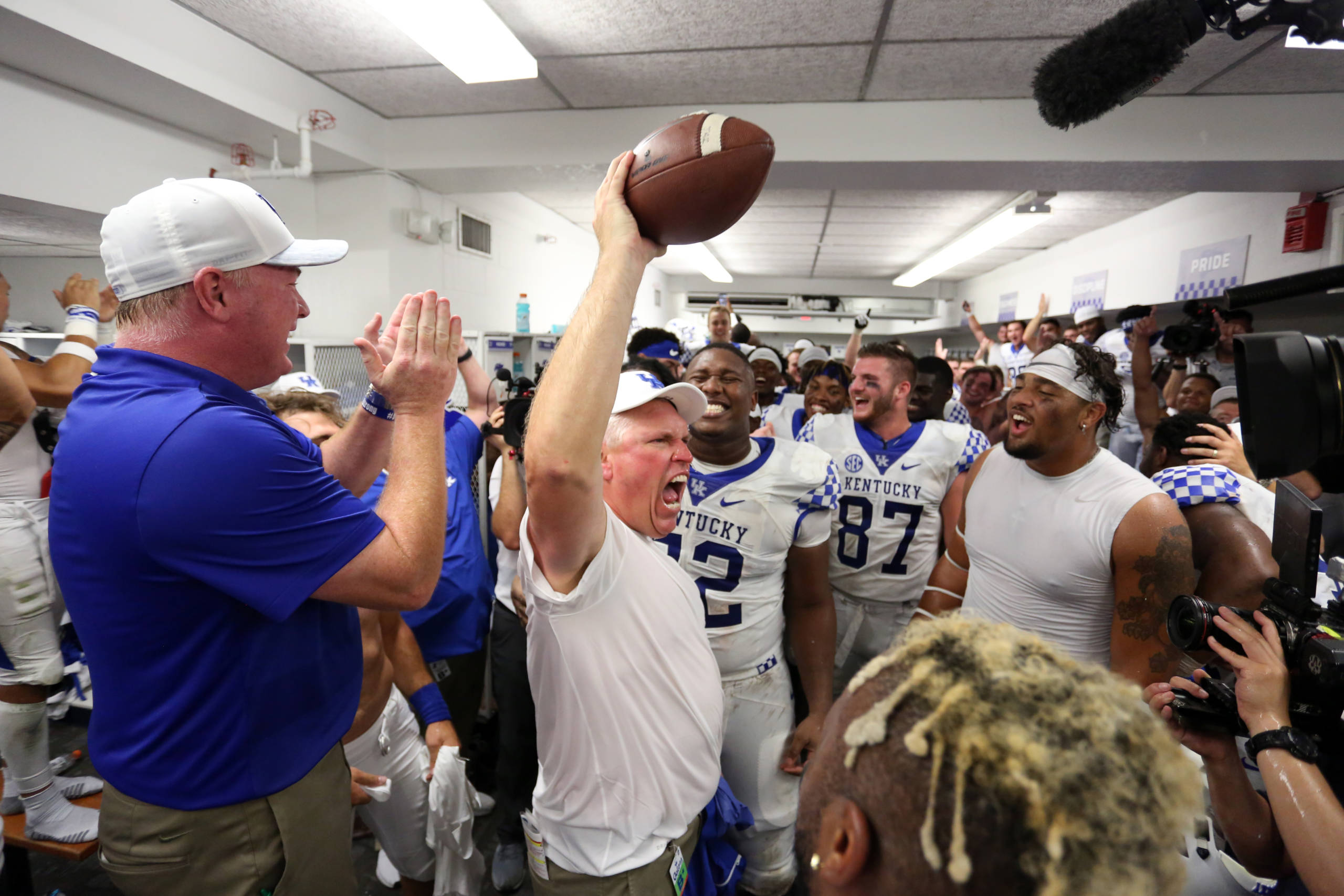 LEXINGTON, Ky. – – Kentucky offensive line coach John Schlarman has been named the first nominee of the season for the 2018 Orange Bowl Courage Award, it was announced Tuesday by the Football Writers Association of America. The award is annually given to a player, coach or support person in college football who displays courage, on or off the field.
 
Schlarman, a Kentucky alum in his sixth season in his current term as an assistant coach, has remained on the sideline and practice field daily despite battling cancer that requires long sessions of chemotherapy. He was given a game ball after the Wildcats' 27-16 win at Florida on Saturday night that ended a 31-year losing streak to the Gators, in part for the job the offensive line and tight ends did in paving the way for 303 rushing yards.
 
"It was a special moment," UK coach Mark Stoops said. "With what John is going through, the way he's handling this, the way he's handling the adversity in his life is something that we all respect and for his players to perform the way they did, and the way they care about him says a lot. I thought it was fitting to recognize John and all of our players really felt good about doing that. John is a special guy, very talented and is also a great example of how you handle the adversity in your life."
 
The Orange Bowl Courage Award was created by ESPN The Magazine's senior writer Gene Wojciechowski in 2002 and is voted on by a select group of writers from the FWAA. The requirements for nomination for the weekly award include displaying some sort of courageous act, on or off the field including, overcoming an injury or physical handicap, preventing a disaster and living through a lifetime of hardships. There are weekly nominees and then a winner chosen at the end of the season.
 
"We all know John is exceptional," Stoops said. "I think (the players) can certainly be inspired by the way John is handling this and the way he is going about his business. How can you be a player out there feeling sorry for yourself when you have a man that's just gone through five, six hours of chemo and is sitting out there on the practice field coaching the same way he does every day? That's pretty inspirational."
 
The undefeated Cats return to action this Saturday at noon ET against Murray State.