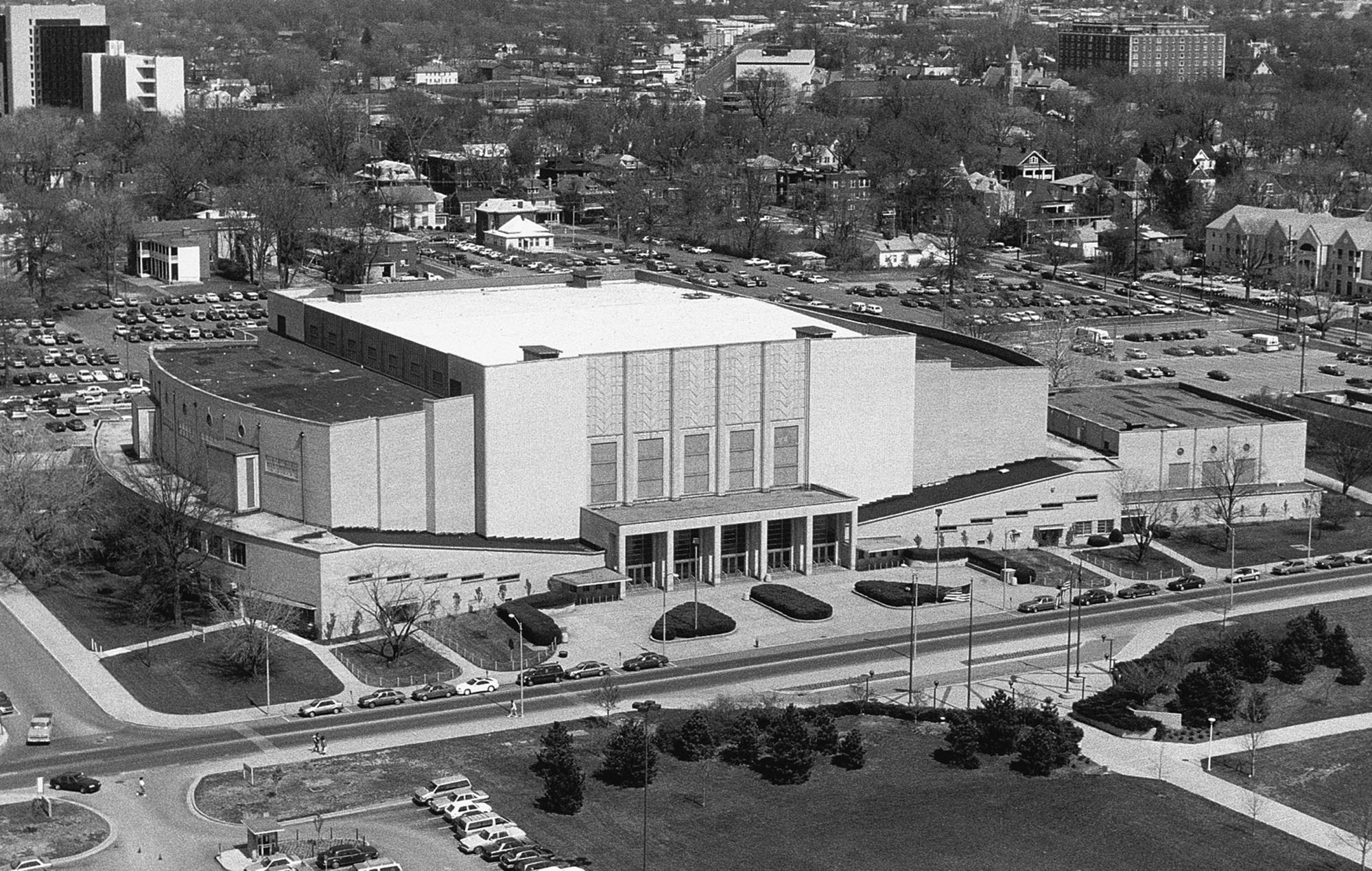 For 26 years, the pulsating cries of "Rip 'em Up, Tear 'em Up, Give 'em Hell Wildcats" rang through one of the grandest and most historic of all basketball palaces — UK's Memorial Coliseum.
In 1941, when Dr. H.L. Donovan became president of the University, one of his first recommendations was for a building "that will properly take care of our athletics, our health service, physical education and recreation." From this beginning came the plan that culminated in the construction of 11,500-seat Memorial Coliseum, a then-unparalleled edifice costing $3,925,000 by the time it was completed in 1950.
The Wildcats got off to a fine start in the Coliseum, winning every game played in the building for the first three seasons. When Georgia Tech upset Kentucky 59-58 on Jan. 8, 1955, it marked the first time the Wildcats had lost on their home court since the days of Alumni Gym, dating back more than 12 years to Jan. 2, 1943.
The loss ended a streak of 129 consecutive wins at home for Kentucky, an NCAA record that still stands today. In 26 years, Kentucky came away a loser only 38 times in 344 games.
From the early 1960s on, the sale of UK basketball season tickets was closed to the public with season ticket holders taking all the allotment other than student seating. 
The huge building, which serves as a memorial to the nearly 10,000 Kentuckians who lost their lives in World War I, World War II and the Korean War, covers an entire city block and contains as much space as a seven-story office building. Situated along the Avenue of Champions, the Coliseum still houses UK Athletics offices and is the home to Kentucky women's basketball, gymnastics and volleyball. The arena's current capacity is 8,500.
History was rewritten on March 17, 2009 when the Wildcats hosted UNLV in the first round of the NIT. Due to a scheduling conflict with Rupp Arena, Kentucky played its first game in Memorial Coliseum in over 30 years. In front of a capacity crowd, the Wildcats "rechristened" the venerable gym with a 70-60 win over the Running Rebels.
Year-By-Year at Memorial Coliseum
| | | |
| --- | --- | --- |
| Season | W-L | Percentage |
| 1950-51 | 14-0 | 1.000 |
| 1951-52 | 12-0 | 1.000 |
| 1952-53# | – | – |
| 1953-54 | 14-0 | 1.000 |
| 1954-55 | 13-1 | .929 |
| 1955-56 | 11-2 | .909 |
| 1956-57* | 14-2 | .875 |
| 1957-58* | 14-1 | .933 |
| 1958-59 | 14-0 | 1.000 |
| 1959-60 | 10-3 | .769 |
| 1960-61 | 12-2 | .857 |
| 1961-62 | 14-2 | .875 |
| 1962-63 | 10-5 | .667 |
| 1963-64 | 13-1 | .929 |
| 1964-65 | 12-2 | .857 |
| 1965-66 | 13-0 | 1.000 |
| 1966-67 | 8-7 | .533 |
| 1967-68* | 14-1 | .933 |
| 1968-69 | 12-1 | .923 |
| 1969-70 | 15-0 | 1.000 |
| 1970-71 | 12-1 | .923 |
| 1971-72 | 12-1 | .923 |
| 1972-73 | 11-2 | .846 |
| 1973-74 | 9-3 | .750 |
| 1974-75 | 12-0 | 1.000 |
| 1975-76 | 11-1 | .917 |
| 2008-09! | 1-0 | 1.000 |
| Totals | 307-38 | .890 |

# – UK was suspended from play by the NCAA
* – Record includes two NCAA Tournament games
! – NIT game vs. UNLV