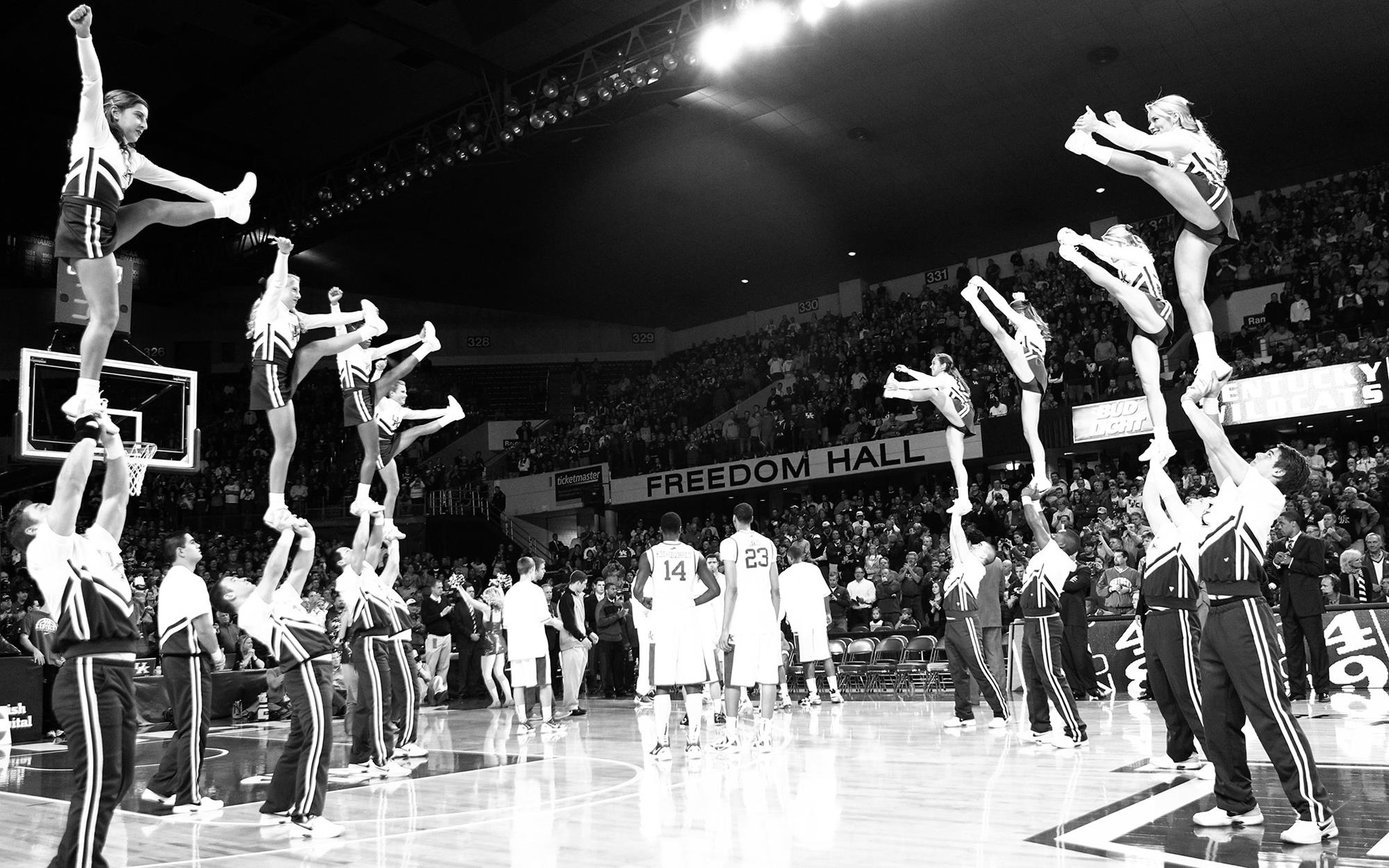 The University of Kentucky has built an impressive record playing in Louisville. Besides winning 27 of their last 32 there, the Wildcats have won an NCAA championship (1958), nine Southeastern Conference Tournament titles and have defeated some of the best teams from around the country before Wildcats fans in Louisville.
Kentucky began playing in Louisville in 1908, when the Cats lost to Louisville, 30-18. UK defeated the University of Louisville 26-13 in 1914, lost to the Cards 26-15 the following year and then defeated them 32-24 in 1916. Two years later, UK lost to Centre College, 22-12, in the state championship game played in Louisville. The Cats defeated the Cards there in 1922 and then did not play again in the Derby City until the 1936-37 season, when they dropped a 41-28 decision to Notre Dame.
Most of those early games were played in the armory downtown before Freedom Hall was opened (1957). The Cats christened the new facility by capturing the 1958 NCAA title with victories over Temple and Seattle. The spacious arena has played host to Kentucky teams every year since. Kentucky's record at Freedom Hall now stands at 60-18, although the Wildcats haven't played in Freedom Hall since 2011-12.
The Wildcats' overall record in Louisville is 131-34.
Kentucky's most impressive string of victories in Louisville came when the Cats won 32 straight games between 1946 and 1951. Only 13 of the 41 teams Kentucky has faced in Louisville have been able to knock off the Cats. The longest running series has been with Notre Dame, with the Wildcats holding a 24-9 advantage over the Fighting Irish.
Kentucky established a then-Freedom Hall attendance record in 1993 as 20,060 fans jammed the arena to watch the Cats down the Indiana Hoosiers, 81-78. Seven years earlier, 20,053 fans looked on as the Cats faced SEC-rival Georgia on Dec. 30, 1986.
UK fans continued a Wildcat tradition as more than 19,000 arrived the night before for a brief Kentucky shooting practice and to catch a glimpse of super-freshman Rex Chapman in December 1986. Three days earlier, the Wildcats had handed Louisville its worst defeat ever at Freedom Hall, 85-51.
UK played in the Derby City in its 2012 NCAA championship run, opening up the tournament with wins over Western Kentucky and Iowa State in the KFC Yum! Center. Kentucky returned in 2015 en route to its fourth Final Four in five seasons.
Freedom Hall record: 60-18 
KFC YUM! Center record: 6-2
UK's overall record in Louisville: 130-35
Kentucky Results in Louisville
| | | | |
| --- | --- | --- | --- |
| Season | Opponent | Score | W-L |
| 1907-08 | Louisville Coliseum | 30-18 | L |
| 1913-14 | Louisville | 26-13 | W |
| 1914-15 | St. Andrews | 50-25 | L |
| | Louisville  | 26-15 | L |
| 1915-16 | Louisville | 32-24 | W |
| 1917-18 | Centre | 24-12 | L |
| 1921-22 | Louisville | 38-14 | W |
| 1936-37 | Notre Dame | 41-28 | L |
| 1938-39 | Notre Dame | 42-37 | L |
| 1940-41 | Notre Dame | 48-47 | L |
| | Ole Miss [SEC] | 62-52 | W |
| | Tulane [SEC] | 59-30 | W |
| | Alabama [SEC] | 39-37 | W |
| | Tennessee [SEC] | 36-33 | L |
| 1941-42 | Florida [SEC] | 42-36 | W |
| | Ole Miss [SEC] | 59-32 | W |
| | Auburn [SEC] | 40-31 | W |
| | Alabama [SEC] | 36-34 | W |
| | Great Lakes | 58-47 | L |
| 1942-43 | Indiana | 58-52 | L |
| | Notre Dame | 60-55 | W |
| 1942-43 | Tulane [SEC] | 48-31 | W |
| | Georgia [SEC] | 59-30 | W |
| | Miss. State [SEC] | 52-43 | W |
| | Tennessee [SEC] | 33-30 | L |
| | Great Lakes | 53-39 | L |
| 1943-44 | Indiana | 66-41 | W |
| | Notre Dame | 55-54 | W |
| | Georgia [SEC] | 57-29 | W |
| | LSU [SEC] | 55-28 | W |
| | Tulane [SEC] | 62-46 | W |
| 1944-45 | Indiana | 61-43 | W |
| | Notre Dame | 59-58OT | L |
| | Florida [SEC] | 57-35 | W |
| | LSU [SEC] | 68-37 | W |
| | Alabama [SEC] | 52-41 | W |
| | Tennessee [SEC] | 39-35 | W |
| 1945-46 | Notre Dame | 56-47 | L |
| | Auburn [SEC] | 69-24 | W |
| | Florida [SEC] | 69-32 | W |
| | Alabama [SEC] | 59-30 | W |
| | LSU [SEC] | 59-36 | W |
| | Temple | 54-43 | W |
| 1946-47 | DePaul | 65-45 | W |
| | Notre Dame | 60-30 | W |
| | Vanderbilt [SEC] | 98-29 | W |
| | Auburn [SEC] | 84-18 | W |
| | Georgia Tech [SEC] | 75-53 | W |
| | Tulane [SEC] | 55-38 | W |
| 1946-47 | Temple | 68-29 | W |
| 1947-48 | DePaul | 74-50 | W |
| | Creighton | 65-23 | W |
| | Temple | 58-38 | W |
| | Florida [SEC] | 87-31 | W |
| | LSU [SEC] | 63-47 | W |
| | Tennessee [SEC] | 70-47 | W |
| | Georgia Tech [SEC] | 54-43 | W |
| 1948-49 | DePaul | 67-36 | W |
| | Tulane | 51-47 | W |
| | Notre Dame | 62-38 | W |
| | Florida [SEC] | 73-36 | W |
| | Auburn [SEC] | 70-39 | W |
| | Tennessee [SEC] | 83-44 | W |
| | Tulane [SEC] | 68-52 | W |
| 1949-50 | DePaul | 49-47 | W |
| | Miss. State [SEC] | 56-46 | W |
| | Georgia [SEC] | 79-63 | W |
| | Tennessee [SEC] | 95-58 | W |
| 1950-51 | Miss. State [SEC] | 92-70 | W |
| | Auburn [SEC] | 84-54 | W |
| | Georgia Tech [SEC] | 82-56 | W |
| | Vanderbilt [SEC] | 61-57 | L |
| 1951-52 | Georgia | 95-55 | W |
| | Georgia Tech [SEC] | 80-59 | W |
| | Tulane [SEC] | 85-61 | W |
| | Tennessee [SEC] | 81-66 | W |
| | LSU [SEC] | 44-43 | W |
| 1953-54 | Georgia Tech | 99-48 | W |
| 1955-56 | Georgia | 143-66 | W |
Freedom Hall Era
| | | | |
| --- | --- | --- | --- |
| Season | Opponent | Score | W-L |
| 1957-58 | Temple [NCAA] | 61-60 | W |
| | Seattle [NCAA] | 84-72 | W |
| 1958-59 | Illinois | 76-75 | W |
| 1959-60 | Temple | 97-92 | W |
| 1960-61 | Notre Dame | 68-62 | W |
| | Morehead [NCAA] | 71-64 | W |
| | Ohio State [NCAA] | 87-74 | L |
| 1961-62 | Notre Dame | 100-53 | W |
| 1962-63 | Notre Dame | 78-70 | W |
| 1963-64 | Notre Dame | 101-81 | W |
| 1964-65 | Notre Dame | 111-97 | L |
| 1965-66 | Notre Dame | 103-69 | W |
| 1966-67 | Notre Dame | 96-85 | W |
| 1967-68 | Notre Dame | 81-73 | W |
| 1968-69 | Notre Dame | 110-90 | W |
| 1969-70 | Notre Dame | 102-100 | W |
| 1970-71 | Notre Dame | 99-92 | L |
| 1971-72 | Indiana | 90-892OT | L |
| | Notre Dame | 83-67 | W |
| 1972-73 | North Carolina | 78-70 | L |
| | Notre Dame | 65-63 | W |
| 1973-74 | Indiana | 77-68 | L |
| | Notre Dame | 94-79 | L |
| 1974-75 | North Carolina | 90-78 | W |
| | Kansas | 100-63 | W |
| | Notre Dame | 113-96 | W |
| 1975-76 | Indiana | 77-68OT | L |
| | Notre Dame | 79-77 | W |
| 1976-77 | Notre Dame | 102-78 | W |
| | Florida State | 97-57 | W |
| 1977-78 | Notre Dame | 73-68 | W |
| 1978-79 | Notre Dame | 81-76 | W |
| 1979-80 | Notre Dame | 86-80 | W |
| 1980-81 | Notre Dame | 67-61 | L |
| 1981-82 | Notre Dame | 34-28OT | W |
| 1982-83 | Kansas | 83-62 | W |
| 1983-84 | Purdue | 86-67 | W |
| 1984-85 | Louisville | 71-64 | L |
| | Kansas | 92-89 | W |
| 1985-86 | VMI | 93-55 | W |
| 1986-87 | Louisville | 85-51 | W |
| | Georgia | 69-65 | L |
| 1987-88 | Notre Dame | 78-69 | W |
| 1988-89 | Austin Peay | 85-77 | W |
| | Louisville | 97-75 | L |
| 1989-90 | North Carolina  | 121-110 | L |
| 1990-91 | Western Kentucky | 84-70 | W |
| | Louisville | 93-85 | W |
| 1991-92 | Morehead State | 101-84 | W |
| 1992-93 | Louisville | 88-68 | W |
| | Indiana | 81-78 | W |
| 1993-94 | Ole Miss | 98-64 | W |
| 1994-95 | Indiana | 73-70 | W |
| | Louisville | 88-86 | L |
| 1995-96 | Marshall | 118-99 | W |
| 1996-97 | Indiana | 99-65 | W |
| | Louisville | 74-54 | W |
| 1997-98 | Alabama | 70-67 | W |
| 1998-99 | Indiana | 70-61OT | W |
| | Louisville | 83-74 | L |
| 1999-00 | Georgia Tech | 80-71 | W |
| 2000-01 | Indiana | 88-74 | W |
| | Louisville | 64-62 | W |
| 2001-02 | Tulane | 101-67 | W |
| 2002-03 | Indiana | 70-64 | W |
| | Louisville | 81-63 | L |
| 2003-04 | Austin Peay | 61-53 | W |
| 2004-05 | Indiana | 73-58 | W |
| | Louisville | 60-58 | W |
| 2005-06 | Iona | 73-67 | W |
| 2006-07 | Chattanooga | 79-63 | W |
| | Louisville | 61-49 | W |
| 2007-08 | UAB | 79-76 | L |
| 2008-09 | Appalachian State | 93-69 | W |
| | Louisville | 74-71 | L |
| 2009-10 | UNC Asheville | 94-57 | W |
| 2010-11 | Notre Dame | 72-58 | W |
| 2011-12 | Arkansas-Little Rock | 73-51 | W |
KFC YUM! Center Era
| | | | |
| --- | --- | --- | --- |
| Season | Opponent | Score | W-L |
| 2010-11 | Louisville | 78-63 | W |
| 2011-12 | WKU [NCAA]  | 81-66 | W |
| | Iowa St. [NCAA]  | 87-71 | W  |
| 2012-13 | Louisville  | 80-77 | L |
| 2014-15 | Louisville  | 58-50 | W |
| | Hampton [NCAA] | 79-56 | W |
| | Cincinnati [NCAA] | 64-51 | W |
| 2016-17 | Louisville | 73-70 | L |