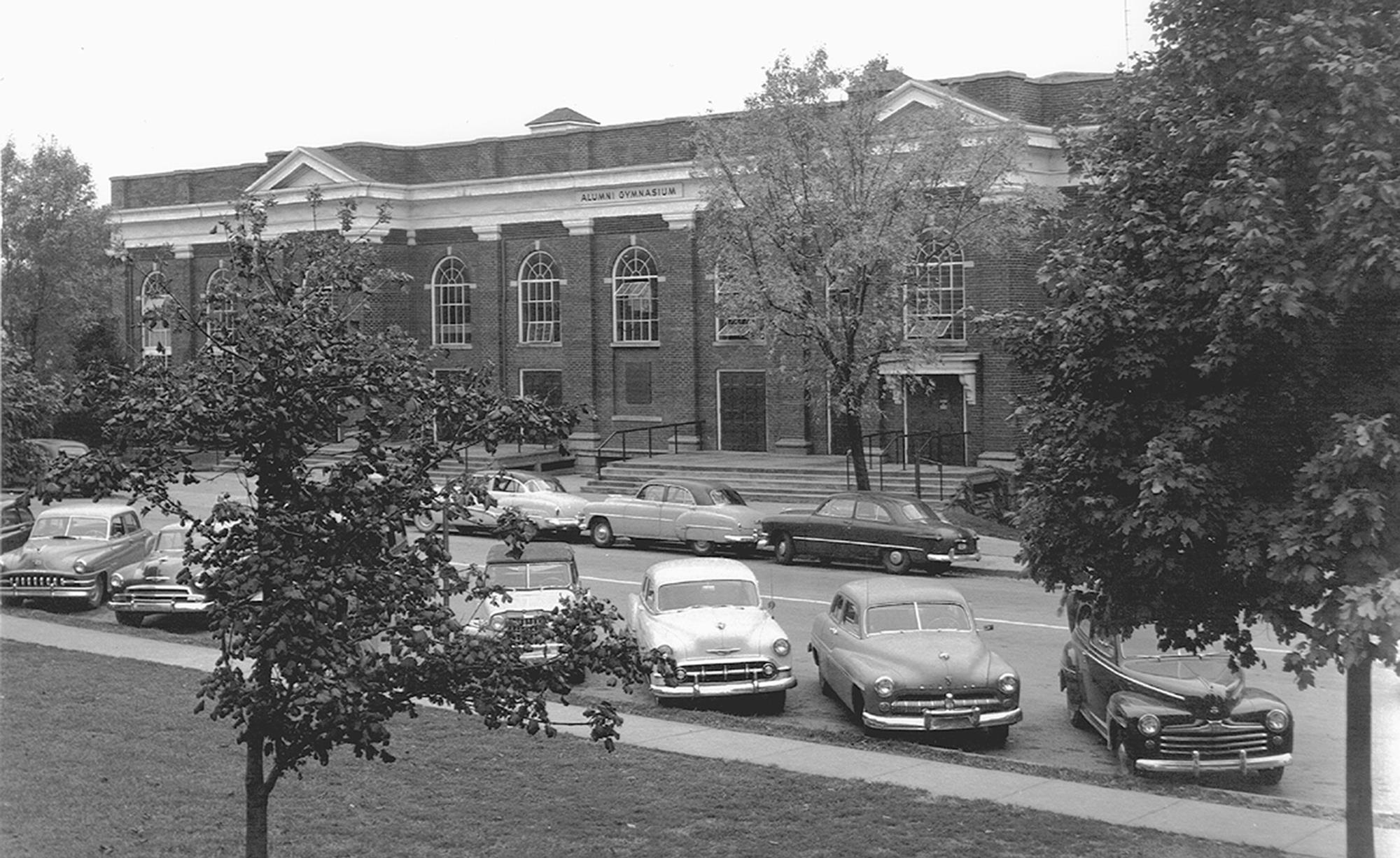 Memorial Coliseum is often referred  to as "the house that Rupp built," but Alumni Gym is actually where Kentucky basketball began. The Wildcats' current home, Rupp Arena, was  dedicated to the legendary coach in 1976, but the rich Kentucky basketball tradition began 26 years before the ink was even dry on the Memorial Coliseum plans.
In 1923, the Athletics Council members argued to the Board of Trustees that the old gym in Barker Hall's Buell Armory was unsafe for even the small number of people it could accommodate. Large crowds that had to be turned away and the probability that the popular state high school tournament would be moved away were two major factors that convinced the Board members that a new gym was in order.
Soon, the 2,800-seat structure was approved and the Alumni Association began efforts to raise the $100,000 needed for the Wildcats' new home.
Alumni Gym, which was complete for the 1924-25 season, holds claim to the birth of Wildcat basketball mania. The building served as the home floor for Wildcat squads until 1950. During that time, Kentucky lost only 24 of its 271 games, while laying the groundwork to become the winningest college basketball team in the nation.
When Rupp took the reins of the program in 1930, his squads established a home record of 201 victories against just eight losses in 19 seasons. He led the Cats to 84 consecutive wins in the confines of Alumni, including 64 consecutive victories in the Southeastern Conference.
During the last 17 seasons in the gym, the Wildcats won 12 conference tournament crowns and three Sugar Bowl championships. Through 26 seasons at the corner of the Avenue of Champions and South Limestone, Kentucky suffered only one losing season, while having 12 campaigns with three or fewer losses.
Kentucky basketball became a dynasty in 1948 after winning the SEC and NCAA championships and the coveted Olympic gold for the United States in London. Led by All-Americans Alex Groza, Ralph Beard and Wallace "Wah Wah" Jones, with Rupp coaching from the sidelines, the United States squad soundly defeated France 65-21 in the gold medal game to become the 1948 World Champions.
In 1950, Kentucky's reign in Alumni Gym came to an end following the completion of the new Memorial Coliseum.
Year-By-Year at Alumni Gym
| | | |
| --- | --- | --- |
| Season | W-L | Percentage |
| 1924-25 | 8-2 | .800 |
| 1925-26 | 9-1 | .900 |
| 1926-27 | 2-8 | .250 |
| 1927-28 | 6-2 | .750 |
| 1928-29 | 7-2 | .778 |
| 1929-30 | 12-1 | .923 |
| 1930-31 | 9-0 | 1.000 |
| 1931-32 | 10-1 | .909 |
| 1932-33 | 10-1 | .909 |
| 1933-34 | 10-0 | 1.000 |
| 1934-35 | 13-0 | 1.000 |
| 1935-36 | 11-1 | .917 |
| 1936-37 | 9-1 | .900 |
| 1937-38 | 9-0 | 1.000 |
| 1938-39 | 9-1 | .900 |
| 1939-40 | 8-1 | .889 |
| 1940-41 | 9-1 | .900 |
| 1941-42 | 10-0 | 1.000 |
| 1942-43 | 8-1 | .889 |
| 1943-44 | 8-0 | 1.000 |
| 1944-45 | 10-0 | 1.000 |
| 1945-46 | 12-0 | 1.000 |
| 1946-47 | 17-0 | 1.000 |
| 1947-48 | 11-0 | 1.000 |
| 1948-49 | 10-0 | 1.000 |
| 1949-50 | 10-0 | 1.000 |
| Totals | 247-24 | 0.911 |