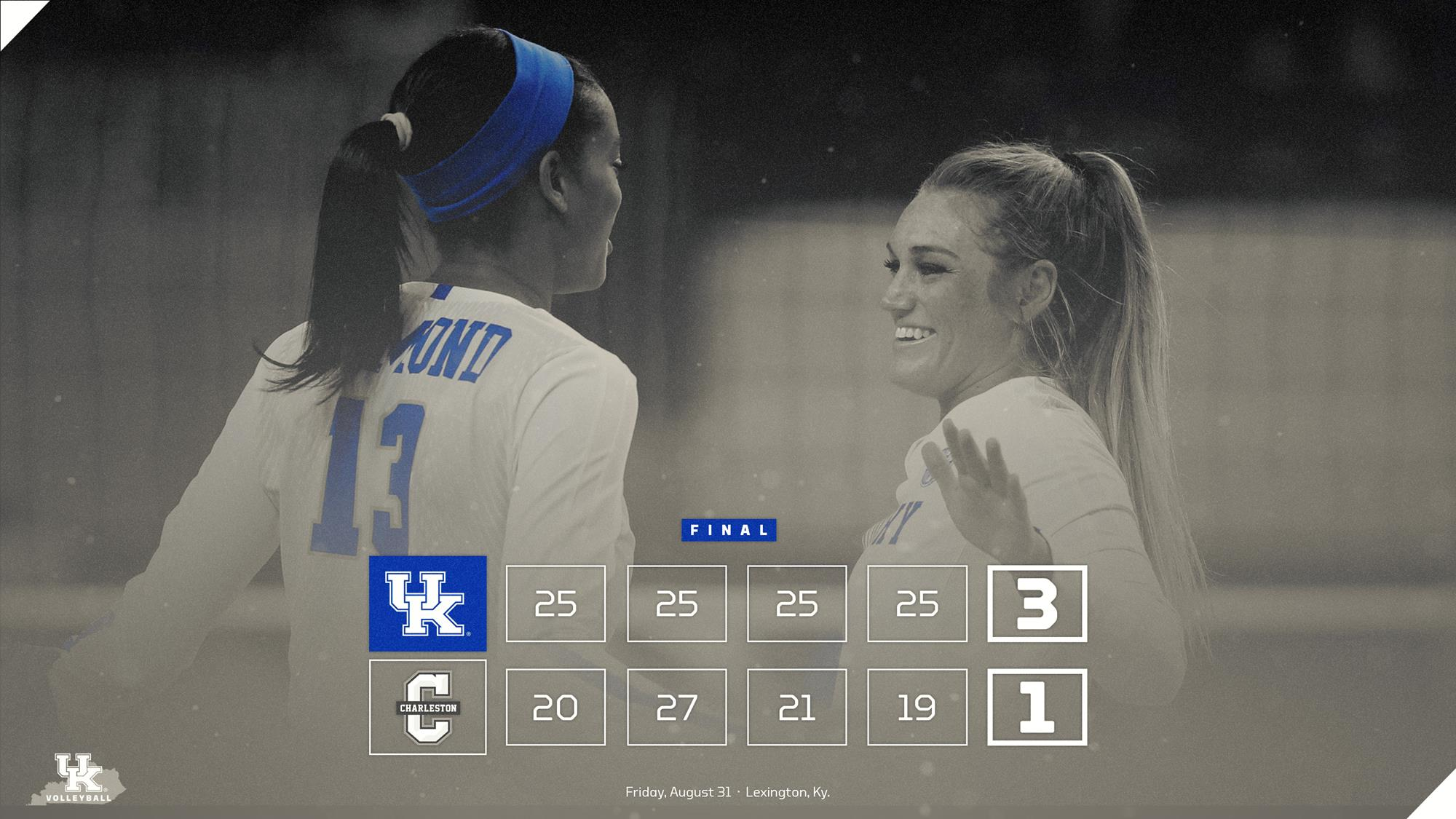 August 31, 2018 - 04:25 PM
Kentucky Defeats College of Charleston, 3-1
LEXINGTON, Ky. – Behind 25 kills from junior Leah Edmond, the No. 16 Kentucky volleyball team earned a 3-1 (25-20, 25-27, 25-21, 25-19) win over the College of Charleston in its home opener.
 
"It was a good win," head coach Craig Skinner said. "Offensively we were very good most of the match. Seventy kills in four sets is a lot. We had too many unforced errors early, but we eliminated that and had our best set in terms of that in the fourth. Charleston is a good team and they're going to win a lot of matches, so we're happy to come away with the win."
 
Senior Brooke Morgan registered a career best 15 kills on 27 swings with a .481 hitting percentage. Morgan has now posted three-straight matches with double-digit kills and now has 15 matches with 10 or more hammers. Morgan also added four blocks and one dig to her career night.
 
"Brooke had a first solid week of practice," Skinner said. "She was able to go, so it's always nice to have that rhythm established and it showed in the match today."
Edmond was the match leader with 25 kills on 48 swings, good for a .354 attacking clip. Edmond's 25 terminations were one off her career best, which she set at Marquette last season. Edmond added 13 digs for her first double-double of the season and 19th in her career.
 
"Give the kudos to my teammates and my setter (Madison Lilley) – she's unbelievable. Just being at home – it's a different atmosphere, especially being from Lexington. Being at home always lifts my spirits up, so I give (credit) to the fans and my teammates.
 
Sophomore Kendyl Paris matched her career total with nine kills. Skinner had double-digit terminations for the third time in four matches. Freshman Alli Stumler had six kills, while sophomore setter Lilley had four.
 
Lilley had a season-high 57 assists in the win while adding four digs and three blocks to her four kills. The Overland Park, Kansas has now had 40 or more assists in three of the four matches this season.
 
Four Wildcats – sophomore Gabby Curry, Edmond, Stumler and senior McKenzie Watson had double-digit digs. Curry led the way with 18 while Stumler and Watson had 10 each.
 
Morgan and Paris each led the way with total blocks while Lilley and Edmond recorded three. Stumler was the other Wildcat to have a block with two.
 
Kentucky earned its first win of the season and moves to 1-3 this season while Charleston falls to 2-2. UK will return to action tonight at 8:30 p.m. when the Wildcats will face Dayton. UD fell earlier in the day to Kansas, 3-2.
 
SET 1
After Stumler earned the first point of the match, UK pushed to an early 4-0 lead before COC ended the run. Morgan answered with a kill to make the match 5-1 and an Edmond and Paris block extended the lead to 6-1. Three Cougar points cut the lead down to 6-4 before an Edmond tip off a Lilley assist ended the run at 7-4. COC put the match within two at 7-5 but UK answered with two kills and an error to go up 10-5. Both teams traded points until the score was 11-7 where Charleston gave UK two points on errors. COC answered with two points of their own but Brooke Morgan ended the run with a termination to put UK up 14-9. A service error from COC handed UK a 15-10 lead at the media timeout. Curry put up an ace out of the break but COC cut the Wildcats advantage to 16-12. Edmond ended the mini run with a kill and a Cougar net violation forced COC to call timeout at 18-12. Three-straight Cougar points forced Kentucky to burn a timeout at 18-15. Charleston extended the run and cut the lead to 18-17 before Edmond ended the run at 19-18. Teams traded points until 20-19 when a Skinner kill and Watson ace made Charleston use a timeout at 22-19. Watson had another ace out of the timeout. UK would win the set 25-20 after a COC error and Edmond kill. Edmond led the match after one set with seven kills on 13 attempts while Lilley posted 13 assists.
 
SET 2
Charleston started up 3-0 before Lilley put UK on the board with a kill. UK was able to get the COC lead down to 4-3 after an error and another kill from Lilley. Charleston responded and pushed their advantage to 7-3. Edmond answered with a kill and then a Big Blue block from Paris and Edmond made the set 7-5. COC put two up of their own before Skinner and Stumler posted kills and Edmond capped the run at 9-8 with an ace. Play seesawed until Edmond tied the match with a kill at 12-12. UK was down 15-13 at the media timeout. Off an assist from Lilley, Paris scored out of the break but Charleston immediately answered. The Cats tied the set at 16-16 after a Stumler kill and eventually took the lead on another Stumler termination that forced Charleston to burn their first timeout. Lilley posted a kill out of the break to take the lead and UK regained the lead after a Skinner hammer at 20-19. Morgan and Lilley teamed up for a block and forced COC to burn its last timeout at 21-19. Charleston went on a 3-0 run to take the lead at 22-21 and forced UK to take its first timeout. The Cougars extended the run after the break but Stumler ended it with a kill to put that Cats within one at 23-22. UK tied the set at 24-24 with an Edmond kill. COC scored and Edmond answered again but Charleston would end up winning the set 27-25. Stumler posted five kills in the set while Edmond had six digs and six kills.
 
SET 3
Kentucky grabbed the first two points of the set with a block from Morgan and Lilley and a kill from Morgan. Morgan and Paris earned kills after COC scored to go up 4-1. After Charleston cut the advantage to 4-3, UK rattled off three-straight points to force a Charleston timeout. Charleston scored twice out of the break but Paris ended the run. Teams traded points until UK was able to go up 12-7 with two kills from Morgan and an attack error. COC cut the lead to 12-10 but Morgan and Edmond pushed it back to 14-10. Edmond and Paris had terminations to force Charleston to use their last timeout at 16-11. UK went up 19-12 capped by a Paris kill. Edmond had a kill off a helper from Lilley. Kentucky's lead went down to 20-17 and used their first timeout. Skinner had a termination out of the break and then Charleston won two points off two long rallies. UK's lead went back up to 22-19 after a Skinner tip. Both teams traded points until Edmond put the Cats at set point. UK won the set 25-21 after Edmond earned her 21st kill of the match. Edmond led the way with seven kills while Morgan had five.
 
SET 4
Morgan started the Cats off with a kill but Charleston responded and jumped out to an early 4-2 lead. Kentucky then went on a run that included an Edmond kill and two aces form Lilley to gain a 7-5 advantage. Charleston finished its 6-1 run at 9-6 with a Paris kill. Charleston called timeout at 12-7 after a Skinner kill, an ace by Paris and kill by Morgan. COC was able to get the advantage down to 13-11 but UK went on a four-point run that forced COC to burn a timeout at 17-11. After the timeout, Kentucky continued its run with a block from Morgan and Lilley before the Cougars would end the run at 18-12.  Kentucky's lead would hover around six until Charleston went back-to-back at 21-17. Paris would respond with a tip. And an attack error would push UK's lead to 23-17. The Wildcats won the set 25-19 after a Morgan kill.