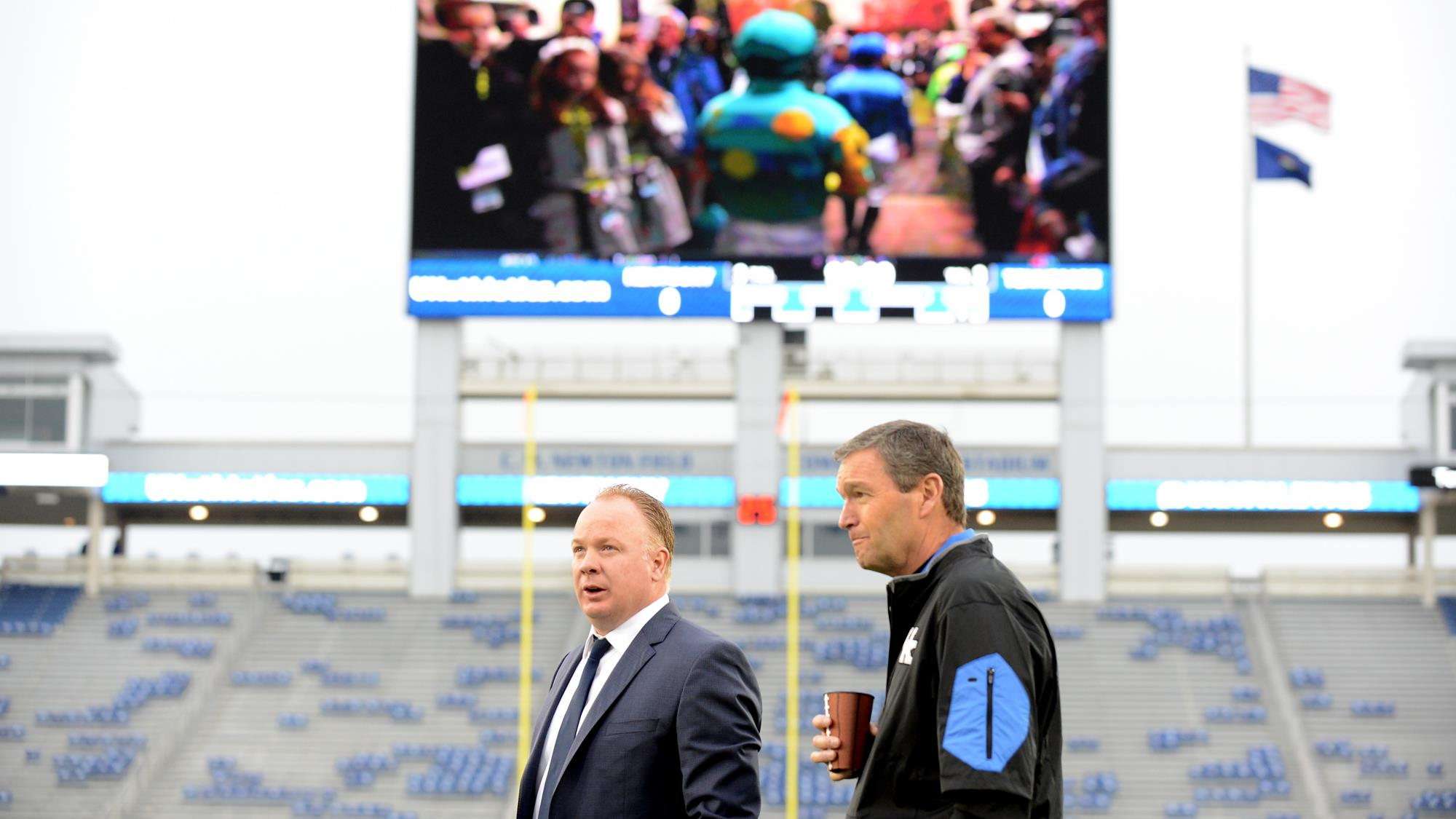 How often do you get the chance to listen in on a conversation between a football head coach and his athletics director?
 
That's exactly what Kentucky fans are getting just before the Wildcats open the 2018 season, as Mark Stoops joined the Mitch Barnhart Podcast for an episode that was recorded last week.
 
Their conversation was wide-ranging, touching on topics from fatherhood to this year's team to leadership. Speaking of leadership, Barnhart asked Stoops about the challenge of working with a group as diverse as a college football team.
 
"That's a big piece of having success as a leader and as a football coach," Stoops said. "Because there are a lot of different people in your organization. The big thing for me is to be truthful and authentic to who I am, but also very intentional about structuring things the right way."
 
Stoops is now in his sixth year at Kentucky, which was his first opportunity as a head coach. During that time, he has never stopped learning.
 
"That's what takes time as a head coach, to really get your arms around all those people," Stoops said. "As a defensive backs coach, it was very easy to me. As a coordinator, it was easy. As a head coach, with that whole organization, you put your arms all around that and it takes time."
 
One of the greatest reasons for Stoops' excitement entering this season is his confidence in the group of people that now surrounds him.
 
"That's where the comfort level in me really feels good," Stoops said. "Because the structure is there, the support's there. To be able to hire good people and put them in different places and then have a great plan and have the instincts to address them how they need to be addressed."
 
The full episode with Barnhart and Stoops is available for download now. Download episodes and subscribe to the Mitch Barnhart Podcast on iTunes, SoundCloud, Stitcher and MitchBarnhartPodcast.com.