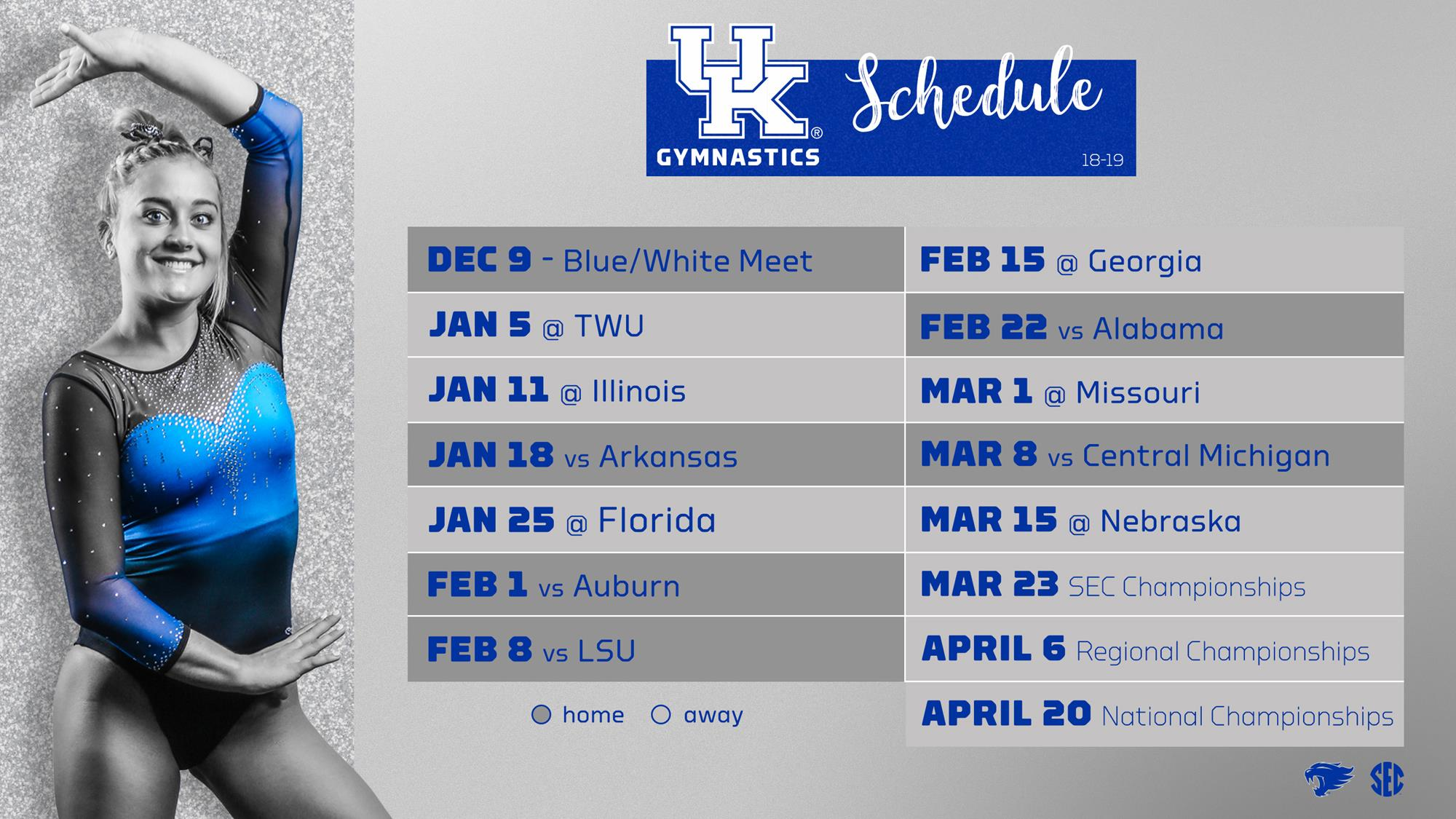 August 27, 2018 - 03:21 PM
Kentucky Gymnastics Releases 2019 Schedule
LEXINGTON, Ky. – Fresh off another successful season that saw its first national semifinal appearance in program history, the Kentucky Gymnastics team released its 2019 schedule, featuring some of the nation's best teams. UK will host five meets and travel to six schools during the regular season.
 
UK will take to the road for the first two weeks of the season, traveling to Texas Woman's University in Denton, Texas, for a meet on January 5 before heading to Illinois, who finished 19th in 2018's final poll, on January 11.
 
The Wildcats will commence Southeastern Conference competition with their first home match of the 2019 slate when Arkansas comes to Lexington on January 18. A challenging road meet awaits UK when it will travel to Gainesville, Florida, a week later on January 25 to meet the Florida Gators, who finished third overall at last season's NCAA Championships.
 
As part of back-to-back home meets, UK will play host to the Auburn Tigers on February 1 and defending SEC Champion LSU on February 8 to kick off the second month of the 2019 season. LSU ultimately finished one notch behind Florida in last season's standings after finishing fourth at the NCAA Championships.
 
UK will travel to Georgia, who finished seventh overall in 2018, on February 15 before returning to Lexington to face SEC Runner-Up Alabama.
 
The SEC regular-season finale will be on March 1 when the Wildcats head to Missouri. UK will welcome Central Michigan to Lexington for Senior Day on March 8 before rounding out the regular-season at Nebraska, who qualified as the sixth and final team in the Super Six at the NCAA Championships last season.
 
The 2019 SEC Championships will be held at the Smoothie King Center in New Orleans on March 23. NCAA Regionals will be April 6 across six locations: Baton Rouge, Louisiana; Ann Arbor, Michigan; Athens, Georgia; Corvallis, Oregon; and Fort Worth, Texas. The NCAA Championships will be held in Fort Worth, Texas.
The Wildcats will host their annual Blue-White Meet on December 9 at a time to be determined.