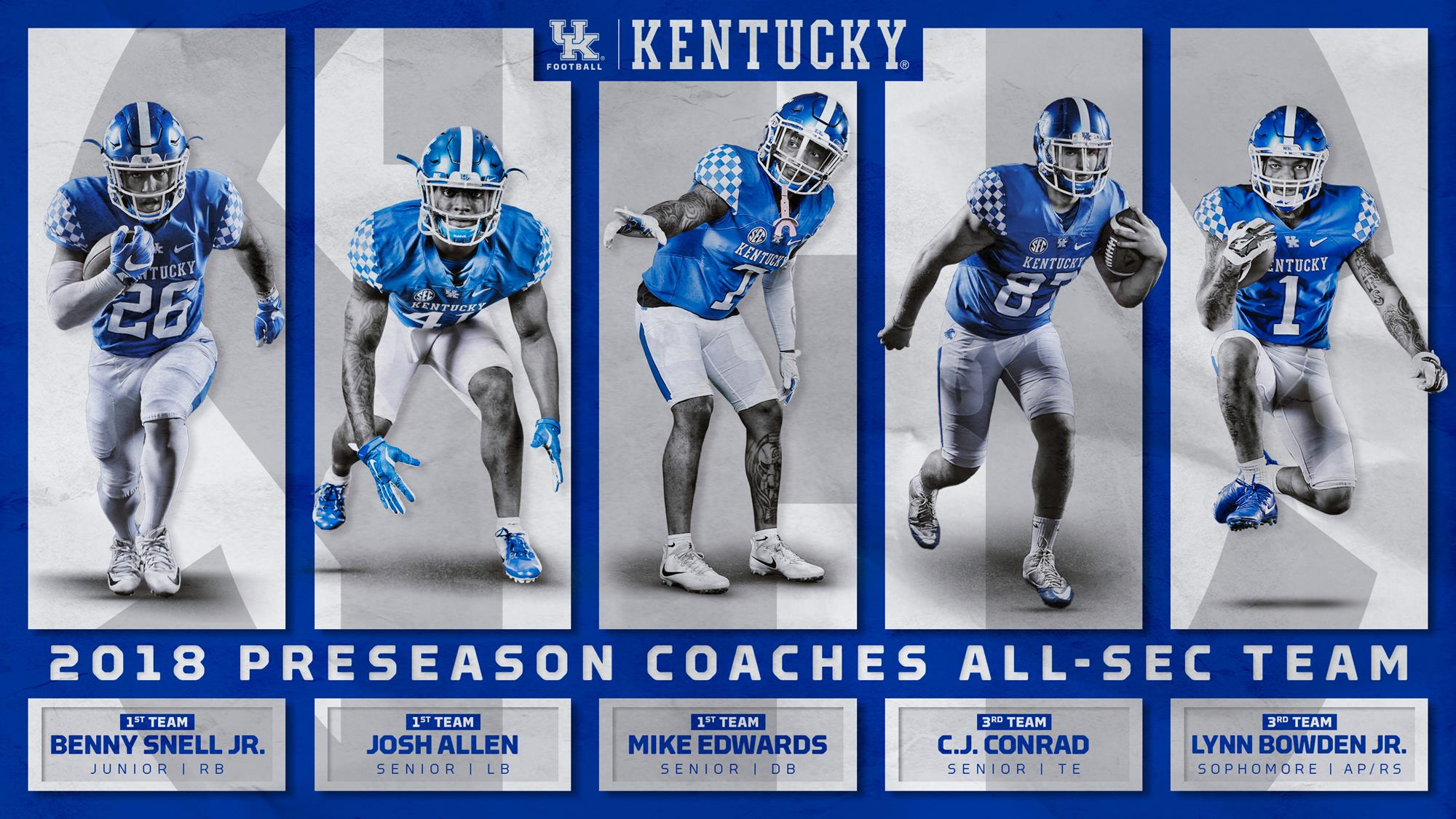 LEXINGTON, Ky. –  Five University of Kentucky football players were named to the 2018 Preseason Coaches All-Southeastern Conference Football Team, it was announced Thursday by the league office. Senior linebacker Josh Allen, senior safety Mike Edwards and junior running back Benny Snell, Jr., were named first-team members, while senior tight end C.J. Conrad and sophomore all-purpose player Lynn Bowden, Jr., were named third-team offense. Bowden was also named to the third team as a return specialist along with Arkansas' DeVion Warren.
 
Allen, (Montclair, New Jersey) who is on the watch lists for the Bednarik Award (nation's best defensive player) and the Butkus Award (nation's top linebacker), earned first-team defense honors after totaling 65 tackles (fourth on the team) last season and helping lead UK to its second-straight bowl appearance. He also had a team-high 9.5 tackles for loss, 7.0 sacks, a team-high four quarterback hurries, three pass breakups, two forced fumbles and one interception.
 
Edwards (Cincinnati, Ohio) was a first-team defense selection after leading Kentucky and ranking 10th in the SEC in tackles per game last season with 7.5. He also had a team-high four interceptions to go along with a team-high seven pass breakups. Edwards is just the fourth player in school history to lead the team in both interceptions and tackles in the same season, joining Darryl Bishop in 1972, Quentus Cumby in 2002 and Danny Trevathan in 2011. After charting a season-high 11 tackles vs. Ole Miss, Edwards now has nine games with double-digit tackles.
 
Edwards is currently on the watch lists for the Bednarik Award (nation's best defensive player), the Thorpe Award (nation's top defensive back) and the Bronko Nagurski Trophy (nation's best defensive player).
 
Snell Jr., (Westerville, Ohio) was named first team after leading the SEC in rushing touchdowns (19) and ranked third in total rushing yardage (1,333) and rushing yards per game (102.5) in 2017. His 1,333 rushing yards set a school record for most rushing yards by a sophomore. He also became the first player in school history to record 1,000 yards in consecutive seasons.
 
Snell, who already ranks eighth on the UK career rushing list (2,424 yards), is only the third player in SEC history to have at least 2,424 yards and at least 31 career rushing touchdowns before his junior season, joining Georgia's Herschel Walker and LSU's Leonard Fournette. He also holds the school records for total rushing touchdowns (32), most rushing touchdowns in a season (19) and most points in a season (116). In just 26 career games, Snell has climbed up to No. 7 on UK's career scoring list.
 
Snell is currently on the watch lists for the Maxwell Award (Player of the Year), the Doak Walker Award (nation's top running back) and the Walter Camp Player of the Year.
 
Bowden, (Youngstown, Ohio), is expected to be a force for the Wildcats both as a wide receiver and kickoff returner in 2018.
 
In 2017, the 6-foot-1, 195-pounder caught 17 passes for 210 yards, rushed 12 times for 37 yards and returned 37 kicks for 869 yards, an average of 23.5 yards per return. He also completed 3-of-4 passes for 92 yards, showing off the skills that made him a star quarterback at Warren Harding High School.
 
Bowden, who is currently on the watch list for the Hornung Award that recognizes the most versatile player in college football, set UK freshman records for most returns in a season, most returns in a game (7, vs. Louisville) and most kickoff return yards in a season. He was named SEC Freshman of the Week on Oct. 9 after piling up 128 all-purpose yards in a 40-34 win over Missouri. Late in the season he had UK's longest kick return since 2009, a 93-yarder in a win at Vanderbilt that was part of his career-high 192 all-purpose yards that day.
 
Conrad (LaGrange, Ohio) was named third-team offense and is considered one of the most gifted tight ends in the country, having averaged a touchdown every five times he has caught a pass in his career. In 2017, he ended the season ranking second on the team with 286 receiving yards on 16 catches to go along with a team-high four touchdowns despite his season ending prematurely on Nov. 18 due to a foot injury. His 17.9 yards per catch average ranked second on the team.
 
In the first two games of the 2017 season, he had a receiving TD, becoming the first UK tight end with a receiving touchdown in consecutive games since Jacob Tamme on Nov. 24 and Dec. 31, 2007.
 
In his three-year career, Conrad has totaled 697 receiving yards with nine scores.
 
Conrad is currently a nominee for the 2018 Allstate AFCA (American Football Coaches Association) Good Works Team®, the Wuerffel Trophy (nation's top community servant) and is on the watch list for the Mackey Award for the second straight season (nation's top tight end).
To see the entire All-SEC list, go here: http://www.secsports.com/