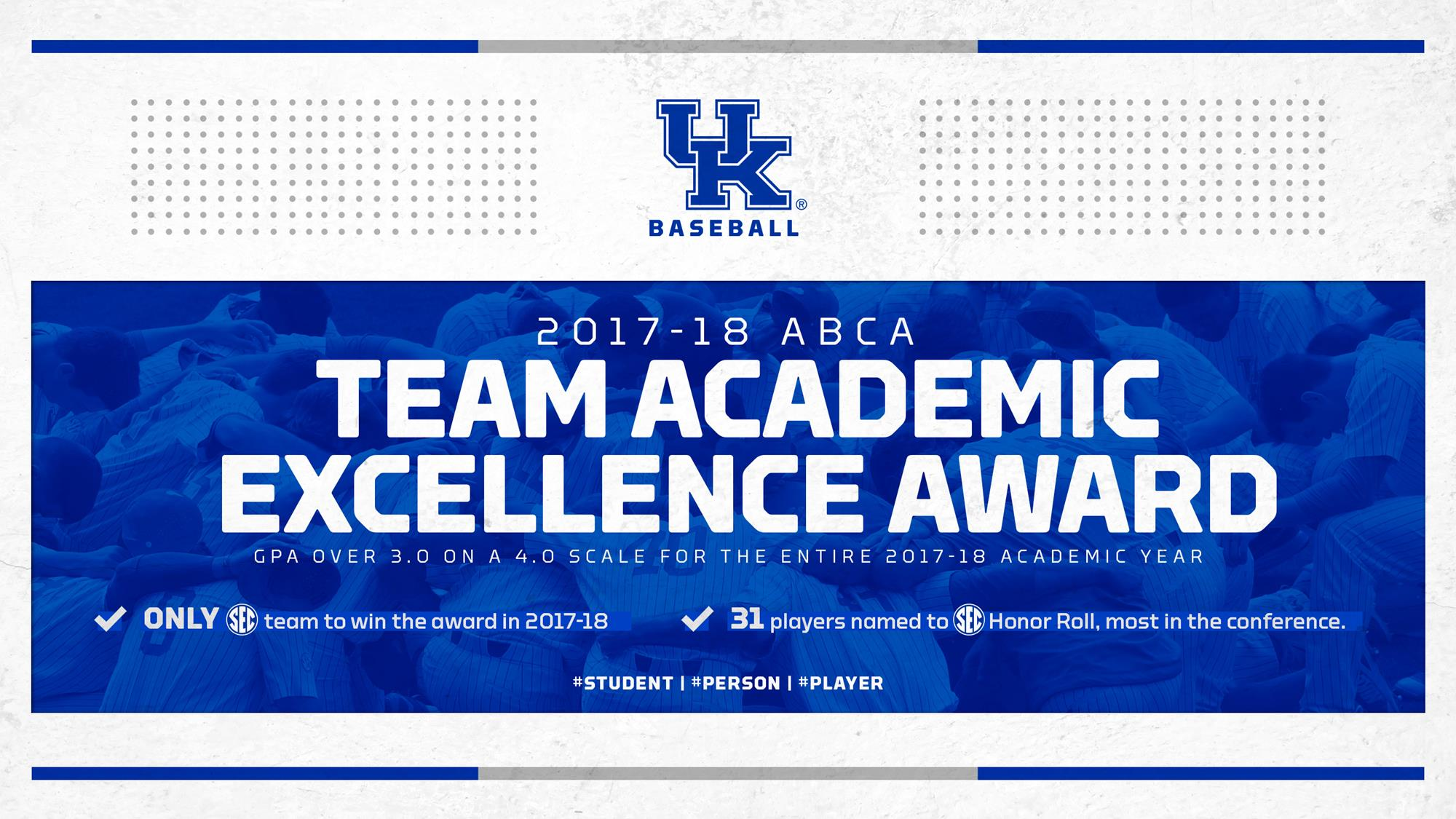 LEXINGTON, Ky. – The Kentucky baseball team received a 2018 Team Academic Excellence Award from the American Baseball Coaches Association, it was announced on Wednesday. The Wildcats are the only Southeastern Conference program to earn the distinction for the 2017-18 academic year.
 
The ABCA honors teams that post a cumulative grade point average over 3.0 on a 4.0 scale for the entire academic year. Nearly 300 programs at the high school and collegiate levels were recognized but just 46 Division I schools. The Wildcats have posted a cumulative team GPA of at least 3.0 in all four semesters under head coach Nick Mingione.
 
"We are so proud to be recognized by the ABCA for the work of our young men in the classroom," Mingione said. "We talk to them every day about dominating not only on the field, but in their academic career as well. This honor is a testament to their hard work and effort, as well as that of Michael Stone (Director of Academic Services) and the entire team at CATS (Center for Academic and Tutorial Services). They are invaluable resources for our program."
 
The award falls in line with Mingione's guiding principles for the program, which focus on developing team members as students, people and players. The Cats had an SEC-leading 31 players named to one of the two league honor rolls for 2017-18 and now have placed 61 student-athletes on those lists in his two seasons in Lexington.
 
Additionally, former UK pitcher Zach Logue in 2017 became the program's first SEC Scholar Athlete of the Year, while former catcher/first baseman Kole Cottam recently was named a CoSida Academic All-District honoree.
 
The ABCA has a long tradition of recognizing the achievements of baseball coaches and student-athletes, both on and off the field. It was founded in 1945 and in January 2019 will host its 75th annual convention, drawing coaches from all over the United States.