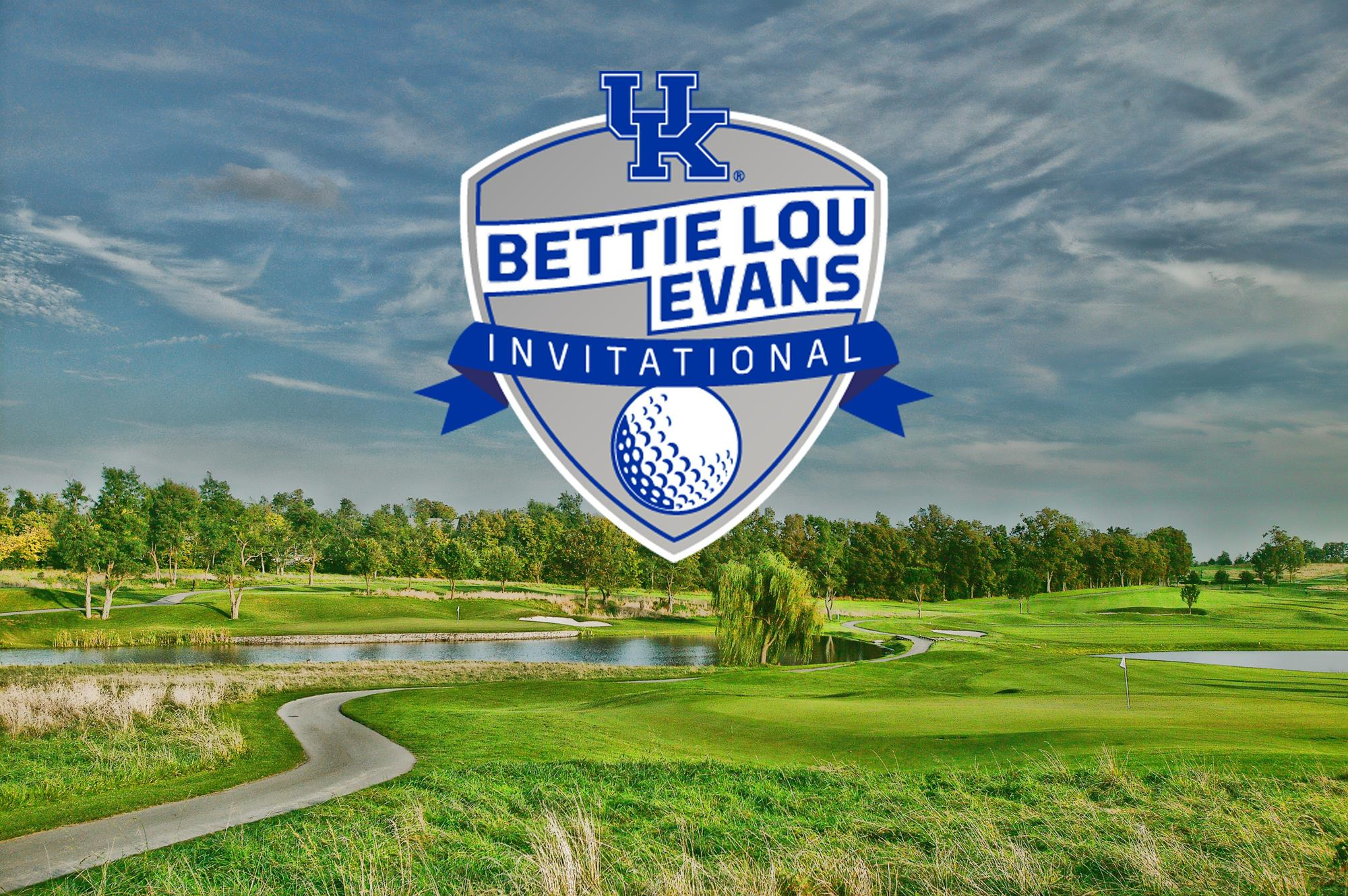 Bettie Lou Evans Invitational
TOURNAMENT OVERVIEW
2019 Bettie Lou Evans Invitational Program
The Bettie Lou Evans Invitational has been held 30 times, dating all the way back to 1979. The most recent edition took place in 2019 with 13 teams competing for the title. 
The Wildcats have won the tournament 13 times, including the most recent edition in 2019. UK has won back-to-back Bettie Lou titles.
The tournament, formerly known as the Wildcat Fall Invitational, began in 1979 (there were actually two tournaments in 1976 and 1977 before women's golf became a varsity sport at UK) and was played every year until a four-year break from 1998 to 2001. The Kentucky tournament also took one-year breaks in 2008 and 2010. There were five seasons without the tournament following the 2011 edition until the Bettie Lou was revived in 2017.
 
TOURNAMENT HISTORY
First Year: 1979
Years: 30
Lowest 54-Hole Team Score: 858 (Kentucky, 2018)
Lowest 18-Hole Team Score: 278 (Penn State, Third Round, 2018)
Lowest 54-Hole Individual Score: 205 (Leonie Bettel, UK)
Lowest 18-Hole Individual Score: 66 (Leonie Bettel, UK, Second Round, 2018 | Mary Parsons, Indiana, Third Round, 2017)

PAST TEAM CHAMPIONS
| | | |
| --- | --- | --- |
| Year | Team | Score |
| 1979 |  North Carolina | 626 |
| 1980 | Alabama | 317 |
| 1981 | Georgia, North Carolina | 908 |
| 1982 | Ohio State | 921 |
| 1983 | Kentucky | 597 |
| 1984 | Kentucky | 899 |
| 1985 | Kentucky | 905 |
| 1986 | Kentucky | 912 |
| 1987 | Kentucky | 903 |
| 1988 | Kentucky | 927 |
| 1989 | Auburn | 920 |
| 1990 | Kentucky | 608 |
| 1991 | Kentucky | 902 |
| 1992 | Oklahoma State | 912 |
| 1993 | Florida | 925 |
| 1994 | Wake Forest | 900 |
| 1995 | Michigan | 904 |
| 1996 | Kentucky | 904 |
| 1997 | Kentucky | 912 |
| 2002 | Tennessee | 604 |
| 2003 | Vanderbilt | 926 |
| 2004 | Mississippi State | 898 |
| 2005 | Florida | 881 |
| 2006 | Memphis | 929 |
| 2007 | Alabama | 877 |
| 2009 | Florida State | 587 |
| 2011 | Kentucky | 924 |
| 2017 | Notre Dame | 872 |
| 2018 | Kentucky | 858 |
| 2019 | Kentucky | 859 |

PAST INDIVIDUAL CHAMPIONS
| | | | |
| --- | --- | --- | --- |
| Year | Name | Team | Score |
| 1979 | Stephanie Komeger | North Carolina | 151 |
| 1980 | Mary Mcnabb | Missouri | 77 |
| 1981 | Peggy Kirsch | Alabama | 218 |
| 1982 | Kathy Kingston | Ole Miss | 220 |
| 1983 | Paula Davis, Leslie Ritter | Kentucky | 140 |
| 1984 | Kathy Kingston | Ole Miss | 220 |
| 1985 | Kandi Kessler | North Carolina | 222 |
| 1986 | Tracy Chapman | Indiana | 222 |
| 1987 | Kate Rogerson | Kentucky | 219 |
| 1988 | Margaret Platt | Auburn | 224 |
| 1989 | Joal Rieder | Auburn | 224 |
| 1990 | Tonya Gill | Kentucky | 148 |
| 1991 | Stephanie Neill | Wake Forest | 221 |
| 1992 | Renee Heiken | Illinois | 221 |
| 1993 | Stephanie Neill, Shelley Kinder | Wake Forest | 224 |
| 1994 | Erika Yicoff | Indiana | 220 |
| 1995 | Shannon McDonald | Michigan | 217 |
| 1996 | Lauri Berles | Kentucky | 219 |
| 1997 | Kasey Gant | Michigan State | 222 |
| 2002 | Violeta Retamoza | Tennessee | 144 |
| 2003 | Meghan Little | Louisville | 227 |
| 2004 | Amanda Mathis | Mississippi State | 219 |
| 2005 | Mallory Blackwelder | Florida | 212 |
| 2006 | Amanda Mathis | Mississippi State | 225 |
| 2007 | Courtney Harter | Alabama | 213 |
| 2009 | Macarena Silva | Florida State | 143 |
| 2011 | Ashleigh Albrecht | Kentucky | 225 |
| 2017 | Grace Rose/Emma Albrecht | Kentucky/Notre Dame | 211 |
| 2018 | Leonie Bettel | Kentucky | 205 |
| 2019 | Pilar Echeverria | Indianapolis | 211 |