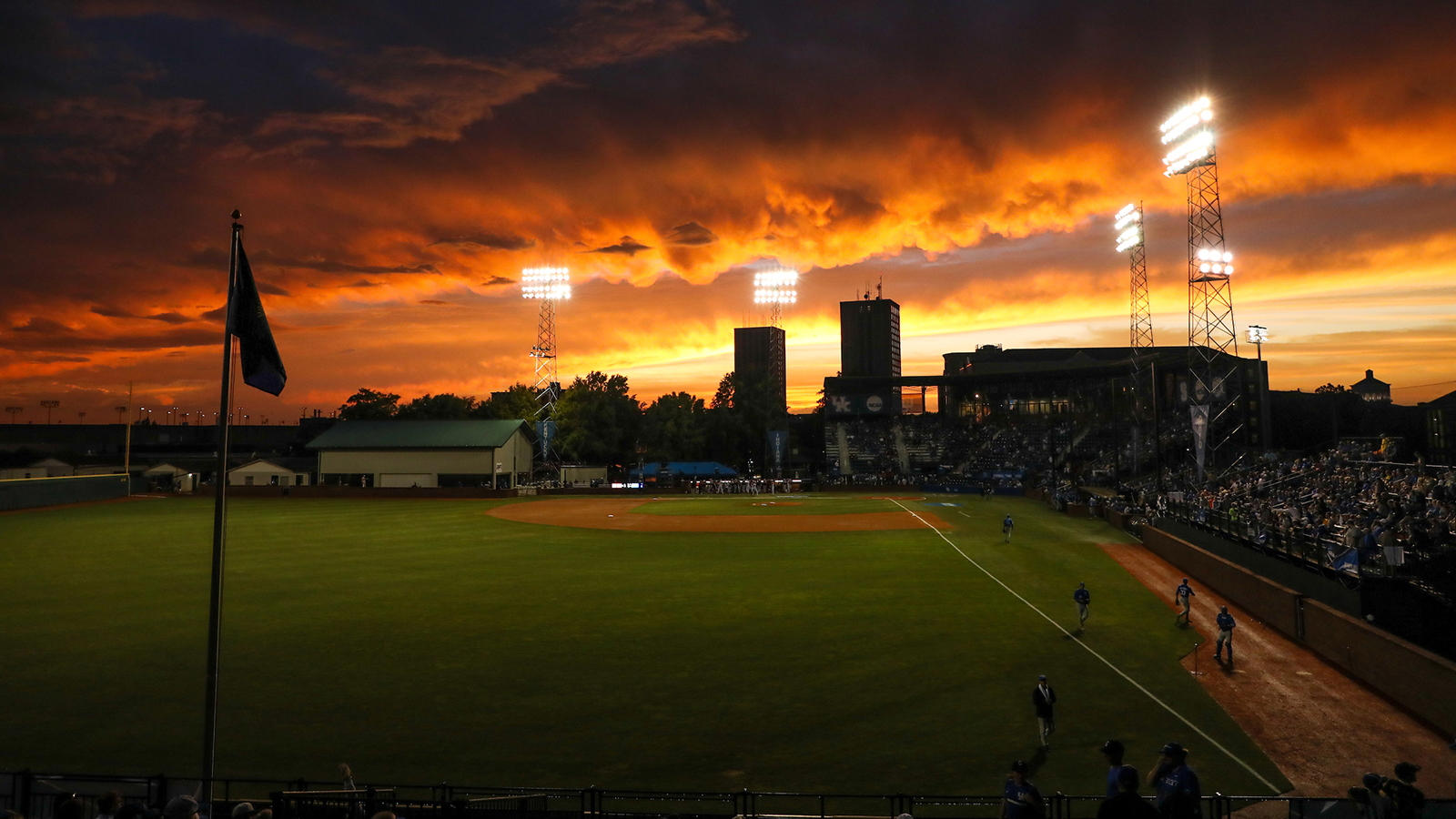 UK Baseball Fall High School Camp/Instructional League
 
Dates:                   September 9 – October 18, 2018
Location:              Cliff Hagan Stadium and the new UK Baseball Stadium
Times:                   5:30 p.m. and 7:45 p.m. at each venue
                              Each team will play every Tuesday and Thursday and alternate between venues
Format:                Practice and showcase day, 8 games plus an All-Star game
                              Games will have a two-hour time limit (7 innings)
                              Instruction by UK Baseball coaching staff preceding each game
Ages:                     Grades 8-12
Fee:                       $200 per player, minimum of 15 players/team, $200 per each additional player
                              Limited to eight (8) teams
Showcase:            9/9 at 1:00pm at Cliff Hagan Stadium
Game Dates:        9/11, 9/13, 9/18, 9/20, 9/25, 9/27, 10/2, 10/9, 10/11, 10/16
Weather Issues:   Every effort will be made to make up any games cancelled due to weather.
All-Star Game:    10/18 (will vary if weather make-ups are needed)
Umpires:              Will be provided by UK
T-Shirts:               Numbered t-shirts will be provided
Coaches:               Each team is responsible for their own coaches
Game Balls:         Supplied by UK
 
UK Baseball is proud to announce our inaugural Fall Camp/Instructional League for high school players. This camp is for the serious high school player who wants a challenge and is looking to improve their skills in an intense, structured collegiate setting. Teams will play a total of eight games, twice a week, at UK's baseball venues. Participants will receive instruction from the UK Baseball coaching staff during batting practice and pitching 20 minutes prior to each game (e.g 4:50-5:10 BP instruction in cages, 4:50-5:10 pitching instruction in bullpen for a 5:30 game.)
 
The UK Baseball Fall Camp/Instructional League begins with a pro-style combine workout and instructional session on September 9 for all teams. The League will conclude with an All-Star Game comprised of players selected based on a combination of coach recommendation and UK staff evaluation.
 
Head Coach Nick Mingione
From his first meetings with the players, Wildcats Head Coach Nick Mingione brought a very clear and specific vision to the program:  they would be a family, they would focus on developing the "Student, Person, Player" and they would do things that had never been done before. Mingione, his staff and the team did just that in 2017. In his first season at the helm, Mingione's Cats shined on the field, winning a NCAA Region championship in front of the largest crowd in school history and advancing to a Super-Regional. After the Wildcats posted the most wins by a first-year head coach, Mingione was recognized as the Southeastern Conference Coach of the Year and the Rawlings/Perfect Game National Coach of the Year. Six Wildcats were drafted in the top 10 rounds of the Major League Baseball amateur draft. The unprecedented success on the field was matched by the team's academic achievements, earning a 3.35 GPA during the fall and 3.25 GPA during the spring season. In Coach Mingione's second campaign, a record 13 Wildcats were drafted, the most in the country. After the 2018 season, senior catcher/first baseman Troy Squires was recognized as the national recipient of the prestigious Senior Class Award, which honors student-athletes who excel in four areas:  community, classroom, character and competitor. Coach Mingione continues to lead the Wildcats to unprecedented heights and the team is excited about moving into its new home in the new $49M stadium in the fall of 2018.
 
How to Register
Registration is team-based and facilitated by the team coach through the Active camp management system and is "first come, first served." Call the UK Baseball Office at 859-257-8052 or email kentuckybaseball@uky.edu for additional guidance on registering your team. Coaches will be responsible for collecting and uploading or providing hard copies of the required documents listed below to the UK Athletic Training staff on or before the first camp session.
 
Required Documents
The following documents are required for camp participation. These documents may be faxed to 859-323-4754 or turned in at camp check-in:
Copy of the camper's current annual physical, dated within 12 months of camp. A Physician's Statement is acceptable in lieu of a physical.
Front and back of camper's health insurance cards
Liability waiver
Check-In Procedures
Check-in begins at noon on September 9th, before the assigned pro-style workout and instructional session at Cliff Hagan Stadium. Parking information will be sent to the Head Coach of the participating teams.
All campers must attend check-in, even if you are paid in full.
What to Bring
Baseball attire and gear. All personal items should be labelled. Please do not bring valuables.
 
Camp Store
Concessions and UK Baseball gear will be available for purchase at all camp sessions. Cash and checks only; checks payable to UKAD.
 
Questions
859-257-8052 – kentuckybaseball@uky.edu – www.ukathletics.com/camps
 
Confirmation & Follow-Up Communication
Campers will receive a confirmation email after the online registration has been submitted. It is important that you provide an active and correct email address in the registration process as email will be our primary means of communication both prior to and following the camp. Please be sure to routinely check the email address you supply at registration to avoid any confusion or miscommunication.
 
Cancellations
Cancellations and refund requests must be received no later than seven days prior to the start of camp. Any later cancellations must be in the case of illness or injury and require a physician's signed note. Contact kentuckybaseball@uky.edu for cancellations.
The deposit for each camp is non-refundable under any circumstances.
 
NCAA rules prohibit payment of camp expenses (camp tuition, transportation, spending money, etc…) for prospects (9th grade and above) by University of Kentucky boosters. NCAA rules also prohibit free or reduced camp admissions for prospects. If you have any questions, notify camp officials prior to attending camp. 
 
The University of Kentucky's camps and clinics are open to any and all entrants (limited only by number, age, grade level and/or gender).
Disabilities accommodated, prior notification is appreciated.