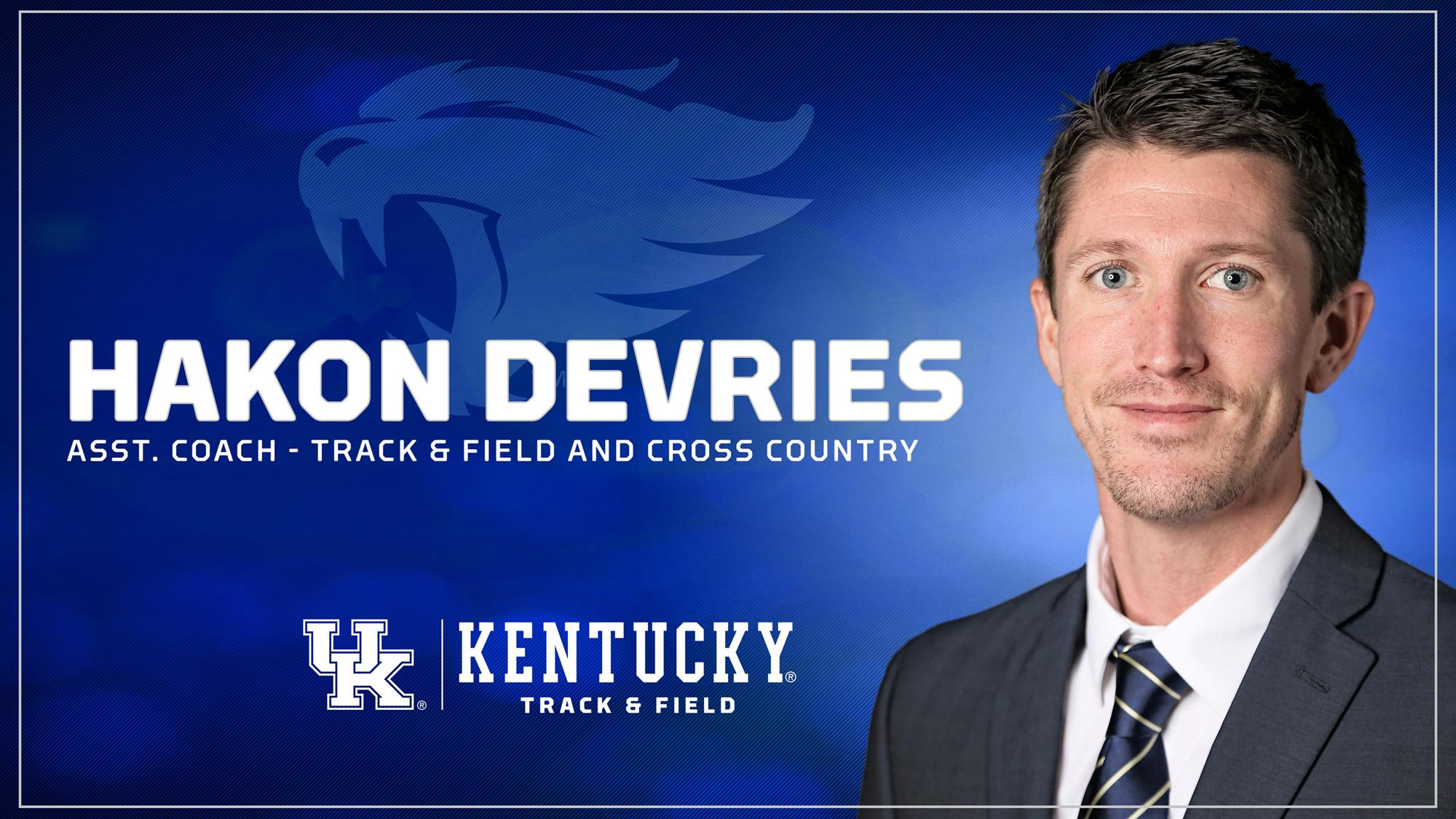 Hakon DeVries Retained as UKTF and UKXC Assistant Coach
LEXINGTON, Ky. – Kentucky Track and Field and Cross Country Head Coach Lonnie Greene's staff has begun taking shape as he's announced Hakon DeVries will return in 2018-19 for a seventh season as assistant coach.
DeVries will continue working with UK's distance and cross country programs.
"We've seen for a while that Hakon has done a great job in his time as an assistant at UK, so we're excited he's staying in Lexington for the upcoming season" Greene said. "He will bring an innate knowledge of coaching in the Southeastern Conference, working with so many of this 2018-19 team's returning athletes and excelling within this great department."
 
DeVries has served as an assistant coach since the 2012-13 season at Kentucky having helped lead the Wildcats' distance program's revival.
DeVries has coached Wildcats to a total of 12 All-America honors in addition to seven SEC Titles and 20 SEC Medals.
"I'm happy to be staying on board for the upcoming season," DeVries said. "Thank you to Coach Greene and the UK administration. I'm very excited to continue building the UK track and field and cross country programs. I know many of the current athletes we have coming back, but I am also excited for the new pieces we're going to add. With cross country training not even a month away, I can't wait to continue the work"
Most recently under DeVries, Jacob Thomson won the 2018 SEC Indoor 5k, while Katy Kunc earned medals in both the SEC 3k and 5k. Each medaled at the 2018 SEC Outdoor Championships. Thomson and Kunc both competed well at the USATF Outdoor Championships last month in their last races in UK uniforms.
Thomson took First Team All-America honors in 2018 the 10k, while Kunc advanced to the NCAA steeplechase final for the third year in a row.
Kunc was SEC Champion in 3k steeplechase in 2017, and also took SEC cross country bronze in 2016 and 2017.
He coached Ben Young to joining the sub-four-minute-mile club during the 2018 indoor season. Young scored in the SEC indoor mile and outdoor 1,5000m in 2018.
Ariah Graham won the SEC 800m title, becoming UK's first SEC Champion at that distance and breaking the school record both indoors and outdoors.
In 2014, DeVries helped develop Allison Peare into one of the nation's top middle-distance runners. Peare broke the UK Mile and 1,500M records in addition to the 800M mark. She was a double-Silver Medalist in the 800 and 1,500 at the SEC Championships and went on to finish fifth at the NCAA Championships before competing at the USATF Championships.
DeVries led Cally Macumber to the Southeastern Conference and Southeast Region Cross Country titles en route to the SEC Runner of the Year Award in 2012. In one season at UK DeVries' runners won four SEC titles and three athletes combined for seven All-America honors.
Both Macumber and Chelsea Oswald were All-America and All-SEC honorees in their first cross country season competing under DeVries' direction. Four members of the women's cross country team, Macumber, Oswald, Allison Peare and Anna Bostrom, earned All-Southeast Region recognition in 2012.
Success continued into the track season as Macumber won the SEC 3,000-meter title indoors before Oswald completed the outdoor distance double winning the Conference 5K and 10K titles, with the latter championship coming in Oswald's first race at the distance. Macumber, Oswald and Peare were all part of UK's school-record and All-America distance medley relay team.
DeVries coached two newcomers, Katy Kunc and Aundrea Busse, to SEC All-Freshman team honors in cross country in 2014.
DeVries joined the UK coaching staff after working for three years as a Volunteer Assistant at Stanford.
In 2012, DeVries coached the Stanford school record holder in the indoor and outdoor 800m as well one first-team and two second-team All-America honorees. In his three years as an assistant, Stanford's distance runners amassed 35 first-team and 17 second-team All-America honors by the U.S. Track and Field and Cross Country Coaches Association in cross country, indoor and outdoor track.
DeVries also ran at Stanford. While a student-athlete, DeVries was a two-time All-America selection in track and a critical member of the cross country team as well. DeVries scored in each of the NCAA cross country championship races and helped guide the Cardinal to a third-place national finish in 2008 and a fourth-place finish in 2006.
 
—
For the most in-depth coverage of the UK cross country and track and field program follow the @KentuckyTrack social media channels on Instagram, Twitter and Facebook as well as on UKathletics.com.