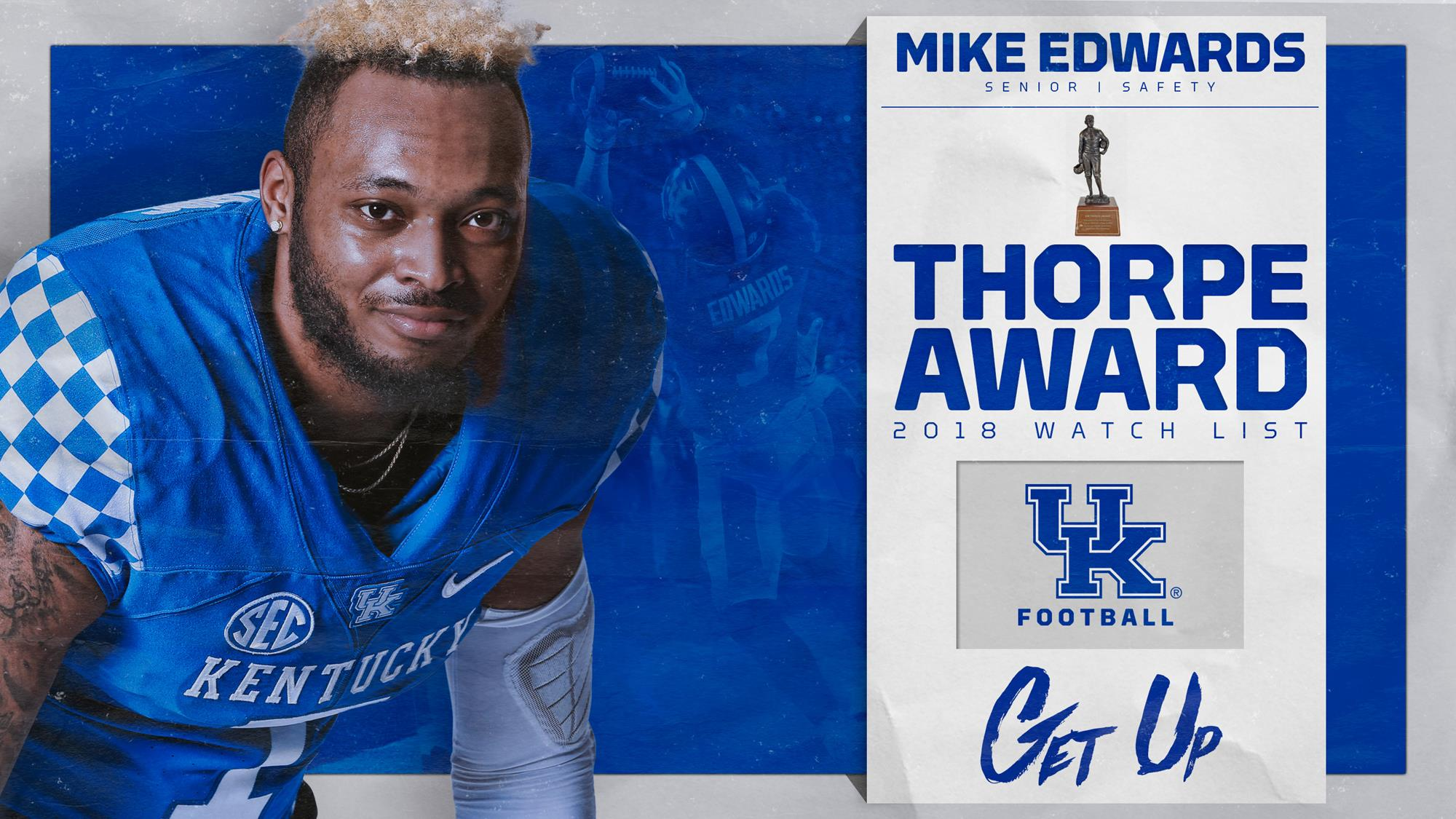 LEXINGTON, Ky. –- Kentucky senior Mike Edwards has been named to the 2018 Paycom Jim Thorpe  Award Preseason Watch List for the second consecutive season, it was announced by the Oklahoma Sports Hall of Fame today. The Paycom Jim Thorpe Award annually recognizes the best defensive back in college football and is based on performance on the field, athletic ability and character. As such, it is considered one of the most coveted awards in college football.
 
Edwards, a safety from Cincinnati, Ohio, led Kentucky and ranked ninth in the Southeastern Conference in tackles per game in 2017 with 7.5. He also had a team-high four interceptions to go along with a team-high seven pass breakups. Edwards is just the fourth player in school history to lead the team in both interceptions and tackles in the same season, joining Darryl Bishop in 1972, Quentus Cumby in 2002 and Danny Trevathan in 2011. After charting a season-high 11 tackles vs. Ole Miss, Edwards now has nine games with double-digit tackles.
 
Edwards has totaled 236 career tackles and needs just 64 more to become the 19th player in school history with 300 or more tackles, including just the second defensive back.
 
Edwards is also on the watch list for the Chuck Bednarik Award, which has been presented to the top defensive player in college football since 1995.
 
The award recipient is selected by the Paycom Jim Thorpe Award National Selection Committee, which boasts members of the NCFAA, an Oklahoma Sports Hall of Fame in-house award committee, former Paycom Jim Thorpe Award recipients, and sportswriters and college football journalists throughout the country.
 
The Paycom Jim Thorpe Award was established in 1986 and is named after the greatest all-around athlete in history, Jim Thorpe. As a native Oklahoman, Thorpe excelled not only as a running back, passer and kicker on the offensive side of the ball, but also stood out as a defensive back. In addition to his legendary performance on the football field, Thorpe played professional baseball and won Olympic gold medals in the decathlon and pentathlon.
 
Paycom Software, Inc. ("Paycom") (NYSE:PAYC), a leading provider of comprehensive, cloudbased human capital management software, and the Jim Thorpe Museum and Oklahoma Sports Hall of Fame (OSHOF) jointly announced in May 2017, an exclusive sponsorship of the Jim Thorpe Award. As such, the accolade is called the "Paycom Jim Thorpe Award."
 
The 2018 Paycom Jim Thorpe Award winner is selected from three finalists and will be announced at The Home Depot College Football Awards Presented by Gildan on Thursday, December 6, 2018, on ESPN. The Paycom Jim Thorpe Award commemorative banquet will be held on Tuesday, February 5, 2019, in Oklahoma City.