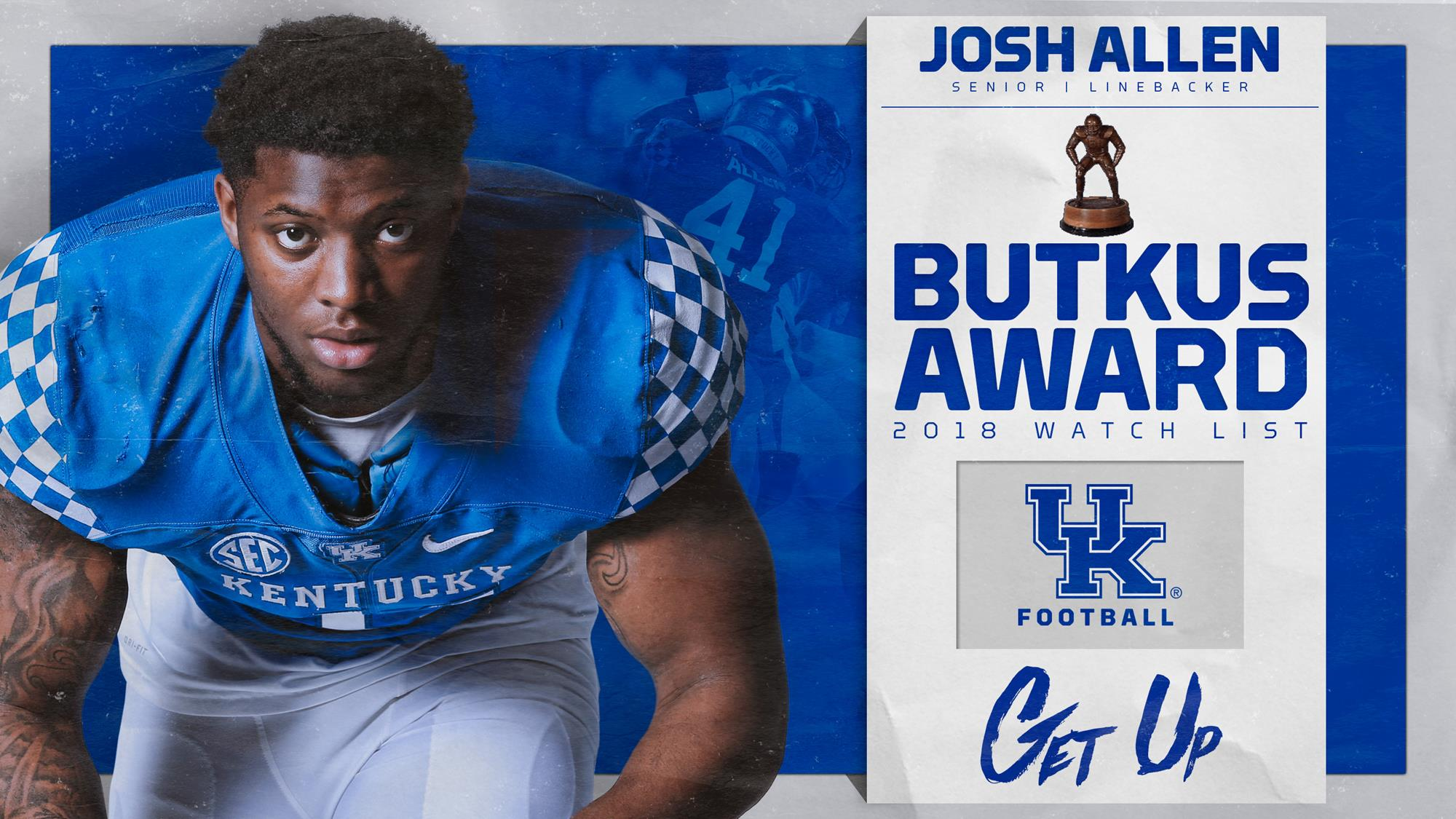 LEXINGTON, Ky. –- Kentucky senior Josh Allen has been named to the 2018 Butkus Award® Preseason Watch List for the second consecutive season, it was announced today. Allen is one of 51 collegiate linebackers on the 34th annual list, mirroring the legendary "51" pro jersey associated with the Award's namesake Dick Butkus, who was recognized by NFL Films as the best defensive player in football history.
 
As a 6-foot-5, 260-pound linebacker, Allen totaled 65 tackles in 2017, ranking fourth on the team. He was a key cog in helping guide the Wildcats to their second-straight bowl appearance, the first time UK had achieved that in eight years, since 2008-09. He also had a team-high 9.5 tackles for loss, 7.0 sacks, a team-high four quarterback hurries, three pass breakups, two forced fumbles and one interception.
 
Allen, a native of Montclair, N.J., was a semifinalist for the Butkus Award in 2017. He also was named second-team All-SEC by the Associated Press last season and was a third-team All-SEC choice by Phil Steele.
 
Allen is also on the watch list for the Chuck Bednarik Award, which has been presented to the top defensive player in college football since 1995.
 
Semifinalists will be named October 29, finalists November 19, and winners will be notified on or before December 4.
 
Formed in 1985, the Butkus Award was expanded in 2008 to honor linebackers at three levels while helping spread the word about Butkus' I Play Clean® initiative which encourages teens to eat well, train hard, and play with attitude without resorting to performance-enhancing drugs.
 
The Butkus Award, www.thebutkusaward.com and on Facebook at 51.butkus, is presented by the nonprofit Butkus Foundation. Selectors and selection criteria is located on the official website. Search social media for #butkusaward2018.
 
The Butkus Award is a member of the National College Football Awards Association (NCFAA) which encompasses college football's most prestigious awards. Its member-awards have honored more than 800 since 1935. Visit www.NCFAA.org for more information.