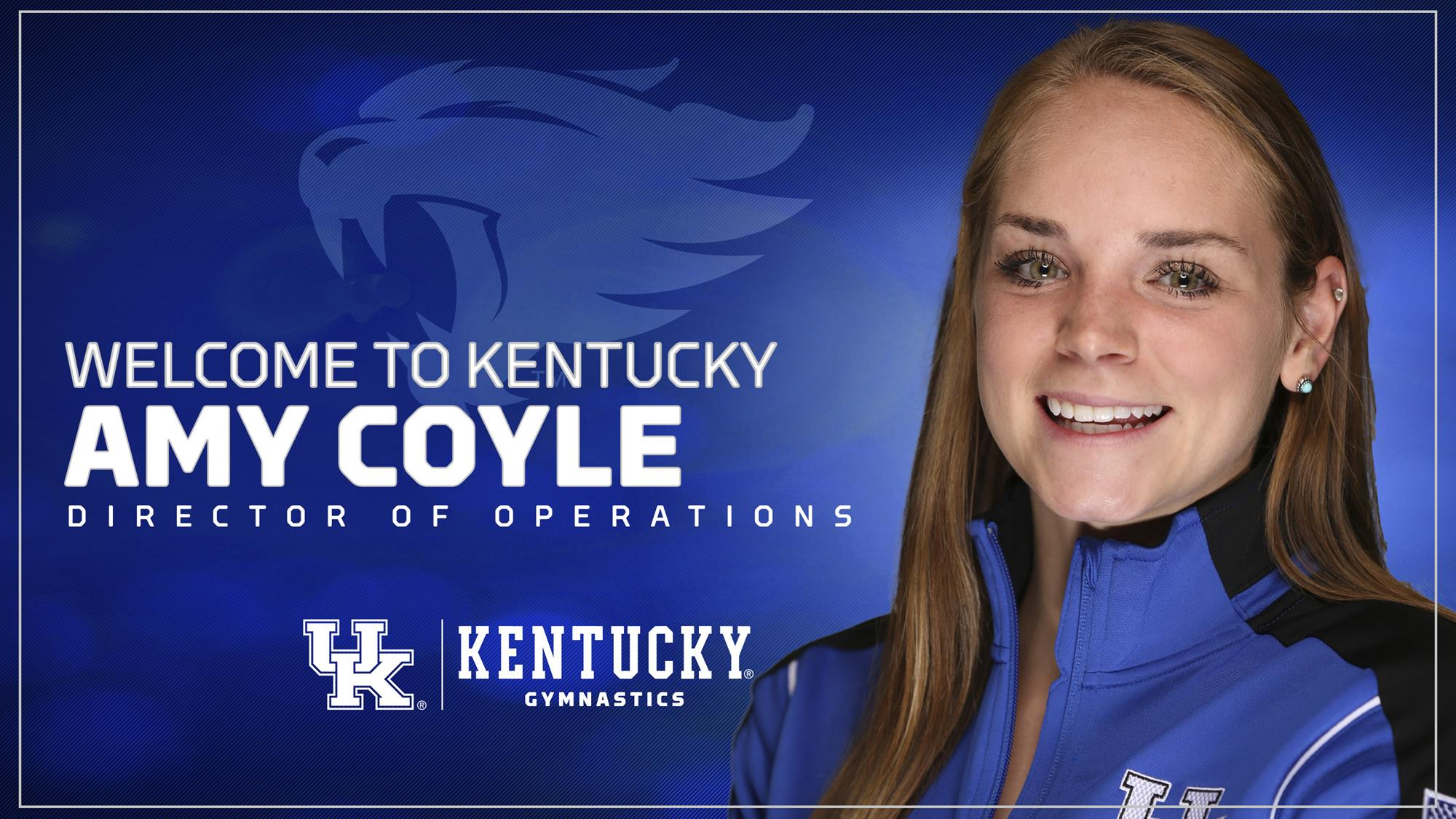 Kentucky Gymnastics Names Amy (Roemmele) Coyle Director of Operations
LEXINGTON, Ky. – Kentucky gymnastics added Amy (Roemmele) Coyle to its staff as the Director of Operations, head coach Tim Garrison announced.
 
"We are very excited to welcome Amy to our full time staff," Garrison said. "She was an excellent graduate assistant with an outstanding work ethic and tremendous attention to detail. I very much look forward to working with her to continue the growth of the program."
 
Coyle spent four years on the Kentucky gymnastics team from 2013-2016 and graduated with a Kinesiology degree.  After spending a year away from the program, she returned as a graduate assistant, where she earned her graduate degree in Exercise Science. While a graduate assistant, she handled the day-to-day operations of the program, including team travel, hotels, meals and scheduling and will handle similar responsibilities in her current position.
 
"I could not be more excited to begin this new position," Coyle said. "It has been a long term goal of mine to work in college athletics and continue my career with Kentucky is a dream come true. Being able to watch this program progress over the last six years has been truly amazing. I am looking forward to contributing to the further growth and development of these athletes and the program."
 
The White Lake, Michigan native appeared on the SEC Academic Team during all four years of her collegiate career. During her senior season, she competed in every meet of the season and earned six scores of 9.8 or higher on the floor and five of 9.8 or higher on the beam. Her career best on the beam occurred on Excite Night of senior year, where she scored a 9.85. She helped UK rewrite the record books, helping UK score its then second and third highest program scores in her senior year against Arkansas and Florida.
 
Kentucky gymnastics is coming off an historic season that saw UK appeared in the NCAA Championships for the first time in program history. UK scored a 197.050 at the NCAA Minneapolis Regional to advance to the final. UK returns one All-American, one SEC Champion and three members of the All-SEC team next season.
 
For complete news and updates on the Kentucky Gymnastics program, go to UKathletics.com. Season tickets can be found on UKathletics.com/Tickets. News and updates on the team can also be found on Twitter at @UKGymnastics and at @UKCoachGarrison and Facebook at Facebook.com/UKGymnastics.