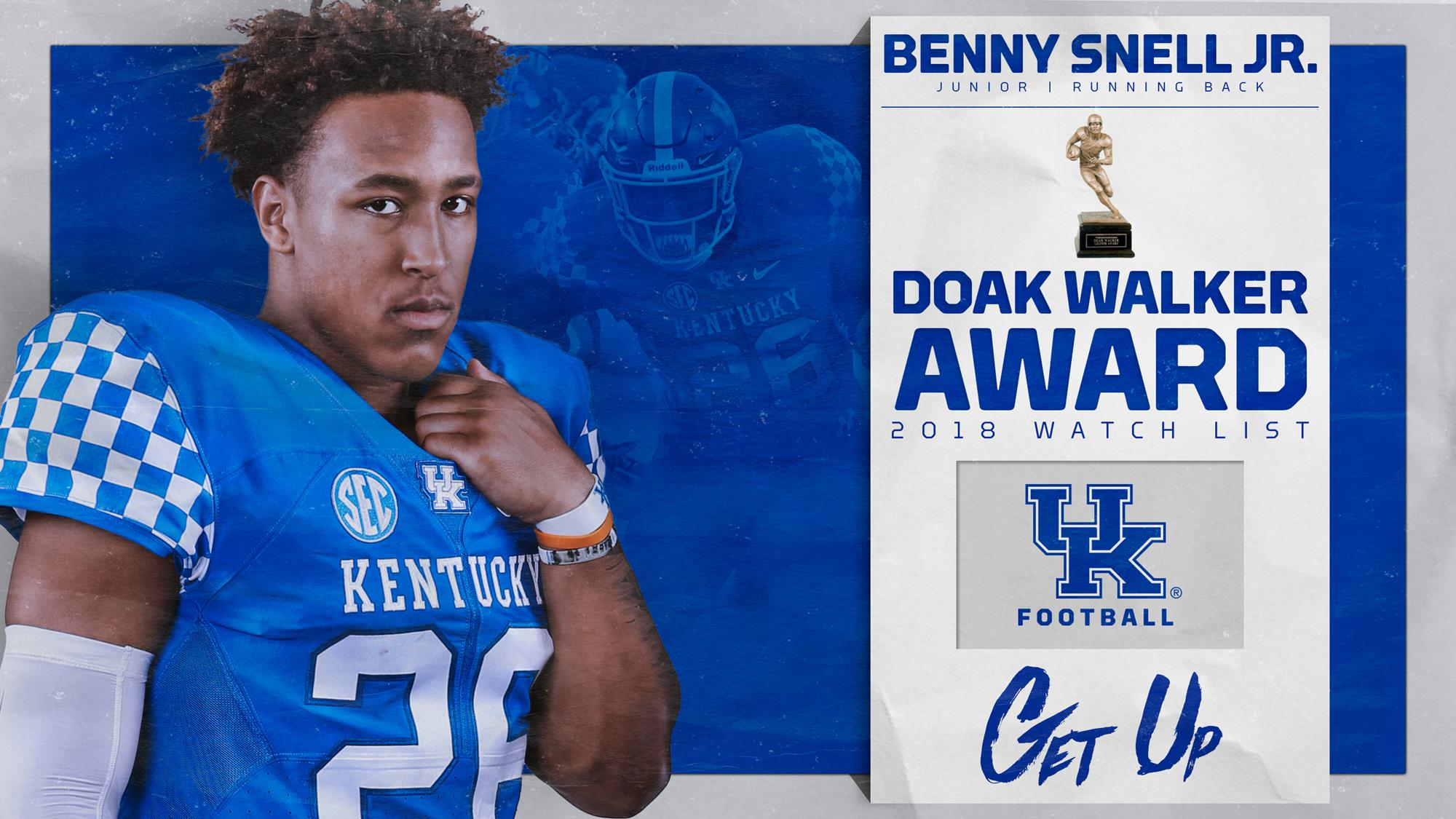 LEXINGTON, Ky. – University of Kentucky junior running back Benny Snell Jr., has been named a preseason candidate for the 2018 Doak Walker Award, it was announced today. The PwC SMU Athletic Forum annually presents the award to the nation's top college running back.
 
Snell Jr., (Westerville, Ohio) led the Southeastern Conference in rushing touchdowns (19) and ranked third in total rushing yardage (1,333) and rushing yards per game (102.5) in 2017. His 1,333 rushing yards set a school record for most rushing yards by a sophomore. He also became the first player in school history to record 1,000 yards in consecutive seasons.
 
Snell, who already ranks eighth on the UK career rushing list (2,424 yards), is only the third player in SEC history to have at least 2,424 yards and at least 31 career rushing touchdowns before his junior season, joining Georgia's Herschel Walker and LSU's Leonard Fournette. He also holds the school records for total rushing touchdowns (32), most rushing touchdowns in a season (19) and most points in a season (116). In just 26 career games, Snell has climbed up to No. 7 on UK's career scoring list.
 
Snell is also a preseason candidate for the Maxwell Award, given to the college Player of the Year.
 
The PwC SMU Athletic Forum Board of Directors will name ten semifinalists in November, and three finalists, as voted on by the Doak Walker Award National Selection Committee, will be announced on November 20. The committee will cast a second vote beginning November 26 to determine the recipient. The National Selection Committee consists of past recipients, former NFL All-Pro and college All-America running backs, media members and selected special representatives.
 
The recipient of the 2018 Doak Walker Award will be announced live on The Home Depot College Football Awards on Thursday, December 6 on ESPN.
 
The award, which will name its 29th recipient in 2018, is named for SMU's three-time All-America running back Doak Walker. It is the only major collegiate award that requires all candidates to be in good academic standing and on schedule to graduate within one year of other students of the same classification.