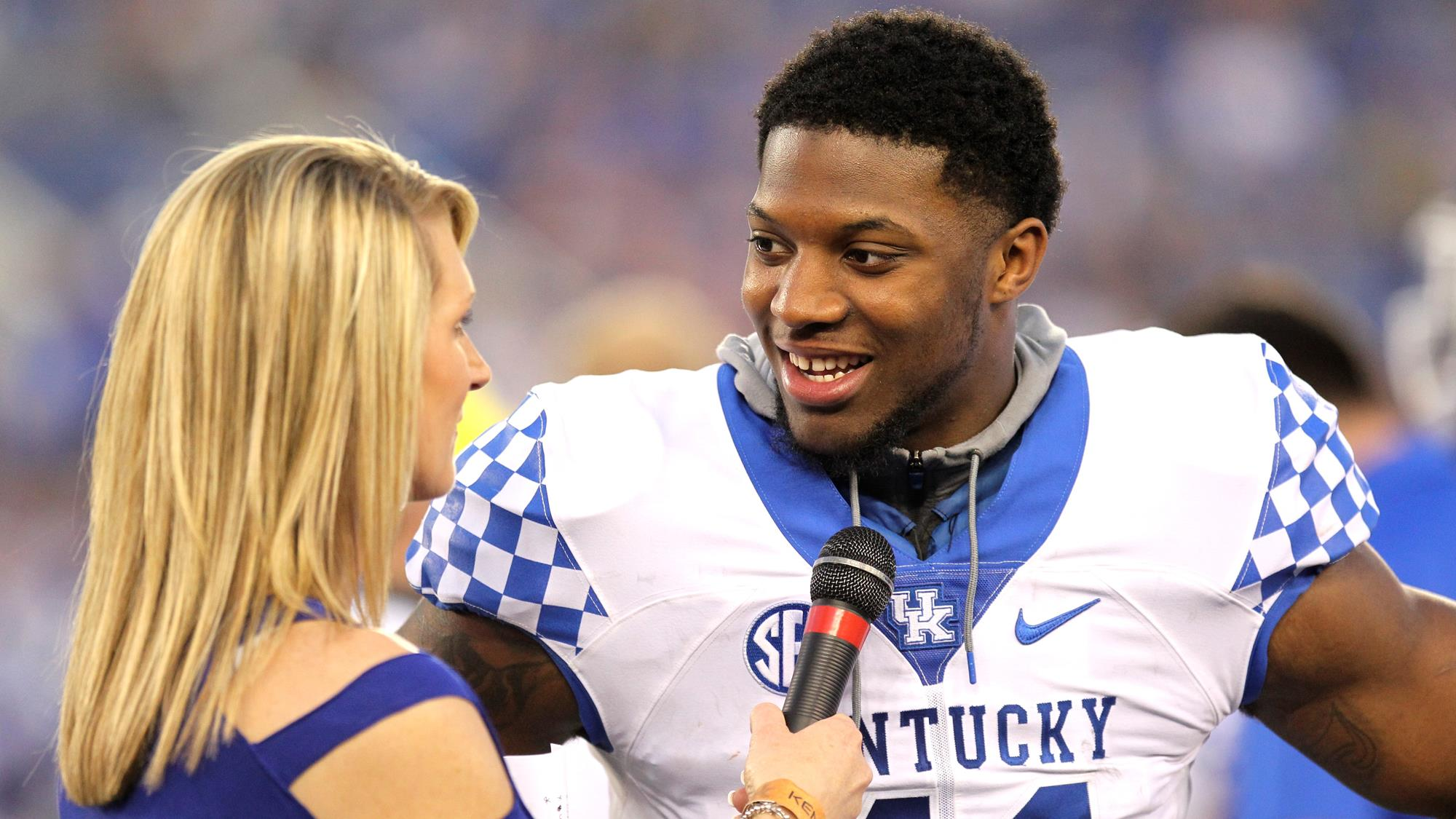 Even if you knew the real story, this year's NFL Draft still might have created a nervous moment.
 
"With the seventh pick in the 2018 NFL Draft, the Buffalo Bills select Josh Allen …"
 
The crowd reacted and drowned out NFL Commissioner Roger Goodell briefly, but he eventually finished his sentence and eased the minds of Kentucky fans.
 
"… quarterback, Wyoming."
 
Kentucky's Josh Allen would indeed be back for his senior season. NFL teams will have to wait until the 2019 NFL Draft to select the dynamic outside linebacker.
 
"I had to tell myself, 'My time's going to come,' " Allen said.
 
Joined by tight end C.J. Conrad and safety Mike Edwards, Allen is one of three Wildcats who bypassed opportunities to take their shot at the next level to return as seniors. The trio – flanked by the likes of Bunchy Stallings, George Asafo Adjei, Jordan Jones, Derrick Baity, Darius West, Adrian Middleton, Dorian Baker and more – gives Mark Stoops what is sure to be the most talented senior class of his seven-year tenure as UK head coach.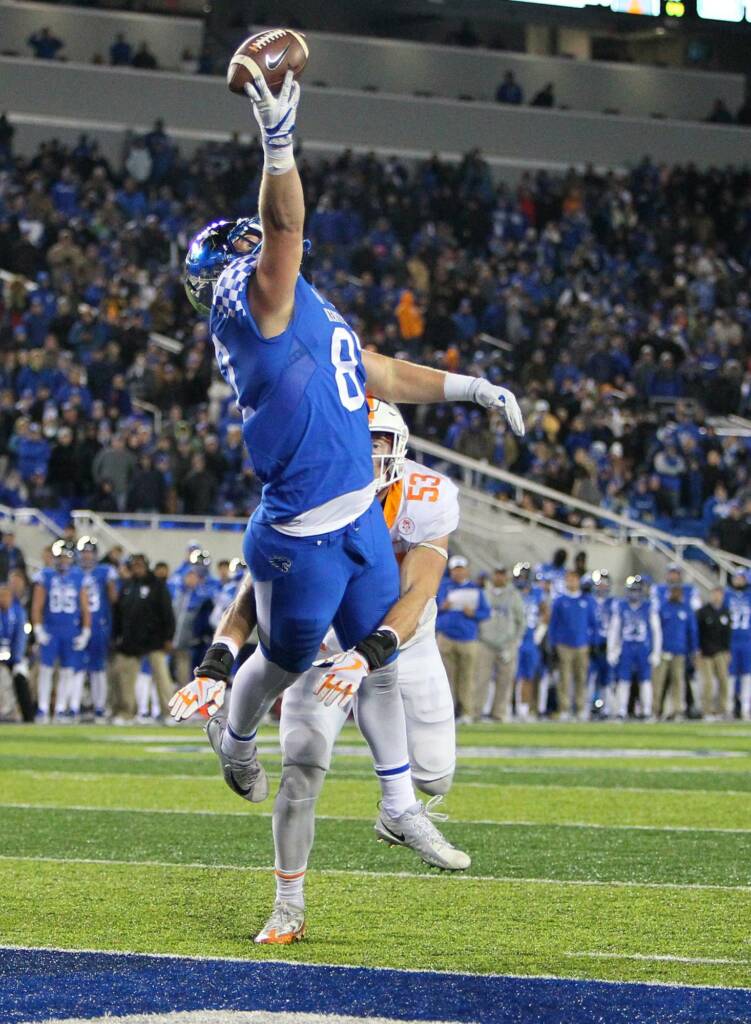 "It definitely inspires you," Conrad said. "It makes you excited about this coming season. I know that I saw something special. To be honest, if I didn't see something special I probably wouldn't have come back. I think that's the same with Mike and Josh. We saw something special and we thought we could build on that."
 
Adding in star junior running back Benny Snell Jr., Kentucky's best talented players are its veteran leaders – maybe for the first time in the Stoops era.
 
"It makes a big difference," Allen said. "We worked, we sacrificed our whole four years here with blood, sweat and tears on the football field, on the practice field, in school, everything. We just focus on that and just hard work. We worked as hard as we can these past four years to get where we are. Just being in this caliber a group with these guys, I'm just honored and blessed and I just want to show my talents and we'll be able to show the East and the SEC and college football that we can compete on the top level."
 
No one has ever doubted Edwards' ability to compete at the top level, which is why he had a decision to make after Kentucky made consecutive bowl appearances for the first time in eight seasons in 2017. Edwards led UK with 97 tackles and four interceptions last season, bringing his career totals to 236 tackles and eight interceptions. An All-Southeastern Conference performer at safety as a sophomore, Edwards is 112 tackles away from passing Darryl Bishop as the leading tackler among defensive backs in UK history. A big senior season could also put him in range of Bishop's career interception record of 14.
 
Edwards, however, seriously considered skipping his senior season. In going through the NFL evaluation process, he received as high as a third-round grade, but ultimately decided another year of college could benefit him.
 
"Another year before I go into the NFL, I feel like my body wasn't all the way ready," Edwards said. "I feel like this offseason I'm really going to take time in the weight room and get with Coach Ed (Director of Performance Corey Edmond) and just take care of my body and get better and bigger, stronger."
 
Conrad's decision was more straightforward, as a foot injury suffered at Georgia on Nov. 21 ended his junior season and would require surgery.
 
"It was something I was thinking about during bowl season, but I didn't have much to think about it because I had hurt my foot," Conrad said. "I talked to my family once I had my foot surgery and the coaches. It was, to be honest, a pretty easy decision for me. I was very confident that I was going to be able to come back and prove that I can have a really good senior year."
 
Conrad was the first to reveal his intent to return, with Allen and Edwards soon to follow. Excitement built with each announcement.
 
"When I found out they were coming back, it was just like, 'Oh yeah, we're definitely going to be a better team than last year,' " Allen said. "I'm just thankful that they came back. I think we can be the best team in the East. We can be good contenders for the SEC this year."
 
That would come as a surprise, as most pundits are predicting around a fifth-place SEC East finish for UK. Needless to say, the Cats don't pay those predictions much mind. They know what they have – including a defense that returns all but two starters from a season ago – and they know their goals.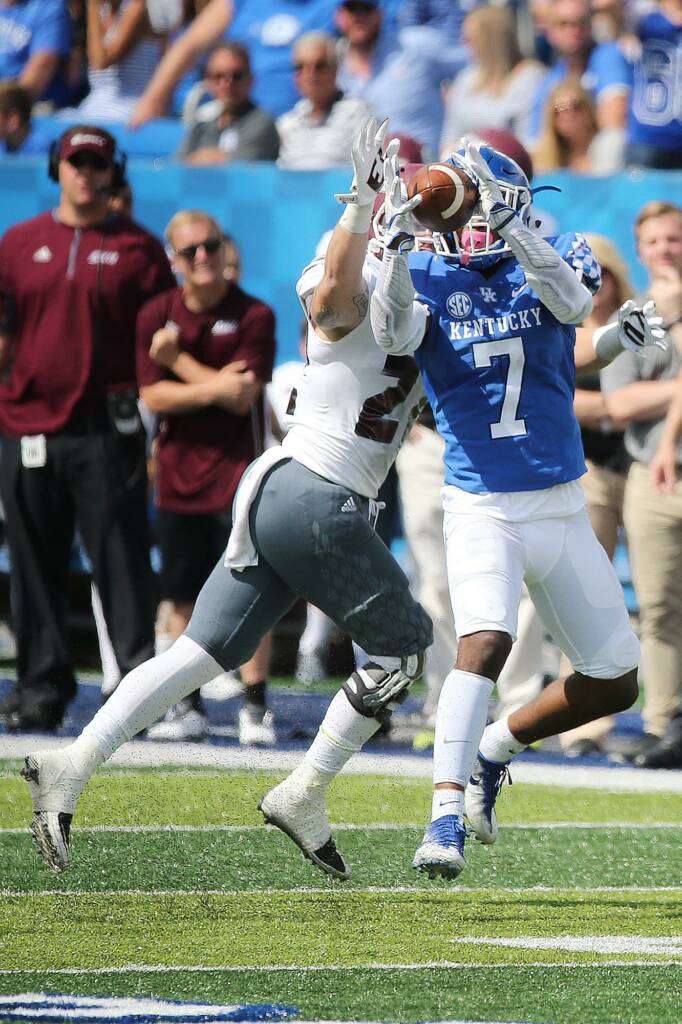 "I felt like since the time I've been here, we haven't been to the SEC Championship and that's something I want to go to and just win all the games we can win," Edwards said. "Especially all of us returning except for (two starters), that's definitely a big boost for us coming back and that's what I really thought about when I came back."
 
Of course, Edwards, Allen and Conrad all also thought about improving their draft stock in making their respective returns.
 
"I feel like I made the best decision for myself and for my family, and for my team as well," Allen said. "I'm just looking to build upon it and wait for the season to start and show people why I decided to come back: so I could be better and I could go into the draft and potentially be a top-10 draft pick."
 
There was a time Allen thought that might happen this past spring. Starting the 2017 season with 6.5 sacks in six games, Allen quickly began to garner draft buzz, with multiple outlets listing him as a potential first-rounder.
 
"When I did start hearing my name out there, it was pretty cool," Allen said. "I never was raised like that, to be in the limelight. I always thought I should be, but nobody else thought I was. Last year, when that came up and I got to show the world what I was about and how we got better as a team, I felt like that was pretty cool."
 
History is repeating itself, as Allen appears in the first round of many admittedly "way-too-early" 2019 mock drafts. The experience of having heard that kind of hype once before makes Allen better suited to deal with it this time.
 
"Now, I feel like I'm handling it a lot better," Allen said. "Because last year I was a little star-struck, just about myself and all that. Like, 'Dang, I'm really out there on SportsCenter and all that.' Now, it's all business because I know how to handle it. I know how to carry myself. I know how to be a pro."
 
Allen is passing his experience on to his teammates, which is valuable considering how many of them could end up dealing with the same thing.
 
In fact, Conrad already is.
 
ESPN analyst Mel Kiper Jr. listed Conrad as the top tight end in position rankings ahead of the 2019 draft in May. The LaGrange, Ohio, native is taking a mature approach to handling that kind of buzz.
 
"For me, it motivates me," Conrad said. "That's how I've always been. Success or accolades or whatever you want to call it has always motivated me to push harder because I want to prove those people right. I also had that in my mind. It's just they're now seeing it. This has always been my thought process. This is always who I thought I was as a player. Now people are just seeing it. So nothing has changed for me."
 
Conrad, as he has always been, is singularly focused on making his team better. He knows that's the surest path to where he wants to go.
 
"If you want to go play in the NFL and you want to do these really cool things with your future, you gotta win games," Conrad said. "Because that's how you get noticed, is being a good program. We take that personally."
 
Conrad, Allen and Edwards have been on campus and played instrumental roles as UK has grown as a program. Since their arrival, Kentucky has opened a renovated Kroger Field, moved into the beautiful new Joe Craft Football Training Facility and ended a long bowl drought.
 
Now, they have one season to make a final mark on the program. They intend to make it a lasting one.
 
"I want to win every game," Allen said. "I want to win the games we're not supposed to win. I want to compete everywhere we go, every team we play against now until January, I want to win. I want to compete and I want to show teams that Kentucky is going to be good this year and we're going to be good from here on out."