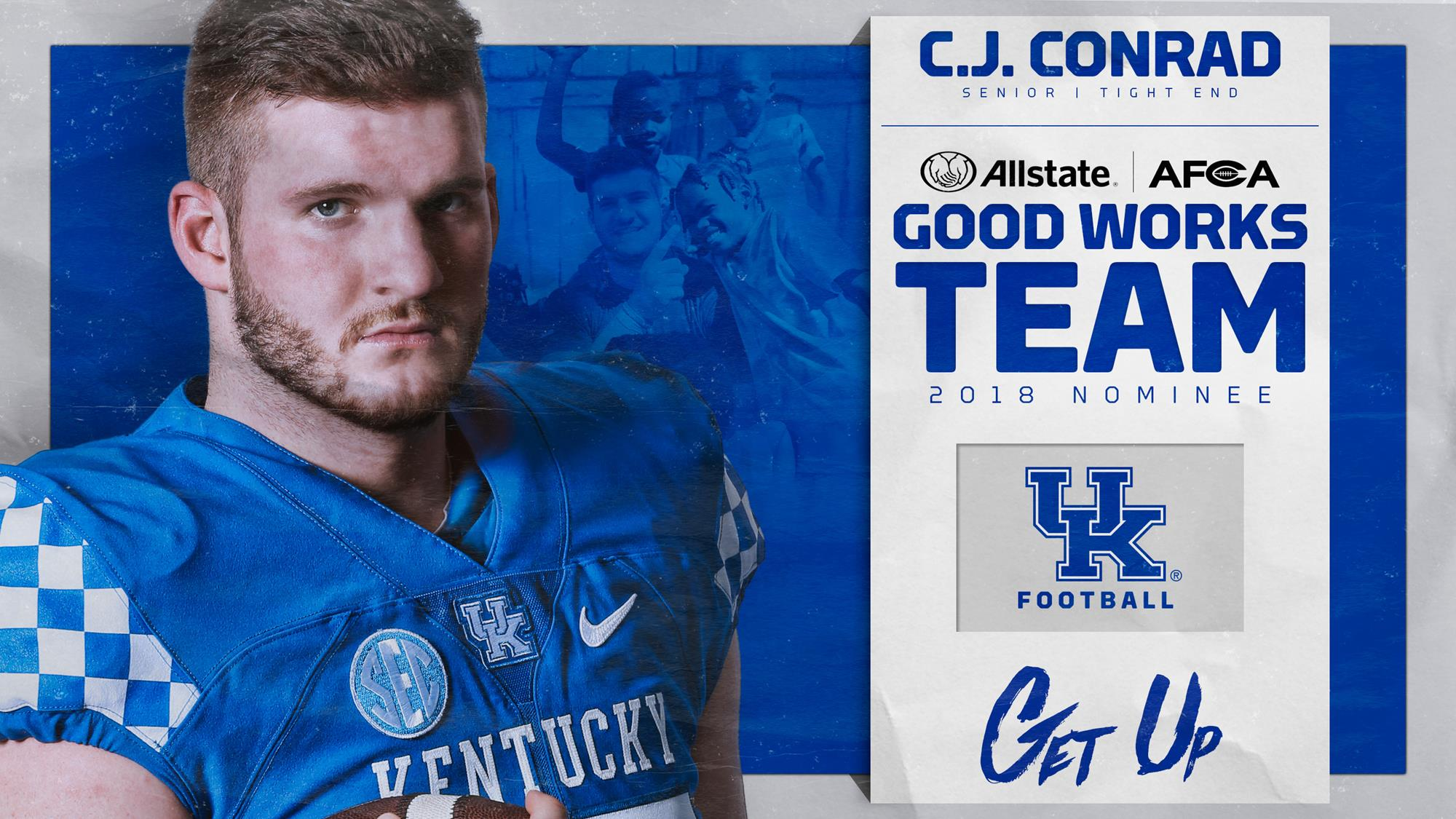 LEXINGTON, Ky. – University of Kentucky senior tight end C.J. Conrad is one of 169 nominees nominated for the 2018 Allstate AFCA (American Football Coaches Association) Good Works Team®, which is the top college football honor for recognizing outstanding community service achievements.
 
The Allstate AFCA Good Works Team® has been one of the most esteemed honors in college football for more than 25 years. The student-athletes who are nominated for this award not only demonstrate a unique dedication to community service and desire to make a positive impact on the lives around them, but they also show tremendous perseverance as well as the ability to overcome personal struggles and come out victorious against all odds.  
 
Conrad, a native of LaGrange, Ohio, is one of the most active players at Kentucky in terms of community involvement. He was chosen to participate in a one-week service trip to the Dominican Republic in 2017 where he interacted with residents of impoverished communities, visited an orphanage, constructed park benches in a sugar cane village, distributed food to the hungry, visited a nursing home and spent time with special needs children at a local daycare.
 
In the spring of 2017, Conrad befriended nine-year old cancer patient Ryan Cremeens of Richmond, Kentucky. Ryan was diagnosed with rhabdomyosarcoma in the summer of 2016, a soft-tissue muscle tumor that had grown in his sinus cavity. Conrad heard about Ryan's illness and along with several teammates, began visiting him in the hospital. Cremeens had most of the tumor removed and underwent 42 weeks of chemo and seven weeks of radiation. Conrad and his teammates were present at the hospital to help Ryan celebrate his last day of chemotherapy and ring the bell, which celebrates the end of chemo treatments. Conrad invited Cremeens to be his special guest at the 2017 Blue/White Spring Game and run out of the tunnel with the team.
 
Conrad has also been a guest speaker at several local schools and organizations and in his hometown of LaGrange, Ohio, talking about leadership. Conrad's mission is to educate and help provide opportunities to young children from small towns like himself, the chance to succeed on and off the field by using the game of football.
 
He's also volunteered with Amachi Central Kentucky along with 2017 Allstate AFCA Good Works Team member Courtney Love. Amachi is a mentoring program that seeks to pair caring, positive adults with children and youth in the Bluegrass who have one of both parents in state or federal prison or are affected by incarceration in some way. In addition, Conrad is a frequent visitor at Kentucky Children's Hospital.
 
Conrad, a member of the 2017 SEC Academic Honor Roll and Dean's List, is on track to graduate in December with a degree in communications.
 
The Allstate AFCA Good Works Team® is comprised of 11 players from the NCAA Football Bowl Subdivision and 11 players from the NCAA Football Championship Subdivision, Divisions II, III and the NAIA and one honorary head coach. To be in consideration by Allstate and the AFCA for a nomination, each player must be actively involved with a charitable organization or service group while maintaining a strong academic standing. 
 
The final roster of 22 award recipients and honorary head coach will be unveiled in September. 
 
After the final team members are announced in September, college football fans can visit the Allstate AFCA Good Works Team® official page on ESPN.com to view profiles and images of the players and honorary head coach, and vote for the 2018 Allstate AFCA Good Works Team® Captain. Fans are also encouraged to follow along and join in on the conversation by searching and using #GoodWorksTeam on their social media channels throughout the season.
 
Since being founded in 1992, UK has had 14 players selected to the Good Works Team, most recently Courtney Love in 2017.