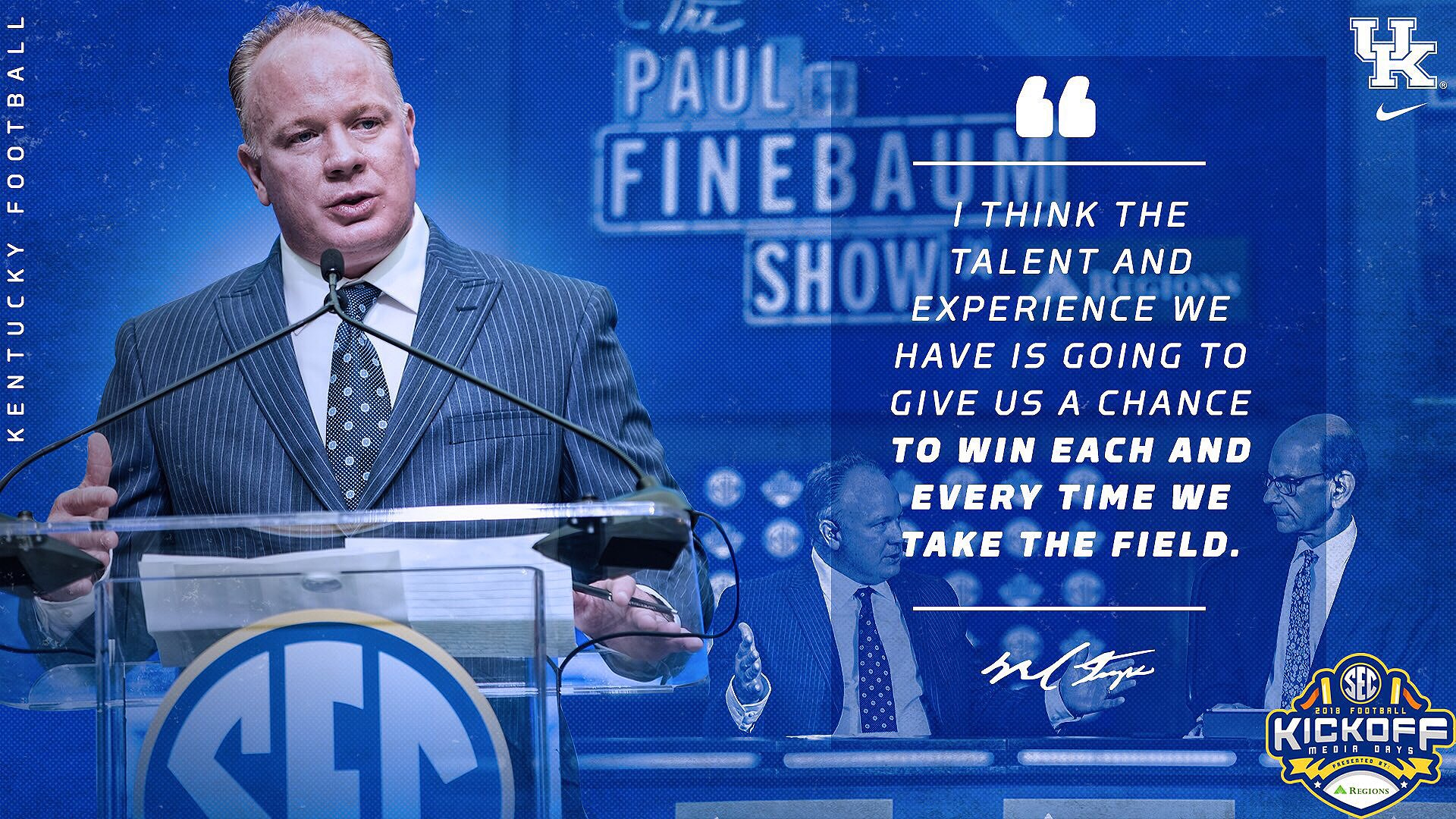 Kentucky head coach Mark Stoops, along with players Josh Allen, C.J. Conrad and Benny Snell, Jr. attended the Southeastern Conference Media Days on Monday at the College Football Hall of Fame in Atlanta. A full transcript of Coach Stoops' comments can be seen below.
 
Meeting with some of our local media before heading downstairs to get started! #SECMD18 pic.twitter.com/F6YofKp4T7

— Kentucky Football (@UKFootball) July 16, 2018
?????? #SECMD18 pic.twitter.com/a4WjhVHMFe

— Kentucky Football (@UKFootball) July 16, 2018
Business trip. #GetUp #SECMD18 @cjconrad1 pic.twitter.com/sSOnm3YCzn

— Kentucky Football (@UKFootball) July 16, 2018
#TheRealJoshAllen ?? #SECMD18 ?? pic.twitter.com/WE6QOXQVxf

— Kentucky Football (@UKFootball) July 16, 2018
"The best running back in the SEC is Benny Snell Jr."

– @benny_snell https://t.co/nD5BwI4qXi pic.twitter.com/VJs75360ek

— SEC Network (@SECNetwork) July 16, 2018

Kentucky Head Coach Mark Stoops Transcript
MARK STOOPS: Thank you. Great to be here back for my sixth. Hard to believe it's my sixth year here at the SEC Media Days. Great to be in Atlanta. Last time I was in this venue, I was here with Courtney Love. He was accepting the Danny Wuerffel Trophy. So it brings back fond memories and great to be here.
Appreciate you, Greg, appreciate Commissioner, what he does for myself, the support he gives me, all of us coaches, everybody throughout the league. They do a great job and appreciate him.
The media, thank you. Thanks for what you do to promote Kentucky, promote the league, and I appreciate your hard work. As I move into year six, the biggest thing you look at at Kentucky, the biggest thing I feel is the change in expectation, and that's a good thing. We're excited about that. We embrace those expectations. Really it starts with our coaches, our fan base, and most importantly our players.
We expect more. We've been close. We've done some good things. I'm proud of the work that we've done, that we look forward to making a big jump this year. We return some players with experience. We returned some talent. We returned some players that decided to forego the NFL and come back to do more, to play with a chip on their shoulder, to win some football games.
We're tired of being close in some.
We want to win and get over that hump, and you're going to get an opportunity to visit with some of those guys that are here today, Josh Allen, an outside linebacker from New Jersey. He's the epitome of development. He comes into our program as a two-star recruit, 200 pounds. And he's a solid 260 and projected as first-round draft pick. And we're excited about Josh.
Next C.J. Conrad, a tight end out of Ohio, another guy, had he not been injured last year had an opportunity to come out and play in the NFL, a big tight end from Ohio.
Benny Snell, of course, a guy that's been over a thousand yards the first two years at Kentucky. Not only good football players, but they are great leaders in anchoring what's going on this summer. I'm proud of our team, what they're doing, the way they're working. The attitude they have this summer is just what we're looking for.
You know, we've talked in the past about building that capacity. We talked last year about being consistent. And now it's a matter of just honing in and refining all of the things that we've been building the past five years to take it to another level. But I feel very good. I think the experience that we have and the talent that we have is going to give us an opportunity to win each and every time we take the field, and that's where I talk about embracing those expectations and enjoying that and being ready for the grind.
Our coaching staff is back. It's only the second time since I've been there we've had both coordinators back. Eddie Gran on offense and Matt House on defense. I like our staff and what we're doing, have a lot of confidence in them. So we're excited about the year. It's always a challenge, but it's an exciting one.
Q. I wanted to ask about, in addition to your coaching staff, I have a lot of respect for Freddie Maggard as your director of player development. What do you foresee as his role and then also another young man in your program that he was very high on we talked about many time on my show, Logan Stenberg from my community at James Clemens High School in Madison, Alabama.
MARK STOOPS: Very excited about Freddie. I felt the need as I've been there through the five years. One area that we really needed to constantly improve, and I don't think any of us colleges can do enough on is developing these players. We're very intentional about developing them. I talked and had the model for five years. You heard me talk about it before, about build, select and develop. That's build a winning culture, select the right players, and then intentionally develop them once they're on our campus.
Freddie is a big piece of that. He has great connections to the state. He has great connections throughout the country, helping our player transition not only from high school to college, but from college to the professional world and helping them everywhere in between, so very excited about the addition of Freddie. And with Logan, Logan is — really can't say enough good things about Logan. He is an incredible young man, hard working, physical, inside tough guard. What you're looking for has great experience and he's done a lot of great things for us.
Q. Obviously, Benny Snell plays a massive role in your offense over the last two years already. With the departure of Stephen Johnson, do you foresee him getting an increase in the role either running game or passing game this year?
MARK STOOPS: I don't know. It would be hard to increase. You know he has been a big focus for us, and he's been a work horse. You have to admire his ability to go back day after day and run after run in his consistency. He gets tough yards. You know how tough they are in this league. And Benny's been extremely consistent.
I think what is most impressive about him is that attitude, that chip on his shoulder, playing the game the way it's supposed to be done, it's like that every day. Whether it's in the weight room, the training session in the summer, every practice, every scrimmage, he goes hard. He's very physical. Our local media certainly talk about that a lot. I would rather say whoa than giddyap.
He is one of those guys that once in awhile in practice, he's so playing physical when we're not totally live, but you'd rather have it that way. He's been very consistent. I think it will help us with the new quarterback situation that needs to be resolved. It's nice to have an offensive line with some experience. It's nice to have some tight ends that can play, that can block, be physical and catch the ball. And certainly with Benny, that will help.
Q. It looks like you've got pretty good experience on offense everywhere but quarterback. How would you assess your quarterback situation? With Benny as good as he's been, can he be better and if so, how?
MARK STOOPS: Yeah. I believe — we just look forward to Benny being Benny and doing what he does. Of course I just mentioned it goes hand in hand with the offensive line and tight ends. But I like the quarterback situation. I like where we're at. I felt very confident with it.
Gunnar Hoak, he's been in our system. He hasn't played a college snap yet. He's been in our system. He practiced a bunch. He knows what we are doing. He's poised. He has always been poised since he stepped on campus. He's poised. He is accurate. He knows where to go with the football. He can make all the throws. I like what Gunnar's doing. I look forward to watching him this summer.
With Terry, he's a dynamic guy. I don't know if I've seen it all yet. Until you get live, you really cannot see all his skill sets. Obviously you can see the way he can run. He makes all of the throws. He's an unbelievable worker, but he's dynamic. He's a big, strong guy. And he's dynamic with the ball in his hands, too. So I feel good about our options.
Q. How critical is it to the program to finally get over the hump with Florida? You guys have come so close.
MARK STOOPS: Yeah. I always look forward to that annual question here. Until we get it done. I know. I'm not blaming you. I'm going to get it a thousand times between now and that game.
You know, my answer, first three or four years, I really wasn't concerned about it. I'm trying to build a culture at Kentucky and win games and get in position, but you do hear it. You can't hide from the elephant in the room. It's been a long time. We need to beat Florida, but we need to beat a lot of teams on our schedule.
We don't put too much emphasis on that game until it gets there. We do play them early in the season. We'll see. It is what it is. We'll go down there and play them early in the year at the swamp. We all know it's a very tough environment. They have a new change in coaching staff. We're familiar with Dan and what he does and the great job he does. It's a tough game, but we're excited, and we'll embrace that challenge when the time comes.
Q. And Benny, do you feel like he's maybe one of the more underrated players in the game?
MARK STOOPS: I do.
Q. Outside of the SEC particularly?
MARK STOOPS: I do. There's been some star running backs in this league and some of them have graduated as you know. There's been some great players, but Benny is certainly worthy of the hype that he gets because of his consistency. He's done it in this league at Kentucky his first two years, and he spent over a thousand yards each of those years, and we look forward to him doing that again this year. Certainly he deserves to be in that kind of conversation.
Q. Your team ranks first in the SEC in returning defensive production. How important will that experience be heading into the next season especially with the inexperience at the quarterback position?
MARK STOOPS: It's very important. And again, my background, being in defense, you know, it's definitely an area where we need to improve. We played good at times, but that's not good enough. We need to be consistent across the board. We have some players, not only with some experience, but we actually have some players with some talent.
As I said, there's several guys that will play in the NFL and decided to come back, and we need their leadership. We need to be better. It starts upfront. You know, I've said it from day one, we're building. We're recruiting. We're doing the best we can to play at the level that it takes in this league.
Great defenses in this league are dominated by defensive lineman. And we are getting much better. I feel much more solid about where we've been. We had a freshman last year play at nose guard that I have high hopes for that I'm excited about in Quinton Bohanna. Josh Paschal moved from outside linebacker to inside. He's a guy you give him a biscuit, and he can get to 300 pounds, but he's athletic enough to play on the edge. I really love the way he's playing the game. He's very athletic, very twitchy. He makes plays.
Adrian Middleton going into his senior year, he's made some plays for us and been consistent, look forward to him making a big jump. And then we have a guy Phil Hoskins, is very big, very strong. I love the energy, the attitude. I love how tough he plays. He's twitchy, and he has some size.
I feel like we have some experience there in some guys that can make a difference. T.J. Carter is another guy inside. We have some bodies and that's where we need to make the big jump. Across the board, I challenge all of them to play at a higher level and a much more consistent level, and I think we're going to do that.
Q. Mark, Barry Odom has said you're a guy he's leaned on for getting advice being the first time head coach in this league. As you went into the sixth season, how long did it take you to get fully comfortable being the head coach and all that the job comes with?
MARK STOOPS: It's interesting with Barry and I, we never talked about this before. What he went through last year, I went through in year three. People, we all want results, but we all know it's very difficult to build the program you're looking for. When that pressure's on and it's time to get ready to break, his team responded.
We beat Missouri last year and people were acting like it's no big deal. I said you have no idea how good of a football team that was. They play a lot of good teams, play here, play there. They were never far off, and then they turned it around and really played quality football down the stretch. That's not easy to do.
I admire the leadership that Barry gave that team and the turn around they had. Believe me, as head coaches, you just look around here. And for me, sixth year being in this league, go to the SEC head coaches' meetings, and it's not fun sometimes to see the change every year. I love seeing friends and guys like Jimbo and things like that, but I hate seeing my old friends go out. So it's very competitive, very tough. But I think we just all use that to lean on each other when we can.
Q. You alluded to it. There's five head coaches and six new coaches in different spots. What do you think of that turnover? I think you and Gus are number two and tenured your SEC score behind Nick Saban in six years.
What do you think about that?
MARK STOOPS: I think that made my heart drop. I can't believe you mentioned that. That's not a good feeling. I've only been here six years. And to have that kind of turnover, obviously, the way it is right now, it's the sign of the times. There's some very good football coaches that have come and gone through this league, and there's a lot of good ones in here. But I think it just speaks to the league, and, believe me, the 14 schools, there's not one school in here that wants to take a step back.
We're all looking to improve. We're all doing anything and everything we can every day to get that edge to take the next step. And, you know, for me. You've heard me talk about this before, but there was so many broad strokes for so long. You get tired of the broad strokes because it's the little things that are going to make a difference. But when there's so much to do, it's overwhelming, and you got to grind it out every day. And it takes some time. But again, I feel good about where we're at and getting to that point and taking it to another level.
Q. As far as the new coaches, what do you think about that?
MARK STOOPS: The new coaches just what you would expect, quality football coaches, talented guys that will work relentlessly hard to build their programs. So, it doesn't surprise me. And again, it just speaks to the nature of the competitiveness in this conference.
Q. 2013 was your first year here. For the SEC Media Day, kind of the big issue was pace of play in terms of teams that did conventional offense versus the spread. It's been five plus years for you. How do you think the SEC overall has adjusted to facing spread offenses?
MARK STOOPS: I think just like most teams, we're adapting the way we need to. I think Steve Shaw and his crew have done a very nice job of setting the pace the way it deserves to be set. It gives the offense the leniency to play as fast as they need to play and gives the opportunity for defenses to get set and not necessarily always be tricked that you can just set up and play some football.
So it's been a good balance. It doesn't mean it's easy. Spread tempo teams and guys with duel threat quarterbacks and put all of that pressure on you at a high pace isn't easy. It's not easy, but it also comes at an expense. You have to find that balance. It took me some time at Kentucky to find that balance to go the pace we needed to to put us in a situation, a formula, to win football games.
Q. Everybody in the east has been fighting the west for a decade or longer. What does Georgia's season winning the east and what does the SEC going tos the national championship game, what does that mean for balance of power in the league? And does having Jimbo go to A&M make it tougher than ever for the west?
MARK STOOPS: I spoke to that a year ago. I was asked the same question. I remember saying there's no doubt in my mind some of the teams in the east were ready to make a big jump. I don't think that's any different. You look at the history of this league and there's ups and downs on both sides.
Certainly the west played at an extremely high level, and you have to give them the credit they deserve right now. I can promise you every team in the east is getting better every day, recruiting at a high level, developing our players and competing to play at the same level. So, it's all — you know, we're all trying to get to the same place.
Bob, your previous question, Greg and I were talking about Jimbo. He said do you know all of Jimbo's secrets. I said I know all of his secrets, but it doesn't make it any easier. He's a pretty good football coach. That's a tough environment going down there and playing at A&M. He said does he know mine, and I said yeah, but I'm not sure how that's going to play out.
Q. I had a two-parter. You alluded to your friendship with Jimbo. How do you think he's going to do at A&M? What do you think about that hire? I know you and Bret Bielema are close. Have you stayed in touch with Brett? How's he doing? Do you think he'll be a head coach again in college?
MARK STOOPS: I definitely do. I keep in touch with Brett. He's a very good football coach as you know. I don't think there's any doubt he'll be a head coach someday either in college football or NFL. It's very difficult. We all understand the business we're in.
Jimbo, there's no doubt he'll do very well at Texas A&M. You heard me every time I've been here in some form or fashion about some of the things I've learned from my time working with Jimbo. I have great respect for him and the way he goes about his work. There's many things I do at Kentucky that I took from him.
Certainly you have to be your own man and do things that fits your own program, but there's things I've taken from him I still implement to this day. There's no doubt he'll do well. He'll recruit at a high level. His teams will play extremely hard. There's things I learned from him. I am a defensive coach. I'm an offensive coach. And you want to talk about the fun we've had competing against each other, it's kind of what it's all about. He's a very hard-nosed, tough football coach. And I am as well, but those were fond memories.
Not always day-to-day, they weren't always a lot of fun. You look back on it, and you look back at the time and the way we competed against each other, it was a lot of fun, and you learn a lot of good things. And again, I have to do things that are comfortable to me. But I have great respect for him, and he'll do very well at Texas A&M.
Q. Mark, how do you plan to use the red shirt rule?
A. We're going to work our way through that, Adam. Obviously the rule just went into effect. I think again it will be, in a way, like the way it was done before on an individual basis. Some guys may be ready to play right away and you're going to use them for the full year. Some guys maybe aren't ready. And by the end of the year, you have some injuries and you need to plug them in, so it will be on an individual basis, but I am excited about that opportunity. I think it's a great rule for the players.
Q. I know that in the east this year, South Carolina has been getting kind of the love, kind of a dark horse team. You defeated them four seasons in a row now. I'm wondering how much have you and your players been hearing that love and how are you circling that game on the schedule? I know that's crucial if you want to get over that hump?
MARK STOOPS: I don't need South Carolina to motivate me. I am not worried about what they're doing. Again I have respect for Will and what they're doing and their program. It's not an easy game. It's a very competitive game with us. We had close games about every year. You know, basically the same way I could answer the Florida question, it's about this year. The past 33 years really don't matter. The past four years don't matter. But we don't need them for our motivation. That's for sure. We're plenty motivated about what we're doing in our program and the way we play.
Q. So you came close to beating Georgia in 2016, but struggled a bit last season. What do you think it's going to take to knock off the reigning conference champs this year?
A. It will take a lot of things to go well. Obviously Georgia is a very good football team. We did have a close game with them two years at our place. Last year, it got away from us very quickly. It can do that when you play an exceptional football team when you make mistakes. Obviously, you got to play a cleaner game and we look to do that.
Q. Can you just speak to the new transfer rules, I guess more freedom for transfers and the greater transfers. Has this extended your recruiting season? Is it a whole other recruiting season after recruiting season?
MARK STOOPS: No. It has not been for us. Obviously there's players who may reach out to us and look at the opportunities, but we haven't — you know, we haven't — we don't dive into that recruiting as a full process at this point, no. I think it's part of the day in age. You're going to see it. You're going to get some and lose some. And, you know what, ultimately whatever is best for the players, I'm all for.
We had a couple players decide to transfer this year. A big piece of it was get closer to home. I respect that, honored that, and wished them the best of luck. I think you're going to win some and you're going to lose some.
I don't think any of us coaches are looking forward — we're not looking forward to a form of free agency. I think all of us — I can't speak for everybody. I don't want to. I think the pulse of conversations is we're not interested in going out and recruiting players from another team. Obviously it's illegal, but you don't want to turn it into another form of free agency. None of us want that. We are college coaches. We like developing these players and building your teams, and that's the way I like to do it.
THE MODERATOR: Coach Stoops, appreciate your time today.
MARK STOOPS: Appreciate it. Thank you.
FastScripts Transcript by ASAP Sports