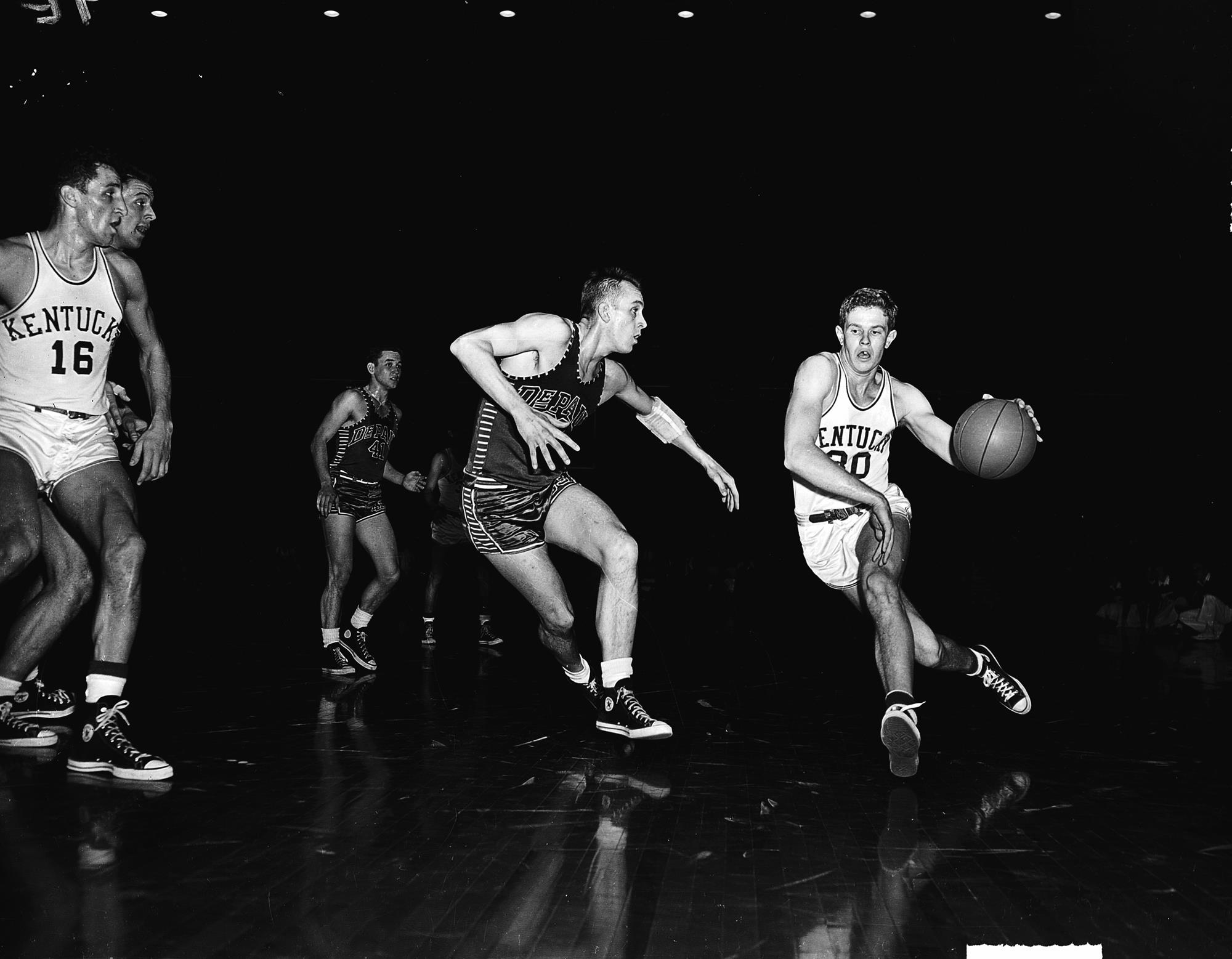 Former UK Men's Basketball All-American Frank Ramsey Dead at 86
EVANSVILLE, Ind. – Frank Ramsey, a Kentucky men's basketball national champion, All-American and UK Athletics Hall of Famer, died Sunday morning from natural causes in Evansville, Indiana, about 50 miles outside his hometown of Madisonville, Kentucky. His 87th birthday would have been Friday.
 
Ramsey was a key contributor on Kentucky's 1951 national championship team and one of the stars of the 1954 team that went a perfect 25-0 but declined an invitation to the NCAA Tournament.
 
A five-year star (1950-54) and three-time All-American under legendary head coach Adolph Rupp, Ramsey would go on to play an integral part in the Boston Celtics dynasty in the 1950s and '60s, winning seven NBA titles with the franchise.
 
Ramsey is a member of the Naismith Memorial Basketball Hall of Fame, the College Basketball Hall of Fame and the UK Athletics Hall of Fame. His No. 30 hangs from the rafters at Rupp Arena.
 
He was also a multi-sport star as a three-time All-Southeastern Conference member of the Kentucky baseball team.
 
"Frank Ramsey was a true champion and a true Wildcat," UK Athletics Director Mitch Barnhart said. "He was one of the best players our program and our state have ever seen and further cemented his legend as a professional. We offer our deepest condolences to Frank's family and friends."
 
Ramsey averaged double figures for the 1951 national championship team, Kentucky's third in four seasons. On the 1954 team that was awarded the Helms national title, he averaged 19.6 points and 8.8 rebounds on the way to NCAA Consensus Second Team All-America honors. He also picked up first-team nods from Converse and Look Magazine that season.
 
The 6-foot-3 guard was also tabbed All-America First Team by Converse and Athletic Publications in 1952 with second-team honors from the AP, UPI and Helms. He was named All-America Second Team by Sporting News and All-America Third Team by AP and UPI in 1951.
 
At the completion of his career, he ranked fourth on the all-time scoring list with 1,344 points career points. He did that in just three seasons because the program was under NCAA suspension in 1953. He's one of just four players in school history with 1,000 career rebounds and joined Cliff Hagan in 1954 as the first players to pull off the feat.
 
Ramsey racked up a number of other honors during his Kentucky career. He was a three-time All-SEC First Team member (1951-52, 54), made the SEC All-Tournament Team in 1951 and 1952, and led UK to three regular-season SEC championships (1951-52, 54) and an SEC Tournament title in 1952.
 
Basketball was not his only talent. Ramsey also played baseball at UK and made the All-SEC First Team in 1951, '52 and '54 as an outfielder.
 
He was selected in the first round of the 1953 NBA Draft by the Boston Celtics but didn't begin his NBA career until the 1954-55 season to play one more season with the Wildcats. Ramsey averaged double figures in eight of his nine seasons and 13.4 for his career as the Celtics' celebrated sixth man, a role Ramsey helped popularize after his success. His No. 23 is retired by the Celtics.
 
Ramsey went on to coach the Kentucky Colonels in the American Basketball Association for the 1970-71 season and served on the UK Board of Trustees, the Athletics Board, the Development Council and the Alumni Association Board of Directors.
 
Ramsey also served in the U.S. Army in the Military Police Corps. He had a farm in Madisonville and was a bank president in nearby Dixon.
 
He is survived by his wife, Jean; son, Tripp; son, Clifford; his daughter, Cynthia Cooper; seven grandchildren; and two great grandchildren.
 
Visitation will be Thursday from 3-7 p.m. and Friday from 9-11 a.m. at the First United Methodist Church at 200 E. Center St., in Madisonville. The funeral service will begin Friday at 11 a.m. at the First United Methodist Church. Both are open to the public.
 
Memorial contributions in Ramsey's honor may be made to the First United Methodist Church.