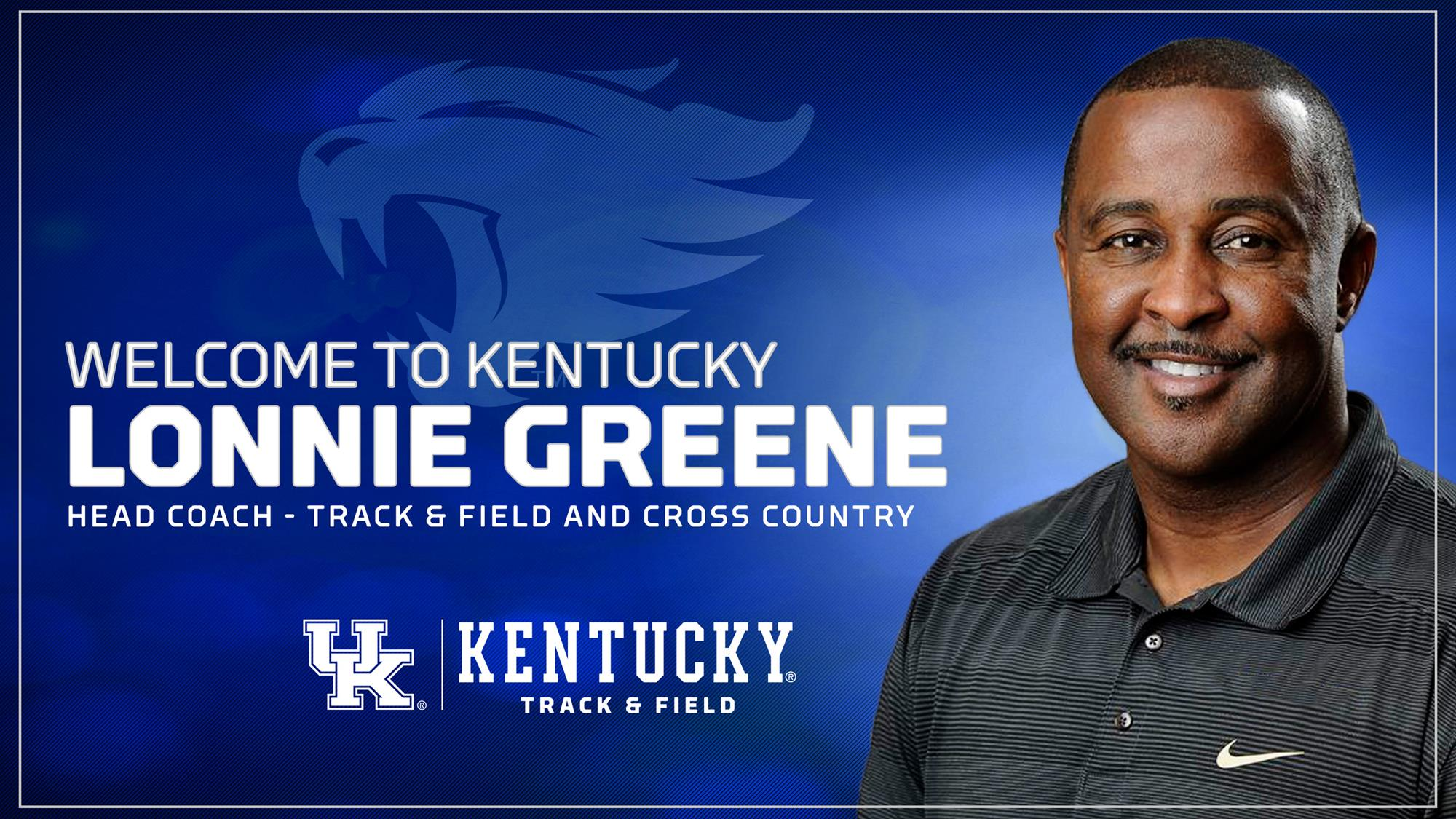 Lonnie Greene Named UK Track & Field/Cross Country Head Coach
LEXINGTON, Ky. – Lonnie Greene – who built Purdue into a national power as head coach over the last six seasons – will take over Kentucky's track and field and cross country programs, Athletics Director Mitch Barnhart announced on Tuesday.
 
"Lonnie is a quality person who shares our commitment to fostering growth and continuing to build our track and field and cross country programs in all facets," Barnhart said. "I had the pleasure of watching him and his team in person last month at nationals and was so impressed by the energy and unity of his team. Getting a chance to spend time with him during the interview process only solidified the impression he made.
 
"Lonnie will bring the same integrity to our program that he did in establishing Purdue as a contender on a national level. He has a championship mentality honed over the many seasons he spent in our conference at Arkansas, as well as a focus on helping the young people he leads grow as students. We are pleased to welcome Lonnie, his wife LaTayna and his entire family to our UK Athletics family."
 
Greene's tenure at Purdue was marked by some of the best seasons in program history, culminating in an eighth-place finish by the women's track and field team at NCAA Outdoor Track and Field Championships last month. Under Greene's leadership, the women's team also won the team title at 2017 Big Ten Outdoor Championships for the first time since 1999 and finished 14th at each of the last two NCAA Indoor Track and Field Championships. The men's team is just two years removed from a 2016 season in which the Boilermakers finished 15th at NCAA Outdoor Track and Field Championships – best since 1972 – and 13th at NCAA Indoor Track and Field Championships – second best in school history.
 
"I'm excited to have the opportunity as head coach at Kentucky," Greene said. "Before I go any further I want to thank everyone I worked with at Purdue. They gave me a chance and I'll always be so grateful to have worked with them. Thank you to Mitch Barnhart and Jason Schlafer for their leadership and for trusting me to take on this role at UK. I look forward to hitting the ground running building winning teams in the classroom and on the track. I can't wait to start leading this great program. Go Big Blue!"
 
Greene has been named Women's Head Coach of the Year in the Great Lakes Region three times in the last two years by the U.S. Track & Field and Cross Country Coaches Association, twice for outdoors and last year for indoors. The last two seasons have been historic ones for the women's team, with the Boilermakers achieving their highest ranking and NCAA finish ever. Purdue's point total of 34 at NCAA outdoors in June was also the highest in school history, fueled by a pair of runner-up finishes. Senior Devynne Charlton – the reigning B1G Athlete of the Year – finished second only to Kentucky's Jasmine Camacho-Quinn in the 100-meter hurdles, while the Purdue 4x400m relay team also claimed silver.
 
Greene has coached standouts across the board, with a 21 different Boilermakers earning 60 First-Team All-America honors across 24 events in cross country and indoor and outdoor track and field over his six seasons. Greene's Purdue teams have also been named USTFCCCA Academic All-America.
 
"I just feel he comes from an honest point of view," said 2016 OIympian Carmiesha Cox, whom Greene recruited and coached at Purdue. "That's the one thing I looked for in my recruiting visit that I didn't see in other schools. I heard these people speaking to me but I didn't hear the honesty; I didn't believe what they were selling to me. I feel like everything he says it comes from his heart. He doesn't sugarcoat anything; he gives it to you point blank. It's all real and I can appreciate that."
 
Prior to his time at Purdue, Greene spent 16 seasons as an assistant in the Southeastern Conference. Greene coached with the women's program at perennial power Arkansas, serving as associate head coach in charge of sprints, hurdles, horizontal jumps and multi events from 2000-2012. In each of his last two seasons with the Razorbacks, he was named USTFCCCA South Central Regional Assistant Coach of the Year. In 2004, he was named National Assistant Coach of the Year.
 
"When you meet him, it doesn't take but a couple of minutes to realize that this is an individual who really cares," said two-time National Championship-winning and 32-time SEC championship-winning Razorback women's head coach Lance Harter, who hired Greene at Arkansas. "He really wants to know you, not just as an athlete but as a person. His strong Christian foundation is genuine. He's a true family man and he's such a caring individual. People pick up on that ever so quickly. He's been a blessing to anybody who's had him in his life."
 
Under Greene's leadership, four Razorbacks won a total of five NCAA event titles. Twenty-nine athletes earned a combined 96 All-America honors and 16 SEC event championships. In more than two decades as a college coach, Greene has mentored eight Olympians.
 
Greene was also an assistant coach with the University of Minnesota women's program in 1995-96. He began his coaching career as a men's and women's assistant at what is now Missouri State University from 1991-95.
 
Greene, whose full name is Rolando, is a native of Nassau, Bahamas, but has roots in the Bluegrass State. He earned his B.S. from Murray State University in 1989. He is married to LaTayna Stewart. The couple has a daughter, Charisse; three sons, Cameron, Isaiah and Jacob; and two grandchildren, Tylan and Caleb.
 
University of Kentucky Track & Field Media Conference
Tuesday, July 3 2018
Lonnie Greene
Mitch Barnhart
Press Conference
MITCH BARNHART: Welcome, everybody. Thanks for coming the day before the Fourth of July. I know people have vacation plans and travel plans, and we appreciate you taking some time this afternoon to welcome our new track and field coach. We'll talk about that and introduce him in just a second.
Thought we would walk you through the process just a little bit about how we got to where we are. So this time of year you have changes that are happening in college athletics, and it's sort of a tough time in terms of summer. You've got young people coming on your campus in less than a month to return to campus to compete, to go to school.
So quick turnarounds occur, and so the interview processes gets to be a little more complicated if you're not careful. We are very fortunate. Funny how things work out. I was in Eugene, Oregon for the National Track and Field Championships, and actually conducted interviews not knowing we were going to need one.
So our tent, as it was in the warmups (area), in Eugene, for the University of Kentucky team was catty corner to the tent from Purdue University. (Laughter.) So we sort of sat there and we had some rain issues. I'm sure Lonnie saw it firsthand, because he was worried about the rain like all of us.
So we're watching. We would go sit in our tent and wait out some of the rain. I had an opportunity to watch different teams and how they interacted and different coaches and how they interacted.
So I had an opportunity to watch the team from Purdue and their coaching staff, and specifically Lonnie and the way he interacted with his team. It was maybe the best interview I've ever done without ever talking to anybody. To watch how he — the energy coming from their tent and the camaraderie in their team. Just the enjoyment of participating in a National Championship from his student athletes the coaching staff, and the way they interacted was incredible.
I made note of that in my head, and walked away from the meet not knowing if that would be something we need to look at later on now down the road.
Well, about four days later it became apparent that was something we needed to do, and so we began the process. Let me just say a couple things. First off, I know Lonnie would probably as well, but I would like to thank Mike Bobinski from Purdue University. He's the director of athletics there and a great guy.
I had a conversation with him before this process began. I was so appreciative of the professional way he managed that call. I was very appreciative of the tenor in which we were able to have a conversation.
Having said that, I'd like to thank Jason Schlafer on my staff. Jason helped guide me through some steps of the logistics of getting everybody together in a really difficult time to get people together from different parts of the country.
So we were able to get groups of interviews together pretty quickly. We interviewed three folks directly. We told them we wanted to be efficient in the process. We didn't want to get in the hurry. Wanted to be efficient in what we did.
It didn't take long, because I guess Lonnie likes to leap in front of the pack. He was the first one we talked to, and he took the lead and never gave it up. I didn't think you were a distance runner but you went the distance, so we're good. (Laughter). We're good. It was impressive.
So we had an opportunity to spend some time together last week; continued some conversations over the weekend; formalized those conversations last night. He and LaTanya, his wife, drove down today and we sort of gave them a tour of the facilities here just before we walked in here.
Wanted to have an opportunity to introduce him to you before the break and everybody starts getting all over the place for vacations.
Lots of things about him besides just energy. His history in our league and understanding what it takes to compete in the Southeastern Conference pretty similar to what we do here at the University of Kentucky. We compete in one of the great, great track and field conferences, probably the greatest in the country. It's a really, really a hard place to compete.
His years at Arkansas clearly saw world-class athletes at one of the highest levels in a time when they were putting together some incredible runs. And so had an opportunity to see our league firsthand and understands it.
Secondly, graduated from Murray State. His story of how he got to Murray State was great. He'll walk you through that.
So he knows how important the University of Kentucky is to the State of Kentucky and how important the land-grant institution and what do here representing our faithful in Big Blue Nation, how important it is to the university.
Then as you begin to look as he took on his first head-coaching job at Purdue and what he's done in putting that program on the map. Beginning to establish some really, really high-level performances on a world-class level. Really, really important. So the combination of those pieces competitively were really, really important.
And then you get to the person, and I think we have done a number of — well not a number — I know we've talked to a lot of folks at a lot of different places. We tried to find somebody to say anything bad about Lonnie Greene, and we can't find a soul. They say things that are remarkable about integrity, the way he loves people. I don't think that you can have people say better things. His humility and the way he approaches it, amazing.
As I watched the tent that day, it became very apparent how he collected people and brought them together. So that was important.
Integrity. Spoke high levels about the way he runs his program. The class with which he does it. Making sure it's going right and representing the institution at a high level; really important.
So those pieces for us, as you look at the foundational pieces, the academic piece, making sure his young people are graduating and doing well in the classroom, all of those pieces — you can check boxes, if you will, but you still have to get to a right fit.
We felt like when we put all those pieces together that Lonnie absolutely was the right fit for our program to the lead our University of Kentucky track and field program. Really, really important.
He understands that when we got here and Edrick (Floreal) came here, our program was struggling in terms of trying to gain national footing. We have gained some national footing, but the thing that encouraged me most was he talked about the incredible — there is no ceiling. He made the comment, "I'm not interested just on getting on the podium, I want to make sure we have a chance to win a championship."
That encourages me. Because we don't want to – if we shoot high and fall a little short, that's okay. But his dreams are our dreams. He aspire to do the things we aspire to do. He wants to lead young people the way we want young people led, and so that's encouraging to me.
So for all of those reasons and many more, the conversations have been fun, they have been easy, but most of all, encouraging as we continue to try and take steps forward for our track and field program.
So I'm going to stop because you didn't come here to listen to me. You came here to listen to the guy that's absolutely a great visionary for track and field and for young people at the University of Kentucky.
Let me in every sense pass the baton to Lonnie Greene, our new head track and field coach for University of Kentucky. (Applause).
COACH GREENE: It's really an honor to be here, to be really honest with you. I came to the State of Kentucky in the fall of 1984 as a freshman attending Murray State University. Just to give you a quick bit of how I got there, I was at the Junior Pan-Am Games in The Bahamas. Jay Flanagan at the time, I had just gotten done running the 400 hurdles, he walked up to me and he said, "hey young man, where are you going to college?"
 
I said, "I'm not.
 
He said, "really? You know you did a good job."
And so I said "What school are you at?"
He said, "Murray State."
I said, "What's that?"
He said "It's in Kentucky."
 
So I took him to my coach. At the time Desmond. I said, "Desmond, this man is a track coach from the United States. He wants to offer me a scholarship."
About three weeks later, I was on a plane headed to Nashville, Tennessee to attend school. So just to let you know a little bit, I became a man in the State of Kentucky, this place has a special place in my heart. I remember driving down Purchase Parkway and going to Louisville and different places within the state.
To be honest with you, it's interesting how the Lord has brought me back this way. So I'm excited about this opportunity to lead this program. I think we can continue to do some great things.
I want to say this first though before I get ahead of myself. I want to introduce my wife, LaTanya. She's been there. Been through a lot of things that I wouldn't be allowed to do without her. She's been the one that gets my children to games and filming the games so I can get a moment in time so I can act like I was there. I could say, "Son, it was great. Man, that shot was awesome." She would make excuses for me, so, Baby, thank you for just being there for me. I couldn't do this without you.
I want to take the time to thank Mike Bobinski and the Purdue family. They're great people, man. It was a great opportunity to go and serve there. They gave me my first shot as a head coach, and I watched the Lord bless it and we grew, you know, and we got it to national acclaim.
I want to thank Morgan Burke who hired me, gave me my first shot, and Calvin Williams. And then I want to thank Mitch Barnhart for entrusting this program to me and believing that I will be able to continue the traditions we started.
And Jason (Schalfer), who has made this process rather easy, rather seamless. I mean, he's got an awesome gift. You know, thank you very much.
To tell you a little bit about me, my goal is to win. I like to win. I'm very competitive. I try to remain as humble as I can, but for me, humility is just strength under control. I believe in being aggressive and trying to win at this level. My ultimate goal is to win the National Championship. That's one of my career goals. As long I'll be here, that is going to be the objective of this program.
We're going to do it the right way. We're going to graduate young men and women. They're going to have the complete college experience. I believe you can do both. You know, sometimes you have the experience where a young man or woman is a great student and then you have those great athletes, and they struggle with the balance in between. I believe you can do both.
One of the things I learned at Purdue is being a very highly competitive academic institution, sometimes that's the umbrella or the excuse that some student-athletes use. We went there and challenged them, and we said "we can do both."
This year at the NCAA Championships to see the way those young men and women competed, I was just so blessed.
I believe it can be done here, I believe that you can win national championships. I think Coach Flo did a great job in coming up and doing some great things. Just as I took the baton from Mitch, I believe I can pick up from where he left off and continue to grow this. I believe you can win here.
With that, I'm not a man of many words. I try to keep it very simple. I'll field any questions from anybody going forward.
Q. How much will your experience with the SEC at Arkansas all those years help you as far as knowing the landscape?
COACH GREENE: As Mitch alluded to this is the best track and field. This is the mecca of track and field. The SEC is the toughest track and field conference in the country. You can't just recruit each and any young man and woman to come to this league and expect them to be to be perfected in this league.
The experience that I had at Arkansas, we recruited the highest-level kids we could possibly recruit, so I understand what it takes, the type of student athlete that needs to come to the Southeastern Conference and compete at this level, and then compete nationally.
The reality of it is this league is so competitive when you really think about it. You can be a team that finished seventh in the Conference and go to National Championships and vie for the National Championship. It's sort of turning everything on its head, but that's how competitive this league is.
So that 16 years experience I had in the SEC at Arkansas, I think that's going to pay dividends on my return to the league.
Q. On looking at the team he has here
COACH GREENE: It's a very good team. We've a lost a couple, I say, very key individuals, you know, in Sydney and Jasmine and a few others.
But the reality is the recruiting class that Flo had was a very competitive, very good recruiting class. We'll try to finish off a couple pieces before school starts if time permits. I believe that we just will continue to build off that, and I'm going to be just as competitive or even more competitive.
Q. Coach Flo was kind of known for his sprints and hurdles and that kind of thing. Is that kind of your background as well? Do you have a specialty? Do you claim to have a specialty?
COACH GREENE: Speed and power is where I live, the same thing as Flo. My approach coming into the SEC is going to be more of a holistic approach. More of an all-encompassing approach. I think that's the way you can win the SEC. Speed and power wins championships at the end of the day in my mind.
But we'll continue to build off that. We'll examine the league and we will try to attack the league the best way we know how so we can be effective right away. I don't believe in in incremental approach. That'll get you tired. That'll get you tired real quick.
I want to be effective right away. Same thing I did in the Big Ten. If you permit me to say this, I looked at the Big Ten and the Big Ten was more of a distance runners' conference, so I went opposite of that. As a result of going opposite of that, there was immediate growth for the program.
So I am going to look at the SEC. I know the direction in which I'm going to go. I don't know if I'm going to go into details because I know the best coaches in this country and league are watching this press conference. So I'm not going to say what we're going to do.
But at the end of the day, it's going to be an approach where we can being effective, I mean really effective, as quickly as possible.
Q. Do you have a particular part of the country you like to recruit? Out of the country?
COACH GREENE: I think in the Southeastern Conference, it's got to be an international team. You've got to find the best kids in the United States, and then you got to go find the best kids around the world if you want to be competitive.
The NCAA is the international NCAA. The NCAA of today is not the NCAA of old in the 1980s when I was competing in college. So if you want to be competitive, you have to spread your wings a little bit. I have those connections. I have those connections around the world, the Caribbean, where you can go out and find the best kids.
Again, my objective is to go out and find the best student-athlete who can handle the rigors academically here at Kentucky and who can handle it athletically in the SEC at the national level.
That's my objective. But yes, recruiting will be all encompassing.
MITCH BARNHART: Thank you, everybody.
FastScripts Transcript by ASAP Sports