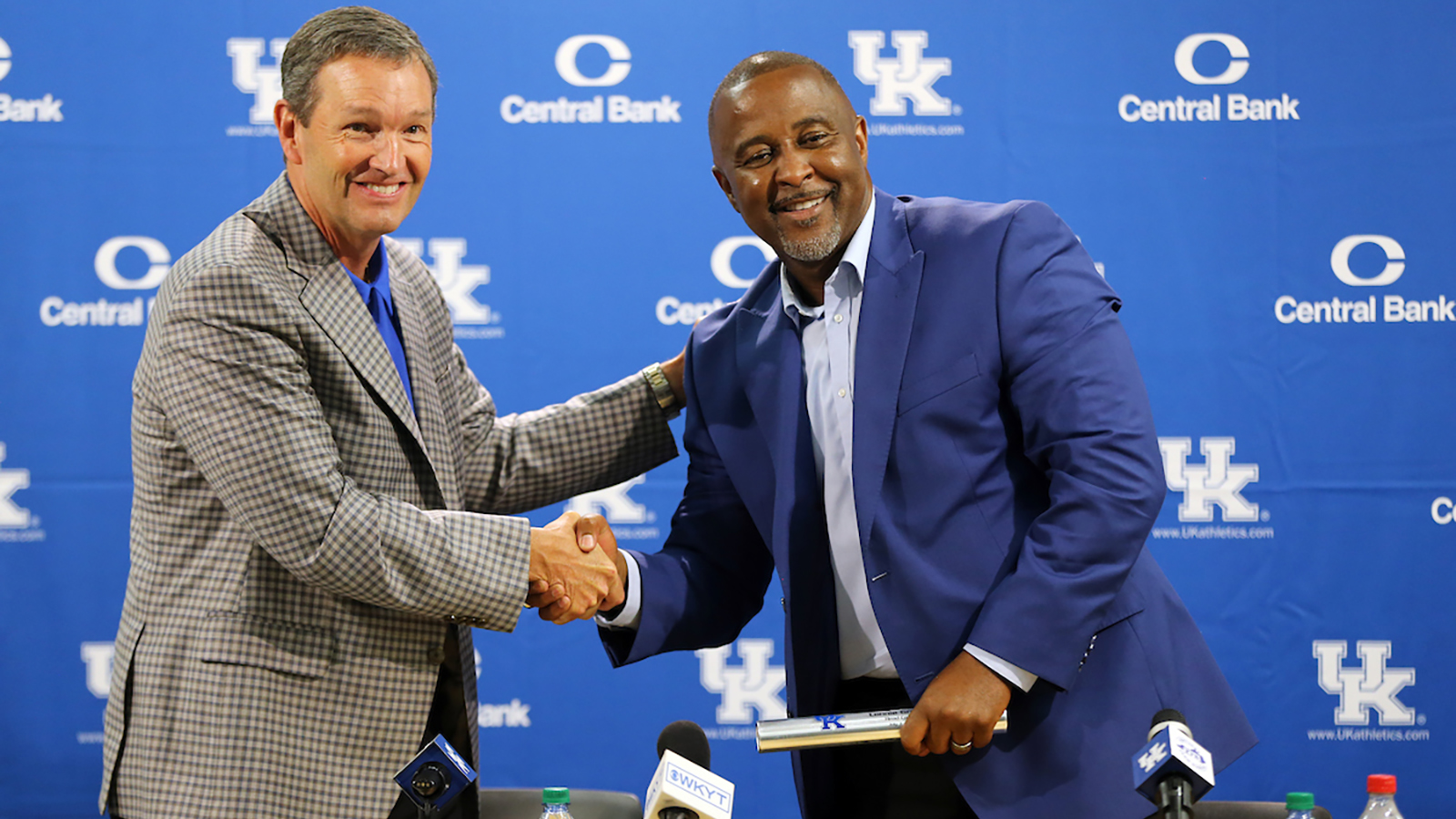 Perfect Timing Brings Greene, UK Together
Sometimes, being in the right place at the right time pays off. At the NCAA Track and Field Championships in June, Kentucky athletic director Mitch Barnhart found himself in a perfect spot, even if he was not aware of it at the time.
When Edrick Floreal departed Kentucky for the head track coaching job at Texas, Barnhart was in need of a new head coach to keep the Wildcats' program at an elite level. Luckily, Barnhart had seen Lonnie Greene, head coach of the Purdue track and field program, up close and personal at the national meet.
"Funny how things work out. I was in Eugene, Oregon for the National Track and Field Championships, and actually conducted interviews not knowing we were going to need one," Barnhart said. "So our tent, in Eugene, was catty-corner to the tent from Purdue University. (At the meet), we had some rain issues. We would go sit in our tent and wait out some of the rain. I had an opportunity to watch different teams and how they interacted and different coaches and how they interacted.
Barnhart was immediately impressed with the Purdue squad.
"I had an opportunity to watch the team from Purdue and their coaching staff, and specifically Lonnie and the way he interacted with his team," Barnhart said. "It was maybe the best interview I've ever done without ever talking to anybody. To watch how he — the energy coming from their tent and the camaraderie in their team. Just the enjoyment of participating in a National Championship from his student athletes the coaching staff, and the way they interacted was incredible. I made not of that in my head, and walked away from the meet not knowing if that would be something we need to look at later on now down the road."
Little did Barnhart know that he would be looking for a new coach sooner rather than later. With Floreal departing, Barnhart wasted no time, making contact with Greene, who was immediately interested in the position.
"He was the first one we talked to, he took the lead and never gave it up," Barnhart said.
Greene, who attended Murray State University in the late 1980s, welcomes a return to the Bluegrass.
"I became a man in the state of Kentucky, this place has a special place in my heart," Greene said. "I'm excited about this opportunity to lead this program. I think we can continue to do some great things."
As for his vision for the Kentucky program, Greene knows what he wants to do as well as how he wants to get it done.
"I like to win, I'm very competitive," Greene said. "I try to remain as humble as I can, but for me, humility is just strength under control. I believe in being aggressive and trying to win at this level. My ultimate goal is to win the National Championship. That's one of my career goals. As long I'll be here, that is going to be the objective of this program."
"We're going to do it the right way, we're going to graduate young men and women," Greene said. "They're going to have the complete college experience. I believe you can do both. You know, sometimes you have the experience where a young man or woman is a great student and then you have those great athletes, and they struggle with the balance in between. I believe you can do both."
Greene's experience and enthusiasm make him a perfect fit for the rising Kentucky program. And luckily for UK and Barnhart, the UK AD was in the right place at the right time.