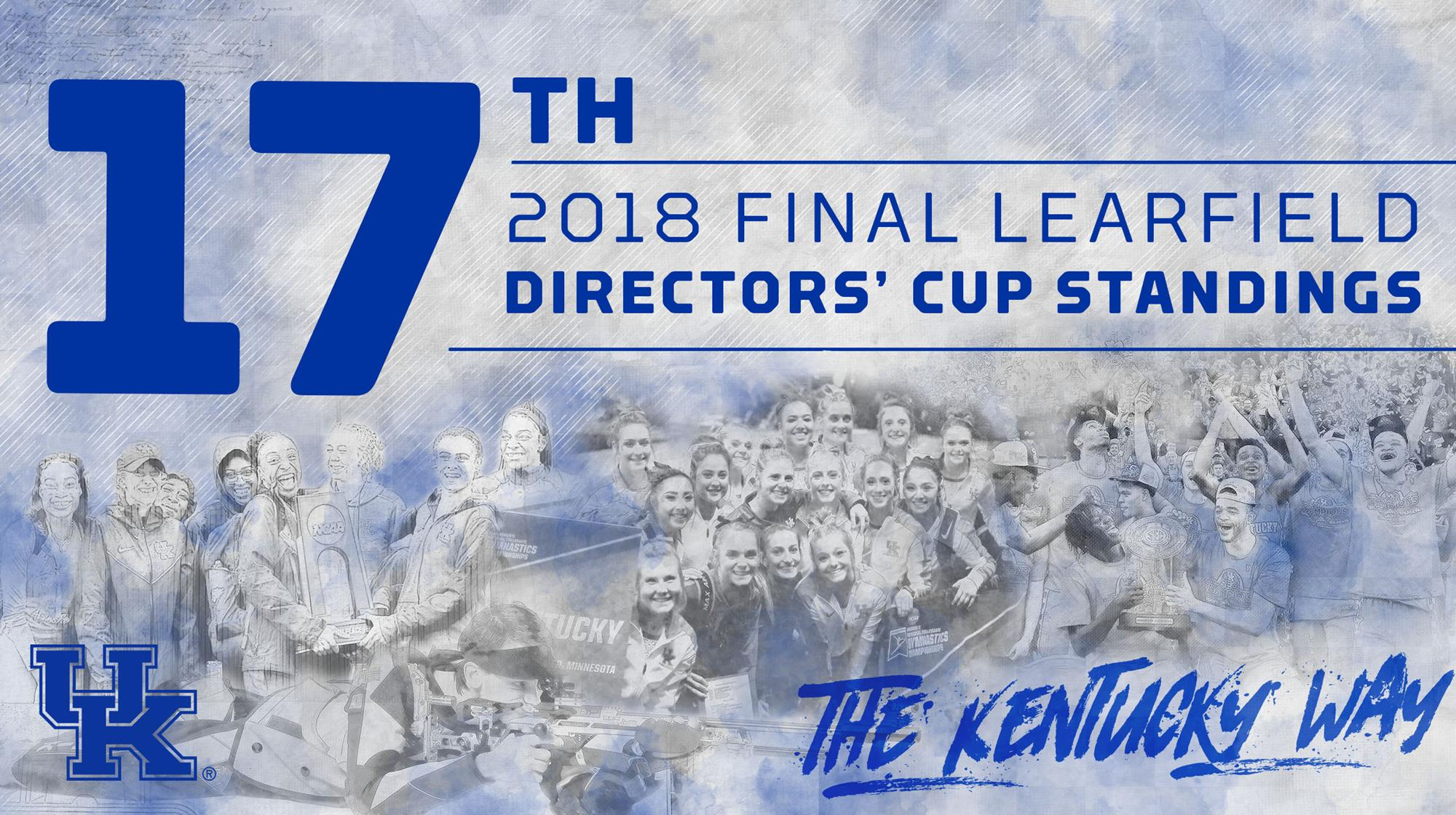 LEXINGTON, Ky. – The University of Kentucky Athletics Department continued an unprecedented run of comprehensive success under the leadership of Athletics Director Mitch Barnhart by finishing 17th in final 2017-18 Learfield Directors' Cup Standings released on Saturday.
 
The 17th-place finish is the third highest in school history, with all three top finishes coming during an ongoing six-year stretch during which UK has posted its six best finishes in the 25-year history of the Directors' Cup. UK has also now finished in the top 30 of final Directors' Cup standings in each of the past seven seasons.
 
The finish comes on the heels of a 2016-17 season in which UK finished a school-record 10th nationally and second in the Southeastern Conference. This year, UK finished sixth among SEC schools.
 
The Directors' Cup measures competitive success for all Division-I schools. For each NCAA-sanctioned sport, schools are awarded points based on NCAA championship participation.
 
Fourteen of UK's 22 varsity teams reached NCAA play to score points toward UK's Directors' Cup tally. Rifle led the way by winning the second national championship in program history, while women's indoor track and field, women's outdoor track and field, volleyball, gymnastics, men's basketball and softball all posted top-10 finishes of their own. UK's complete finishes by sport are as follows:
 
Department – 17th, 862 points
Rifle – First, 100 points
Women's indoor track and field – Third, 85 points
Women's outdoor track and field – Fourth, 80 points
Volleyball – Fifth, 73 points
Gymnastics – Seventh, 68.25 points
Men's basketball – Ninth, 64 points
Softball – Ninth, 64 points
Women's swimming and diving – 14th, 61.5 points
Men's outdoor track and field – 16th, 57.75 points
Men's indoor track and field – 17th, 56 points
Men's tennis – 17th, 50 points
Men's golf – 21st, 52.5 points
Women's tennis – 33rd, 25 points
Football – 51st, 25 points
 
UK's goal, set as part of Barnhart's Elite 1-3-5 initiative, is to finish in the top five of Directors' Cup standings by the year 2022. Elite 1-3-5 also calls in each UK team to win a conference or national championship by the year 2022 and to continue the department's streak of 12 consecutive semesters with a cumulative grade-point average of 3.0 or better. With rifle's national championship and volleyball's SEC title this season, four UK teams have won championships since Elite 1-3-5 was unveiled in 2015.