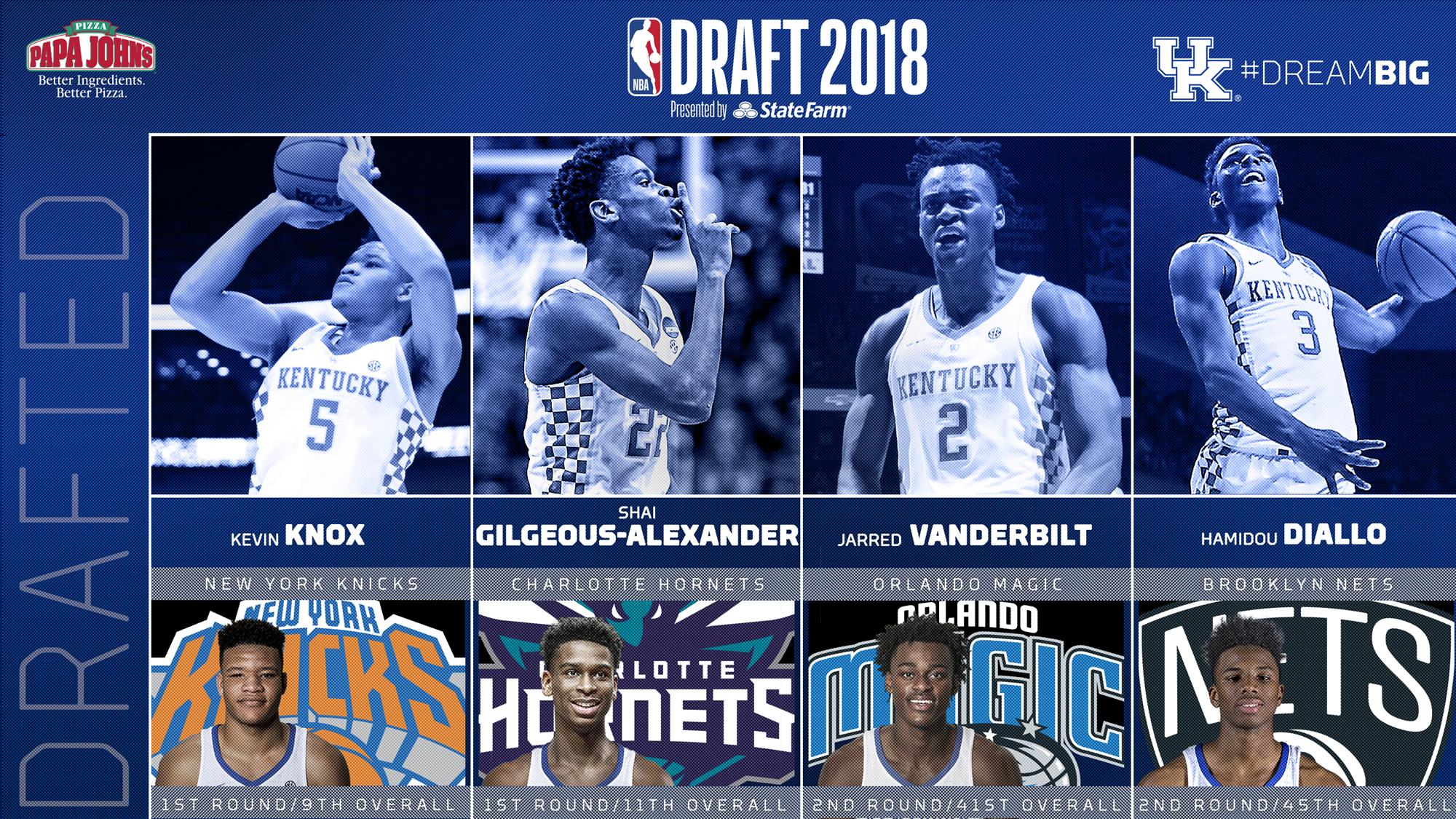 Four Wildcats Selected in the 2018 NBA Draft; Two Go in Lottery
BROOKLYN, N.Y. – NBA Draft night was special once again for the Kentucky Wildcats. In what has become an annual celebration of sorts for the program, four more Wildcats achieved their dreams of hearing their names called on draft night. Kevin Knox (No. 9, New York Knicks), Shai Gilgeous-Alexander (No. 11, Charlotte Hornets), Jarred Vanderbilt (No. 41, Orlando Magic) and Hamidou Diallo (No. 45, Brooklyn Nets) were selected during the 2018 draft on Thursday.
In nine seasons with John Calipari at the helm, Kentucky has churned out three No. 1 selections, 26 first-rounders, 19 lottery picks and 35 total players in the NBA Draft. The 35 draft picks are nearly twice as many as the next school (Duke). With another surge of first-round picks, Kentucky has more first-round selections (36) than any other school in the NBA lottery era (since 1985).
Sophomore Wenyen Gabriel, UK's fifth draft-eligible player, went undrafted. He participated in nearly 20 workouts with teams and is likely to have an opportunity to sign a free-agent deal.
"Graduation day is over," Calipari said. "Last night was both exciting and disappointing, as it always is. I'm excited for the four players who got drafted. I'm excited for Kevin, Shai, Jarred and Hami because they are all in good places. I'm disappointed Wenyen's work to get on a team is not done yet, but I always tell every player that I coach when we go through this process, 'It may not go perfectly, but if it's your dream, you'll make it.' And I know our guys are made for this. I can look back at DeAndre Liggins and Andrew Harrison and know that the draft doesn't define your dreams. Everybody's path is different." 
Knox is the 12th UK player since 2010 to go in the top nine picks. Gilgeous-Alexander is UK's 26th first-rounder in the Calipari era. Vanderbilt and Diallo helped push UK's total to 35 players drafted under Calipari.
 
The Wildcats have had more top-10 picks, more lottery selections and more first-round picks in the Calipari era than any other team in the country.
 
"I'm very versatile," Knox said on the broadcast after being picked ninth overall by the Knicks. "Coach (David) Fizdale is a player's coach, so he's going to use me around the court. I'm really looking forward to it. He loves players like me, players that can really do pretty much everything. So, I'm really looking forward to it."
 
Kentucky has had 126 players drafted 128 times in its illustrious history with 47 players selected in the opening round.
"It's a great feeling honestly," Gilgeous-Alexander said. "Being able to play in the NBA in itself is a blessing and something that not a lot of kids get to experience and me being one of them is an amazing feeling."
 
It is the ninth consecutive NBA Draft that Kentucky was represented by multiple players in the first round of the draft. UK is the only program since the draft went to two rounds in 1989 to have multiple players selected in the first round in nine straight years. Calipari is the only coach to have multiple players selected in 11 consecutive NBA Drafts, dating back to his time at Memphis. UK has had multiple lottery selections in six of nine drafts under Calipari.
The Wildcats' four total picks tied Duke and Villanova for the most selections in the 2018 NBA Draft.
Kevin Knox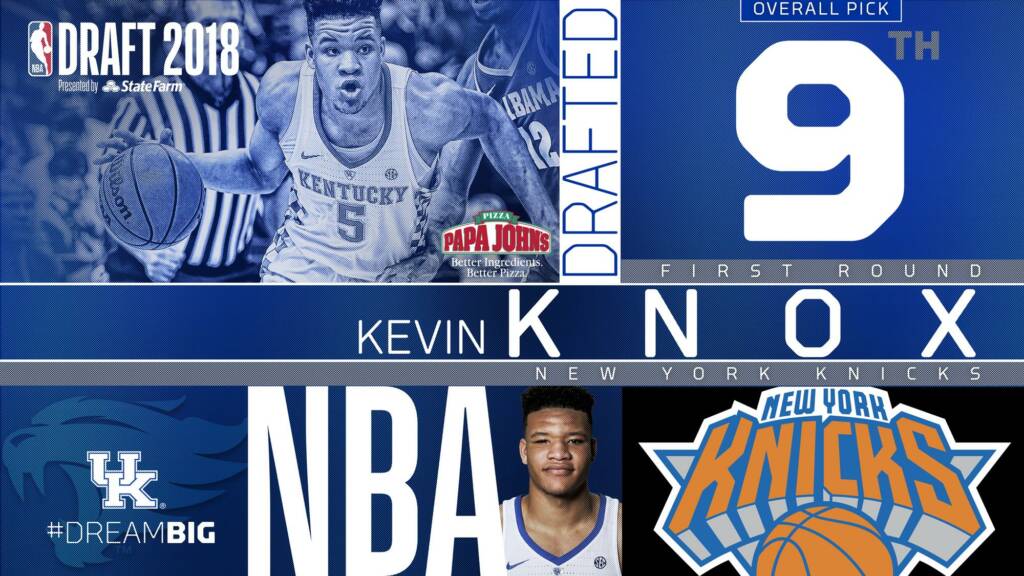 Knox was UK's first player off of the board when he was selected ninth overall by the New York Knicks. He's the fifth different player in program history to be selected by the Knicks. With the Tampa, Florida, native going ninth overall, UK has had at least one player taken in the top nine in each of the last nine drafts, the longest such streak in the country.
Kentucky's top-rated recruit led the team in scoring, concluding his freshman season averaging 15.5 points per game. He also contributed 5.4 rebounds and 1.4 assists per game. Overall, Knox reached double-figure scoring in 30 games this season and had a team-high 10 games of 20 or more points, while also leading the team in rebounding on eight occasions.
 
He scored in double figures in 12 consecutive games before Buffalo limited him to eight points, becoming the only player to achieve that feat this season and first since De'Aaron Fox concluded the 2016-17 season scoring in double figures in 12 straight. He also notched 20 or more points in three straight games vs. Arkansas, Missouri and Ole Miss, the first player to do that since Malik Monk did it in November and December of 2016. 
 
An Associated Press honorable mention All-America selection, Knox was tabbed the league's co-Freshman of the Year by the 14 head coaches alongside of Alabama's Collin Sexton. He was also an All-SEC First Team pick and earned SEC All-Tournament Team honors after helping UK to its fourth straight title.
 
Knox re-asserted himself into the national discussion as one of the nation's best freshmen after a 34-point performance at then-No. 7/7 West Virginia and didn't look back.
 
The U.S. Basketball Writers of America named him both the Oscar Robertson National Player of the Week and the Wayman Tisdale National Freshman of the Week and the Atlanta Tipoff Club tabbed him its Citizen Naismith National Player of the Week honors on Jan. 31.
 
Knox was one of just two freshmen this season to earn both USBWA honors in the same week, joining Oklahoma's Trae Young, who did it in December. It was also his first SEC honor. He was the first UK freshman to earn Tisdale Freshman of the Week honors since Tyler Ulis and Karl-Anthony Towns claimed the honor during the historic 2014-15 season. Monk was tabbed the Oscar Robertson National Player of Week following his 47-point performance against North Carolina last season.
 
Knox averaged 26.5 points and 6.5 rebounds per game in wins over Mississippi State and at No. 7/7 West Virginia that week. He had 19 points, six boards and a pair of steals against the Bulldogs. In the epic come-from-behind win over West Virginia, Knox poured in 34 points and added seven rebounds. The scoring output was the most since De'Aaron Fox had 39 in a win over UCLA in the Sweet 16 in the 2017 NCAA Tournament. The 34 points tied Monk's freshman school scoring record on the road (Monk scored 34 at Ole Miss to open SEC play a season ago). They're also the most by a UK freshman in a nonconference true road game. 
 
All told, Knox concludes his career with Kentucky ranking eighth in scoring by a freshman (576 points), nine in total 3-pointers made by a first-year player (57) and 13th in rebounds by a freshman (200).
It's official. The @nyknicks have taken @KevKnox with the ninth overall pick.

Coach Cal thinks Kevin is going to be "phenomenal" in the NBA.#DreamBig pic.twitter.com/Wx1dzTiJBP

— CoachCal.com (@CoachCalDotCom) June 22, 2018
Shai Gilgeous-Alexander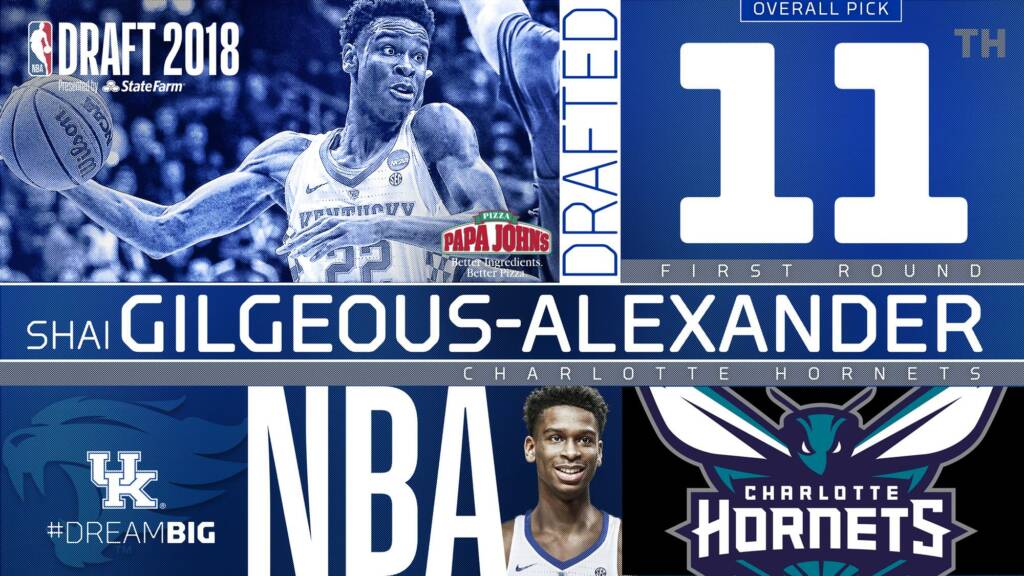 Gilgeous-Alexander became UK's second selection in the opening round when he was taken by the Charlotte Hornets at No. 11 overall. He is the sixth-ever selection by the Hornets in the history of the program. However, his rights were subsequently traded to the Los Angeles Clippers following his selection.
 
One of the least heralded players of Kentucky's 2017 signing class, Gilgeous-Alexander not only evolved into perhaps the gem of the class, he may have been the most valuable player on the team.
 
After moving into the starting lineup on Jan. 9 vs. Texas A&M, Gilgeous-Alexander averaged 16.4 points, 5.7 assists and 4.6 rebounds over the final 22 games of the season. Capped by his 29 points in the Southeastern Conference championship game, he averaged a team-best 21.0 points, 6.7 assists and 5.0 rebounds while shooting 55.3 percent from the floor en route to Most Valuable Player honors at the SEC Tournament.
 
He didn't slow down in NCAA Tournament play, posting 19 points, a career-high eight rebounds, seven assists and a career-high five steals vs. Davidson, followed by 27 points, six rebounds and six assists vs. Buffalo. All told, Gilgeous-Alexander averaged 20.7 points, 6.3 assists, 5.7 rebounds and 2.0 steals in the postseason.
 
Gilgeous-Alexander was named to the All-SEC Second Team, the SEC All-Freshman Team and the U.S. Basketball Writers Association District IV Team in 2017-18. 
 
Other notable performances from Gilgeous-Alexander this season included a 30-point game in a 14-point second-half comeback vs. Vanderbilt at home. Gilgeous-Alexander scored or assisted on 32 of UK's final 56 points in that come-from-behind win, including scoring eight of UK's final 10 points of the second half when the Wildcats were staring at a loss — even hitting the two clutch free throws with just over two seconds left and Kentucky down two.
 
Gilgeous-Alexander started the season as a spark off the bench. He forced himself into the starting lineup after back-to-back games of 20 points or more vs. Louisville and Georgia. Those back-to-back games marked the first time a player scored 20 or more points off the bench since Deron Feldhaus turned the trick Jan. 21 and 25, 1992.
 
And Gilgeous-Alexander was far from a score-first point guard. He proved to be an adept passer, leading the team in assists with a 5.1 average, ranked fourth in the SEC. He led the team in assists in a team-best 29 games. He finished third on the all-time freshman assists list with 189, behind only John Wall (241) and Marquis Teague (191).
 
Defensively, Gilgeous-Alexander was a menace, averaging 1.6 steals per game. That was the third most in the SEC this season, and his 61 total steals are the third most by a freshman in school history, behind only Rajon Rondo (87) and Wall (66).
The @hornets have selected @shaiglalex with the 11th overall pick.

Coach Cal thinks Shai is going to have "a wonderful career" as an NBA player.#DreamBig pic.twitter.com/si5kWS6SHT

— CoachCal.com (@CoachCalDotCom) June 22, 2018
Jarred Vanderbilt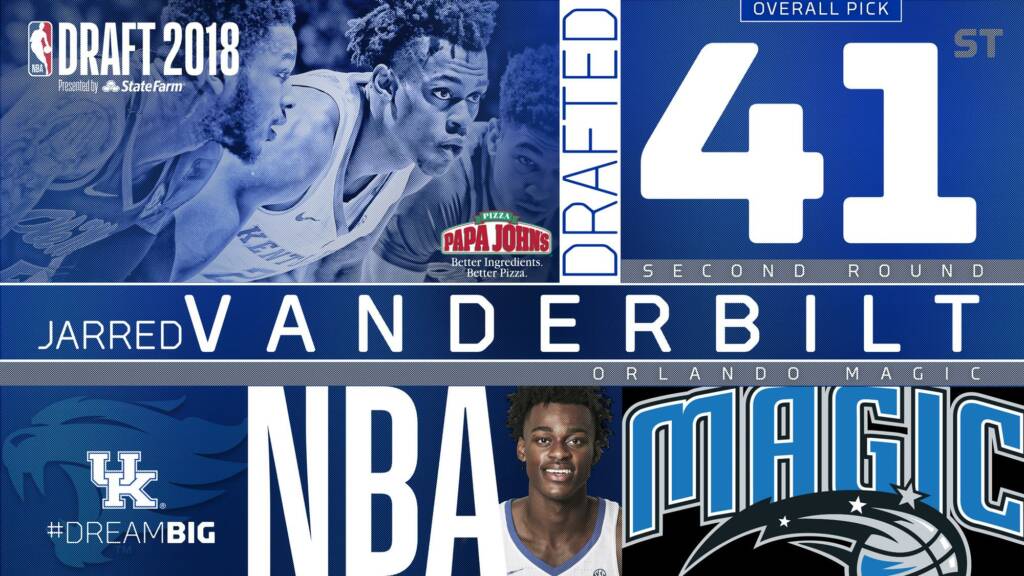 Vanderbilt was selected 41st overall by the Orlando Magic to become the third Cat drafted. He's the fourth-ever player selected by the organization. Following the selection it was announced that he was traded to the Denver Nuggets. Denver has two other UK players currently on its roster with Jamal Murray and Trey Lyles.
"I'm beyond excited to see my dreams come true," Vanderbilt said. "This is a blessing that my family and I will never forget. Now the real work begins. I'm looking forward to getting to work with the Nuggets. I couldn't have ended up in a better spot."
 
Vanderbilt was limited to 14 games in 2017-18 because of a left foot injury that sidelined him the first 17 games of the season and then a left leg injury that kept him out of the postseason. When Vanderbilt was on the floor, he was a problem for opposing teams.
 
Once cleared, he was thrown right into the mix at South Carolina and immediately showcased his ability to rebound and distribute the basketball. In addition to posting six points and five rebounds in 14 minutes, the 6-foot-9 forward took over "point forward" responsibilities in his first career game and dished out three assists.
 
Vanderbilt would go on to grab at least five rebounds in his first four games, including 11 key boards in the 17-point comeback victory at No. 7/7 West Virginia.
 
As Vanderbilt knocked off the rust and figured out his role with the team, his minutes went up. He flirted with a double-double (eight points, 10 rebounds) at Missouri and nearly had three straight double-doubles vs. Alabama (11 points, nine rebounds), at Arkansas (11 points, nine rebounds) and at home vs. Mizzou (11 points, career-high 15 boards). He was tabbed Southeastern Conference Freshman of the Week after the first two of that three-game stretch.
 
Vanderbilt grabbed 10 or more rebounds in five of his last six games and led UK in rebounding average with 7.9 boards per game. He also averaged 5.9 points per game. As a senior at Victory Prep Academy, Vanderbilt averaged 28.5 points, 13.4 rebounds and 8.8 assists a game.
With the 41st pick, the @OrlandoMagic take @JVando.

Coach Cal thinks Jarred is going to have a great NBA career. pic.twitter.com/xapdrmfp1W

— CoachCal.com (@CoachCalDotCom) June 22, 2018
Hamidou Diallo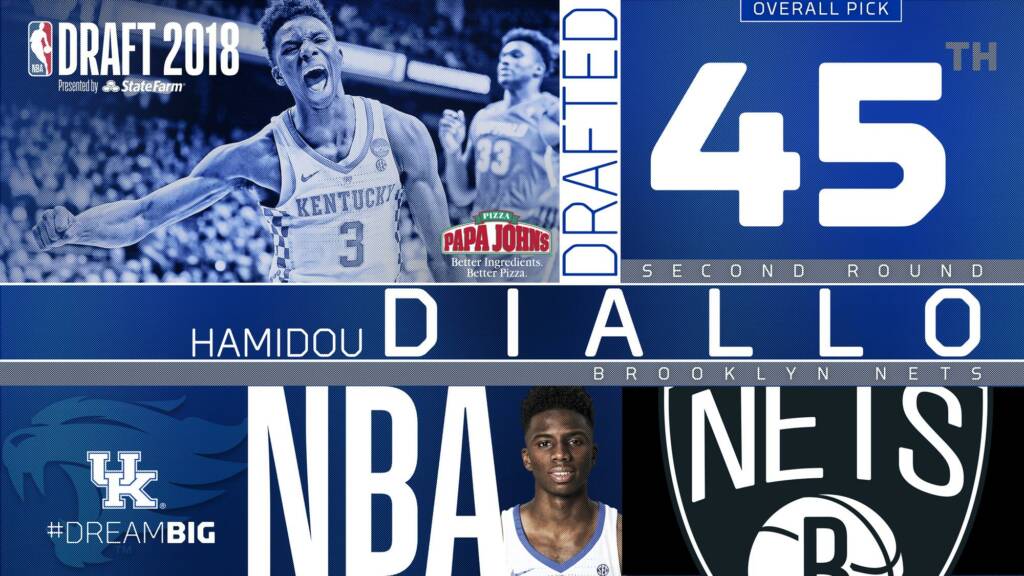 Diallo was the fourth Wildcat selected on the night when he was picked 45th overall by the Brooklyn Nets. He is the third Kentucky player ever taken by the franchise. He became the third player on the night who had his rights traded. Diallo is involved in a proposed deal with Charlotte and then to Oklahoma City, although that trade has not been officially announced.
"It's a blessing," Diallo said of getting drafted. "It's an honor no matter what pick it is. Only a couple guys get this opportunity in a lifetime. You've got to cherish it and stay humble and hungry. That's the motto I'm living by: I'm humble and hungry and that's the motto I'm going to keep living by no matter what happens."
 
Diallo's athletic intangibles combined with quality big-time moments during his freshman season will draw plenty of attention from the pro level.
 
After enrolling at Kentucky prior to the spring semester, he did not play during UK's Elite Eight run in 2016-17, electing to develop in practice and study the college game. He then utilized the NBA Draft process during the summer before opting to return to Kentucky for his freshman season despite significant NBA interest.
 
At last season's combine, Diallo registered the best vertical jump of any player at 44.5 inches. He followed that with more preparation during the summer competing with Team USA at the 2017 FIBA U19 World Cup where he averaged 10.9 points, 3.9 rebounds in 18.4 minutes a game over seven games.
 
Diallo averaged 10.0 points and 3.6 rebounds per game while starting all 37 games for the Wildcats in 2017-18. He scored in double figures 16 times and topped the 20-point plateau on three occasions, including a breakout 22-point, eight-rebound performance against Buffalo in the second round of the NCAA Tournament. He knocked down a career-high nine shots and also added two blocks and a steal in the victory to send UK to the Sweet 16 for the seventh time under Calipari. Diallo's NCAA Tournament began on a high note, jumpstarting eight points on offense with stellar defensive play against Davidson. He had a career-high three blocked shots and added a steal in the win.
 
Diallo was at his best when he was named the Southeastern Conference Freshman of the Week after pouring in 20 points and connecting on a career-high four 3-pointers in a win over Virginia Tech. That game was part of a stretch where he scored in double figures in seven straight games, including five with 18 or more.
 
The Queens, New York, native finished his freshman season ranking fourth on the team in points (371), sixth in rebounds (135) and third in blocks (31).
 
The 6-foot-5 guard is an athletic, springy guard with a wing span longer than 7 feet. Combined with his elite vertical, he is also a menace on the boards. Diallo averaged 3.6 a game and snared at least three 24 times, resulting once in a double-double with 10 points and 10 rebounds in the SEC opener against Georgia.
 
Playing on the brightest stage for any player from New York, Diallo shined in his Madison Square Garden debut in a win over Monmouth. He poured in a career-high 23 points on 8-of-13 shooting (61.5 percent) to go along with four rebounds and a pair of steals.
 
He opened his career at UK by scoring 14 or more points in each of UK's first three outings, including 14 against No. 4/3 Kansas in the Champions Classic.
Another Cat off the board. The @BrooklynNets select @hamidoudiallo with the 45th pick.

Coach Cal says Hami is well-prepared to make it in the NBA and is going to give it everything he has once he gets into camp.#DreamBig pic.twitter.com/UlbHD8jMK3

— CoachCal.com (@CoachCalDotCom) June 22, 2018
Draft Notes
Kentucky has had 126 guys drafted 128 times (Johnny Cox '58 and Roger Newman '60 both drafted in Jr. eligible draft, but returned for senior year and were drafted again)
UK has had 49 players selected in the opening round (26 have come in the last nine years) of the draft
Kentucky has had 35 players selected in the draft over the last nine years, 14 more than the next closest school (Duke)
UK has had 13 players selected in the top 10, 19 in the top 15 and 26 in the first round of the draft in the last nine years
The Wildcats have had at least one player taken in the top nine of the draft in nine consecutive seasons. Since the lottery began in 1985, only two teams have had more than one player taken in at least four consecutive drafts (Kentucky, 2010-18 and Kansas, 2012-15)
Calipari has had two or more players selected in 11 consecutive NBA drafts dating back to 2008 with Memphis
UK has had multiple first-round picks in every year of the Coach Cal era (since 2010)
In 26 seasons as a head coach, Calipari has coached 46 NBA Draft picks, including 32 first-round selections with 17 of those going in the top 10. He has had 35 selected in the last nine years as UK's head coach, including 26 coming in the opening round
Since the draft moved to two rounds in 1989, the Wildcats lead all schools with 37 first-round picks. Twenty-six of those selections have come in the last nine years under Calipari
For the latest on the Kentucky men's basketball team, follow @KentuckyMBB on Twitter, Facebook and Instagram, and on the web at UKathletics.com.