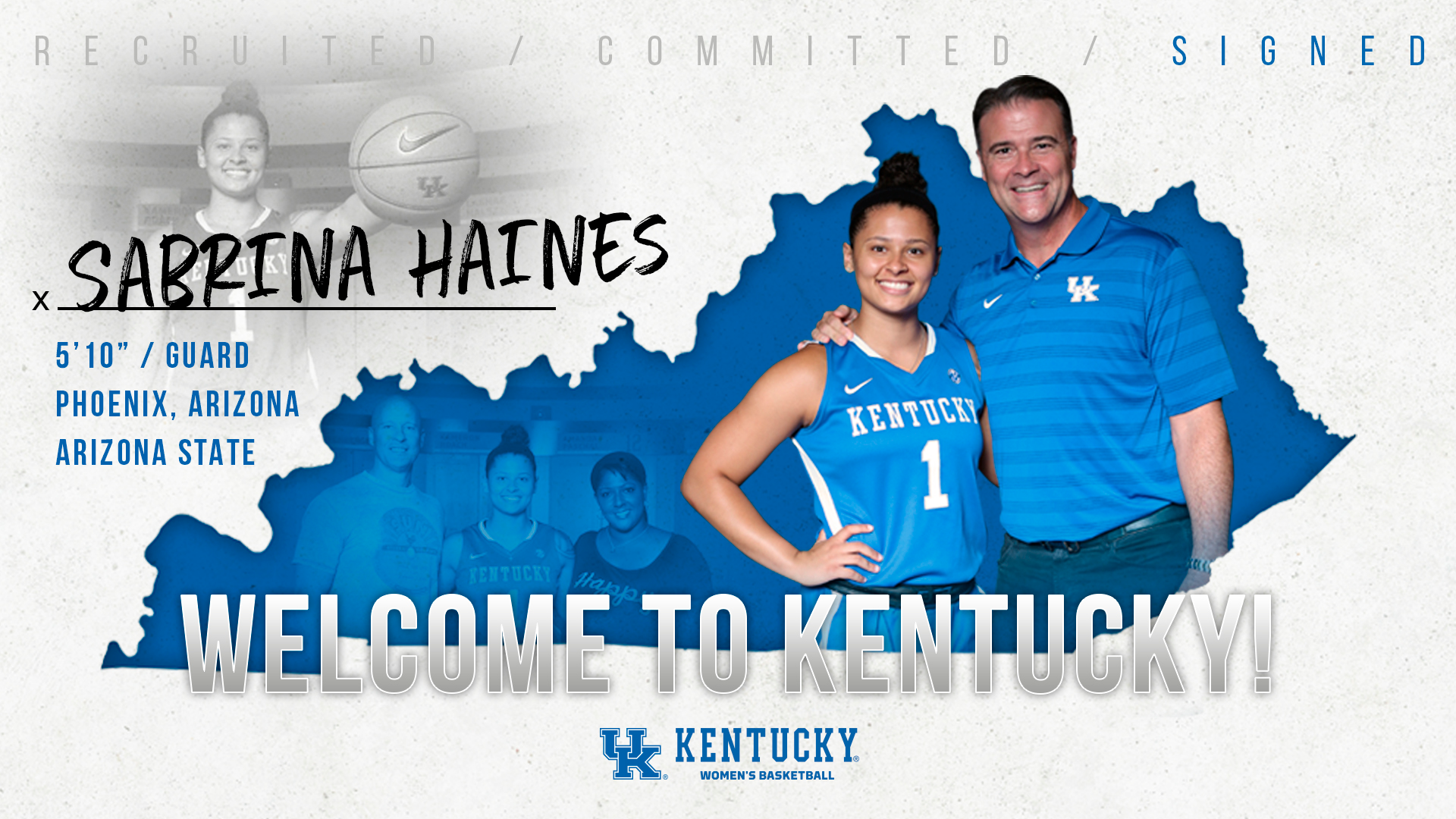 Former Arizona State Guard Sabrina Haines Transfers to Kentucky
LEXINGTON, Ky. – Former Pac-12 All-Freshman Team guard Sabrina Haines has elected to transfer into the Kentucky women's basketball program after two impressive seasons at Arizona State, head coach Matthew Mitchell announced Wednesday. Haines will have to sit out the 2018-19 season due to NCAA transfer rules.
 
Haines comes to Lexington after starting her collegiate career at Arizona State, where she played in 75 career games with 38 starts before her junior season was cut short after only nine games due to injury. Haines shined on and off the court in Tempe, earning Pac-12 All-Freshman honorable mention honors in 2016, while she was Pac-12 All-Academic honorable mention in 2017 and second-team in 2018.
 
As a freshman in 2015-16, Haines played in every game and led the team in free-throw percentage and was second in 3-point field-goal percentage and fourth in 3-pointers. Her best performance as a rookie was a season-high 19 points – including 14 in the second half – on 5-of-7 shooting against Washington State. The 5-foot-10 guard added six rebounds against the Cougars. Haines also scored in double figures against Hawaii, Columbia and Oregon during the year on her way to Pac-12 All-Freshman honors. 
 
The guard blossomed as a sophomore, playing in every game with 32 starts leading the team in 3s and free-throw percentage while sitting second in assists and fourth in scoring and steals. Haines scored in double figures nine times during the season, including a season-best 17 against Washington State. She shined in Arizona State's four postseason games in 2016-17, averaging 13.3 points per game on 48 percent shooting from the field, including 50 percent from long range. In the Pac-12 Tournament, Haines scored 12 points against Utah and 14 against UCLA. She continued that hot scoring in the NCAA Tournament with 15 points in the opener vs. Michigan State before 12 points and three 3s against eventual national champion South Carolina in the second round.
 
Prior to her injury last season, Haines had played in all nine of ASU's games. The guard had scored in double figures five times, including a career-high tying 19 points against Sacramento State. At the time of her injury, Haines was averaging 10.2 points per game, which ranked second on the team. She was named to the ASU Classic All-Tournament Team after averaging 14.5 points, shooting 56 percent from the field in wins over Buffalo and UC Riverside.
 
Haines is a 2015 graduate of Desert Vista High School in Phoenix where she averaged 10.8 points, 4.5 rebounds, 2.5 assists and 2.5 steals during her high school career. She was one of five players named to The Arizona Republic's All-Arizona girls basketball team in addition to earning All-Tribune First-Team honors following a senior season in which she averaged 15.1 points, 5.4 rebounds, 4.3 assists and 3.3 steals. A participant in USA Basketball's 16-under National team trials in May of 2013 and the USA Basketball Women's U17 World Championship Team Trials in April 2014, Haines was a top-100 player in the class of 2015 out of high school.
 
For more information on the Kentucky women's basketball team, visit UKathletics.com or follow @KentuckyWBB on Twitter, Instagram and Snapchat, or Kentucky Women's Basketball on Facebook.