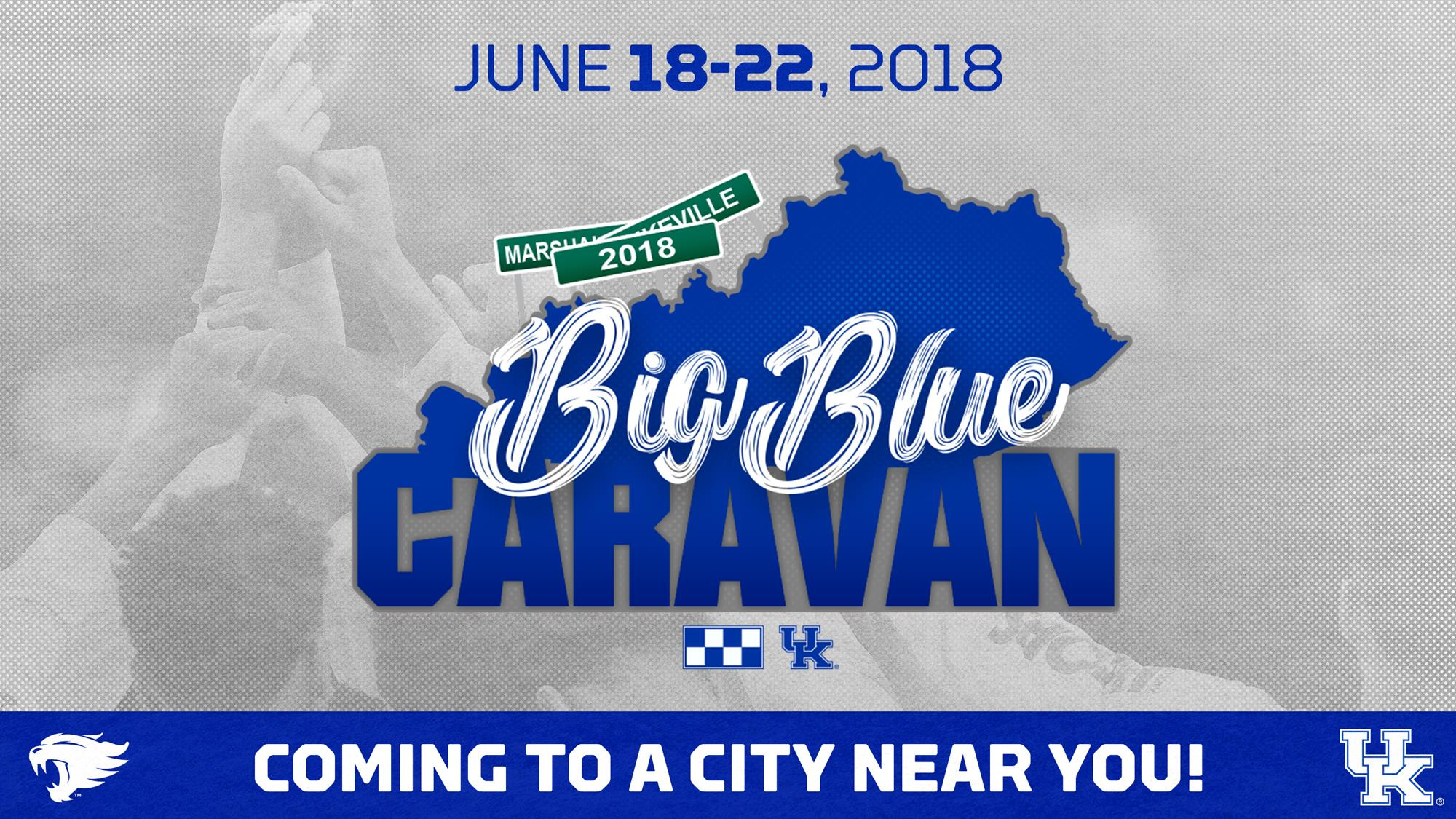 LEXINGTON, Ky. – The Big Blue Caravan will tour Bluegrass State this summer, visiting one Kentucky community each day from June 18 to June 22.
 
The Big Blue Caravan is an outreach effort led by Mitch Barnhart, as the athletics director will participate in each tour stop. Barnhart will be joined along the way by various Wildcat coaches, student-athletes and staff. The Caravan will make its first stop in Marshall County on June 18 and proceed to Madisonville on June 19, Elizabethtown/Fort Knox on June 20, June 21 in Somerset and June 22 in Pikeville.
 
"The connection our university and athletics department share with this state and its people is truly unique," Barnhart said. "That connection has always been central to our identity, but we have made it a priority to find ways to further honor and strengthen it. We look forward to seeing friends in these five communities and meeting many more."
 
The Caravan will make appearances at various locations in each community, with one featured event open to the public. At this event, commemorative Big Blue Caravan posters will be available to attendees.
Marshall County: Marshall County High School (416 High School Rd, Benton, KY 42025), 4-6 p.m. on June 18
Madisonville: Kroger (545 Island Ford Rd, Madisonville, KY 42431), 4-6 p.m. on June 19
Elizabethtown/Fort Knox: Kroger (3040 Dolphin Dr, Elizabethtown, KY 42701), 4-6 p.m. on June 20
Somerset: Kroger (50 Stonegate Center, Somerset, KY 42503), noon-1 p.m. on June 21
Pikeville: East Kentucky Expo Center – Billy Johnson Stage (126 Main St, Pikeville, KY 41501), noon-2 p.m. on June 22
As the Big Blue Caravan approaches, stay tuned for more information about locations to be visited and other participants.
We love the Commonwealth. We love it so much we're going to tour it later this month.

Announcing the #BigBlueCaravan, which will take us to five Kentucky cities across the state the week of June 18. https://t.co/r9h6VzYx5R #WeAreUK pic.twitter.com/JLp7927C4a

— Kentucky Athletics (@UKAthletics) June 6, 2018