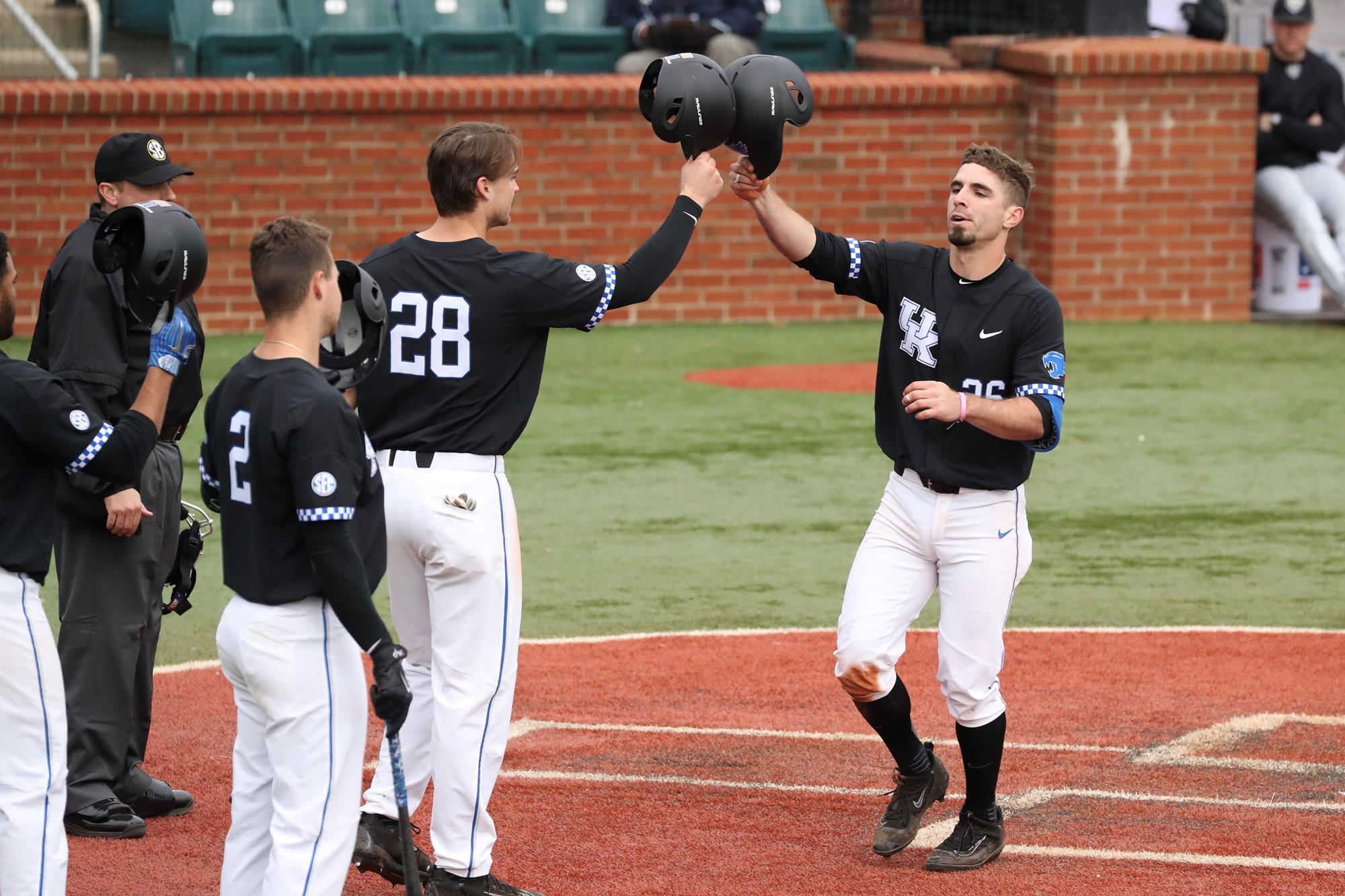 NASHVILLE – Kentucky mashed three home runs, including the 18th of the year for both Kole Cottam and Luke Heyer, but could not hold off a late Vanderbilt rally in the regular season finale, losing 9-6 at Hawkins Field.
 
The Wildcats close the regular season with a 34-21 record and 13-17 mark in Southeastern Conference play, earning the No. 10 seed in this week's SEC Tournament in Hoover, Alabama. UK will face seventh-seeded Auburn at 2 p.m. ET on Tuesday in an elimination game with the winner advancing to face No. 3 seed Ole Miss the following day.
 
It was a difficult end to what had been a strong regular season for the Cats. Entering the weekend UK remained in the discussion to host an NCAA Tournament regional but a severely undermanned pitching staff ran out of bullets on Saturday as the Commodores wiped out a three-run deficit in the seventh inning. UK had the bases loaded and the go-ahead run at the plate in the ninth but a line drive to the shortstop turned into a game-ending double play.
 
The good news was sophomore left-hander Zack Thompson continued to throw well in his return from injury earlier this season. In his third start back he reached 89 pitches, striking out six in five innings before giving way to the bullpen.
 
Cottam and Heyer again bolstered their candidacy for All-America and All-SEC, each crushing their SEC-leading 18th home run onto the building beyond Vandy's high left-field wall. Luke Becker teamed to go back-to-back with Cottam in the sixth as the Cats took a 6-3 lead and finally found the breakthrough hits that had eluded them all series. Their 36 combined home runs are the fifth-most in history for a UK tandem.
 
 
SCORING
Top 1st – Kole Cottam singled to RF and scored on Luke Heyer's home run to LF. UK 2, Vandy 0.
 
Bottom 1st – Austin Martin walked, Pat DeMarco was hit by a pitch and Philip Clarke walked to load the bases. Martin scored on a balk. UK 2, Vandy 1.
 
Bottom 3rd – Martin bounced a single up the middle and scored on DeMarco's home run to LF. Vandy 3, UK 2.
 
Top 6th – Tristan Pompey singled and scored on Cottam's home run to LF. Luke Becker homered to RCF. Zeke Lewis was hit by a pitch, stole second and scored on Ben Aklinski's single to CF. UK 6, Vandy 3.
 
Bottom 7th – Jayson Gonzalez walked to lead off the inning and advanced to third on Martin's double to LF. DeMarco hit SAC fly to CF, scoring Gonzalez and moving Martin to third. Errant pickoff throw to first scores Martin. JJ Bleday walked. Connor Kaiser doubled to RCF, moving Bleday to third. Clarke singled to CF, scoring Bleday and Kaiser. Stephen Scott homered to RCF, scoring Clarke. Vandy 9, UK 6.
 
 
NOTES
Kentucky has scored in 63 consecutive games and 139 of the past 140 dating to the 2016 season. The lone shutout came in a seven-inning game.
Several Cats extended impressive reached base safely streaks …

Junior C/1B Kole Cottam has reached safely in 18 straight games and began a new hit streak after his career-long 16-game streak ended Friday. He has a hit in 28 of the last 31 games.
Senior INF/OF Luke Heyer has reached in 18 straight games and 23 of the last 24 games.
Junior OF Tristan Pompey has a nine-game hit streak and has reached in 10 straight games.
Senior INF Luke Becker has reached in 52 of 55 games (and 96 of 99 including 2017 summer ball).
Junior INF Trey Dawson has now reached base safely in 24 of his last 26 games.
Junior C/1B Kole Cottam went 2-for-3 with two runs, a home run and two RBI.

The home run was his 18th of the season and 26th of his career.

The homer gave UK a 4-3 lead in the sixth inning.

He now has a team-high 23 multi-hit games and 15 multi-RBI games.
Senior INF/OF Luke Heyer went 1-for-4 with a two-run home run.

The home run was his 18th of the season and 21st of his career.
Heyer is tied with Cottam for multi-RBI games with 15.
Senior INF Luke Becker went 1-for-5 with a home run.

The homer was Becker's seventh of the season and 15th career.
Sophomore LHP Zack Thompson made his third start since returning from a seven-week absence.

Thompson pitched 5.0 innings, giving up five hits, three runs, two walks and striking out six.
In three starts since his return he has gone 12.0 IP, 7 H, 4 ER, 7 BB and 16 K.
 
 
 
ON DECK
The Cats' extended road trip moves to the next stop in Hoover, Alabama for the SEC Tournament, where they will be the No. 10 seed and face the No. 7 seed at 2 p.m. ET on Tuesday, May 22.