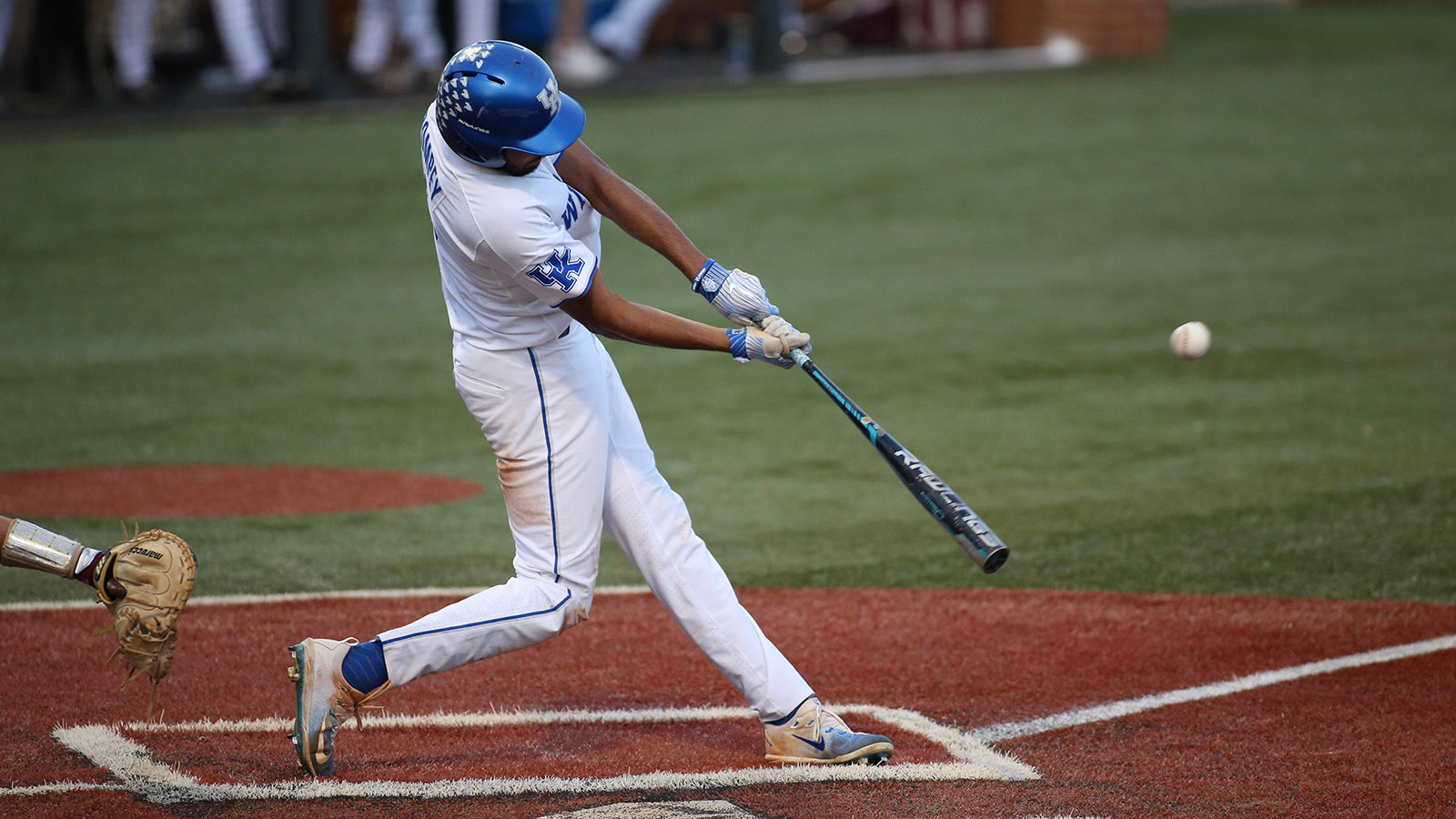 LEXINGTON, Ky. – Tristan Pompey reached base all five times he came to bat, driving in four runs with a pair of doubles as No. 17 Kentucky came from behind to post a 9-6 win in the first game of the final regular season weekend at Cliff Hagan Stadium.
 
In front of a packed house on 4,303 fans – the fifth-largest crowd in the stadium's history – the Cats (32-17, 12-13 SEC) overcame an early 4-1 deficit, putting together a four-run fourth inning that held up the rest of the way. The win on Senior Night was sealed when senior Luke Becker drilled a two-run single in the eighth inning to extend the lead and put the game away.
 
Pompey wasn't the only offensive force for the Cats. Senior Luke Heyer smoked an RBI double in the first inning, junior Ben Aklinski had hits in his first three plate appearance to give him six straight dating to Tuesday night's win at Indiana and junior Trey Dawson had two hits, two runs and an RBI. Pompey, Aklinski and Dawson reached base a combined 11 times in 12 plate appearances in the game.
 
Junior right-hander Sean Hjelle wasn't as sharp as he usually is on the mound but he fought through a rough first two innings to complete seven in the game, earning his 22nd career victory, which ranks fifth all-time at UK. Sophomore closer Chris Machamer pitched the final two innings for his 10th save, moving him into third place on the single-season list behind Trevor Gott (2013) and Logan Salow (2017), who each had 12.
 
 
SCORING
Top 1st – Jake Mangum walked and Tanner Allen singled to RF. Luke Alexander grounded out to 3B, moving both runners up. Hunter Stovall singled off the glove of a diving 2B, scoring both Mangum and Allen. Miss. State 2, UK 0.
 
Bottom 1st – Tristan Pompey walked and advanced to second on Kole Cottam's groundout. Luke Heyer doubled to LCF, scoring Pompey. Miss. State 2, UK 1.
 
Top 2nd – Elijah MacNamee singled to CF and moved to second on Hunter Vansau's walk. Mangum hit by pitch to load the bases. Rowdey Jordan singled inside the 3B bag, scoring MacNamee and Vansau. Miss. State 4, UK 1.
 
Bottom 2nd – With two outs, Ben Aklinski singled and Trey Dawson walked. Pompey doubled off the RF wall, scoring Aklinski and Dawson. Miss. State 4, UK 3
 
Bottom 4th – Alex Rodriguez drew a pinch hit walk to start the inning. Coltyn Kessler singled to LCF, moving Rodriguez to second. Aklinski laid down a bunt single to load the bases. Dawson lined a single to LF to score Rodriguez. Pompey doubled into the LF corner, scoring Kessler and Aklinski and moving Dawson to third. Cottam hit a SAC fly to deep LF, scoring Dawson. UK 7, Miss. State 4.
 
Top 5th – Stovall homered to LF. UK 7, Miss. State 5.
 
Top 7th – Stovall tripled into the RF corner and scored on Justin Foscue's infield single. UK 7, Miss. State 6.
 
Bottom 8th – Pompey walked and Cottam singled. Both runners moved up on a wild pitch. Luke Becker singled up the middle to score Pompey and Cottam. UK 9, Miss. State 6.
 
 
 
 
NOTES
Kentucky has scored in 57 consecutive games and 133 of the past 134 dating to the 2016 season. The lone shutout came in a seven-inning game.
Several Cats extended impressive reached base safely streaks …

Junior C/1B Kole Cottam has reached safely in 12 straight games, has hits in 23 of the past 25 games and is riding a career-long 12-game hit streak.
Junior INF Trey Dawson has now reached base safely in 10 straight and 19 of his last 20 games.
Senior INF/OF Luke Heyer has reached in 12 straight games and 17 of the last 18 games.
Senior INF Luke Becker has reached in 47 of 49 games (and 91 of 93 including 2017 summer ball).
Senior C/1B Troy Squires has reached base in 10 straight games.
Junior OF Tristan Pompey went 2-for-2 with two doubles, two runs, four RBI and three walks.

His two doubles give him 15 on the season and 41 for his career.
Pompey has seven multi-RBI games this season and 27 for his career.
Senior INF/OF Luke Heyer went 1-for-4 with an RBI double.

Heyer's double was his 14th of the season and 31st extra-base hit.
His 54 RBI lead the SEC.
Junior C/1B Troy Squires was hit by a pitch for the 15th time this season. He ranks ninth on UK's career list with 29.
Junior OF Ben Aklinski went 3-for-4 with two runs scored.

He had hits in his first three at bats, giving him six straight dating to the Indiana game earlier in the week.
Junior INF Trey Dawson went 2-for-3 with two runs, an RBI and a walk.

Registered his eighth multi-hit game of the season.
Sophomore RHP Chris Machamer pitched the final two innings to pick up his 10th save of the season.

The 10 saves place him third on UK's single-season list, two behind Trevor Gott (2013) and Logan Salow (2017).
His 11 career saves tie him with three others for sixth on UK's career list.
Junior RHP Sean Hjelle earned his seventh win of the season.

Hjelle now has 22 career wins, ranking him fifth on UK's list.
 
 
ON DECK
On Saturday, the 1988 team that came within one win of the College World Series will be honored. First pitch is set for 5 p.m. ET on the SEC Network.
 
 
Follow along with the Cats on Twitter, Facebook and Instagram, and on the web at UKathletics.com.